Maison Martell unveils its maiden boutique in Shenzen, China in the form of L'Atelier Martell Shenzen. Superbly conceived, the boutique is dedicated to tasting, exploration, and the supply of exclusive products. Clients are welcome to a cutting-edge digital experience that pulls them into the world of Maison Martell, amid a warm and welcoming ambience.
Marking a promising chapter for Maison Martell, the boutique is a master blueprint of the House's new retail concept with the hope of a global rollout. Conceptualised to be more than a store, the L'Atelier Martell Shenzen presents as an experiential highlight for visitors to the dynamic city.
"Today, we are proud to celebrate a new landmark in the 300-year history of our House. L'Atelier Martell is an innovative concept, which reflects our vision of elevating cognac into an experience that puts the client front and centre. With L'Atelier Martell, we are offering our clients new ways to explore, immerse and engage. We are bringing them audacious experiences through which they can discover our heritage, our savoir-faire and our cognacs as never before," says César Giron, Chairman & CEO Maison Martell.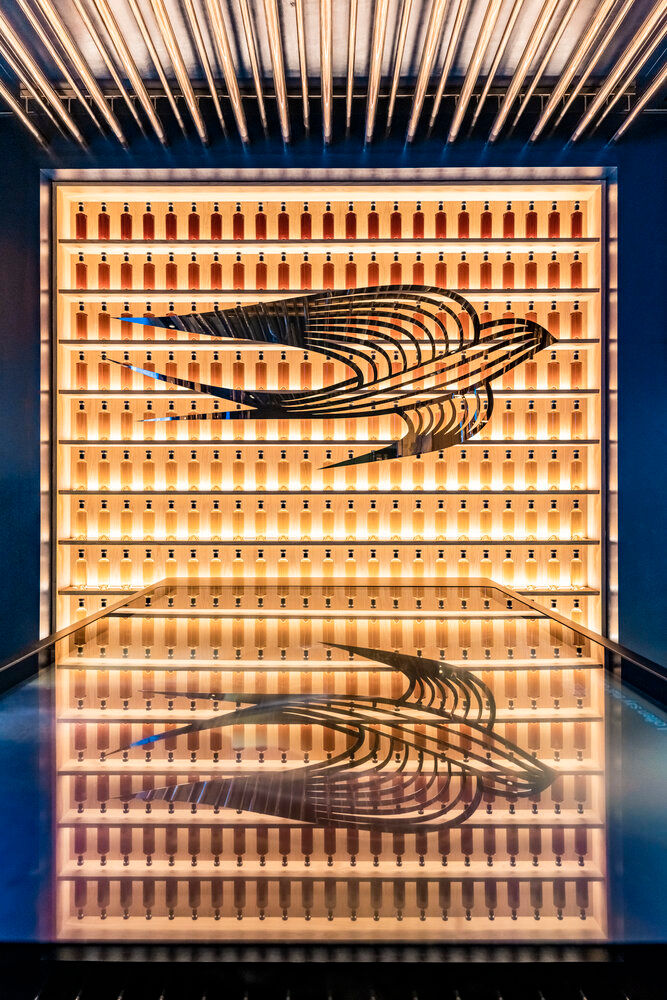 The boutique derives its name from the French word for a craftsman's workshop, taking inspiration from the Atelier of the Martell Cellar Master. A prominent example is a remarkable display of more than 200 montres (glass sampling bottles), which showcase the numerous subtleties of cognac. Another highlight of the boutique is a wall of oak barrels from the Martell cooperage and selected pieces from the archives that showcase the House's heritage and savoir-faire.
Think global, act local
The new 160-m² boutique seeks to forge strong ties between Maison Martell and the city of Shenzen. The city skyline features on a collector's edition of Martell Noblige, available only in L'Atelier Martell Shenzen.
Maison Martell also tapped the local talents of the Jiu Society to create a bold portrait of the founder Jean Martell. The House continues to showcase the city's dynamic spirit through a varied series of events that showcase Shenzen at the leading edge of lifestyle, food, and fashion.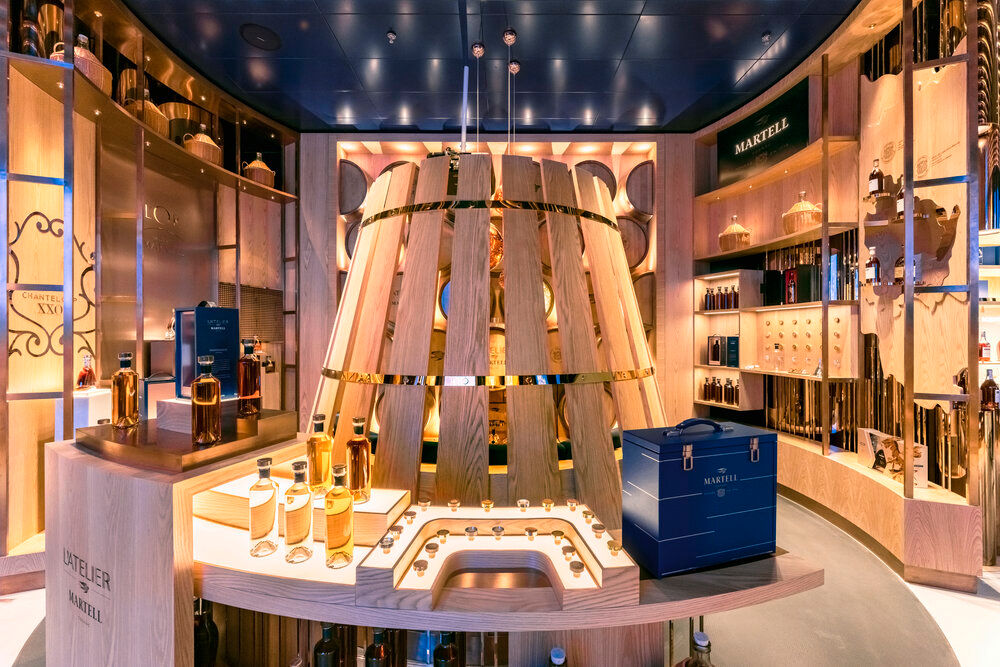 L'Atelier Martell Shenzen puts the client front and centre with an impressive range of personalised services and experiences:
Cognac from the Cask Experience
Clients have an opportunity to draw cognac directly from a cask shipped from Cognac into their own montre bottle, which finishes with their choice of cork and a hand-printed label.
The experience features a VSOP cognac specially created for L'Atelier Martell Shenzen by Martell Cellar Master, Christophe Valtaud. The Shenzen Exclusive Edition is a refined blend with subtle spicy notes, paying tribute to China and an ideal pair to Chinese cuisine.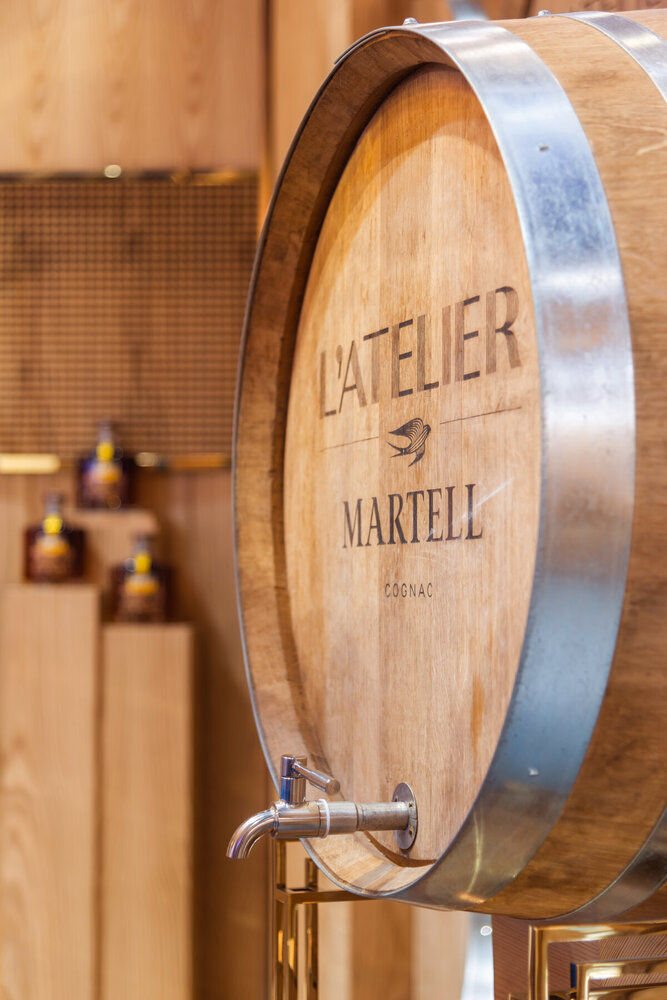 Custom-Engraving Service
L'Atelier Martell allows clients to commemorate special occasions by personalising the bottle of House icon Martell Cordon Bleu with their chosen motif and message. The service turns bottles into a thoughtful gift and precious keepsake.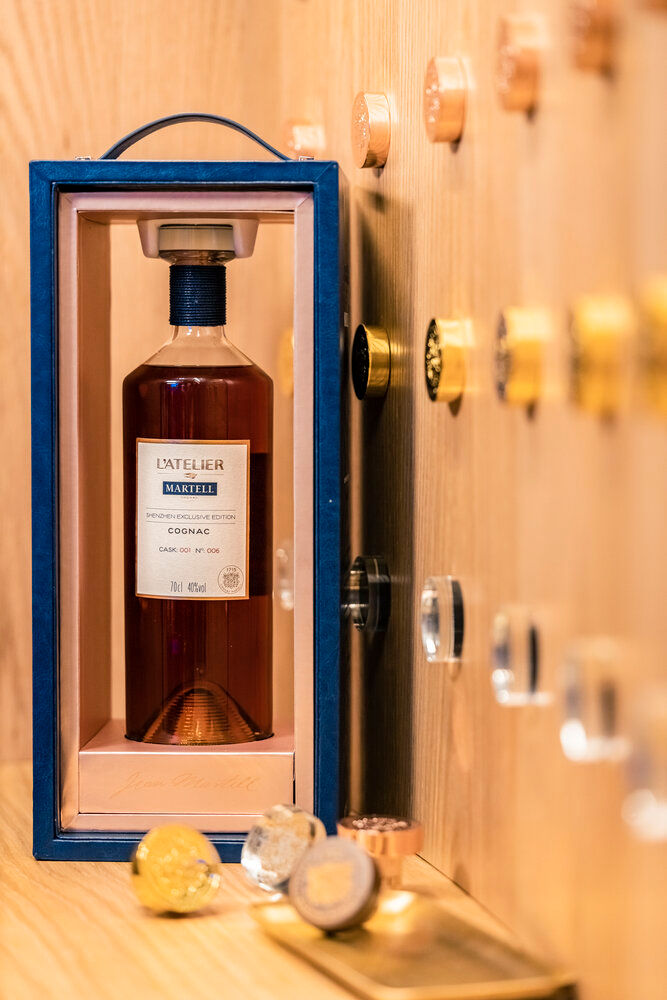 Sensorial Discovery of Cognac
In this experiential offering, clients are invited to engage their sense of sight and smell. Lifting a ceramic dome uncovers a small bowl containing one of four iconic Martell cognacs: Martell Distinction, Martell Noblige, Martell Cordon Bleu and Martell XO.
Clients may appreciate each cognac's unique aroma, which is enhanced by the ceramic dome or use a pipette to apply a few drops on their wrist. The four cognacs are available to purchase as a part of the Martell miniatures collection, exclusive to L'Atelier Martell Shenzen.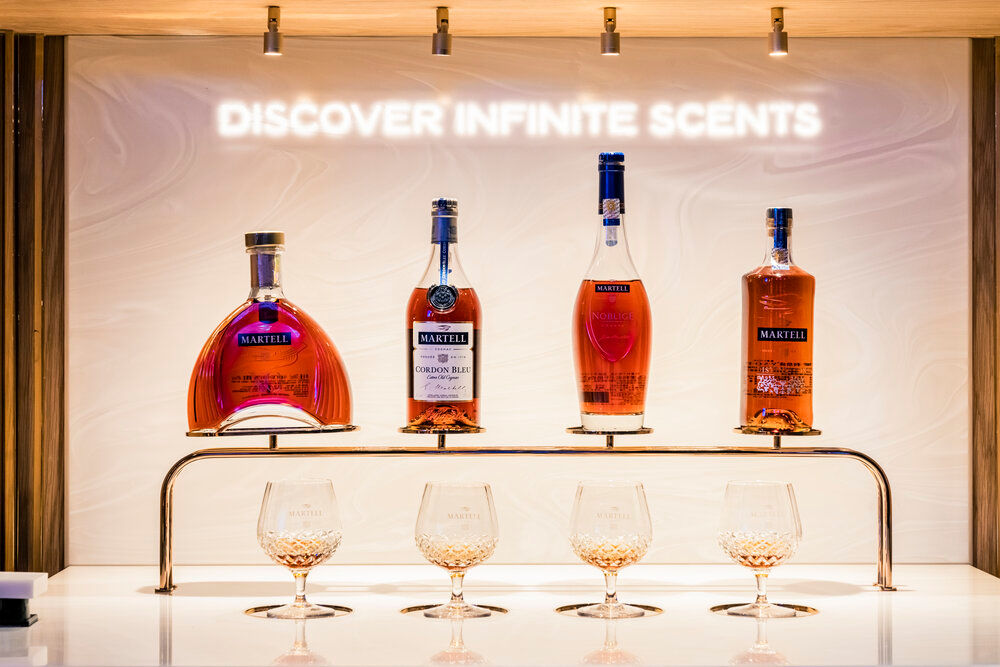 Blending Experiences
In the Art of Blending Area, around an interactive tasting table, a Martell Brand Ambassador leads expert blending sessions.
The VSOP Blending experience allows participants to create personalised blends while perceiving firsthand the effects of different eaux-de-vie on the aromatic profile of a cognac.
Meanwhile, The Extra-Old Blending Experience demonstrates the influence of terroir while highlighting the distinct traits of two prestigious crus: Borderies and Grande Champagne.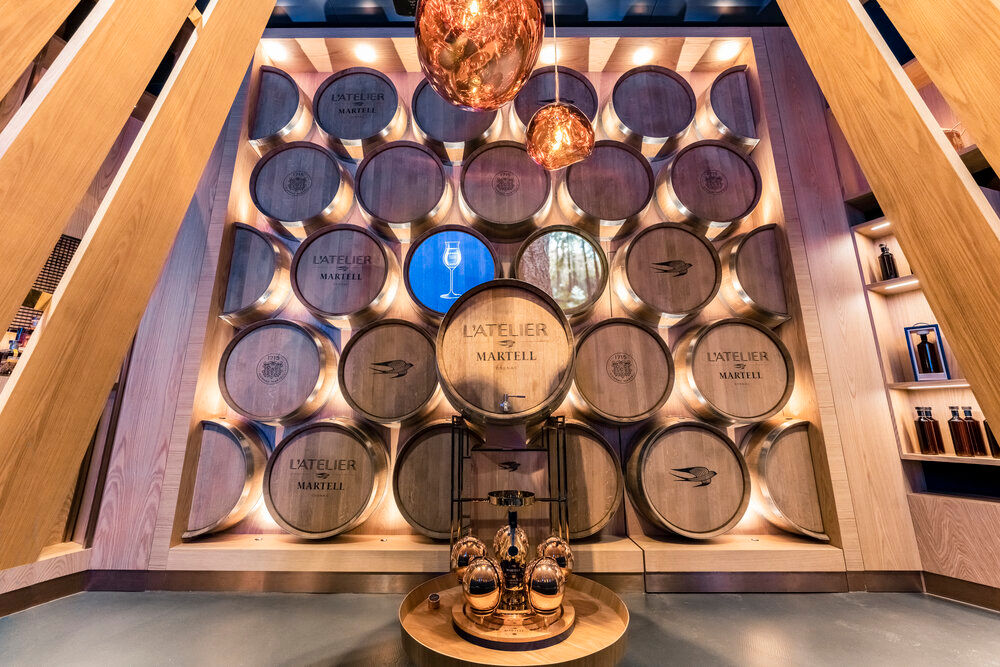 Digital Aftercare
L'Atelier Martell Shenzen also offers personalised services through a dedicated mini-program on WeChat, enhancing the in-store experience before and afterwards.
Overall, the L'Atelier Martell concept aims to immerse guests in an all-encompassing experience that births an appreciation for the depth and complexity of Martell cognac. The seamless integration of physical and digital thrills makes the exploration of Maison Martell a truly unforgettable adventure.