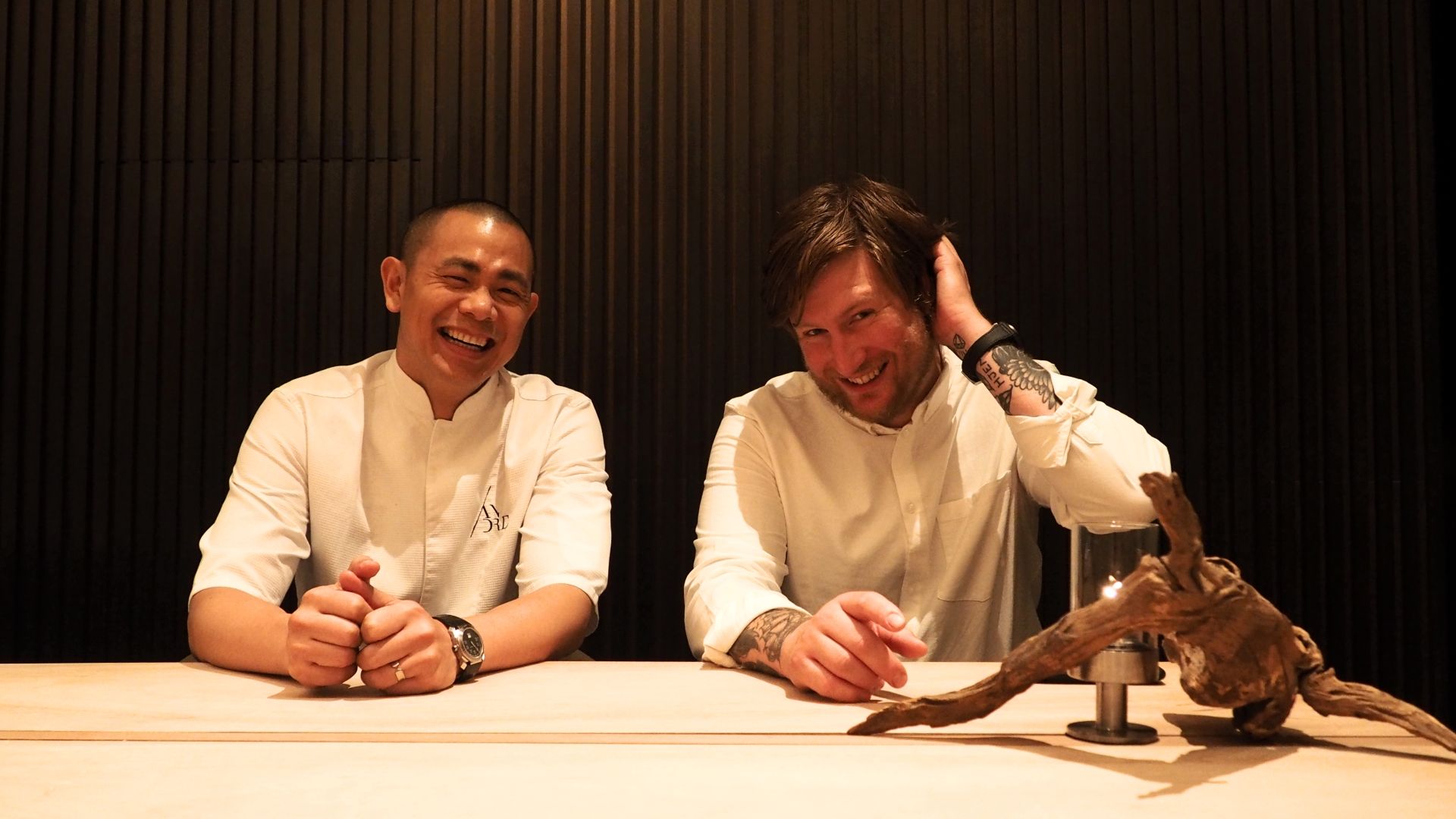 With five Michelin stars between them, Andre Chiang of Restaurant Andre and Esben Holmboe Bang of Maaemo in Oslo, Norway, can pretty much guarantee stellar results for any project they team up on, and the two-day four-hands collaboration, one of Restaurant Andre's five-part special guest series, is no exception. Presented for lunch and dinner today and tomorrow, the 19-course menu comprises eight snacks, three desserts, six petit fours, and dishes from both chefs chosen to fit Restaurant Andre's Octophilosophy of eight themes: pure, salt, artisan, south, texture, unique, memory, terroir.
The connection was forged when Bang dined at Restaurant Andre a year ago, while he was in town as the guest chef for Resorts World Sentosa's Art at Curate dining series and the two culinary powerhouses became acquainted. "Every time we collaborate with another chef, it always starts with admiring someone's style or philosophy, and we say, it's gonna be cool to be able to do something together and introduce it to our guests, so that's how it started," Chiang explains.
"It's completely the same for me," Bang adds. "I was so happy when I was approached, I had been admiring this restaurant for a long time, and I had a fantastic meal here, so it was a great honour."
How is this collaboration different when compared to what Restaurant Andre usually presents?
AC: We try to do something wild, that we don't normally do. Normally our cuisine is much milder and everything's symmetrical, and we try to do something more natural and focus on taste and ingredients, and another thing is we always have our Octophilosophy, so when I sent that to Esben he came up with the dishes that fit the theme.
EHB: For me, that was new, to think (based on) Andre's identity of Octophilosophy, so it was fun for me to see how I can interpret it in my way … Of course I tried to take the elements my dishes represented and interpret that in my way — it's very easy for me to get hung up on the way Andre does it — so I wanted to do it with my identity, my personality.
How are Maaemo and Restaurant Andre aligned?
EHB: The way Andre thinks about his cuisine, it's very similar to the way Maaemo thinks, yet there are differences. For Andre, the way I perceive it is that it's an almost spontaneous way of cooking, whereas I have to plan so much more. Andre can cook what's best right now, but the growing season in Norway is just three months, which is the only time we get fresh vegetables and herbs, so right now I have to plan my winter menu, because we have to pick and preserve. But the way we approach our cuisine I think it's quite similar.
AC: We both have 30 guests every night, and we're small restaurants with one menu. For Esben, because of the weather, he has to do a lot of preservation and fermentation, for me I do it because I think here is the best place to do fermentation — all year round in our corridor it's 23–25 deg C with 90 percent humidity, it's consistent.
EHB: You don't have to build your own (temp-controlled) room! (laughs)
AC: I don't have to do anything, so you don't find another place that's better for (fermentation). Another thing is, I was born in Taiwan and I have my restaurant in Singapore, Esben is Danish and he has his restaurant in Oslo. In a way, we both try to adapt ourselves.
EHB: We're both immigrants. (laughs)
Fermentation, preservation and setting high standards for the quality of produce procured is something you have in common…
EHB: You have to do your utmost to get the absolute best produce, that's where the real work is. We can all cook, but what separates a good restaurant from a magnificent restaurant is the time you spend on getting great produce.
Why just a two-day collaboration?
AC: (These collaborations are) always short — first, we all understand that every chef has a tight schedule; second, once you have the third or fourth day, it's not fun anymore.
EHB: It has to be a bit challenging as well — not chaotic, but you have to be in that moment, if you do it for three, four or five days, it would become routine, and then we could stand back and let the team (take charge), it has to be a bit "What's going on?". It has to be fun, and I like to feel like I'm a bit out of my element — in a different country, different climate, different scene — so that's my challenge.
How often do you travel for collaborations?
EHB: Less and less, at the beginning I did everything, now it has to be special for me to do it. It has to make a difference for me, it has to be a place where I can get inspired.
AC: Nowadays you have so many things that you don't have to cook, you can just go for event after event, four hands after four hands, and you can do that for three years — you have to be very selective.
EHB: At the end of the day you have to be at your restaurant — it bears your name — so that's where we're supposed to be, and not in an airplane all the time. Whether it's another restaurant or country, it has to be somewhere I feel I'm gonna evolve personally while doing this.
Chef Esben, what's your impression of the food scene in Singapore?
EHB: I think it's a melting pot, there are so many kind of nationalities, it's been boiled down to its own expression. Coming from Norway where now it's starting to get cold and people start wearing big sweaters, and coming here to this warmth (is a welcome change), and I think that translates to the food scene as well. We were just out yesterday and ate pepper crab and buns — even going to Din Tai Fung is exotic to me! (laughs)
41 Bukit Pasoh Road; Tel: 6534 8880
(Photos courtesy of Restaurant Andre)