As tasty as the mains and turkeys will be during Christmas dinner, a jolly jubilee isn't complete if there isn't an iconic Yule log cake, sitting on the table, to be devoured at the very end of the meal. Therefore, these sumptuous sponges should look as sweet as they taste. Here, we've selected 5 beauties, worthy to look at — and worthy to be consumed on Christmas, which is also known as International Cheat Day.
1. Santa's Yule Log (Cafe Noel)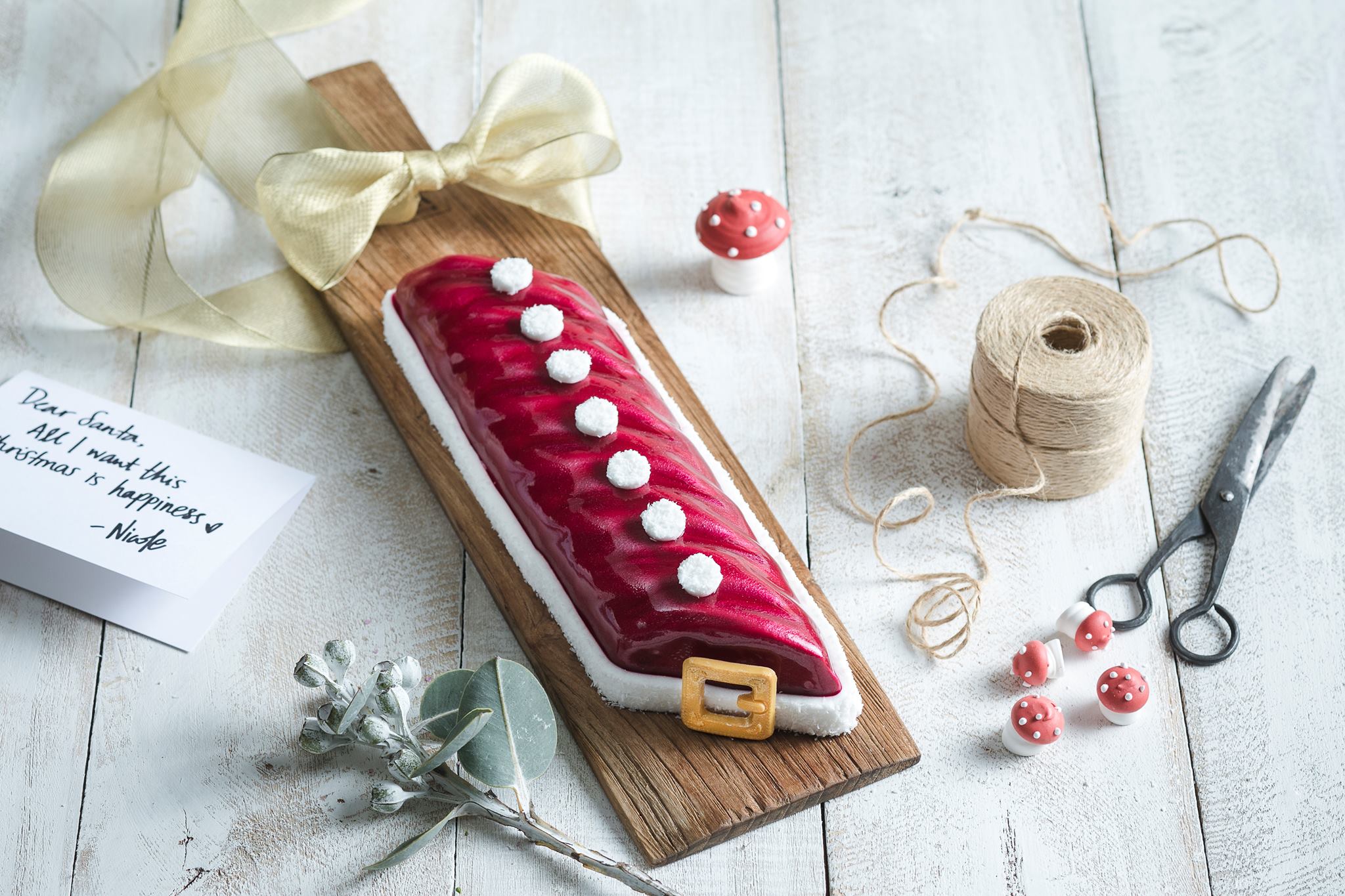 To ease you into your break from a low-calorie diet, Sebastien Cocquery-Beraud, executive pastry chef of Cafe Noel at Fairmont Singapore & Swissotel The Stamford, created this gluten-free number. Ironically, the cake design resembles Santa's coat, belt buckle and all, which is usually used to wrap around an almost-always chubby, jolly old man. Nonetheless, those who are health conscious would appreciate the flourless sponge cake with layers of coconut dacquoise, pistachio crème and strawberry mousse, all housed in a shiny red glaze. And now you know: Santa's coat buttons are actually made out of marshmallows.
SEE ALSO: 10 best Christmas Day menus in Singapore 2017
2. Unicorn Buttercream Log (The Pine Garden) If log cakes were allowed to join beauty pageants, this one would take the cake — pun fully intended. First of all, it's a unicorn. Secondly, it's a unicorn. We're just wondering if this cake, when cut, contains rainbow-coated niceties. But alas, it's only filled with layers of The Pine Garden's signature, dreamlike vanilla buttercream. Either way, it's magical. The rest of its body is made out of good ol' traditional vanilla sponge.
3. Merry Berry Cheese-mas Yule Log Cake (Crowne Plaza Changi Airport) Before you fly off for your festive getaway, head to Crowne Plaza Changi Airport to pick up a luscious-looking, bright-pink Yule log cake. Created by pastry chef James Ong, the Merry Berry Cheese-mas Yule Log Cake is cheesy as it is colourful. It is made of Manjari chocolate sponge cake, layered with raspberry cream cheese frosting and completed with crunchy strawberry pearls, almond flakes and seasonal embellishments.
4. Rosella Yule Log (The Fullerton Hotel) Red seems to be the dress code for most Yule log cakes this year. The Fullerton Hotel's Rosella Yule Log is no exception as it takes on a crackling, lava-like texture. This floral and fruity formation is held together by a red velvet glaze. Inside, there are flavours from rosella mint jelly to rosella cremeux and raspberry jam. Its base of Manjari chocolate makes up for the very girly palate, injecting some needed creaminess.
SEE ALSO: 25 Christmas stocking stuffers for beauty and wellness lovers
5. Triplette Chocolat Cake Log (Bakerzin) The trifecta of Bakerzin's festive menu are these three log cakes, combined into one, towering over the rest. Made to look like a trio of tree stumps, the tastes contained within include chocolate, cream cheese and caramel. It's the perfect centrepiece that would please the pickiest of eaters due to the variety of flavours to pick from.