Paris Hilton's Pink Bentley Continental. Robert Downey Jr.'s matte green Continental GT and Queen Elizabeth II's state limousine. Very few machines have been associated with royalty, Hollywood A-listers, rappers and musicians more than Bentley. Almost a century old, the British automaker from Crewe proves that it is still one of the leaders when it comes to building top-notch luxury vehicles. "We have been building luxury Grand Tourers (GT) since the company was founded in 1919 and, as we approach our centenary year, the Continental GT Convertible joins a highly acclaimed range – arguably the strongest and most technologically advanced portfolio of products the world has ever seen in one luxury brand," says Adrian Hallmark, Chairman and Chief Executive of Bentley Motors.
Case in point: The new 2018 Continental GT Convertible.
SEE ALSO: Infiniti Q60 3.0T Red Spot 400 (4OF4)
Performance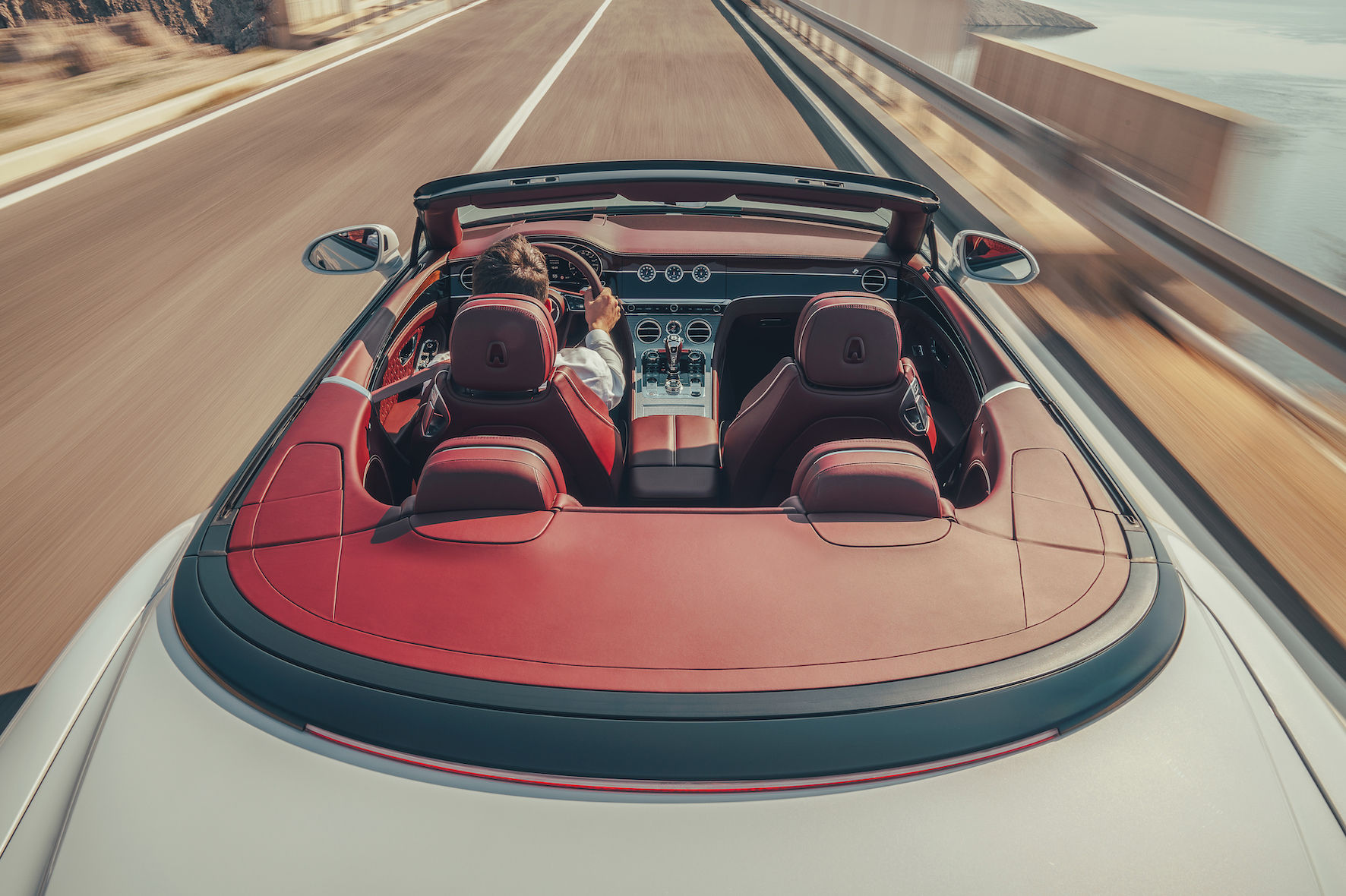 The third-generation model of the distinguished Grand Tourer featured a 2-door coupe followed by a sexy convertible. Inheriting most of the styling traits from its 2-door sibling, the new Continental GT Convertible is also armed with a powerful 6.0-litre Bentley W12 engine and paired with a dual-clutch eight-speed transmission that delivers 635ps (about 626hp) to clock in a 0-100 in 3.8 seconds and a top speed of 333km/h.
Exterior Aesthetically, the Continental GT Convertible shares familiar styling cues from the previous models with a few upgrades such as a more sculpted and muscular silhouette. The new offering also sits lower, and is also longer compared to the outgoing model. The familiar signature power lines that flow seamlessly towards the muscular rear haunches, as seen on the coupe, are also repeated here. Other upgrades include the cut-crystal glass headlamps with transparent internal surfaces and sharply defined edges to catch the light like a diamond.
Customisation is also one of the most important offerings for Bently customers. There's a palette of 17 colours to choose from, including Beluga, Onyx, and Portofino with an optional extended range of colours, as well as the option of full bespoke colour-matching to match pretty much what you like or the seven exterior roof colours.
"Elegant understatement that forces you to look; engineering excellence you'll take for granted – the extraordinary breadth of capabilities offered by the new Continental GT Convertible is unique and can only be offered by our noble British brand," explains Hallmark.
SEE ALSO: Ferrari 488 Pista Spider
Interior and features Bentley's technological advancement and expertise as well as its litany of luxury and advanced offerings are evident in the new Continental GT Convertible. A sophisticated, fully digital, driver-focused 12.3" touchscreen instrument panel and Bentley Rotating Display for the driver are just some of the many innovations.
From the highest-quality leathers to rare, sustainably-sourced veneers such as Koa and Dark Fiddleback Eucalyptus, the cabin is the pride and joy of the brand's fine craftsmanship and artisanal skill. The dashboard is styled and sculpted by long, flowing wings that mirror the shape of the Bentley badge. You can also personalise the interior from eight interior hood lining colours, including Red, Blue, and Magnolia to name a few.
The centre console matches the lower fascia but you can also opt for Côtes de Genève, the new technical finish that's inspired by the delicate mechanical surfacing inside the finest mechanical Swiss watches. This surface is machined onto 0.6mm-thick aluminum to create a linear pattern. Each row is 5mm wide and machined at an angle to give a truly three-dimensional finish, with each pass making a minute step of 0.5mm.
If you are in the market for performance, style, and a head-turning ride, consider joining the ranks of the A-listers and celebrities, and experience one of the finest automobiles in the market.
SEE ALSO: Bentley to celebrate centenary with a founder's edition of Mulsanne