Sparks fly, the tarmac heats up and heads turn when automobiles get a style makeover by luxury fashion houses.
Porsche X Porsche Design
Channelling the spirit of the Golden Age is the colour of the Porsche 911 Targa 4S Heritage Edition in Cherry Metallic, which echoes the popular dark red exteriors of cars in the 1950s, as well as the intense red favoured by the marque for its manuals, workshop letterings and even dealership décor of that era. This tribute model also revives another vintage fashion mainstay – the tactile corduroy fabric, which was used to trim the seat centre and door panels of the Porsche 356 from 1952 onwards. If these styling features are already bringing back fond memories of the Porsches of yesteryear, you'll be happy to know that more Heritage Design models will be unveiled, and they will showcase other historic fabrics such as pepita, pasha and tartan. Also only available to owners of this ride is a new, eponymous Porsche Design 42mm COSC-certified chronograph watch in polished titanium, with a Bordeaux Red strap made of the same leather used in the car.
Bugatti X Hermès
Sometimes it takes a special client order for magic to happen. This was the case for the one-of-a-kind Hermès Edition Bugatti Chiron, which was ready end of 2019 after three years in the making. Requested by California-based ultra-luxury car collector Manny Khoshbin, this two-seater Chiron Super Sport 300+ is a glorious ode to the 100-year-old relationship between the marque and the luxury French maison that began before World War I, when horse lover Ettore Bugatti commissioned saddles and tack from Émile-Maurice Hermès' workshops. In post- war 1920s, as Hermès expanded into accessories and clothing, its leatherwork also started making appearances in Bugatti's flamboyant racing cars. Boasting the elegant Hermès Craie off-white paint, this new masterpiece is decked out with many custom flourishes, including the Courbettes horse graphic on the cashmere trim of the interior and the underside of the airbrake, the "H" pattern of the signature horseshoe grille and intakes, and exclusive badges all around.
Vespa X Christian Dior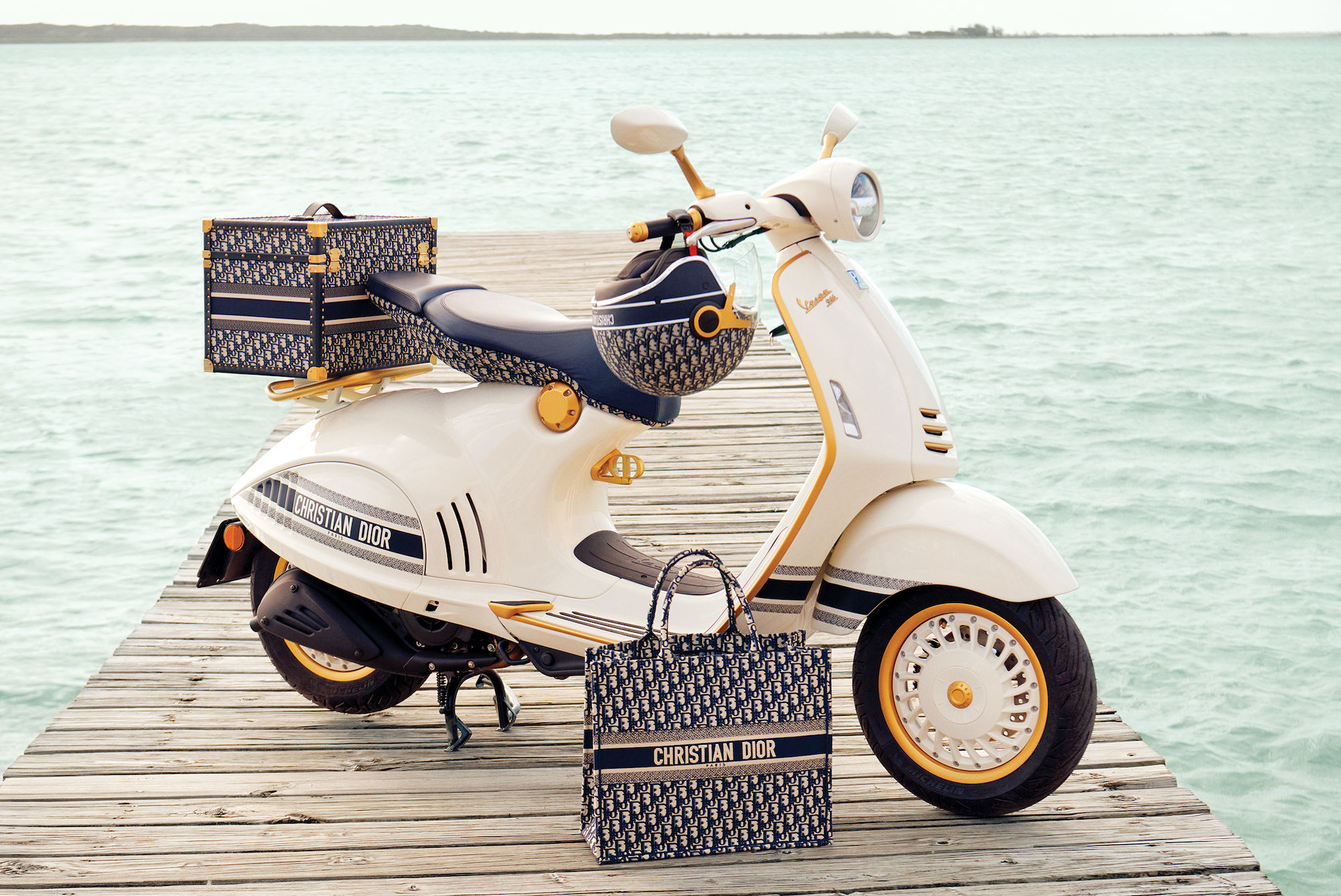 Both founded in 1946, the Italian marque and the Parisian couture house have come together to reinvent the spirit of freedom, movement and creative expression that drives them. The Vespa 946 Christian Dior scooter oozes savoir faire and detailing mastery with monohull architecture and subtle graphic lines paying tribute to the heritage of the two brands. Designed by Maria Grazia Chiuri, Creative Director of the Dior women's collections, it flaunts a saddle patterned with the Dior Oblique motif, which was created by Marc Bohan in 1967. Also featuring the same motif are the additional accessories of a helmet and a top case. This limited-edition vehicle is set to bring its joie de vivre to Dior customers around the world in Spring 2021.
Meyers Manx X Berluti
This heritage menswear label has launched a fun, made-to-order summer ride that pays homage to the carefree surf culture of 1960s southern California: a beach buggy. Inspired by the original 1964 Meyers Manx buggy model by Bruce F. Meyers, Berluti's version is made with a Volkswagen Beetle fitted with an open-wheeled polyester bodyshell replicating the original mould, complete with a canvas soft-top featuring the brand's new signature print by Berluti's Creative Director, Kris Van Assche. The Berluti logo appears on the hood in palladium-finished brass, and as a subtle imprint on the steering wheel. For the dashboard, interiors and handcrafted seats, buyers are offered a selection of leathers and patinas. There is also a removable luggage carrier encased in black leather. Weighing in at just 500kg, it is powered by an air-cooled 1600cc flat-four engine with a twin carburetor, offers 90 horsepower, and comes with a roll-over protection structure that doubles as a surfboard stand.
Maserati X Ermenegildo Zegna
Sharing a legendary heritage of fine artisanal craftsmanship and a legacy of innovation, these two historic northern Italian companies joined forces in 2015 to develop Maserati car interiors. Five years ago, the first-ever fine silk interiors in the automotive sector were launched for select models including the Ghibli, and this year, a new woven Pelletessuta nappa leather version made its debut. Unique to the world of luxury motoring, this durable yet comfortable material is only available in a limited number of special-edition 2020 Model Year Quattroporte S Q4 GranLusso sedans and Levante S GranSport SUVs. The Quattroporte sedans feature a custom Blu Sofisticato metallic exterior paint, dark brown Pelletessuta interiors and a dedicated Zegna Edition interior badge. The Levante SUVs showcase a Bronzo tri-coat exterior, black Pelletessuta interiors and the exclusive Radica wood trim.
Fiat X Bvlgari
If a car could channel the joy, hedonism and exuberance that defines 1950s Italy, it would be the fabulous little B.500 By Bvlgari Mai Troppo convertible. Just like a rare jewel, there are only three units of this Fiat 500 special edition in the world (and they were already auctioned off in July). And this first-ever electric model of the beloved Cinquecento truly lives up to its name of "never enough". Evoking the light of the Eternal City, its metallic paint in Imperial Saffron is achieved through the integration of gold dust. Bvlgari's Parentesi motif is here reimagined on the engine front grid, while its eight-pointed star is referenced on the wheel rims. Its interiors showcase a dashboard covered in colourful hand-painted silk, and seats decked out in embroidered octane leather. If it isn't decadent enough that its wearable gold car key features an ancient coin in the style of the Monete collection, the steering wheel also has a diamond- and gemstone-set logo embellishment detachable as a brooch, while the rear exterior boasts a diamond-paved B.500 logo.
(Main and featured image: Porsche X Porsche Design)