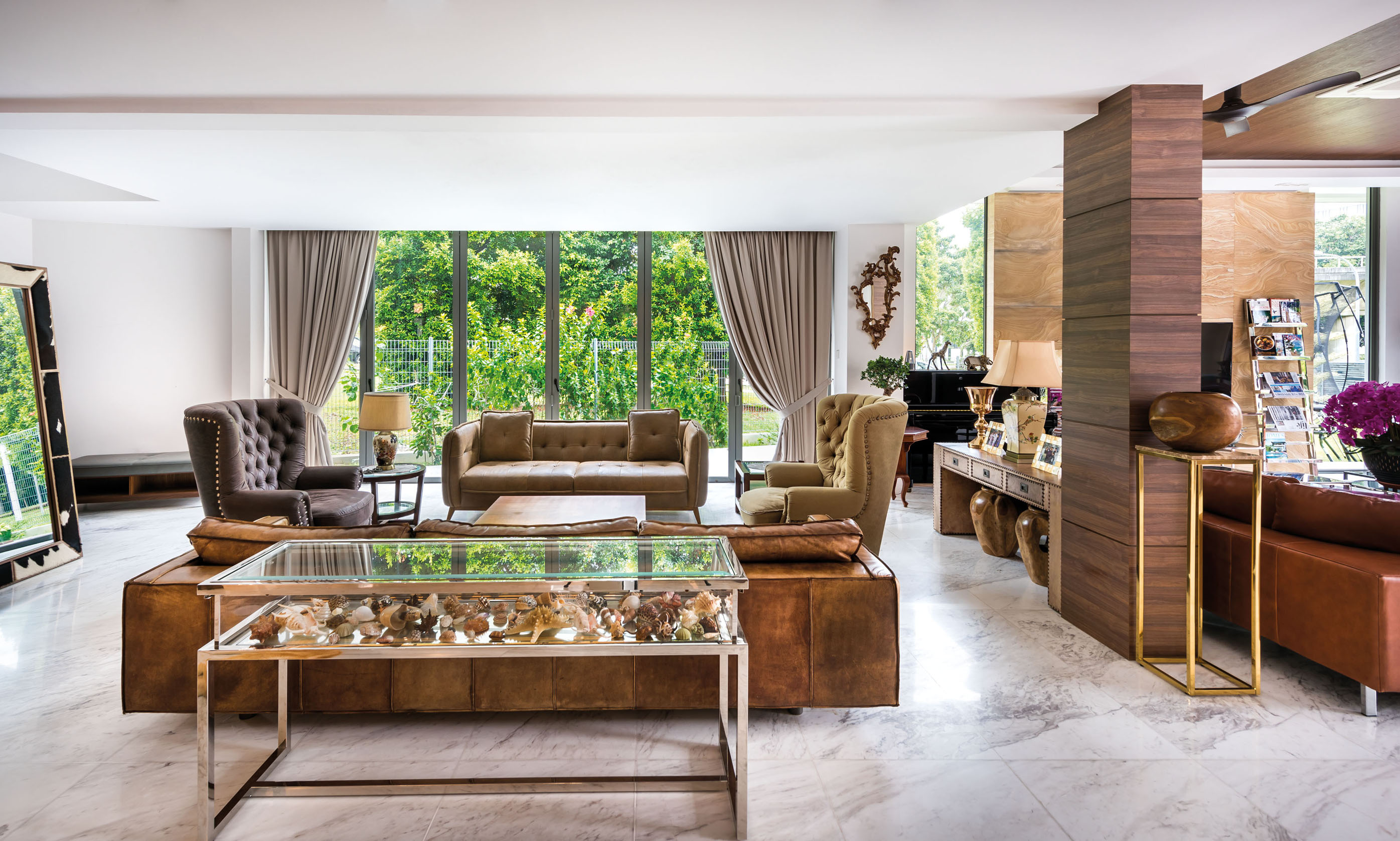 What does home mean to you?
Fabian Chua: We built our home for our children, relatives and our friends. It's a place for people to meet. The idea was to ensure that it's such a comfortable place so everyone can come and enjoy themselves, rather than spend time and money elsewhere.
Shanta Chua: Home is a safe haven — one you always feel eager to come back to. That's why we gave our children (Nigel, 19, Megan, 18, and Chloe, 17) freedom to design their rooms and pick out the furniture they wanted, because it's about crafting their personal space. The top floor was also designed to be self-contained, so in the future should our son decide to stay with us after marriage, that part of the house can be remodelled.
Fabian: Or if they all move out, we can sell and spend our time travelling all over the world!
You lived here more than 20 years before tearing down and rebuilding the house. What did you want to do different?
Shanta: Architecture-wise, the place was very old-fashioned with its white columns and red bricks. So we wanted something a little more modern and Fabian had this design in mind…
Fabian: I wanted to use travertine stone, which I love. It's been used since Roman times, and is still used in all the top developments today. It's a stone that is timeless and lasts a long time.
SEE ALSO: Goh residence: Tropical living
How often and how many guests do you usually entertain?
Fabian: We entertain at least once a month, and can have up to 50-60 each time. Either I cook or we do a barbecue or potluck. I do steaks and paellas a lot. We have a huge family — my mother has 11 siblings — so at any one time during the Lunar New Year, there'll be 100 of us here. Our guest room is also self-contained with an en suite, sitting area and kitchenette as we regularly host pastors for up to a week or two
Design- and décor wise, who's the boss?
Fabian: I collected a lot of furniture over the last five to six years because I like to attend furniture fairs and exhibitions. Work takes me to Italy a fair bit too. So aside from what you see here, I have pieces stored in three different warehouses! But she has the final say, in case what I do is not nice!
Shanta: We didn't use an interior designer, so while we had ideas, it was all in our heads and we didn't have visuals to follow. But it all came together quite well.
Favourite spot at home?
Shanta: The ground floor. It's where we spend most of our time. Everyone just spreads out across the kitchen, and dining and living spaces. Our friends can come round to play poker, or our church group can gather around the piano for worship.
Fabian: The bathrooms are my sanctuaries! They have to be big and luxurious. It's all about personal time in there. No one can disturb you when you are on your throne or taking a shower.
SEE ALSO: Wee residence: Creating familial spaces