Despite being a nomad, Singapore seems to be Ai's home — or at least, his birthplace. The loveable caricature is the creation of Peter Draw, a Singaporean artist who wants to spread love around the world through a post-post modern art movement Prestige Online is embarking on called Ai Travel Guide. And though Ai has ventured to manifold cities, carefully illustrated into images taken by Peter's partner photographers and posted on the artist's highly curated Instagram account, Singapore looks to be a favourite — as again, we'll be focusing on our very own Gardens by the Bay, this time captured by another self-taught Singaporean photographer named Jeryl Teo (@j9ryl).
By looking at the well-composed and contrasted images taken by Jeryl Teo, it's hard to believe he is actually colourblind. But Jeryl Teo has never viewed this as a handicap. Instead, experiencing colour deficiency in red-green has made him even more colour-conscious in his photography.
Jeryl Teo clearly has a soft spot for architecture and cityscapes, which are the main sources of inspiration that fuelled his passion for photography in the first place. He wishes to share the colours of the world through colourblind eyes.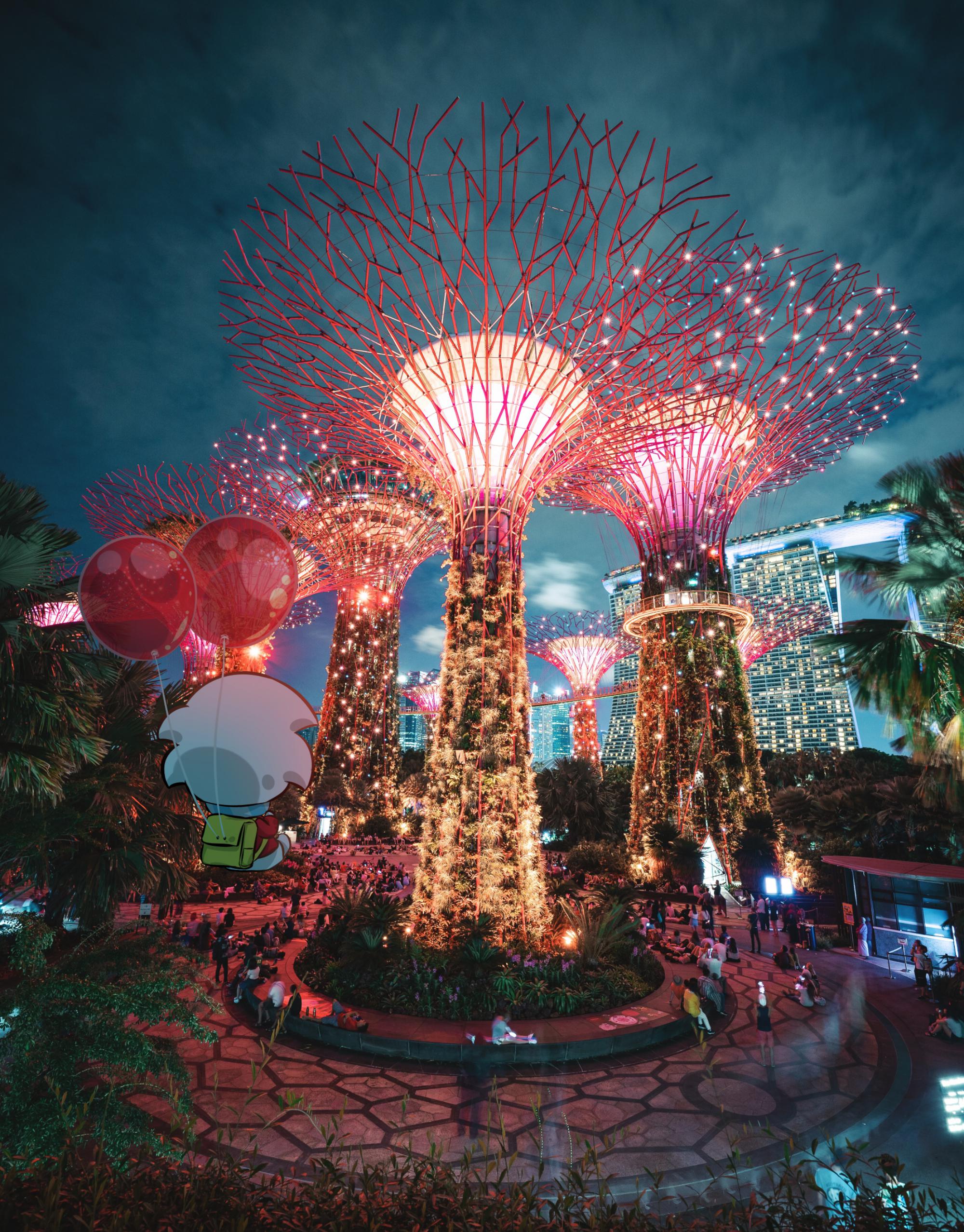 Share something special about the image you've captured at Gardens by the Bay.
It was just another evening for me at Gardens by the Bay. But for the many others seated excitedly behind me, it was their first time in the midst of the magnificent Supertree Grove. As I set up my tripod, I noticed people's genuine smiles and that's always an indescribable good feeling, as a Singaporean. Also, no matter how crowded it might seem, everyone seems to have their own comfortable space where they can enjoy the light show around the Supertree Grove.
What do you love most about the area?
I love Gardens by the Bay for the amalgamation of nature and architecture. It's so pleasing to see plants blossoming in a synchronised fashion along the walls of the Cloud Forest or along the façade of the Supertrees.
Something to take note before visiting Gardens by the Bay?
Bring some insect repellent or wear a pair of comfortable joggers. It's a garden after all, so expect some bugs and mosquitoes.
List some must-dos.
I would highly recommend catching the Garden Rhapsody light show in the evening. Bring along some snacks or dinner to picnic with while you enjoy the show if you like.
The Cloud Forest conservatory is also another amazing place to chill and enjoy some couple family or romantic time. For those who wish to get some cool pictures, don't miss the misting timings.
If you have extra time, it's good to take a stroll down to the East of Gardens by the Bay for a view of Singapore's cityscape in it's entirety — something few tourists would do.