They might have a problematic past, but colonial era hotels in Southeast Asia continue to reign supreme in the hospitality industry. Seen as romantic relics of the days of yore, these properties have been lovingly restored, with many continuing to preserve dining traditions, such as afternoon tea, and unparalleled service. These hotels are also some of the most storied, having survived some of the most colourful moments in history and hosted some of the world's literary giants. From Singapore's Raffles Hotel to Bangkok's Mandarin Oriental, these are some of Southeast Asia's finest luxury colonial era hotels.
SEE ALSO: Hi-tech vs heritage hotels
1. Cameron Highlands Resort, Malaysia Affectionately known as a 'little piece of England in Asia', Cameron Highlands Resort is an ode to quintessentially English countryside getaways in Malaysia. It sits 1500 metres above sea levels on a hilly landscape, majestically decked out in 1070s architecture of tall French doors, timbre-beamed ceilings and plantation shutters. Inside, rooms, ranging from the deluxe rooms to the suites, evoke elegant nostalgia with classic teak furnishings and Thai silks. Dining at the Jim Thompson Tea Room is an experience in itself. The elegant restaurant invites diners to partake in the age old tradition of English afternoon tea as a nod to the colonial plantation lifestyle from a bygone era.
2. Raffles Hotel, Singapore Bang in the centre of Singapore bustle is Raffles Hotel: A 131-year-old property that quickly became a Singapore icon with a guest list made up of the world's who's who. The hotel has birthed many a legend – this is where the Singapore Sling was created in 1915 – and is the country's literary pride and joy, having hosted legends like Joseph Conrad and Rudyard Kipling. The hotel is currently closed for restoration, and has a 2019 reopening in the works with upgraded suites and refreshed dining options.
3. Sofitel Legend Metropole Hanoi, Vietnam Talk about Hanoi's most storied hotel: Sofitel Legend Metropole was Charlie Chaplin's honeymoon locale, where Somerset Maugham wrote 'The Gentleman in the parlour' and the first location in former 'Indo-China' to screen slow motion films Just steps away from the Opera House in the French Quarter, old-world elegance comes in lavish abundance at the property. Roll up to the hotel in a 1950s Citroen Traction and step through its classic white facade, dotted with green shutters and wrought iron windows. Book a stay at the Charlie Chaplin suite for the ultimate pampering experience which comes with butler service, meals and cocktails as well as 24 hour access to the Club Metropole executive lounge.
4. The Strand, Myanmar In his 1911 'Handbook for Travellers in India, Burma and Ceylon', John Murray dubbed The Strand: "The finest hostelry East of Suez". The hotel may have the bones of those colonial era hotels with period furnishings, chandeliers and ceiling fans of yesteryear, but its 2016 restorations breathed new life into rooms that now boast modern art mixed with Burmese antiquities, neutral hues and dark polished teak floors. Overlooking the Yangon River, the hotel is Myanmar's finest way of exploring the city at a luxurious, slower pace of living.
5. The Hermitage, Jakarta A world away from the dizzying city bustle of Jakarta's traffic is the 1920s Art Deco-style Hermitage Hotel. Once a Dutch telecommunications office, the bolthole offers an array of exciting dining venues, including the all-glass sanctuary Courtyard Cafe, marble-decked L'Avenue restaurant and an atmospheric all-day lounge. The Hermitage is located in Jakarta's prestigious district of Menteng, putting many of the city's central malls and popular antique art market within walking distance. For a truly palatial stay, rest your head at the 170 metre square Presidential suite that's appointed in period pieces.
6. Mandarin Oriental, Bangkok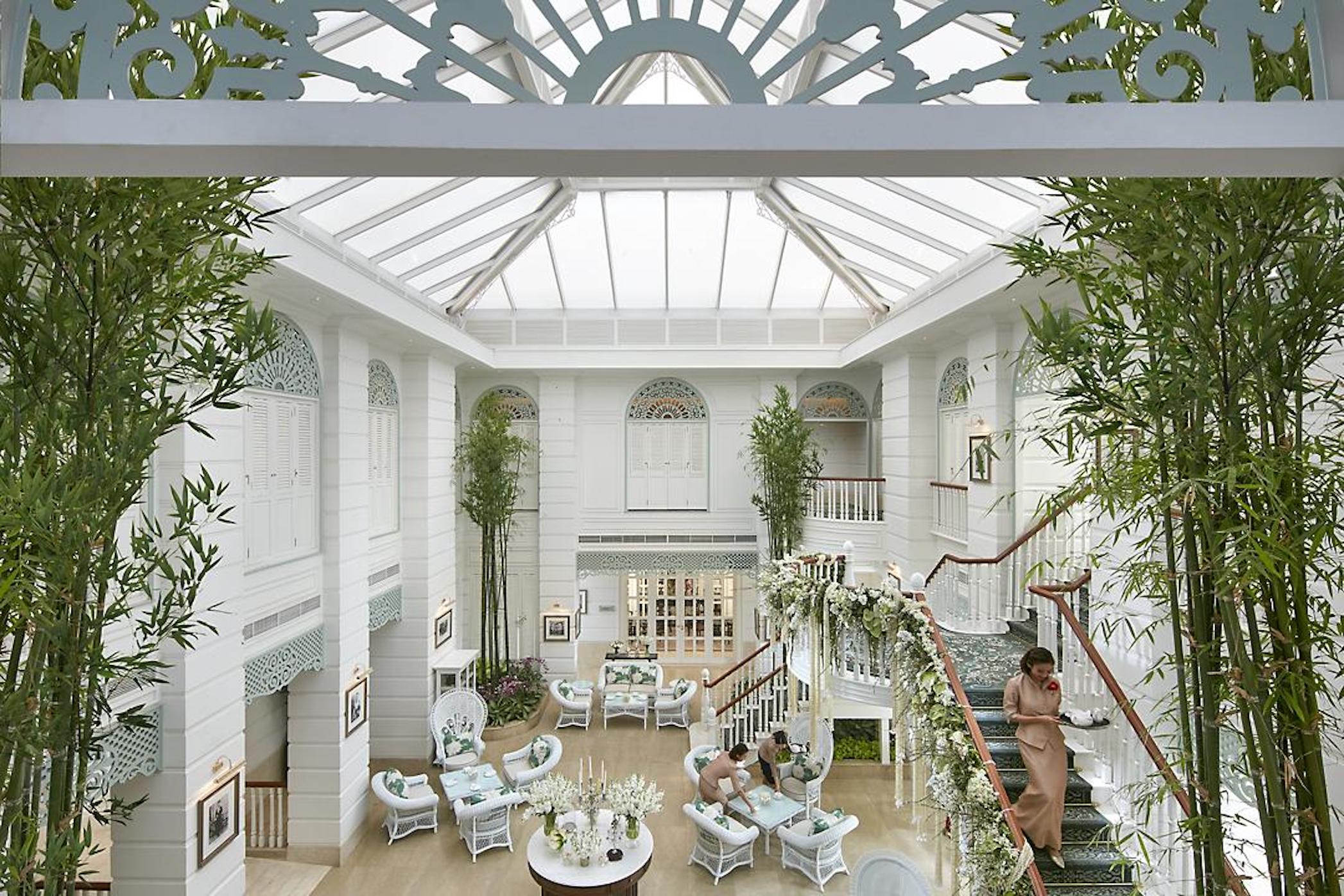 A peaceful interlude from the chaos of Bangkok, Mandarin Oriental is a quiet fixture on the banks of the Chao Praya river. It first began as a rest house for foreign seafarers in 1876 and is spread across two properties on either sides of the river. Rooms and suites are divided across the Garden and River Wing; the top-tier accommodation is the one-bedroom Royal suite, with private elevator access, a library and study, kitchen and dining room as well as enhanced security. To rub shoulders with the high rollers, drop in for afternoon tea at Authors' Lounge: One of Thailand's most photographed locations.
7. Raffles Grand Hotel d'Angkor Set on a a sprawling space of over 60,00 square metres is Raffles Grand Hotel d'Angkor: A lavish base for your temple trails. Surrounded by verdant landscaped gardens and an iconic pools, the hotel's two-bedroom villa is its star accommodation, as it sits separately from the hotel and opens up to uninhibited garden and pool views. You might never want to leave the premises — the hotel is home to four restaurants serving international, Khmer and Asian cuisine, as well as the famed Elephant Bar which serves Khmer-inspired cocktails infused with local herbs.
8. The Majestic Kuala Lumpur A stay at The Majestic Kuala Lumpur is a distinctly elegant affair; embodying the decadence of the 1930s, the property is home to a gentleman's enclave called The Smoke House, which features a cigar room (smoking jackets provided), a barber, bespoke tailor and lounge and bar. The old-world theme continues with the screening room, which plays black and white films while you recline on comfortable leather chairs, a reading room and a drawing room for afternoon tea. To experience preservation of the hotel's colonial roots at its finest, check into a suite at the Majestic Wing. Here, bathrooms are laid out in monochrome checkered tiles and include claw-footed bathtubs while bedrooms are dominated by four-poster beds, accented with rich fabrics and art deco furnishings.