Our favourite haunts have finally reopened for dining in and drinking, and we couldn't be happier.
While there are still some restrictions such as a maximum of five diners to a table, and a 10:30PM curfew on the sale and consumption of alcohol in eateries — in a bid to curb the spread of COVID-19 — we're just glad to see that most F&B venues are up and running again.
For those who still prefer indulging in their meals and libations from the comfort of home, many of these eateries and watering holes continue to offer takeaway and delivery menus. Talk about a life-saver for lazy days.
We're extremely thankful for these options, so let's raise a toast to these Singapore bars for chugging on.
The Old Man After a long day of working from home, nothing feels better than knocking back a tipple. Now you don't have to venture far to sip on a cocktail from one of Singapore's best watering holes as The Old Man's tipples are available for takeaway and delivery in 500ml glass bottles. The establishment, which ranks 22nd on the Asia's Best Bars list, has refreshed its menu with an intriguing assortment of cocktails. A highlight is The Torrents of Spring ($150) — inspired by Ernest Hemingway's 1926 satirical novel — a heady, bitter mix of glutinous rice cooked mezcal, Wild Turkey grain whiskey, Amaro Nonino and Campari. The crimson-hued concoction also contains pomegranate-beetroot shrub and is sweetened by clarified Williams pear.
More adventurous drinkers can also try A Moveable Feast ($150), a savoury libation of 'rotavap sea' (a combination of seawater and fresh clams obtained using a rotary evaporator), spiced cherry tomatoes, coconut, basil-tomato seeds and cheesewax-infused oyster leaves. Other options available include The Sun Also Rises ($150), concocted with copra fat-washed brandy, curry leaf-infused bulldog gin, Cinzano 1757 vermouth sous-vide pandan leaves, lime kaffir; and Smoggy Old Fashioned ($180), comprising Belvedere Single Estate Rye Vodka Smogóry Forest with gula melaka, Angostura Bitters and saline solution.
All cocktail serves can be enjoyed over ice and storage instructions apply. Orders can be placed here. Cocktails are available for islandwide delivery at $15, to be paid to the driver separately.
Manhattan Bring New York's glamour and sophistication into your home with bottled cocktails from Manhattan, which is currently number eight on the Asia's 50 Best Bars list. The tipples are available for takeaways and deliveries, with selected flavours available in 100ml ($22.43 each), 200ml ($44.86 each) and 350ml bottles ($78.50 each).
Cocktails in the biggest 350ml option include the Manhattan, concocted with Michter's US1 Straight Rye Whiskey Mancino Rosso Vermouth, cherry brandy and Angostura Bitters; and Otosan — comprising Hakushu port-finished whisky, Fino Sherry and smoked port syrup bitters. If you're spoilt for choice, go for a set of five 100ml cocktails ($99) where you can select options such as Solera-aged Negroni. For collectors, a Manhattan and Marker's Mark custom-finished Private Select Whisky is up for purchase and pickups too.
The bottled cocktails are available via delivery here and takeaway at Dolcetto, located at Level 1 of Regent Singapore.
Origin Bar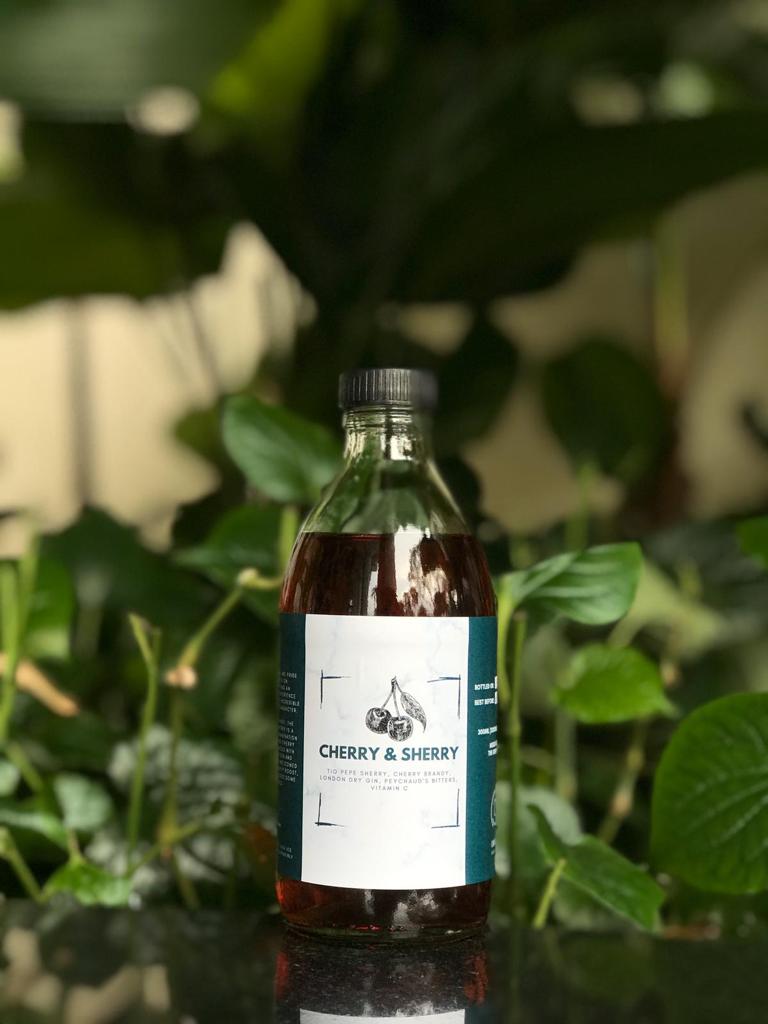 Shangri-La Hotel Singapore's Origin Bar offers bottled cocktails for takeaway. Pick from five options, including Pacifano (Natural Umeshu, Campari, Kaffir Lime Mancino Bianco Vermouth); chocolate rum Negroni; Super Vesper (Kyoya Yuzu Gin, Beefeater Gin, Absolut Vodka, Mancino Bianco Vermouth); Cherry & Sherry made with cherry brandy, bitters, and gin; and Black Brew which combines rum, amaro, pomegranate molasses, and chocolate bitters. Each serves three portions.
To order, head here.
Native Despite the pandemic, Native is forging and foraging (its best-known trait) ahead with takeaways and islandwide deliveries of its inventive cocktails. These include the Forager's Garden ($43 for 250ml, $78 for 500ml), made with matcha gin, blue pea flowers, calamansi, matcha kombucha; and the Peranakan ($48 for 250ml, $88 for 500ml) — a medley of jackfruit rum, laksa leaves, goat's milk, candlenut, and gula melaka.
Order online here
Atlas Bar Atlas has five bottled cocktails for takeaway and delivery, four of them featuring its star spirit: Gin. Highlights include The Rose Coloured Glasses, concocted with Japanese gin, elderflower, Greek vermouth, palo cortado sherry, and orange bitters — making it the perfect respite for a sunny day at home — while Urban Pioneer, with London dry gin, sweet vermouth, coffee, cacao, mint and aromatic bitters gives you a needed boost of caffeine. If you opt for delivery, tipples are available in 100ml ($21), 250 ml ($50), and 500ml ($95).
Place your order online here
Operation Dagger Operation Dagger is joining the action with three cocktails available for islandwide delivery. The É Khô Qua ($15), made with bitter melon, cane, rum clarified with coconut milk and citrus is available in a single serving of 100ml. Staying home with your family? The Bee Pollen ($75 for 250ml) made with bitters and whisky serves four, while the Choc Pinot ($75 for 750ml), which is composed of cacao, vanilla and pinot noir, is ideal for six.
Order via this link
Employees Only Good news if you're a regular at Employees Only. The New York speakeasy has both its grub and tipples available for delivery and takeaway. Find a comprehensive dinner menu online, spanning starters, entrees, bar bites and sides, with highlights such as Tom Kha mussels, spicy smothered shrimp, and even the bar's take on the Ramly burger with wagyu beef. Wash it down with a cocktail from its repertoire, which includes favourites such as Negroni, Old Fashioned, Cold Brew Martini, Manhattan and EO Gimlet. Each is available in 350 ml ($65).
More information here
Tippling Club Tippling Club's extensive delivery menu spans soups, sandwiches, sweets and, of course, its popular cocktails such as El Diablo (a blend of tequila, cassis, citrus and ginger) and Titanic (a scotch, vermouth, sherry and marsala wine concoction). During the Circuit Breaker, the bar added an extra bonus for customers living within three kilometres of it — its Head Bartender Andy Loudon would personally cycle them over, and shake up any drinks made with perishables. The bar has since reopened for dine-in, but it continues to offer takeaways and deliveries.
Find the menu and contact details here. For delivery, visit its online platform here
Sunday Punch Make every day a Sunday with bottled cocktails from Sunday's Punch. These folks have been making these since 2014, working in small batches with leading bars and bartenders. Available in 250ml and 500ml, the cocktails include gin and tonics (referred to as the #88), the Negroni-style Bittersweet tipple, and the summery Citrus and Herb, that incorporates rosemary and grapefruit into vodka. Its latest launch is the Sunday Thyme, a collaboration with Plain Vanilla, that combines the herb with the punchy flavour of raspberries, dry vermouth, and vodka. Free delivery available with a minimum spend.
Click here for the catalogue
Kiki's Reserve
The folks behind Hopheads and The Oyster Bar have created Kiki's Reserve: A one-stop cocktail shop that delivers bottled tipples to your door. Choose from multiple options in 120ml or 480ml. These include a Raspberry Lavender Gin, Sangria, Negroni and an Old Fashioned. Customised cocktails are also available. Simply inform them of your preferred flavour profile. Mocktails are available too if you're toasting with the whole family. Delivery and pickups from its sister bars are available.
Head here for more information.
Shin Gi Tai Japanese-inspired cocktail bar Shin Gi Tai has created a wide range of bottled cocktails, including classics such as Negronis, Manhattans and Sidecars and premium tipples, available with clear block ice for additional $1. These are available in bottles of 300ml (which equates four cocktails) and 500ml (serves seven).
Click here for the order form