Are you ready for another round of feasting?
We are, because there's nowhere else to go, and restaurants across the island are pulling out all the stops to make the Year of the Ox feels almost-normal, with sumptuous, auspicious menus that invite abundance and prosperity. Never mind that there's a crowd limit of eight per table/household at any given time and lou hei has to be done with a mask on — what matters most of all is spending time with our nearest and dearest over an excellent meal.
Read on for our picks of restaurants to celebrate the Lunar New Year in Singapore.
Si Chuan Dou Hua at PARKROYAL on Kitchener Road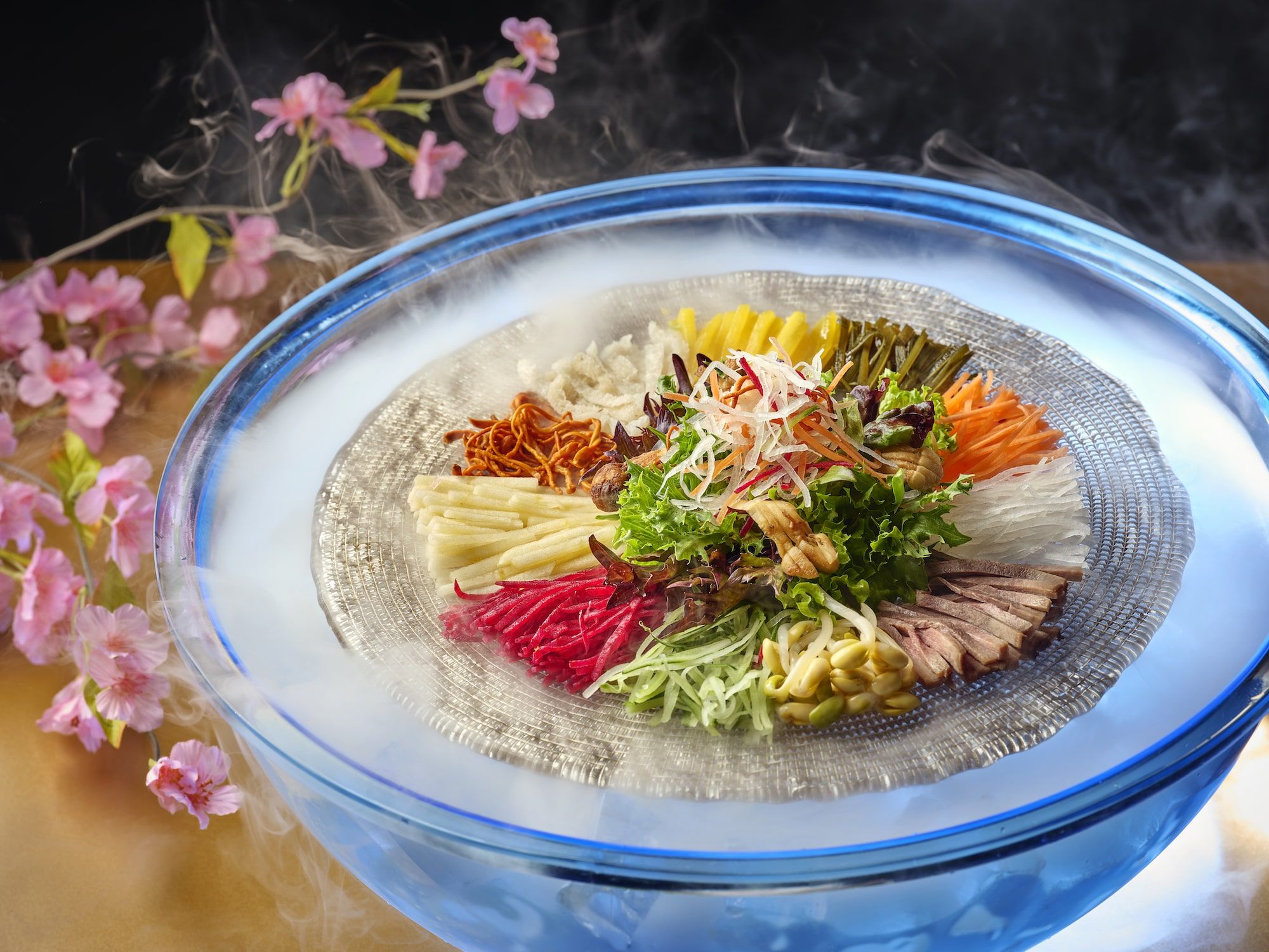 The Prosperity Exotic Garden with Bolete Mushroom in Homemade Bolete Mushroom and Osmanthus Sauce at Si Chuan Dou Hua at PARKROYAL on Kitchener Road is a show-stopping yusheng that the whole table will be whipping their phones out to capture. It is all about presentation with this dish, that is served in a large transparent bowl glowing with blue light and filled with dry ice that a server adds water to, creating wafts of mesmerising fog as the bowl is spun on the table. Theatrics aside, the salad is a fresh ensemble of more than 10 vegetables including more unconventional ones like beetroot, bamboo pith and soybean sprouts. It is both a vegetarian-friendly and healthier option as it dressed in an osmanthus sauce and topped with Japanese Matsutake, cordyceps flowers and strips of fresh Cep, also known as the Bolete Mushroom, instead of the usual seafood or meat. The Cep is considered one of the finest varieties of mushrooms, and the restaurant specially imports the prized ingredient from Belgium twice a week.
Call 6428 3170 or email douhua.prskt@parkroyalhotels.com.
Junior The Pocket Bar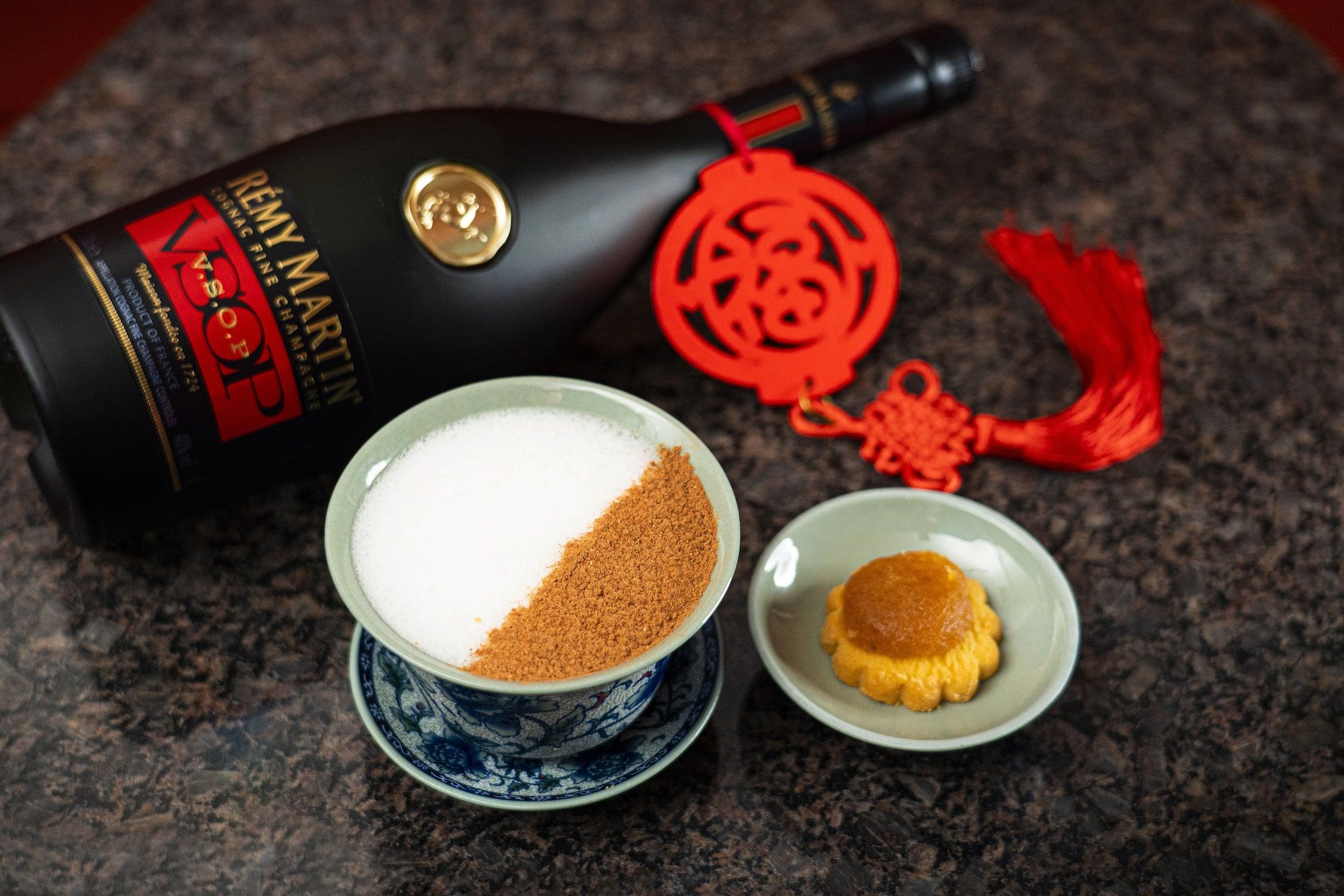 It is not just the restaurants that are getting creative with Lunar New Year offerings; bars like Junior The Pocket Bar have also joined in the festivities with limited-edition cocktails and food items. While not quite a spot for a reunion dinner, Junior is definitely the go-to for celebratory drinks – the bar has been decked out in a Year of the Ox-themed mural and even a massive dragon that hangs from the ceiling. This year is its second edition of the Chinese New Year pop-up, and Junior has collaborated with Rémy Martin to craft drinks like the Rolling for Prosperity, which fans of pineapple tarts will love. The cocktail is made with Rémy Martin VSOP, pineapple, spiced brown butter rum and lemon, and served with a flaky pineapple tart on the side. We loved the Fanning the Flames cocktail, a spirit-forward concoction of Bruichladdich The Classic Laddie whisky, coffee vermouth, DOM Benedictine and bak kwa bitters paired with a piece of torched chilli bak kwa. For those celebrating at home, select cocktails are also available for takeaway and delivery.
Visit juniorthepocketbar.com or call 8121 1462.
Fat Cow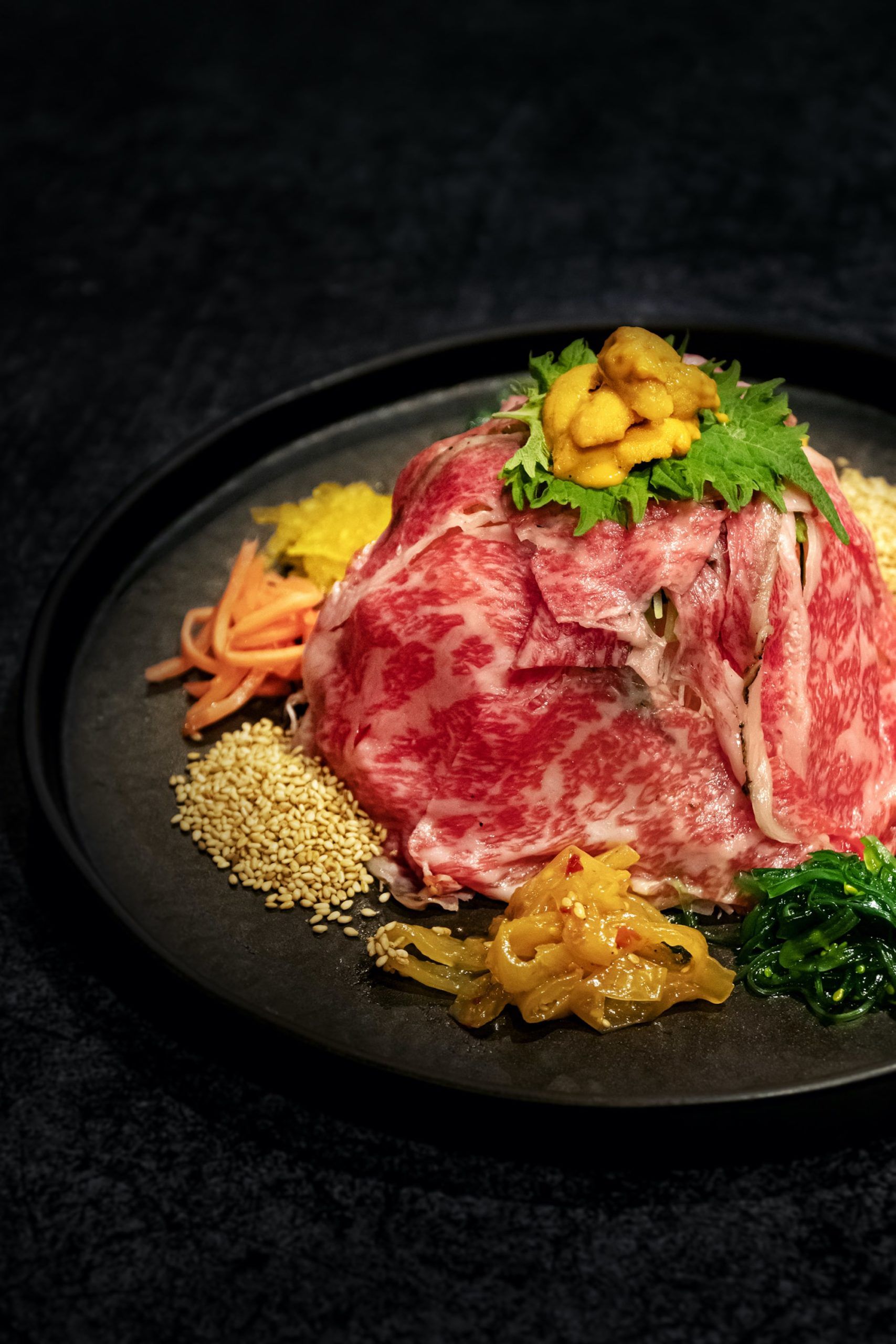 In honour of the Year of the Ox, Japanese-inspired steakhouse and wagyu specialists Fat Cow have introduced their take on the traditional yusheng, the Gyu Sheng. Gyu is the Japanese word for beef, and refers to the ribbons of tender, well-marbled Miyazaki Wagyu that sit in place of the typical fish slices here. In addition to familiar ingredients like radish, shredded carrot and cucumber, the Gyu Sheng also includes more Japanese toppings like yuzu skin, chuka kurage (seasoned jellyfish), chuka wakame (seasoned seaweed), red pickled ginger, mild Myoga ginger and sea urchin crackers. It is dressed in a house-made sauce of sake, mirin, sugar, garlic, ginger, onion, shoyu and a ponzu sauce reduction. Each Gyu Sheng set is good to serve a group of three to four people.
Visit fatcow.com.sg, call 6735 0308/9452 7814 or email enquiry@fatcow.com.sg.
CÉ LA VI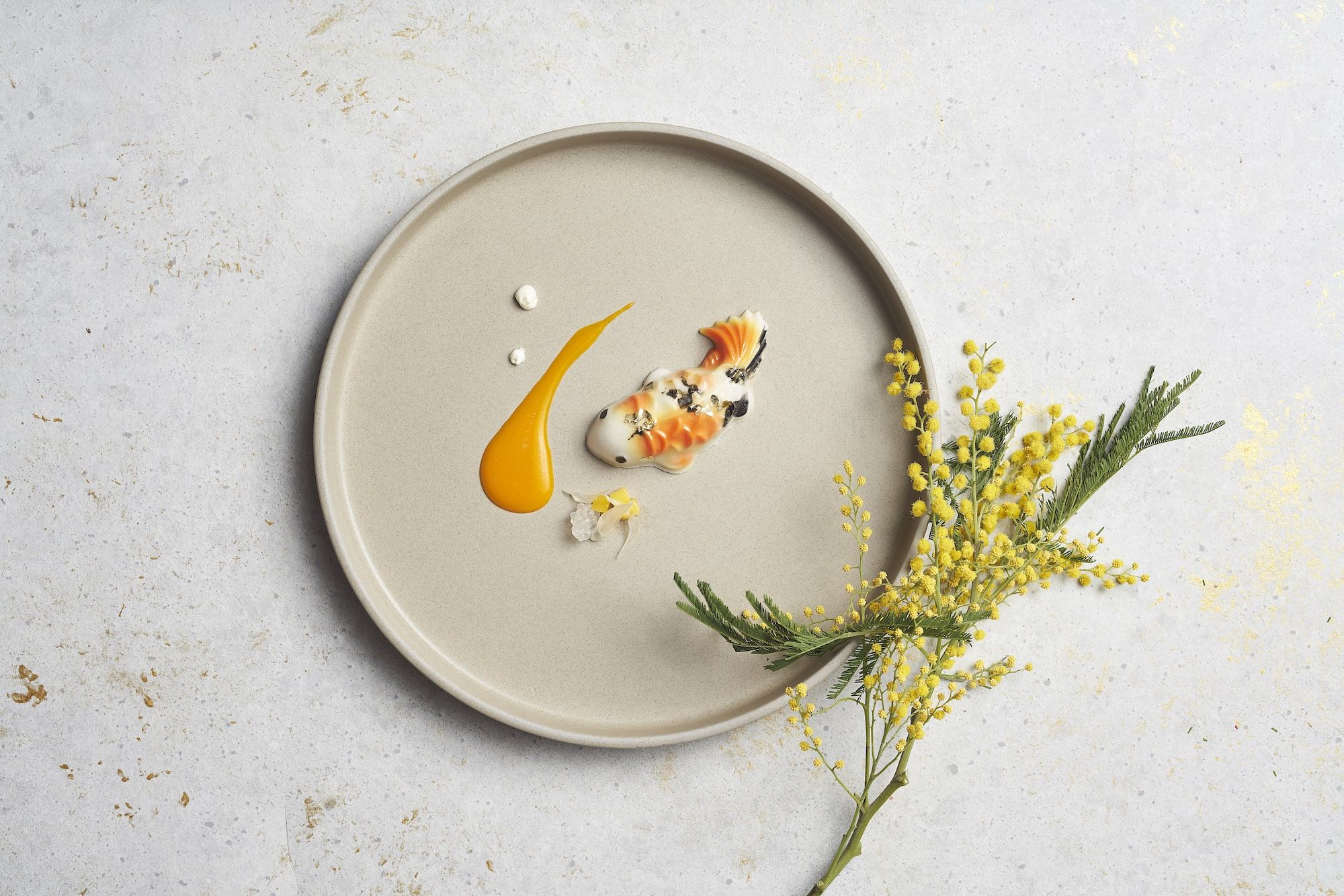 Almost too pretty to eat, the Prosperity Koi dessert is a delightful end to the celebratory six-course Chinese New Year Dinner Menu exclusively available from Feb 8 to 21. Each dish features Asian flavours with a modern twist, including the Prosperity Koi that is inspired by the mango sago pomelo dessert often found on the menus of Chinese restaurants. It is made of coconut jelly beautifully plated on a bed of chilled diced mango, pomelo, sago, crispy mung bean and a frothy white foam made from pu-er tea that looks like bubbles underwater. A sweet mango gazpacho is then poured over the dessert at the table to bring all the elements together.
Call 6508 2188, email reservation-sg@celavi.com or visit celavi.com/en/singapore.
Man Fu Yuan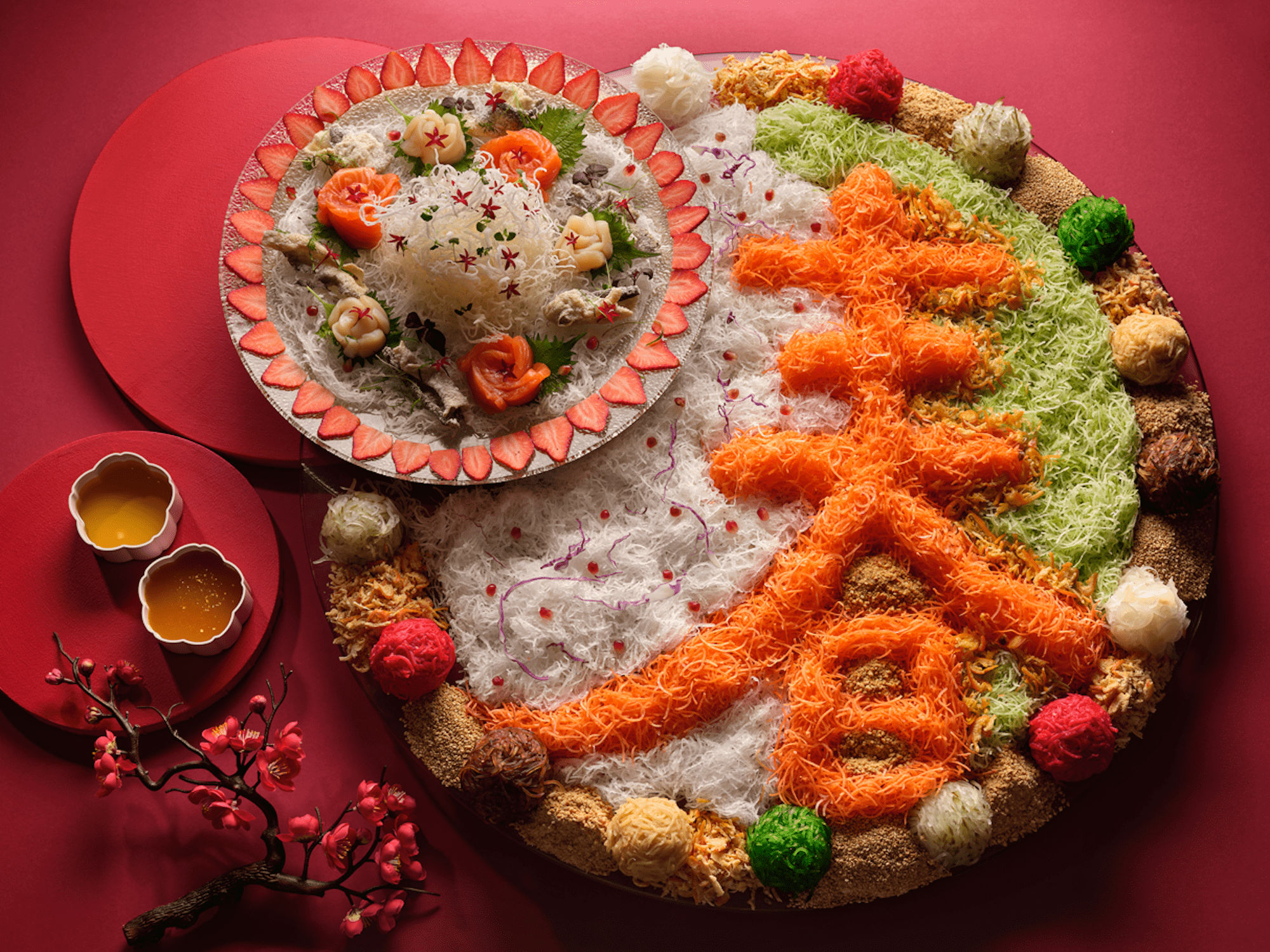 Toss to a prosperous new year in the most spectacular fashion – with a whopping 60-inch Blossoms of Spring Yu Sheng. Available for dine-in only, the dish is shaped to form the Chinese character 春, which symbolises renewal and new beginnings. On top of the typical vegetables and ingredients, there are slices of fresh Hokkaido scallops and salmon, along with crispy fish skin for crunch, and golden yuzu and plum sauce shallot oil to balance the flavours.
Visit singapore.intercontinental.com or email SINHBManfuyuan.Manfuyuan@ihg.com
The Capitol Kempinski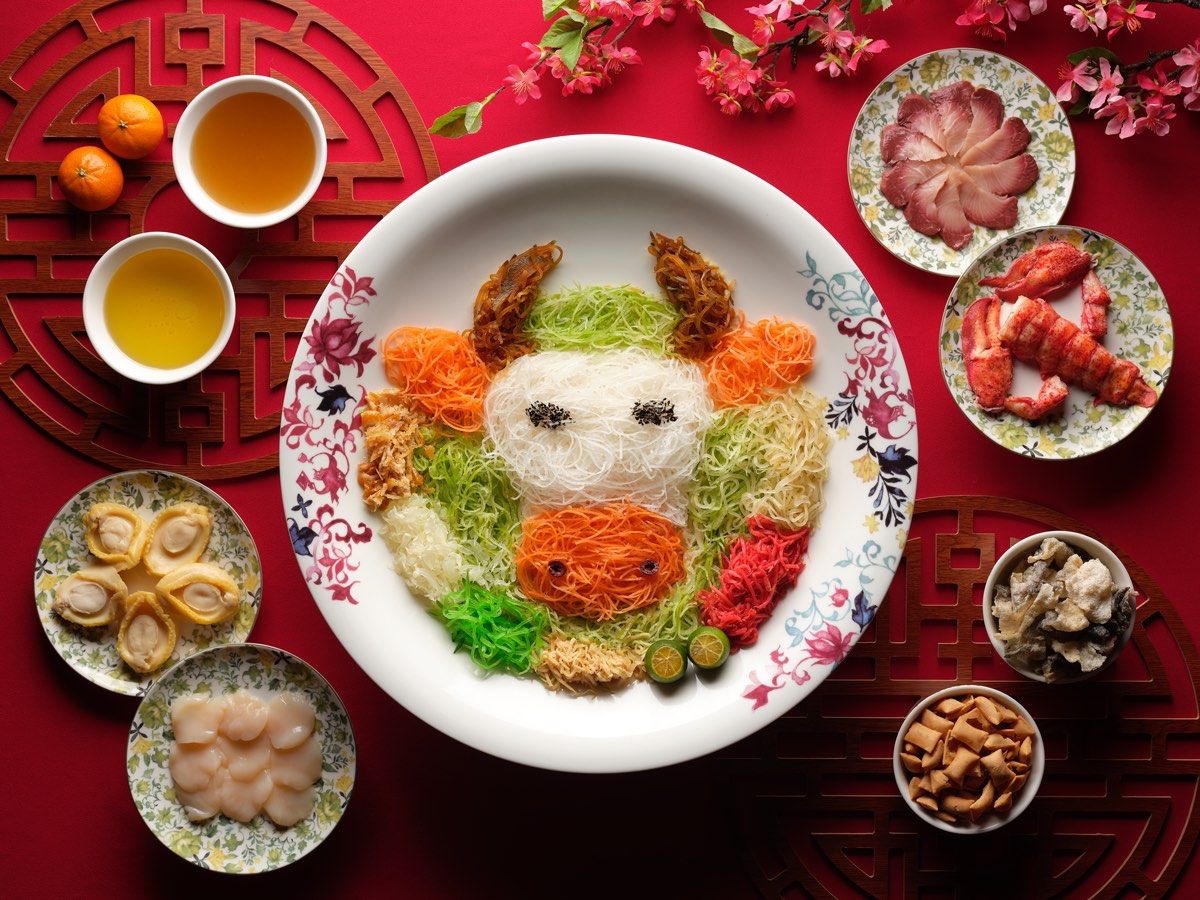 You'll be spoilt for choice at The Capitol Kempinski, where a range of set menus and specials are on offer this festive season across all its dining establishments. At 15 Stamford by Alvin Leung, enjoy more modern Asian dishes like the Atlanic Cod served with sea cucumber, shoyu crumb and a rich duck egg butter broth, as well as more classic ones like the King Salmon Yusheng and Classic Buddha Jumps Over the Wall soup. For more unconventional Lunar New Year fare, try the Char Siew Pork Tagliolini in a saffron broth with pickled cucumber and cashew nuts from Italian restaurant La Scala Ristorante or the Braised Spiced Oxtail Stew with Mashed Potatoes and Spicy Paprika from German restaurant Frieda.
Visit www.kempinski.com/en/singapore/the-capitol-singapore/dining/
Madame Fan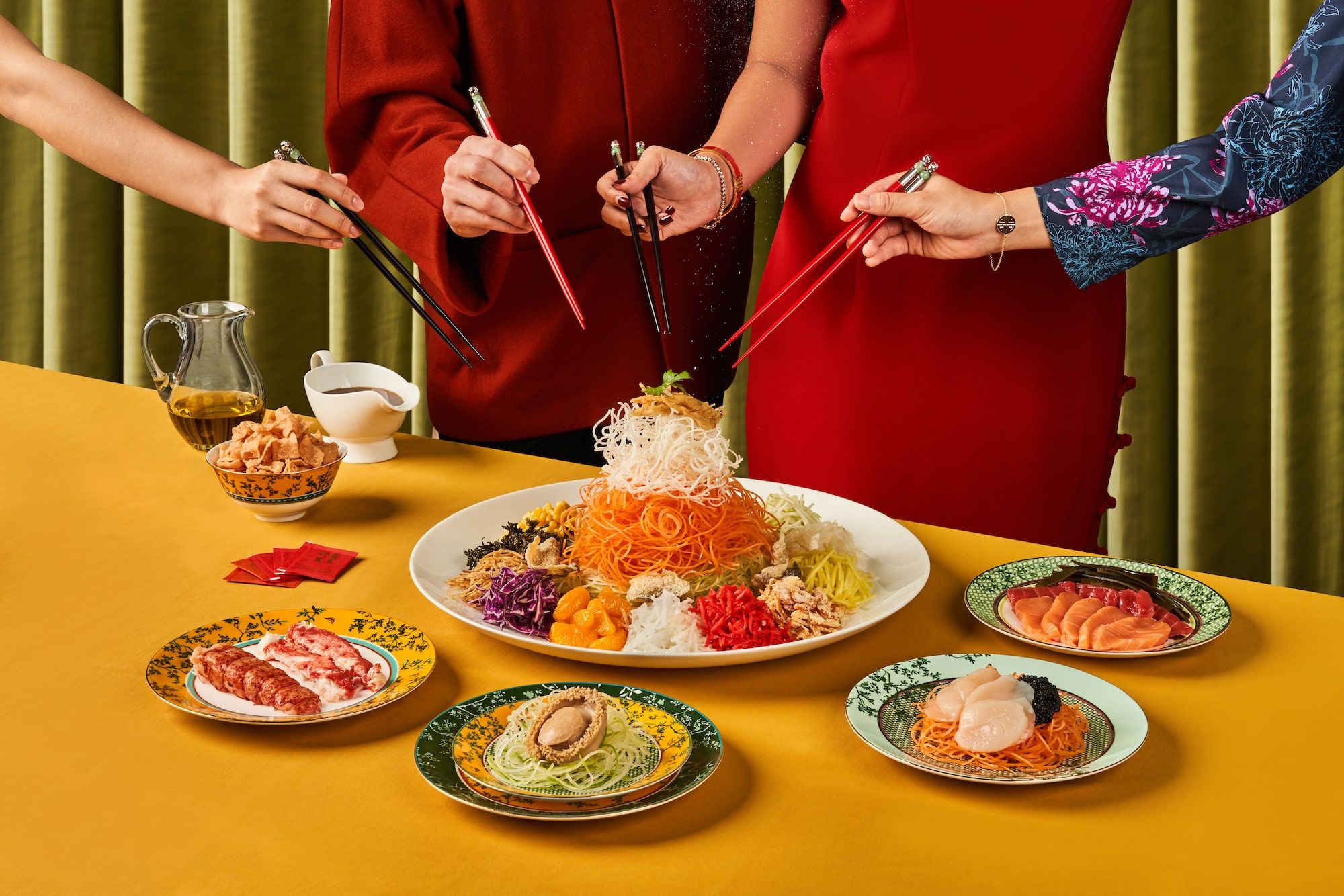 Celebrate at chic modern Cantonese restaurant Madame Fan with the Treasures of Sea Yu Sheng, adorned with eight kinds of sustainably farmed seafood: Alaskan King crab, Boston lobster, Hokkaido scallop, abalone, salmon, bluefin tuna, kombu and caviar. Try the tender Kurobuta pork belly in a Bourgogne blanc and green pepper sauce, as well as the Braised South African 6 Head Abalone served atop a soft homemade tofu and broccoli. Available 18 January to 26 February.
Visit www.madamefan.sg/eat/
Summer Pavilion
Decadence comes in the form of Australian greenlip abalone and salmon roe that top the yu sheng, Japanese wagyu beef with black truffle, a soul-hugging, give-me-the-whole-pot double-boiled sea whelk soup with fish maw, chicken and wild mushroom, and an stupendously delicious pen cai filled with prawns, sea whelk, scallop, roast duck, roast pork, chicken feet, mushroom, sea cucumber and more, set alongside some of the most gorgeous china we've seen. Your memories of Chinese New Year at Summer Pavilion will linger for the rest of the year. Available from 1 to 26 February 2021.
Summer Pavilion, The Ritz Carlton, Millenia Singapore, 7 Raffles Avenue, Singapore 039799. Call +65 6434 5286 or email rc.sinrz.summerpavilion@ritzcarlton.com for dining reservations or enquiries.
Yàn
The yusheng at Yàn is a magnificent, Shunde-style salad with a mountain of crispy vermicelli surrounded by a stunning ring of vibrant vegetables and adorned with gold flakes. Slices of raw yellowtail fish and braised abalone herald wealth and abundance. There are six set menus for dine-in, including an eight-course vegetarian menu. The double-boiled fish maw, chicken with cordyceps flower is a nourishing bowl of comfort, while the braised spring chicken with abalone will warm you inside-out with its luscious flavours. A delicately sweet double-boiled bird's nest rounds off the bounteous spread. Available from 15 January to 26 February 2021.
Yàn, #05-02 National Gallery Singapore, 1 St Andrew's Road, Singapore 178957. Call +65 6384 5585 or email reserve@Yan.com.sg for dining reservations.
Cassia
Chef Lee Hiu Ngai and his team are offering two festive set menus for the coming Year of the Ox, each featuring Cassia's signature yusheng with salmon and kumquat sauce. Highlights include braised bird's nest with caviar in supreme broth, steamed glutinous and jasmine rice wrapped in lotus leaf, and stewed ee-fu noodles with prawns. There's also a special dim sum lunch menu during the festive seasons, which includes delightful bites such as wok-fried carrot cake, prawn and scallop in X.O chili sauce and steamed prawn and dried scallop dumpling with gold. Available 11 to 26 February 2021.
Cassia, Capella Singapore, 1 The Knolls, Sentosa Island, Singapore 098297. Call +65 6591 5045 or visit the restaurant's website for dining reservations.
Peach Blossoms
First-century Roman gourmand Apicus said, "we eat first with our eyes", and that sums up the gorgeous CNY menu at Parkroyal Collection Marina Bay's revamped Peach Blossoms at Parkroyal Collection. Look forward to exquisite dishes like the yellowtail yu sheng with sea whelk, fish roe and organic mixed fruits; braised South African abalone with glutinous rice and smoked chicken wing that's moulded to look like a fish; and a delectable sweet trio of double-boiled bird's nest with papaya and egg, cream of walnut, and a three-layer nian gao with minced peanuts and butter cookies. Do pre-order the uber cute ox-shaped sesame nian gao to take home after your reunion feast! Available 22 January to 26 February 2021.
Peach Blossoms, Level 5, Parkroyal Collection Marina Bay, 6 Raffles Boulevard, Singapore 039594. For reservations and orders, call +65 6845 1118 or email peachblossoms.prsmb@parkroyalhotels.com.
Jeykll & Hyde
People typically go to Chinese restaurants for reunion dinners, but it's no less festive to hold your festive get-together at a cocktail bar. Jekyll & Hyde, which has reopened at its new home along Neil Road, is celebrating the new year with a range of special dishes, including a yusheng with prosciutto di parma, crispy pork floss and bak kwa and a seafood-centric version with mini abalone, ikura, smoked salmon, grilled unagi, crispy fish skin and pork cracklings. Its pen cai, or poon choy, has Japanese abalone, Hokkaido scallops, braised pork belly, chicken roulade and fish maw. Complete your feast with two CNY-edition cocktails — the savoury-sweet bak kwa OF with caramel miso, homemade spiced bitters, and butter bak kwa-washed bourbon, and the gin-based Mandarin Gallery with mandarin honey and orange bitters. Available from 25 January to 26 February 2021.
Jekyll & Hyde, 74 Neil Road, Singapore 088839. Call +65 8940 2450 or visit its website for dining reservations.
Chopsuey Cafe
The Anglo-Chinese restaurant serves a healthier version of yusheng with ingredients like trout, kale, celeriac, sprouts, red radish, blueberries and wild rice. After tossing to a better year, tuck into a selection of starters like the salt and vinegar beancurd crisps, oyster shooters and wok-fried white radish cake. Coconut tom yum snapper, golden pineapple sea prawns, charsiu Kurobuta belly and steamed Shaoxing paper chicken make up the list of mouthwatering mains, which are accompanied with a choice of lobster fried rice or kung pow chicken spaghetti. Available from 29 January to 26 February 2021.
Chopsuey Cafe, #01-23, 10 Dempsey Road, Singapore 247700. Call +65 6708 9288 or visit the restaurant's website for reservations.
Wan Hao Chinese Restaurant
Love lobster? Wan Hao's Lunar New Year feasts include scrumptious plates that feature the luxurious crustacean, such as a lobster-and-caviar yusheng, deep-fried lobster with champagne honey sauce, and braised Boston lobster with black truffle and cheese in superior stock. We're also partial to the Wan Hao "Pi-Pa" roast duck, as well as the Imperial Pot of pen cai, which boast 14 ingredients that symbolises all things auspicious, like three-head Australian abalone, sea cucumber, fish maw, conpoy, goose feet, drunken chicken, and a whole pork trotter. Available from 20 January to 26 February 2021.
Wan Hao Chinese Restaurant, Singapore Marriott Tang Plaza Hotel, 320 Orchard Road, Singapore 238865. Call +65 6831 4605, email singaporemarriott.festive@marriotthotels.com for dining reservations.
Yì by Jereme Leung
Savour provincial Chinese specialties alongside Lunar New Year favourites such as yu sheng, baked lobster with X.O. sauce and cheese, braised pork belly with dried oysters, and crispy glutinous rice cake with shredded coconut at Yì by Jereme Leung. Those looking to celebrate with more privacy can hold their reunion dinners at the hotel's spacious Residence Suite with a choice of their preferred Lunar New Year set menu and an option to extend the stay after the merriment. Available from 18 January to 26 February 2021.
Yì by Jereme Leung, Raffles Hotel, 1 Beach Road, Singapore 189673. Call +65 6337 1886 or visit the restaurant's website for reservations.
(Main and featured image: 15 Stamford by Alvin Leung)