We've all grown up with a sandwich or two.
The dish is hardly a tough one one to make at home: all it takes is some bread and just about anything you can find lying in your fridge or on the table. The usual suspects? Egg and mayonnaise, ham and cheese, or even just a simple peanut butter and jelly (both from the same bottle, you know that kind).
To satiate the ever-growing hunger pangs of diners in Singapore, bistros and restaurants have taken the liberty to elevate the humble sandwich, complete with generous fillings and incredible combinations, all wedged between slices of butter-toasted brioche or sourdough. While this may seem like no big feat, there's a fine line to toe between a well-balanced union of flavours and an abominable fusion of ingredients. If you're wondering where to find some of the former, we've got you covered.
Read on for the full list of sandwiches in Singapore that we're drooling over right now.
46 Mittsu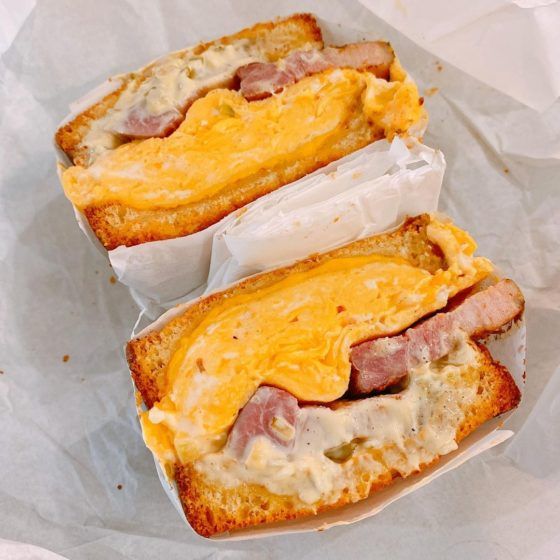 We're disclosing one of our favourite sandwich spots in fear of it being sold out even quicker than before: 46 Mittsu. The word "thick" can't even describe how hefty the sandwiches are, we'll just let the pictures speak for themselves. Pictured is the B.E.C from the All Day Brekkie menu, stuffed with homemade thick bacon, fluffy scrambled eggs, smokey American cheddar and habanero gribiche for some heat to tie it all together.
46 Kim Yam Road, Crane, #01-06, Singapore, 239351
Park Bench Deli Park Bench Deli's latest update at their Telok Ayer outpost serves a mean slate of dishes that'll feed you well for every meal of the day, and their sandwiches are no exception. If you're up for a guilty pleasure, the brown-buttered Hot Honey Chicken sandwich is a spicy, tender and crispy mouthful that's almost too-good to share despite its size. Looking for a vegetarian option? Head straight for the Mushroom sandwich that's stuffed with fried oyster and king mushrooms.
Do yourself a favour and get the creme brûlée bomboloni while you're at the bistro too. The creamy, custardy dream is made even better with a crackly sugar glaze here.
179 Telok Ayer St, Singapore 068627
Korio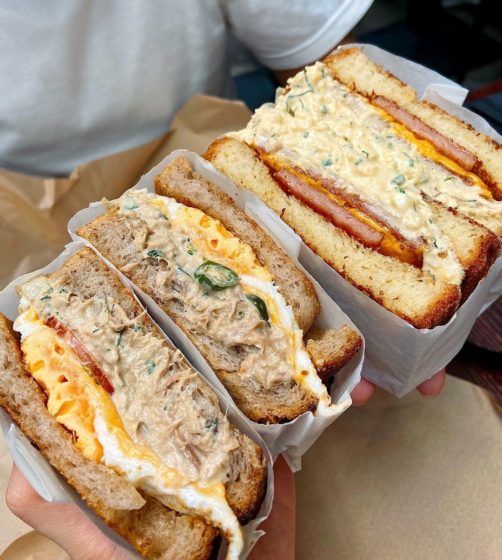 Sandwiches are made to be messy, and Korio knows this mantra well. The eatery's signature Breakfast Sammy comes packed with crispy spam, an incredibly rich, almost overflowing sauce gribiche, chives and American cheese, all housed between two slices of toasted brioche. Fair warning, the goods run out even before midday, so you'd best be heading down in person or hovering your fingers on the keyboard in the morning.
135 Amoy Street, #01-03, Singapore, 049964
Salted & Hung Besides mouthwatering dishes, Salted & Hung is best known for their chunky sandwiches. In regular times, the Cubano would serve us well, but the Wagyu Pastrami Sandwich, which was borne out of the lockdown last year, has proven to be another scene-stealer we still can't forget. Think uncountable layers of smokey, fatty shaved beef that barely holds itself together with mustard, melted cheese and toasted sourdough bread.
12 Purvis St, Singapore 188591
Starter Lab Conjuring up a grilled cheese at home may seem like the the easiest thing in the world — unless you've had the Starter Lab 3 Cheese, that is. Two toasted rosemary sourdough slices house a mix of three different cheeses (mimolette, cantal, and emmental cheese) for the ultimate cheese pull. Grilled cheese sandwiches can lean towards a richer, saltier taste profile, but this was perfectly balanced with the beautifully made bread, which we unapologetically scuffed down in no time.
721 Havelock Rd, Singapore 169645
UgliSabi Heads up: the goods aren't "ugly" like the name UgliSabi suggests because a tasty sandwich can never look atrocious in our eyes. Nine options make up the sandwich menu here at UgliSabi. Traditionalists can always stick to the Chicken Parm or the Roast Beef, but our go-to has to be the Crab Melt and the Egg 30. Be sure to add a couple of Sadway Cookies into cart while you're ordering your breakfast too.
(Main and featured image: Korio/Facebook)
This story first appeared on Lifestyle Asia Singapore.