CNY sweets and snacks: Where to get pineapple tarts, bak kwa, love letters, and cookies for your celebrations
Chinese New Year will be different this year.
There'll be no large gatherings, no shopping at the annual Chinatown bazaar, no escaping to foreign lands, less house visits, and quieter lou heis. Some of us will miss family members who are stuck overseas, and they will miss their mother's signature roast pork, or their Gran's special soup.
But if it's of any consolation, less physical interactions means there will be more of those glorious sweets and snacks for ourselves. Because, you know, not sharing is caring these days. Ahead, our hit list of places to get all the best bites this festive season has to offer.
The Ritz-Carlton, Millenia Singapore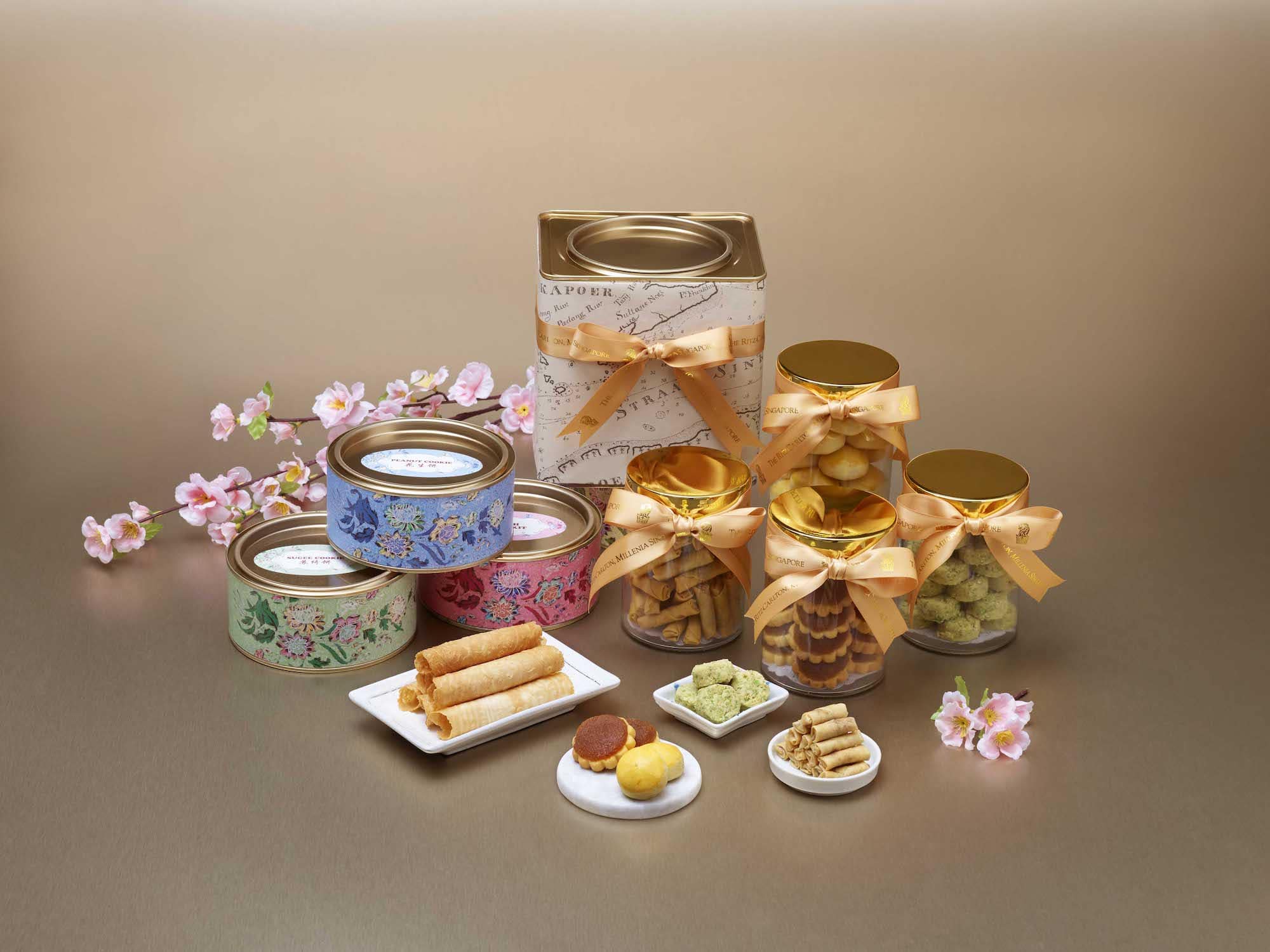 The ovens and bakers at Colony Bakery are working overtime for a slew of handcrafted Prosperity Goodies for Chinese New Year, including pineapple balls (there's also a vegan option), nian gao, love letters, peanut cookies and kueh lapis done three ways (original, pandan and prune). Get the chilli prawn rolls, kueh bangkit, sugee and cashew nuts in pretty Peranakan tins as gifts. Bigger gifting options come in the form of three luxurious hampers — Auspicious, Fortune and Prosperity — all of which have abalone, pineapple tarts, love letters and a bottle of Diplomatico rum or Côtes du Rhône red wine.
Available from January 15 to February 18. Call +65 6434 5278, email rc.sinrz.bakery@ritzcarlton.com or visit www.colonybakery.oddle.me to place your orders.
Goodwood Park Hotel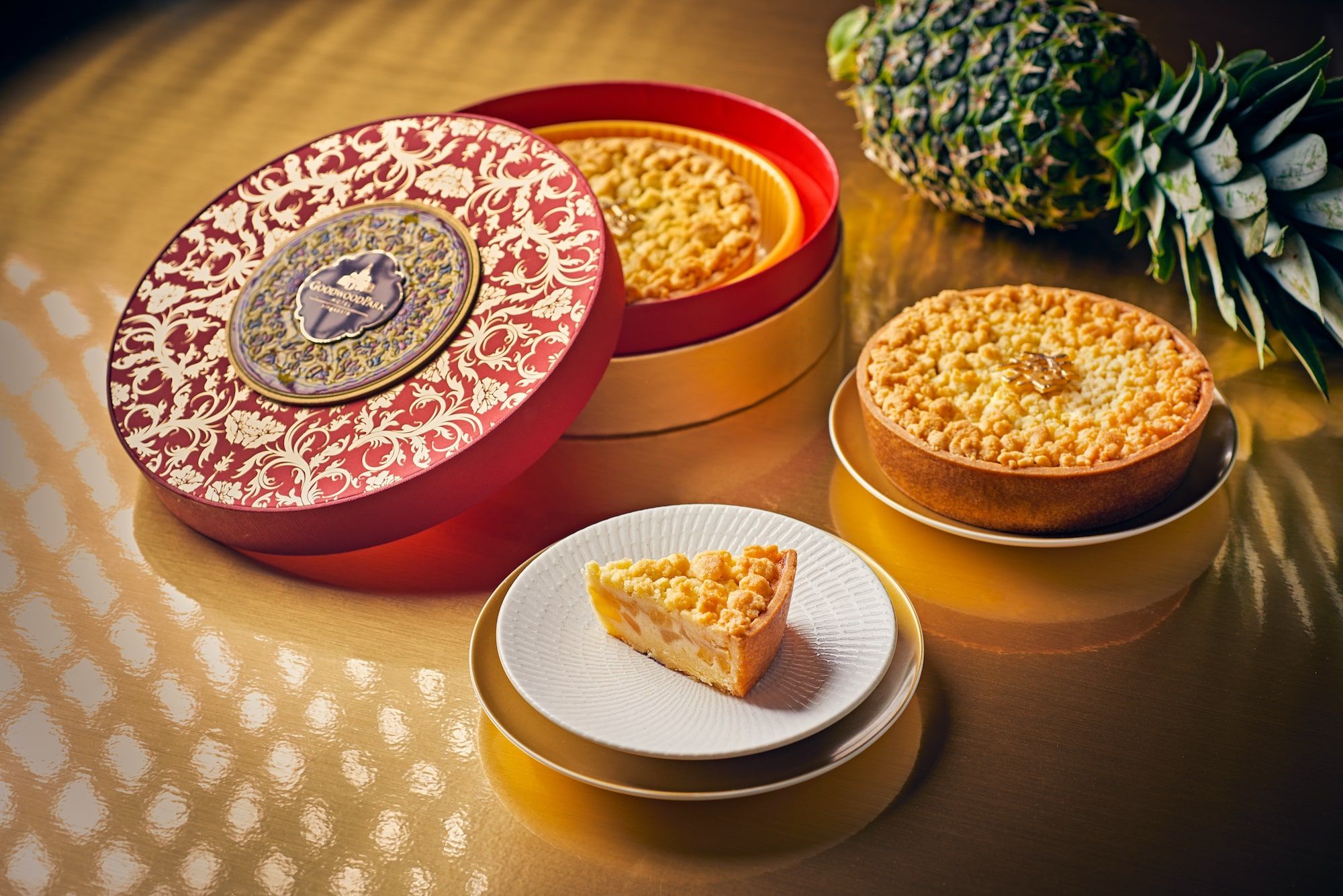 Last year, Goodwood Park Hotel created a giant mooncake in celebration of the Mid-Autumn Festival and its 120th anniversary. This year, the chefs at the landmark hotel are upsizing the traditional pineapple tart with the Gong Xi 'Huat' Cai, a 14cm-wide pineapple crumble tart that has almond cream, caramelised pineapple cubes, an almond pastry crumble and a gold-painted white chocolate in the shape of the Chinese character "發". Other new treats include a sweet-savoury maple butter and almond garlic lotus root chips, a box of six kumquat butter cake and marble cake shaped like mandarin oranges, as well as a Bountiful Box of Sweet Blessing, a collection of 15 petite sweets —think orange chiboust cakes, chocolate almond tarts and baked cheesecakes. If you loved Goodwood Park's moreish bak kwa and its mango and durian pudding (moulded to look like a pair of Koi fish) of yesteryear, both treats are making a comeback for the upcoming festivities.
Available from January 24 to 26 for takeaway or delivery from The Deli and Min Jiang (Goodwood Park Hotel) as well as Min Jiang at Dempsey. Place your order at goodwoodparkfestive.oddle.me.
Janice Wong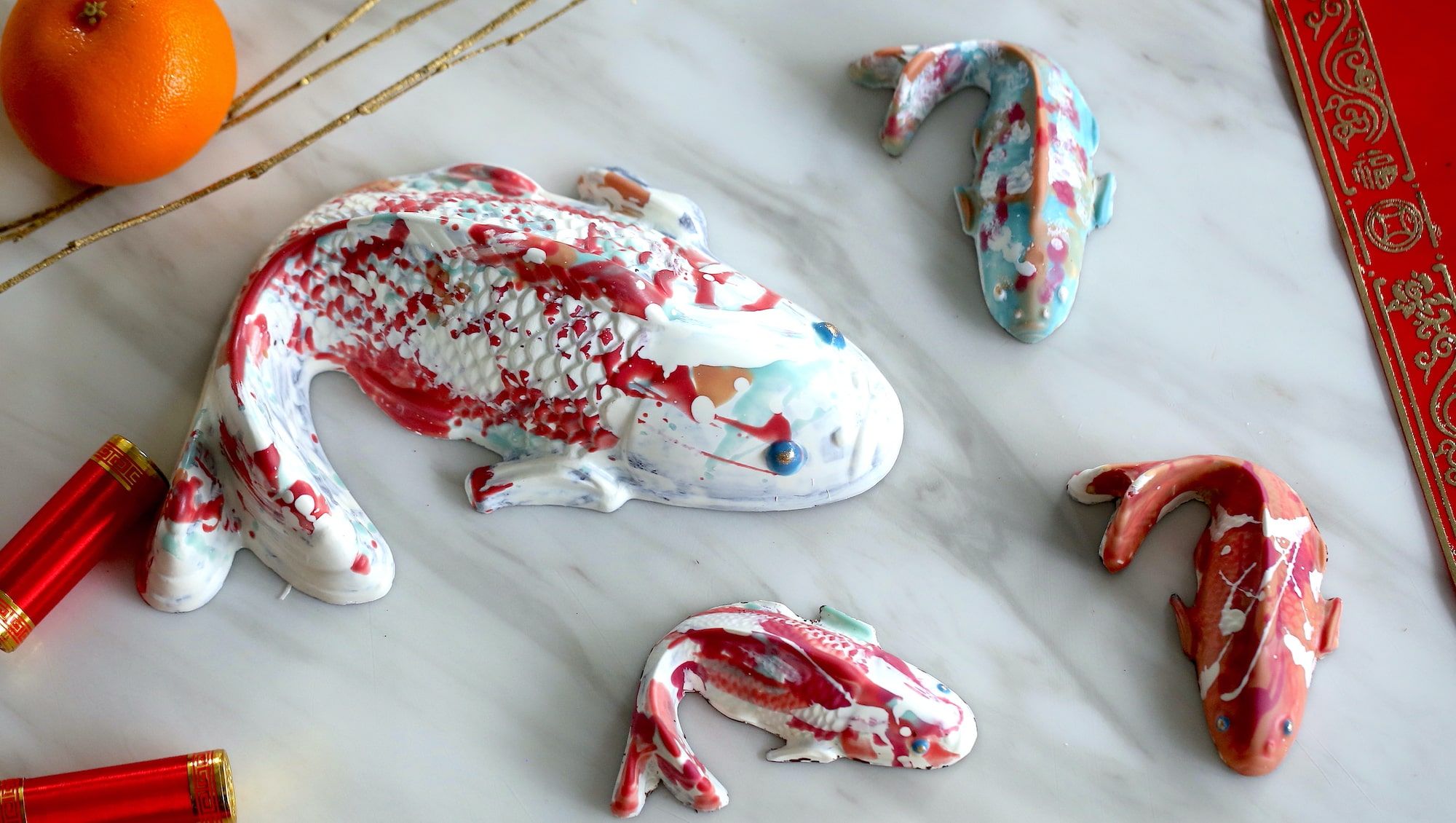 The Koi fish is one of the most iconic symbols of Chinese culture, signifying courage, abundance, good luck, wealth and tenacity. Invite these positive energies and well-wishes to your surroundings with Janice Wong's beautiful hand-painted Chocolate Koi, which is coated with single-origin Equateur 76% dark chocolate and filled with Praline Feuilletine and candied orange. The koi comes in a pair encased in a beautiful gold glass box to resemble a pond. Janice Wong's CNY collection also features a six limited-edition hampers (we're partial to the Big Cookie Hamper with classic cookies and new flavours like Chocolate Bakkwa Cookies, Chocolate Pineapple Balls and Macadamia Raisin), classics such as Love Letters, an assortment of cookies and various Pineapple Tarts.
All items are now available for order at www.janicewong.online or at retail stores located in Raffles City and Paragon.
Marriott Singapore Tang Plaza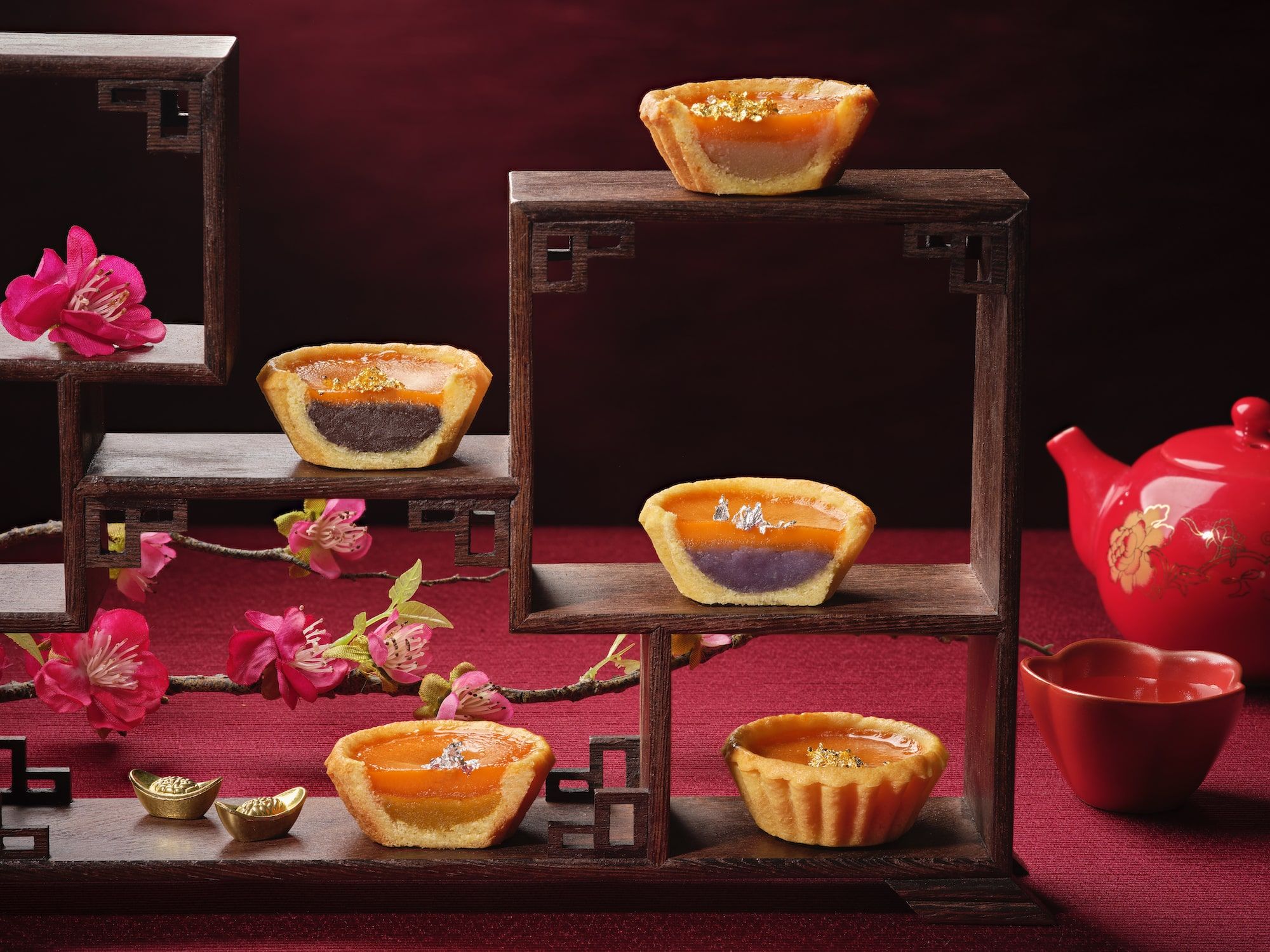 If you like that sticky thing that our mothers deep-fry with batter, sometimes sandwiched between two slices of sweet potato, we think you'll be pleased with the variety of nian gao treats from Wan Hao Restaurant. There's one in the shape of a koi fish that is good for six, and a handful of tarts with purple sweet potato, cempedak, Japanese red bean and yam. The Koi fish osmanthus water chestnut cake also makes a great palate refresher at reunion dinners. While you're picking up your festive treats, do stop by the restaurant's pop-up on level 1 for its handmade pastries, which include buttery baked char siew baos, crumbly walnut cookies, and egg tarts jazzed up with fillings of coconut, gula melaka and yam. These are available for takeaway until Feb 20.
Call +65 6831 4605, email singaporemarriott.festive@marriotthotels.com or visit celebratorydelights.com/cny for orders.
Mad About Sucre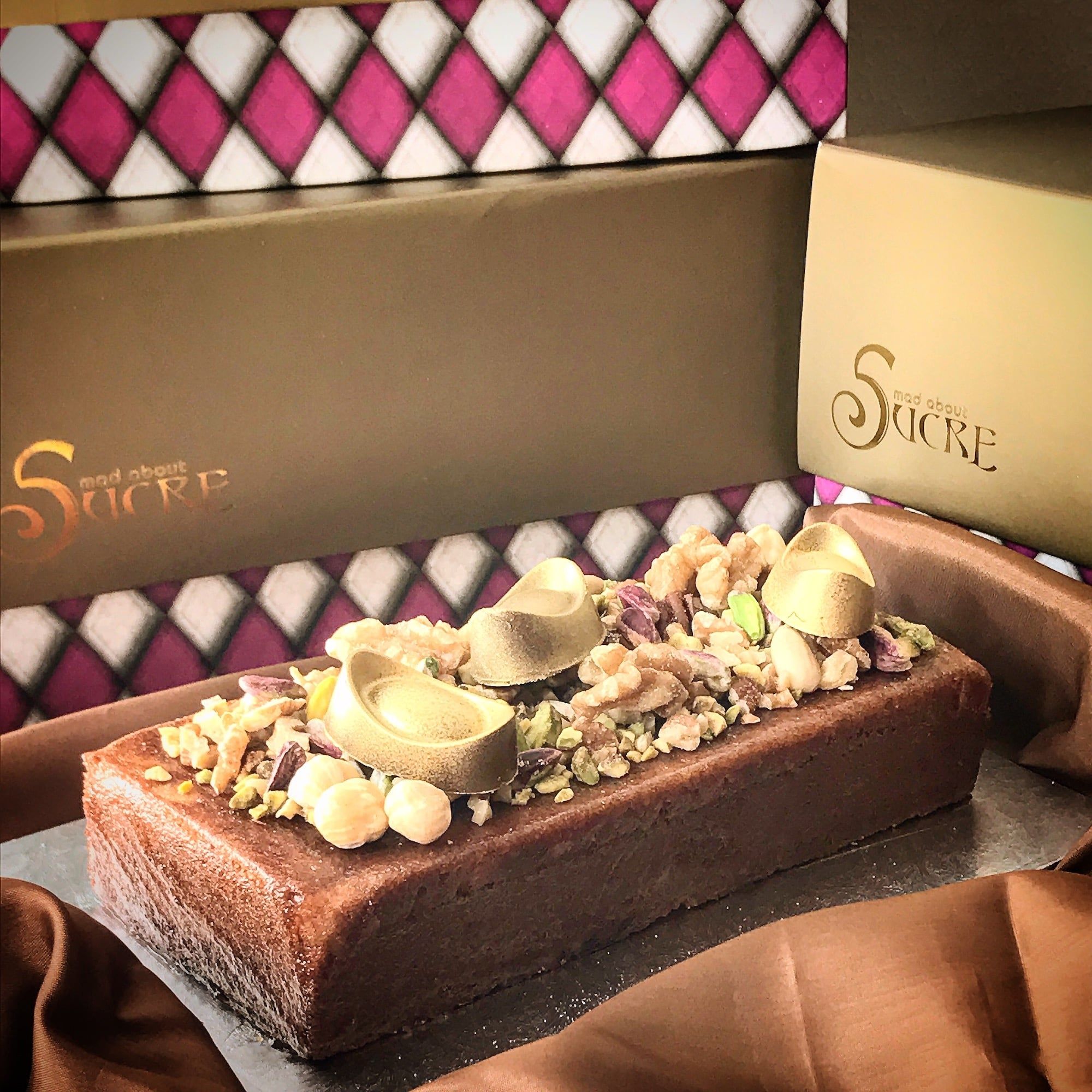 We'll be suspicious of anyone not sold on Mad About Sucre's Prosperity Box, which comes with a box of its beloved Golden Tarts (20 individually wrapped pineapple tarts accented with edible gold leaf flakes) and a box of 48 salted egg yolk or French butter cookies. Besides tarts and cookies, the local patisserie has introduced the Fortuna Cake this CNY — it has a sponge base flavoured with Mandarin orange, blood orange and kumquat, and is topped with premium nuts, candied kumquat and ingots of dark chocolates.
Place your order at Mad About Sucre's website.
(Main and featured image: Goodwood Park Hotel)