Pasta Bar review: The Italian restaurant's new Fall menu is here to save you from unsatisfying carbs
Forget the tables. The best seats in Pasta Bar are around the open kitchen, at the counter.
Watching Chef Darren Micallef make pasta is like watching a scene from Netflix's stunning docu-series Chef's Table. In my mind, Vivaldi's glorious violin concerti played as Micallef twirled, pan-flipped and rained cheese down a plate of agnolotti — in slow-mo. We were so taken by the visually gratifying spectacle in front of us that our conversation kept trailing off to the clinks and clanks of the cookhouse. Perhaps it was the hunger pangs talking, but every beautiful carb-loaded dish that left the chef's hands we hoped with bated breath that it was ours. So when the sea urchin taglioini finally arrived right under our noses, we cheered as if we hit the lottery.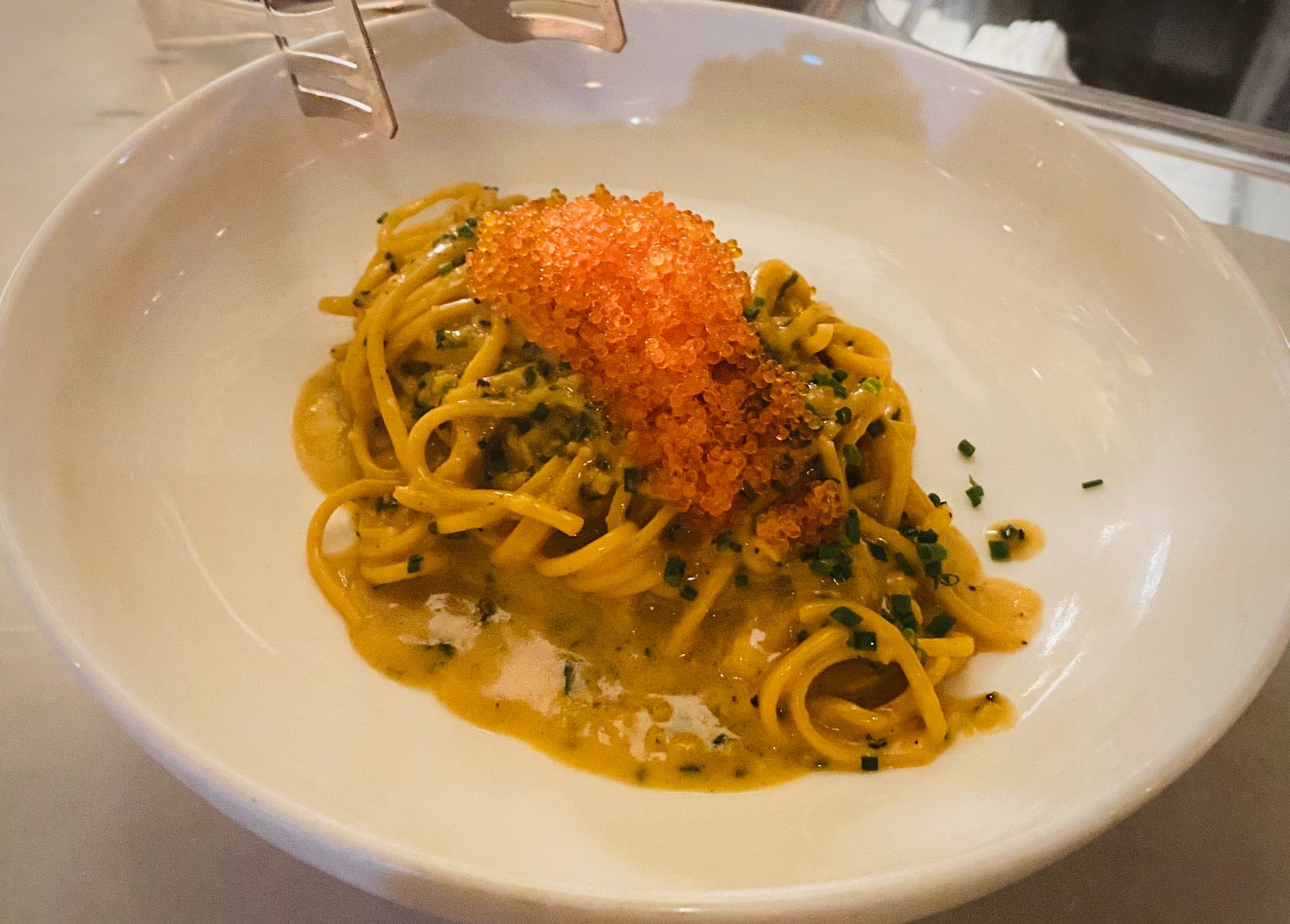 That tagliolini didn't let us down. Doused in sea urchin cream and topped with a spoonful of tobiko, it may not have as much uni as I would like (to be fair, I can go to town with the rust-coloured delicacy), but it's a warm plate of buttery, salty bliss that will linger in your consciousness weeks, nay, months, after. The pasta — handmade daily with a precise dough formula for each type — is sublimely al dente, which makes me eager to take one of their cookery lessons once we get out of this wretched hellscape, because I want to know exactly how it tastes this good.
Micallef, I realised, is a master of intense, carefully concocted flavours that serves to enrich — not overpower — his perfect pasta. The duck agnolotti is an earthy, meaty and luxurious beauty of slippery parcels stuffed with confit duck and porcini mushrooms, drenched in butter and duck jus, and laden with freshly shaved black truffle. If autumn had a taste, it would be this. There's also a spicy Italian pork sausage ragu with Italian kale, stracciatella cheese, and orecchiette that comes on strong and explosive, and a predominantly-sweet, lavish pumpkin tortelli that feels like a savoury Christmas pre-dessert. That's right, folks, the end of the year is near!
Now, we're here for the exemplary pasta, but that's not to say the antipasti at Pasta Bar were at all shabby. It's possible to eat the ricotta many times, just so you can properly analyse its heady coalesce of smokiness, sweetness, tanginess, fruitiness and saltiness from the house-smoked whey cheese, figs, parma ham, sourdough bread, and aged balsamic vinegar. The braised veal tongue, stewed for six hours, sliced into paper-thin sheets and dressed with creamy tuna sauce and a handful of parsley, is mellower than I expected from a offal dish. Before your mains arrive, it's worth getting a shot of zesty ocean freshness from the hamachi tuna crudo to cleanse your palette. A glass or two of their very drinkable wine most certainly won't hurt either.
Sweets are a fairly simple five-choice affair, two of which are newly added for fall: a flourless chocolate cake drizzled with balsamic vinegar, almond and vanilla ice cream, plus some "Zeppoles": fluffy Italian doughnuts filled with chocolate and orange mascarpone cream, accompanied by milk-and-orange gelato and chocolate sauce. They both make decently sweet endings, but we were, by then, full up to our earlobes to fully and professionally appreciate their perceived complexity. Look, you can't have everything. You don't go to Pasta Bar for desserts. You go there for three plates of unabashed carbs bursting with big Italian flavours and a bottle of Pinot Grigio. And you leave 90 minutes later emotionally restored, without a care that Micallef and his team have just sabotaged your diet plans.
(Main and featured image: Pasta Bar)
Pasta Bar, #01-05, 55 Keong Saik Road, Singapore 089158, +65 6222 0627