Restaurant review: Contemporary French brasserie Clos Pasoh makes dumplings that demand attention
Lest we forget, dumplings are universal.
Just about every culture has its own filled dough or pastry package. In Asia, there's xiao long bao, gyoza, har gao, siew mai, banh bot loc, wonton, mandu, momo and joshpara. From other parts of the world, you'll find ravioli, tortellini, empanada, pierogi, pelmeni, coxinhas, kreplach, maultaschen and more you've never heard of.
So it's not entirely unexpected to find dumplings in a French brasserie. What's surprising about Clos Pasoh, however, is its commitment to the way of the wrapped morsel. Out of the nine dishes (including two desserts) we had at the restaurant's pre-opening dinner, four were dumplings. And they were all divinely good — good enough to give Din Tai Fung a run for its money.
These pleasing parcels with light skins and plump fillings are the work of 32-year-old Chef Louis Paquelin, formerly of the now-shuttered BBR By Alain Ducasse. Prior to his Singapore posting, he spent three years at Michelin-starred chef Akrame Benallal's Akme in Shanghai, the land of xiao long bao. No wonder his dumplings are perfect. The calf head fried wontons (tête de veau) arrives hot and crispy with a welcoming tinge of gaminess emanating from its soft, gelatinous interior, alongside a creamy wasabi ravigote dipping sauce for a slight punch up your nose. Gossamer, silky skin holds a dark, dense, earthy filling of mushrooms, comté cheese and yellow wine in the champignons au vin Jaune, enlivened by a savoury walnut emulsion. The same sublime wrapper (or so it seems) finds its way around a handful of Thai-influenced steamed lobster-filled dumplings, infused with kaffir lime and comes swimming in an unfortunately shallow, ravishing pool of coconut and lobster bisque.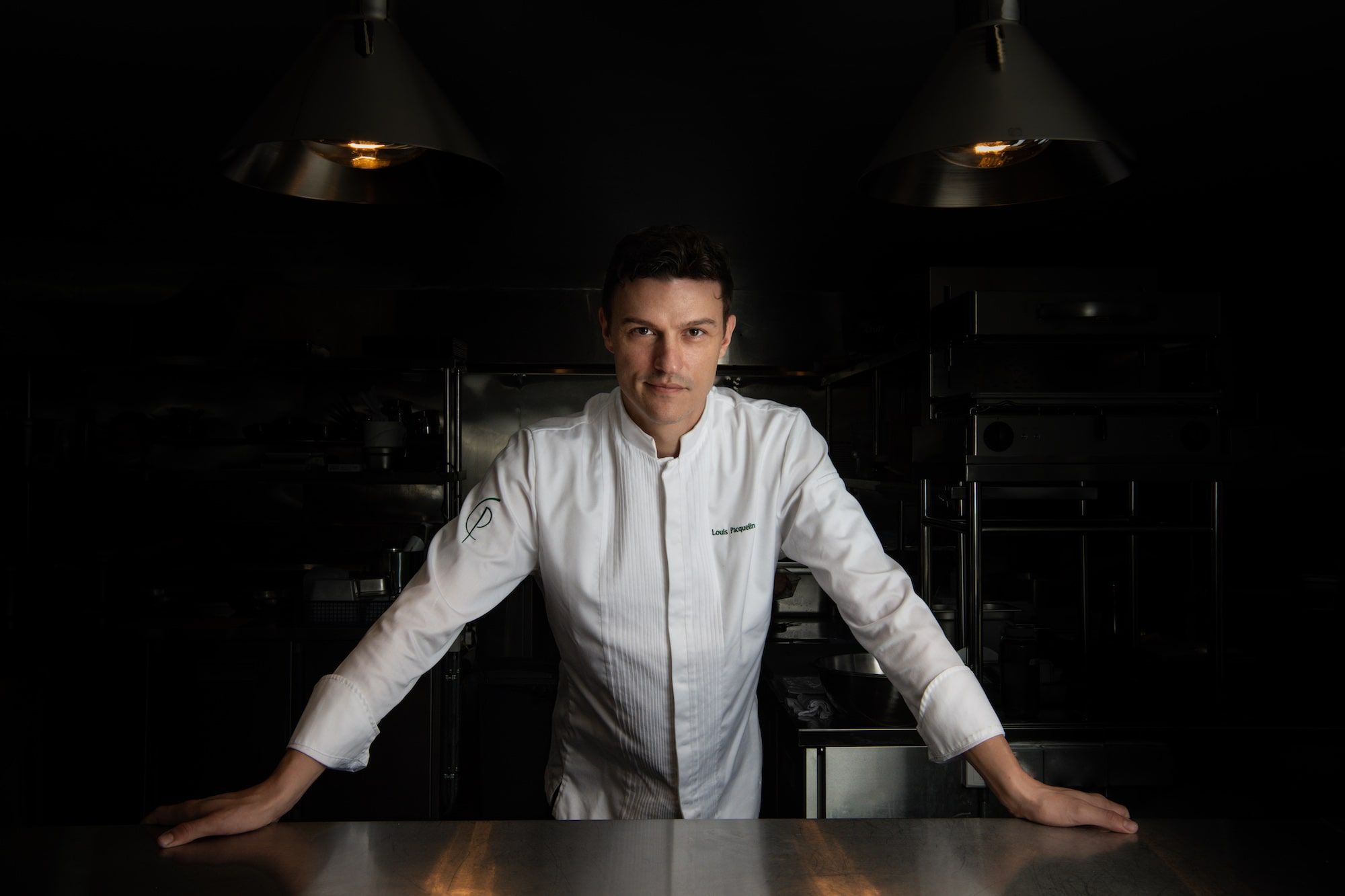 The last of Pacquelin's dumplings is a part of his triumphant pot-au-feu, a magnificent sorcery of a stew that is as dramatic as it sounds. Large slabs of Angus beef short rib, oyster blade and cheek rests on a cast-iron skillet with sturdy vegetables like carrots, leek, radish and cabbage. The dish is dry when served, accompanied by a syphon consisting of a round-bottom flask attached to a glass funnel-vessel containing dehydrated vegetable trimmings, chilli, fresh herbs, fennel and coriander. Chef Pacquelin fires up the contraption, sending the consomme upwards towards the terrarium. As the infusion happens, we slurp yet another bowl of minced beef dumplings and naked poached goose liver waddling in a soul-hugging beef broth. Finally, the meat and vegetables get a bath with the just-scented consomme. This deeply flavoured, restorative stew haunted me for weeks. How does the beef maintain tension and tenderness? How do they keep the sweet, earthy freshness of the vegetables? Did the mellow heat come from the chilli in the terrarium, or are there peppers? How does it taste so good?
All these questions are why I fully accept my ineptitude in the kitchen. Clos Pasoh serves possibly some of the best dumplings and beef stew in town, now that it's open for business. It's also a place you'd want to linger long after dinner, at the chic balcony that surrounds the main dining hall — which looks out to a lovely view of Bukit Pasoh. I say that with some pain, because the place isn't that big and the exceptional wine list of 1,500 labels, curated by co-owner and wine impresario Jean-Christophe Cadoret, will make you want to stay all night, then return next week to relive Pacquelin's culinary wizardry, sip some still champagne (try the Chardonnay Coteaux Champenois ​from Jerome Dehours), and have more of that delicious Poiré "Granit" Cider. I foresee some inconvenience in securing a table.
Clos Pasoh, Level 2, 48A Bukit Pasoh, Singapore 089859, +65 6980 0672
(All images: Clos Pasoh)