Sushi is one of my favourite things to eat, but I didn't always enjoy these thumb-length pillows of rice with raw fish.
Until Hashida, I tolerated unremarkable sushi served at Japanese restaurant chains, where passable uncooked seafood laid atop heavily vinegared, mushy, disproportionately large, machine-moulded chilled rice. Chef Kenjiro Hashida, better known as Hatch, showed me what good sushi should be: lightly vinegared, just-warm rice with grains that you can pick out with the tip of your chopstick, and blanketed with the freshest, sweetest catch. I recall leaving with a stupid grin I couldn't wipe off my face.
It was 2013 when I first experienced Chef Hatch's brilliance. In the last seven years, Hashida Singapore has gone through a series of incarnations, moving from Mandarin Gallery to Mohamed Sultan Road in 2018, then resurfacing in September last year as a private dining concept at OUE Social Kitchen after shutting its doors in April. There was also the now-defunct Hashida Garo, a more casual concept offering dainty sweets, small savoury plates and traditional Japanese teas. It closed less than a year of operations, as its owners wanted to focus on the main restaurant.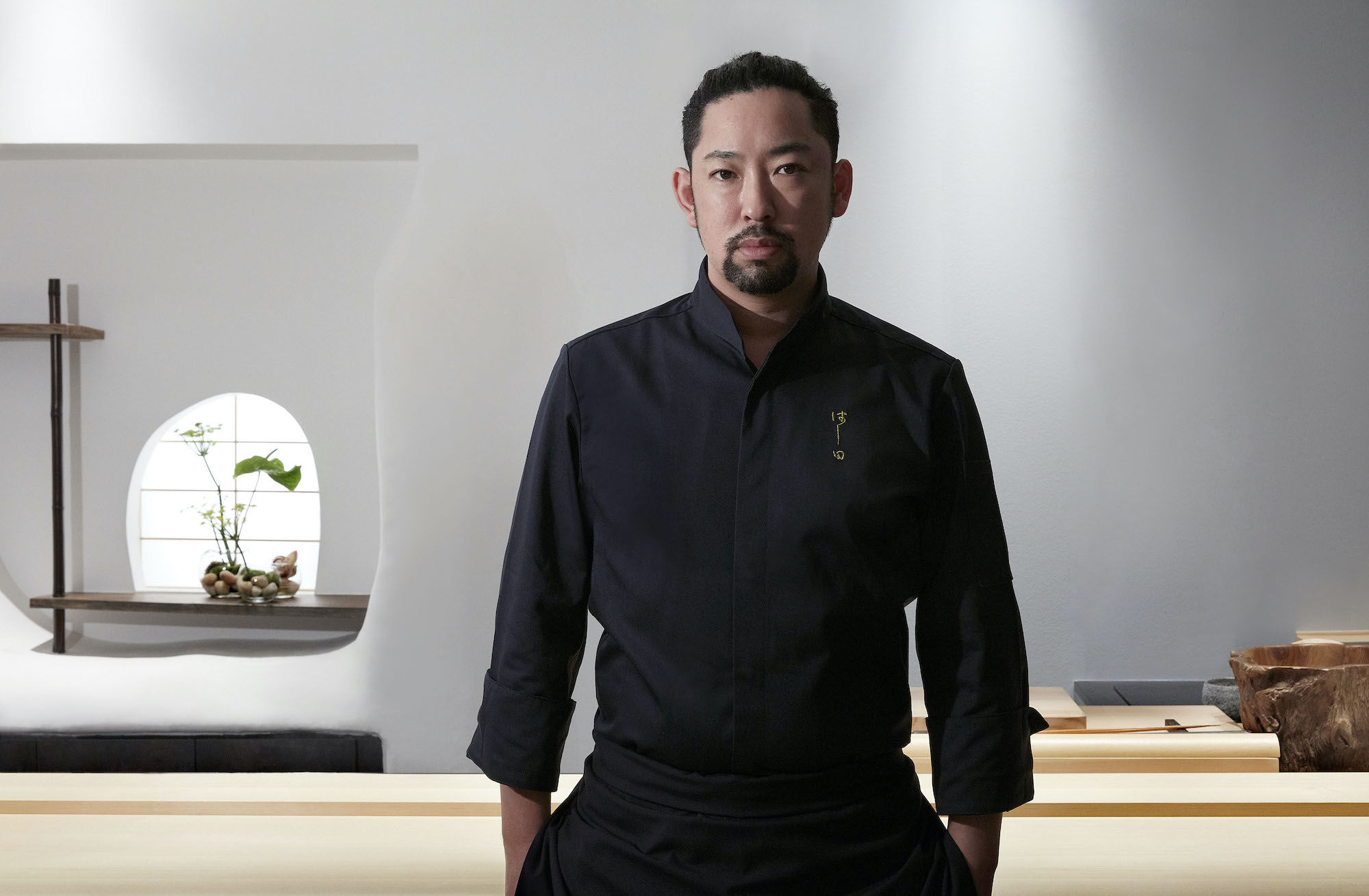 Turns out that the private dining venture was a prelude to a new Hashida on Amoy Street. This rebirth, however, isn't what I'd had imagined. Instead of "growing up", Hashida is breaking the mould of traditional Japanese establishments, the kind where no one talks above a whisper and food is served with hushed reverence. Hatch's interest in formality has clearly been misplaced. Now, he wants to play.
The new abode, while still distinctly Japanese, is littered with curious touches, like the tiny Star Wars Lego figurine that greets you from an illuminated recess in the ceiling when you step through the restaurant's torii gate. The cavernous space has three dining rooms, each with its own look and feel. The largest is a gorgeous 12-seater space with two massive slabs of white paper-mache hanging overhead. I ask Chef Hatch if they are clouds, to which he replied, "Waves, clouds… it's whatever you want it to be." The walls are painted to look like a life-sized, 360-degree grayscale swatch to embody the yin and yang.
It is in this room that I witnessed Chef Hatch's evolution truly unfold. He's chattier and more relaxed than I remember, drinking sake offered by regulars, cracking jokes and making his guests laugh. His insouciance comes through in his contemporary "global-influenced" dishes, where he puts technique in the service of pure pleasure. Our three-hour, 17-course (to wit, each sushi is a course here) omakase dinner starts with five hors d'oeuvres that arrive in an octagonal vessel. There's abalone topped with uni and caviar on a shell, a dollop of roasted sweet potato purée, a soy-sauce marinated, charcoal-scorched mackerel sushi, sweet snow crab and sea cucumber and a chilled turnip soup. Then a mochi rice cake followed, swimming in a white miso-based broth along with yam, roasted apple, and radish. The sashimi platter consists of tuna belly, cooked seaweed, scallop, a slice of perforated, crunchy yam stem, needlefish and ground wasabi mixed with soy sauce and horseradish skin that is peeled and cleaned. A couple of lily bulb dumplings with a clear, dashi-based sauce signals the end of the starter round. All these scream of freshness and a love for devilish detail.
Still here? Hang on, because we haven't got to the best bits yet. One by one, Chef Hatch places a piece of sushi (flounder fin, yellow jack, aged akame zuke marinated in soy, buri and baby tai, needlefish, and hand-carved tuna belly, Hashida's signature) in front of us, which I devour in a rapidly unladylike manner — with my fingers and a huge mouthful for each. I'm not sure what some of the fish are, but they are all thick, subtly seasoned and utterly perfect. These are augmented with a delightful bonito fish aburi smoked with Japanese straw, a silky-smooth chawanmushi, the juiciest tempura oyster, a small rice bowl with ikura, uni and beltfish, as well as a clear soup with handmade fish cake, seaweed and spring onions. By this point, things get deliciously woozy — not just from the highly-drinkable sake — but also from the magic cast by the team at Hashida.
Everything here is crafted with skill and talent, and revealing these dishes feels like shouting out spoilers. But there's a matcha pudding, Japanese fresh fruits and a sweet mochi wrapped with gobo, sour plum sauce and white bean paste for dessert. At a time when the world seems so precarious, play can seem like a fool's errand. The new Hashida is an invitation to leave your worries at the door, have fun and tap into that unabashed feeling you had as a child — something that we could certainly use right now.
Hashida Singapore, 77 Amoy Street, Singapore 069896, +65 8129 5336