Restaurant review: Saint Pierre at One Fullerton emerges more polished than ever after 20 years and a pandemic
In a world still grappling with a pandemic, the dining class seems to have split into two.
The first has had to tighten their belts due to the financial climate, and the second — which still has the means to — would find themselves splurging more on hotels and restaurants while travel bans remain.
It is the latter, the darlings and saviours of Singapore's gastronomy that will keep our chefs, sommeliers and all of our vaunted restaurants humming during this tough time.
And to those who belong to this group, I have a message for you: Saint Pierre is now open and is very much worth your dime. An afternoon or evening spent over a long, languorous meal with a view of Marina Bay could just be exactly what the soul needs right now.
The restaurant, owned and run by stalwart Emmanuel Stroobant has been around for a whopping 20 years and has been through multiple iterations. Its current fine dining incarnation at One Fullerton has been operating since 2016. In fact, the food has been elevated since my last visit in 2017 right before it received its first Michelin star.
In the last three years, it has clinched its second star — an accolade well deserved. The food now is more polished than ever, prepared with surgical precision and where each canape, amuse bouche and morsel is plated with debilitating beauty.
Nowhere is this seen more than in the Marron course, a Western Australian freshwater crustacean that resembles a lobster but whose flesh is much sweeter. Its been de-shelled and barbecued in the kitchens till it blushes a bright orange (cooked till 90 percent, I'm told) before it is brought out to the diner and prepared tableside. There next to me, I watched chef Emmanuel warm the crustacean ever so gently on a hibachi grill and caress it multiple times with a brush dripping with marron oil.
This precious little parcel is then placed on a gleaming porcelain bowl with turnip tea, kohlrabi and finger lime. When taken together, the dish is a study of showmanship, technical prowess and the sort of knowledge that only decades of experience and respect for provenance can bring.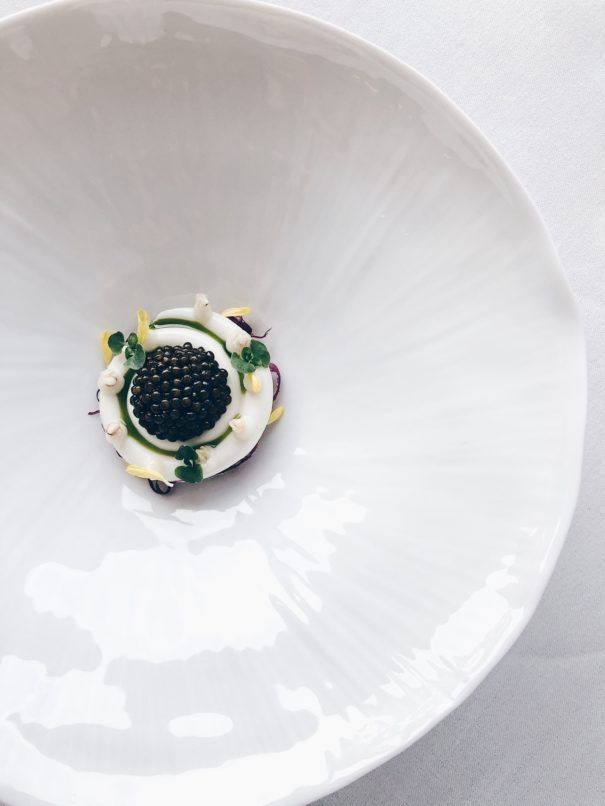 Another course, simply named Caviar is as much a work of art. Here, a mound of Belgian caviar sits in the middle of the dish, encircled by a savoury buttermilk parfait that's been given a kiss of life with horseradish. Underneath this decadence sits a raw Hokkaido scallop tartar and Jerusalem artichoke.
From a certain vantage point, the dish resembles the enso — a hand drawn circle in zen philosophy that embodies the freedom of the mind to let the body create. This is the cognitive process that underscores the entire menu, one which chef Emmanuel adopted from his yoga practice and expresses in his cuisine.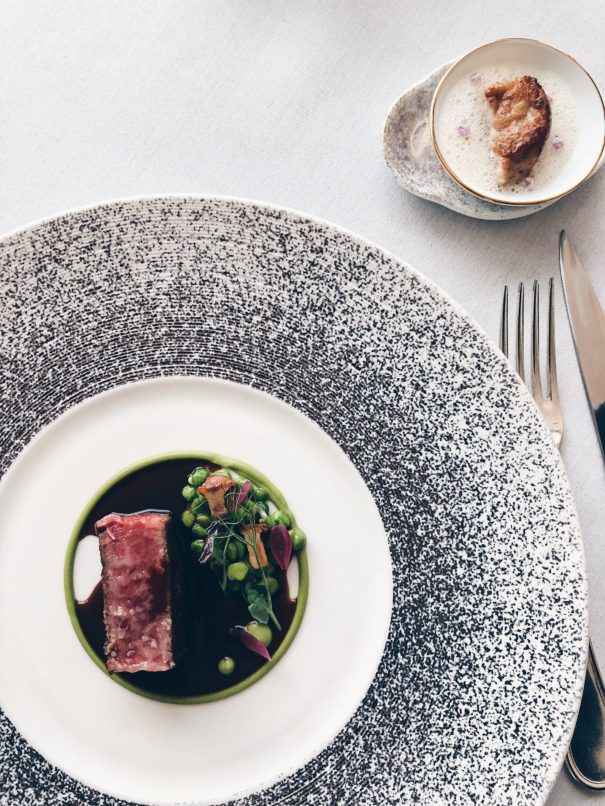 This same circular theme is seen in the Beef main course. A ring piped from pea puree cradles a slab of perfectly cooked A5 Omi wagyu. The meat is so tender, it cuts like butter while its juices drip from the tinges of my fork. To cut through the grease, a sauce of beef jus, deep dark and deliciously savoury, brightened with wasabi is served on the side as well as a bed of tiny peas with pickled shallots and mushrooms.
These two dishes may seem like a literal interpretation of the enso, and whether or not that was the intention, this menu is certainly a success.
Three to four hours is a long time to spend at lunch. But in the grand scheme of things, when life is lived in the gloom of a pandemic, Saint Pierre lets us dream of better things to come.
The three or four course lunch menus are priced at $128++ and $158++. The six and eight course dinner menus are priced at $298++ and $348++. Wine pairings start from $70++ at lunch and from $180++ at dinner.
Saint Pierre, 1 Fullerton Road, #02-02B One Fullerton, Singapore 049213, +65 6438 0887
This story first appeared in Lifestyle Asia Singapore.
(Main and featured image: Saint Pierre via Lifestyle Asia Singapore)