Restaurant review: Travel through Andrew Walsh's childhood with Cure's 'Nua' Irish cuisine
My first dance with Irish food takes place at Cure with Chef-Owner Andrew Walsh's Nua Irish menu. Meaning Irish in Old Gaelic and new in modern, Nua is Walsh's way of putting his motherland on the (local) map.
"Yearning for a taste of home aside, I felt it was about time I presented my culture in the best way I knew how – a grand showcase of all that Ireland has to offer, from its produce and cuisine to its history, in one menu." We begin with what we know: A glass of Guinness stout, served alongside an Irish soda bread that has also been made with the beer, and glazed with caramel. More snacks arrive, but it's the potato crisp sandwich that elicits our gasps. This is a riff of the Tayto crisps, a snacks manufacturer in Dublin, and Walsh's childhood favourite. The two discs arrive on a plate bearing the logo of the original, squishing terrine of potato and parmesan cheese custard in between and garnished with crispy garlic, shallot and spring onion. Baked salsify, a long and thin root vegetable, arrives on applewood sticks – making them indistinguishable. Pan-fried with butter, garlic and thyme, its delicate taste is lightly accented with bergamot gel and moringa leaves.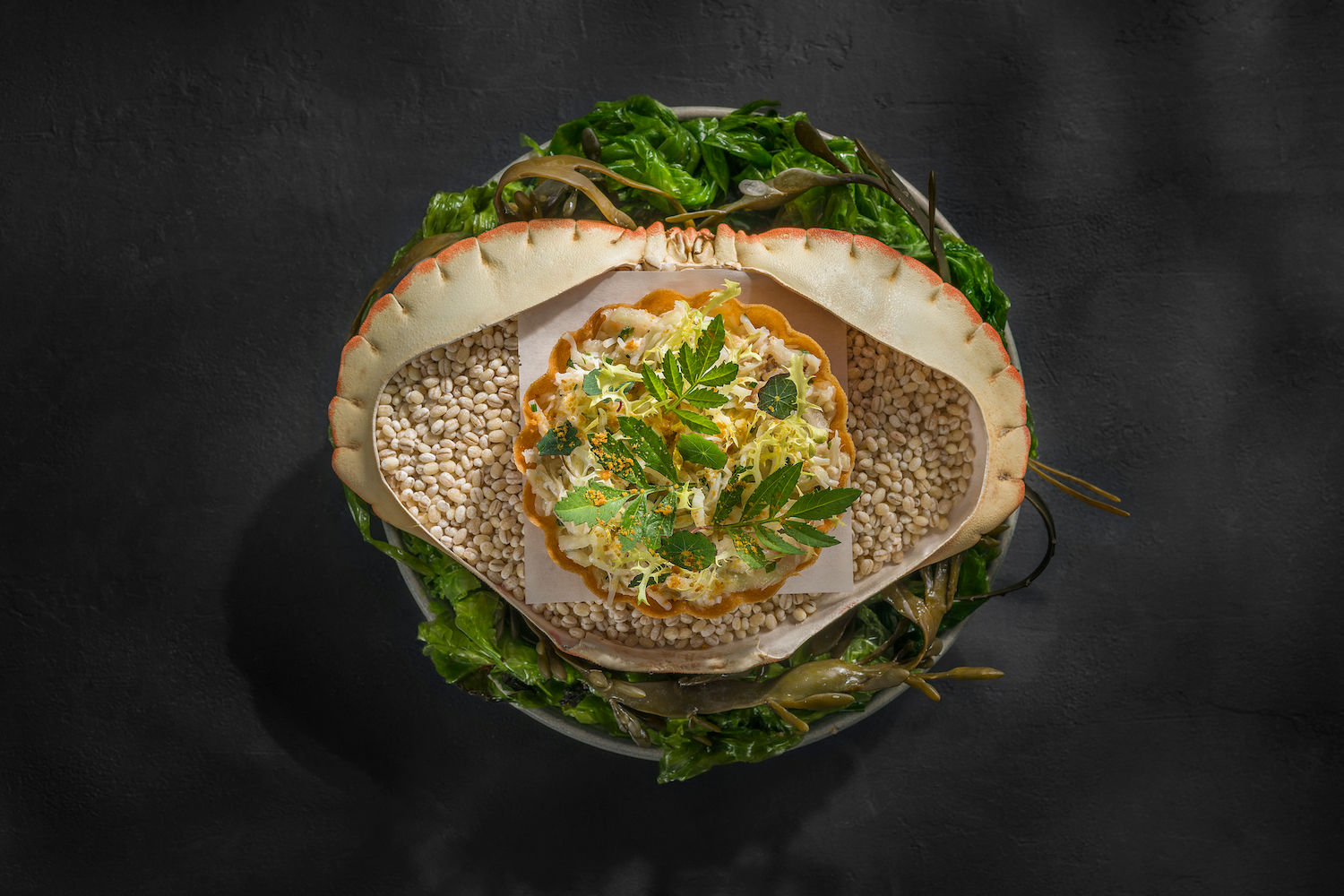 The mains stun. Served in the shell of a wild-caught Irish brown crab, a brown butter tart holds the crustacean's flesh. Its fresh, clean flavours are drawn out with a simple steaming process and marinade of lemon juice, chives and a side of Irish sour cream dressing. A yuzu dressing lifts the accompanying Kohlrabi salad, while a dehydrated crab brain powder punctures the dish with an umami kick. We continue with seafood, this time with the Gallagher Speciale Oyster. Barbequed on bincho, it's laced with smoked beef fat for a savoury richness complemented by the brininess of the Avruga caviar and the salty butteriness of the miso beurre blanc. We wash it down with the fresh and zesty Bolney Wine Estate Cuvee Rose Brut. A porridge comes next, but not as we know it. Thinly sliced beef tenderloin blankets a heap of grains (koji rice and barley) cooked with Irish Cashel blue cheese for acidity, puffed buckwheat, crispy shallots and garlic, and a sous vide egg. Comforting and satiating, it pairs perfectly with the layered and low-intervention Kalleske Plenarius 2017 orange wine from Barossa Valley. Irish blue mussels – seven of which were layered to make two – is served in a comforting chowder brewed from cider mussel stock and root vegetables. The potato dish is an ode to The Great Famine, a milestone in Irish history, where a potato blight in 1847 led to mass starvation. Here, the potato is elevated in a terrine with celeriac and kombu, and served with Cep mushroom foam and N25 caviar. A duck served four ways is the last of our mains. Aged and then grilled over a binchotan, it's served in a sour duck broth with blueberries, Teeling whiskey and red currants. On the side, we also have takoyaki balls stuffed with duck leg confit and served with an espuma of duck fat and grated salted eggs. Desserts border on kitsch but are crowd favourites. We open a wooden box to the sight of dry ice wafting around charcoal poori (Indian fried bread) with smoked milk ice cream and we shake a pot filled with soil to uncover edible gold chocolate nuggets. Veering away from the sweets, we have the buttermilk mousse, made from buttermilk from a leading Irish brand, served with fermented rhubarb & fermented juice sauce. We continue our freeding frenzy, this time eating away through Irish cheese (Tipperary brie, Cashel Blue cheese, Gubbeen cheese) from the Cooleeney farm, with lavash crackers and an apple and onion chutney. At the last pitstop of Walsh's memories, we have the classic cookie-and-milk combination. Dipping the oat biscuits into the accompanying warm Jameson cream, we can't help thinking that it feels like a hug in a mug (with, in true Irish fashion, whisky, of course ).
Cure, 21 Keong Saik Rd., Singapore 089128