With so much going on lately, as well as Father's Day this Sunday, you may have forgotten about the upcoming Dragon Boat Festival on 25 June.
It may not be as widely celebrated, but it's always a great excuse to load up on carbs in the form of rice dumplings, more fondly referred to as zongzi or bak zhang in Singapore.
Traditionally eaten during the Dragon Boat Festival, these boiled or steamed glutinous rice tetrahedrons are usually wrapped in bamboo leaves, and fillings vary depending on the regions of China from which they're from.
Southern Chinese rice dumplings are generally savoury, packed with ingredients like chestnuts, shredded meat, and shiitake mushrooms. Northern Chinese rice dumplings are less common in Singapore, but they lean towards the sweet end, with fillings like red bean paste, taro or tapioca. Other popular versions of rice dumplings in Singapore include the Nyonya dumpling, made with candied sweet melon and diced pork belly pieces, giving it a distinctive sweet and savoury taste.
Besides these traditional flavours, hotels and restaurants in Singapore have generally taken on the role of coming up with new and inventive flavours each year to bring diners a twist on the originals. From truffles and abalone to deconstructed bak zhang burgers, read on for our full list of rice dumplings to feast on this Dragon Boat Festival 2020.
Summer Pavilion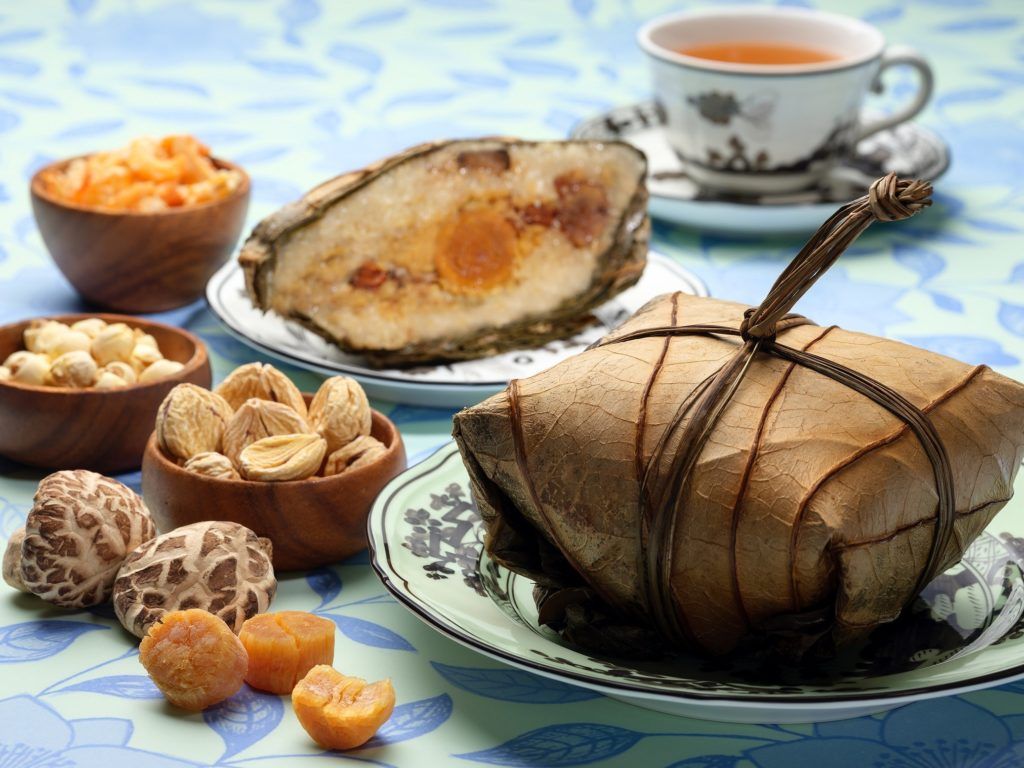 The one-Michelin-starred Summer Pavilion at The Ritz Carlton, Millenia Singapore is celebrating the annual occasion with traditional Hong Kong-style rice dumplings. Each of the 600-gram offerings is packed with an assortment of ingredients such as the roast duck, roast pork, dried scallops, dried shrimp, as well as others like the salted egg yolk, mushrooms, lotus seeds, chestnuts and green beans.
The dumplings are available for delivery from now to 25 June for online orders via Chope and Grab.
Order it here
藝 yì by Jereme Leung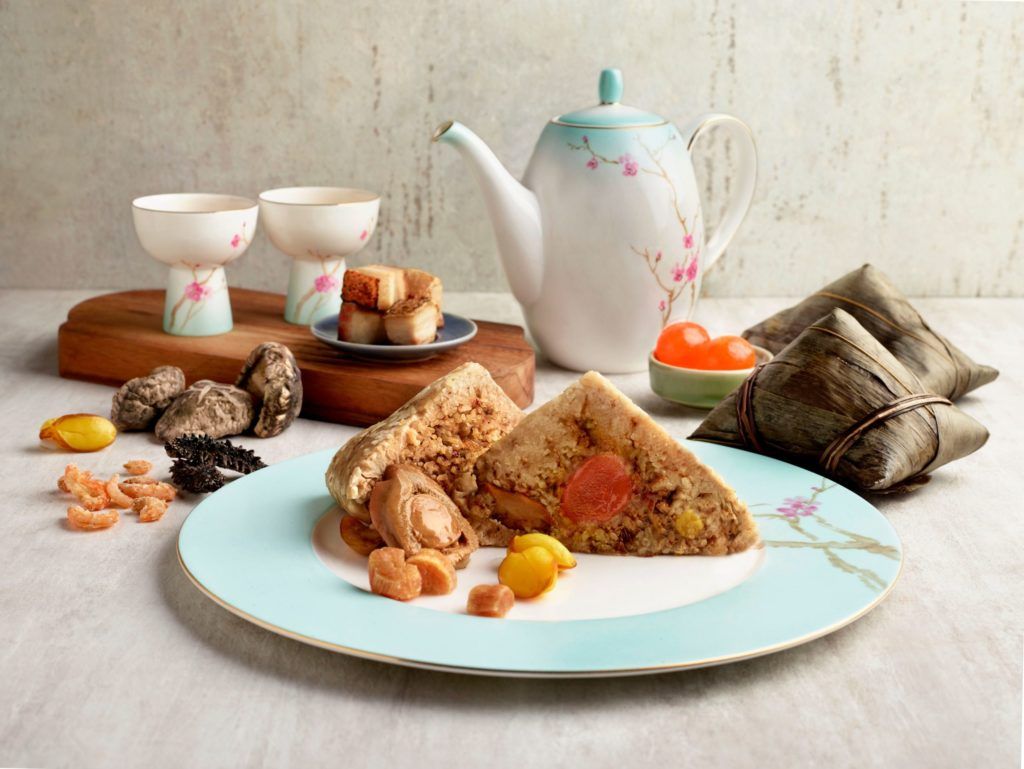 This year, 藝 yì by Jereme Leung is serving up the best of both worlds with a menu of sweet and savoury dumplings. Diners looking to impress will be delighted at the Buddha Jumps over the Wall Rice Dumpling, complete with a trove of ingredients such as the South African abalone, Japanese sea cucumber, sakura ebi and Japanese dried scallops. Looking for something sweet? The Speciality Yunnan Rose Red Bean Dumpling marries the gentle fragrance of fresh Yunnan rose petals with glutinous rice, making it the perfect casing for the phoenix eye infused red bean paste filling inside.
Conservative diners can partake in the Traditional Savoury Rice Dumpling, an elevated version of the regular bak zhang. Here, you'll find a beautiful combination of phoenix eye, Japanese dried scallops and pork belly together with other savoury flavours like the mushroom, salted duck's egg and sakura ebi. The dumplings are available for self-collection and delivery from Raffles Hotel Singapore from 15 to 30 June.
Order it here
Resorts World Sentosa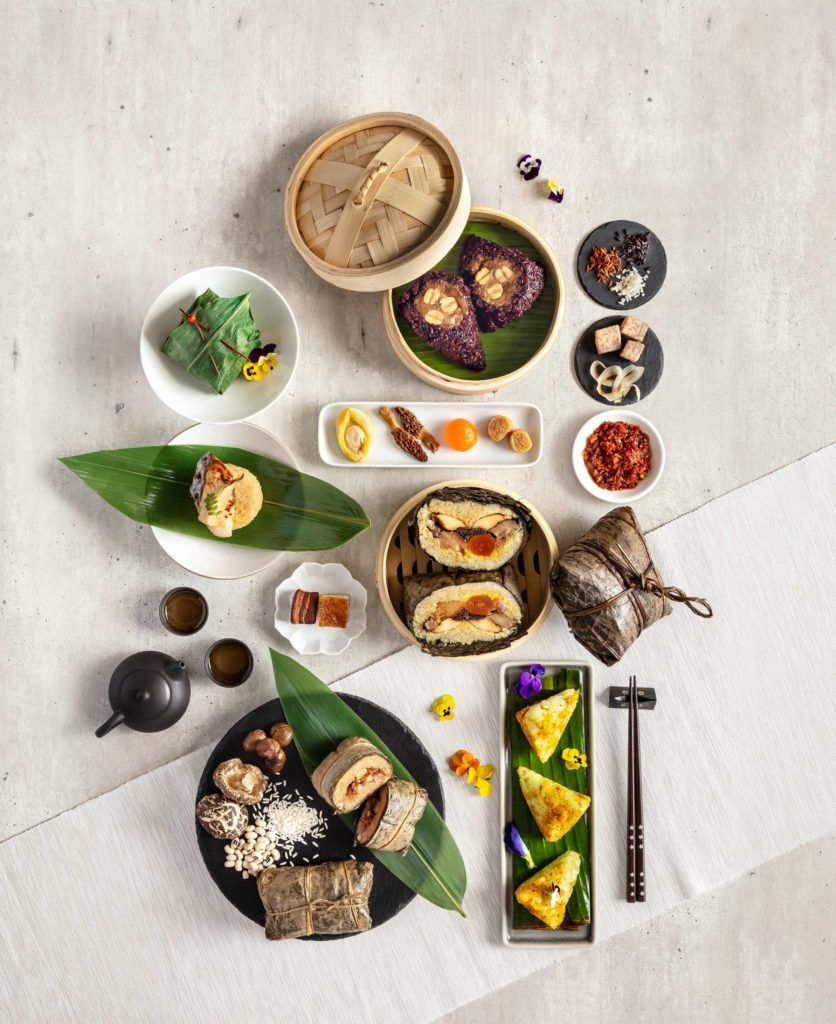 If you're thinking of commemorating the occasion with a gourmet set or two, the luxurious five-piece Dumpling Feast from Resorts World Singapore (RWS) is the perfect option. Elegantly presented in its own three-tiered bamboo steamer, the dumplings are a collaboration among five speciality dining concepts at RWS, each lovingly handmade with handpicked seasonal ingredients.
From the Japanese-inspired Sawara, Takenoko and Yuzu Chimaki Dumpling from Syun, to the Thai-styled Khao Niew Nha Goong by Tangerine, this five-piece set is an assortment of flavours you'll never forget. An advance order of three days is required, and the dumplings are available for self-collection from now to 22 June. Delivery is only available for addresses in Sentosa and Bukit Purmei only.
Order it here
Madame Fan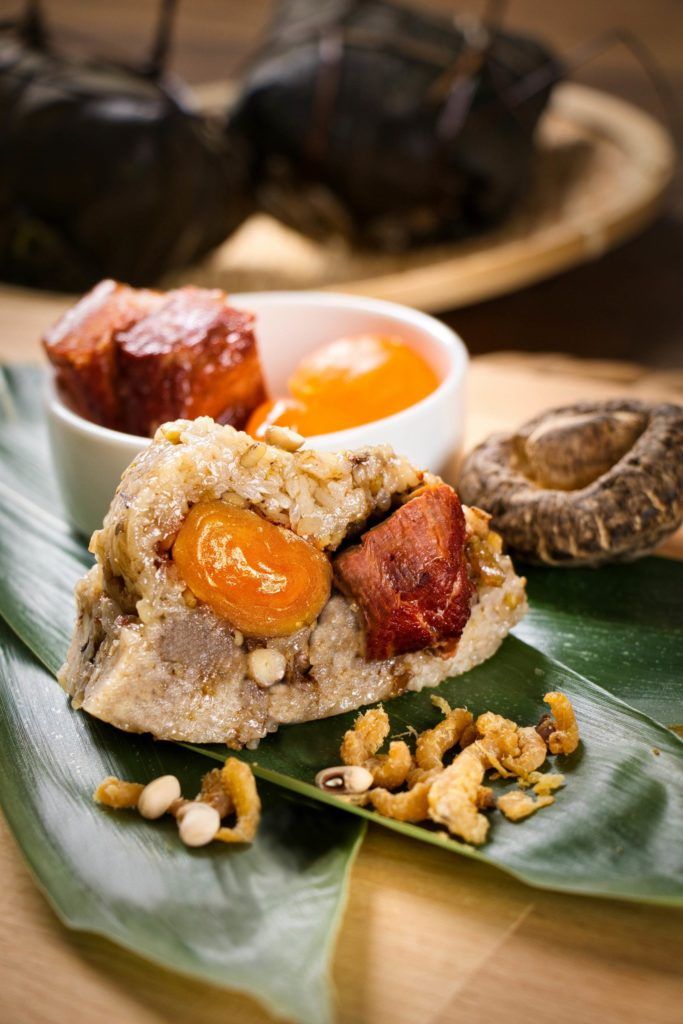 Thinking of jazzing up your regular rice dumpling? This year, modern Cantonese restaurant Madame Fan is marrying the traditions of the savoury rice dumpling with novel flavours and luxurious ingredients.
Choose between three different flavours: The aromatic Truffle Rice Dumpling, the meaty Jasmine Smoked Pork Belly Rice Dumpling and the vegetarian Morel Mushroom Rice Dumpling for a twist on classics. The dumplings are available for takeaway and delivery from now to 25 June. Islandwide delivery is free with S$100 spend.
Order it here
Wan Hao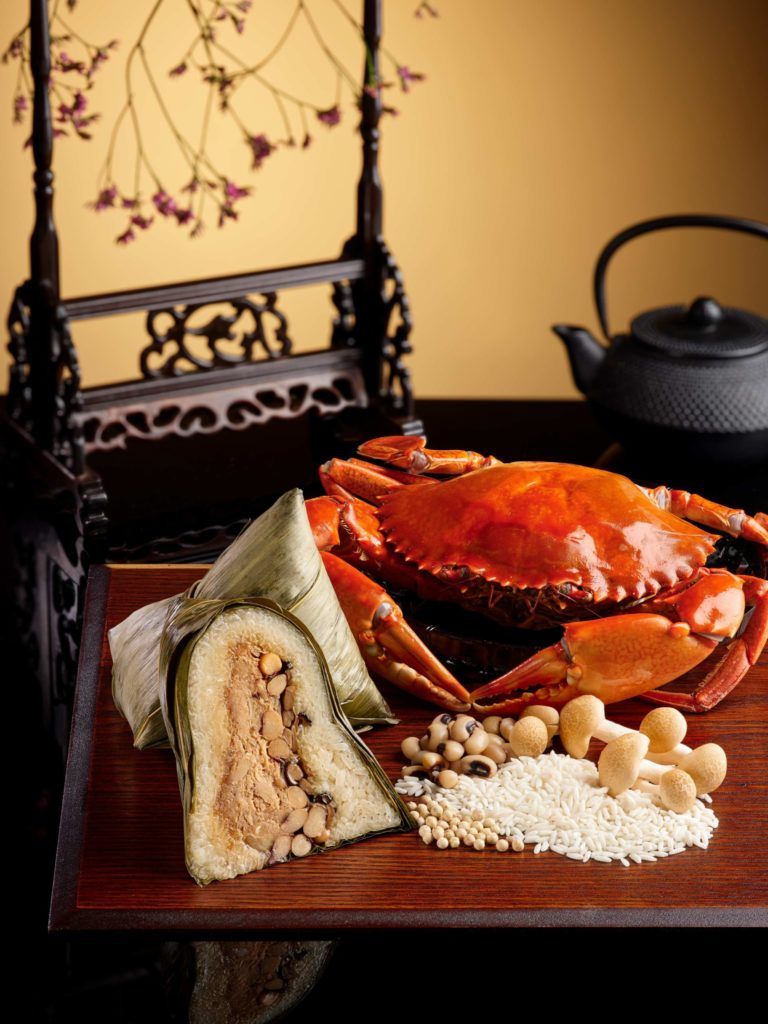 Both old-school favourites and creative rice dumpling creations are available at Wan Hao, Marriott Tang Plaza Hotel's signature Chinese restaurant. These homemade masterpieces are lovingly created with a harmonious blend of flavours and textures, and include novel creations like the premium Abalone & Conpoy Chicken Rice Dumpling and the wholesome Wild Mushroom 5-Grain Vegetarian Rice Dumpling.
Crowd favourites like the White Pepper Crab Rice Dumpling and the classic Signature Pork & Salted Egg Rice Dumpling are also available. One thing's for sure, their all-encompassing menu is made for dumplings lovers both young and old.
A 20 percent discount is available for every box of four handcrafted dumplings. They are available for self-collection and delivery from now to 25 June.
Order it here
Shang Palace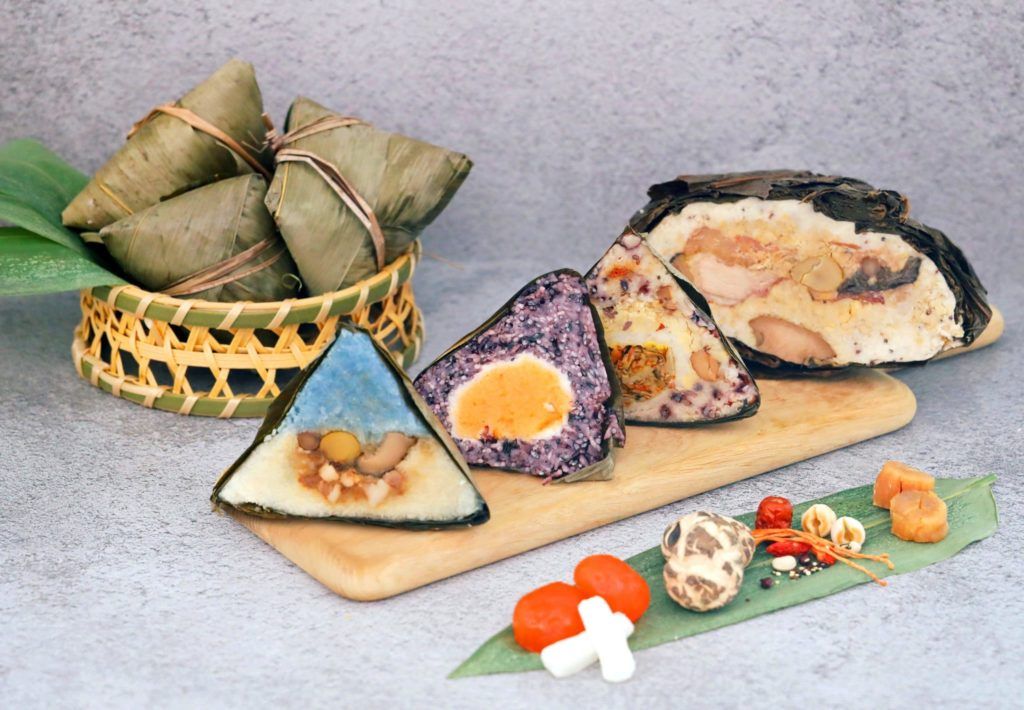 Shang Palace at Shangri-La Hotel, Singapore has introduced new rice dumpling creations as well as signature flavours for the annual Dragon Boat Festival this year.
Besides new flavours like the 800-gram luxurious Black Truffle and French Organic Chicken with Buddha Jumps Over the Wall Rice Dumpling, and the Sweetened Purple Glutinous Rice Dumpling with Custard, other Shang Palace favourites are also available. This includes the Shang Palace Signature Barbecued Pork Rice Dumpling with Yunnan Ham and Conpoy and Eight Treasures Rice Dumpling with Mixed Grain Rice and Organic Quinoa.
Spoilt for choice? Get your hands on the Shang Palace Rice Dumpling Gift Set, complete with four dumpling flavours and a canister of tea.
The rice dumplings can be purchased for takeaway from now till 25 June. Frozen dumplings are available for delivery on Grabfood, Foodpanda and Deliveroo. Island-wide delivery is available for a flat fee of S$20 per location from now till 25 June.
Order it here
Route 65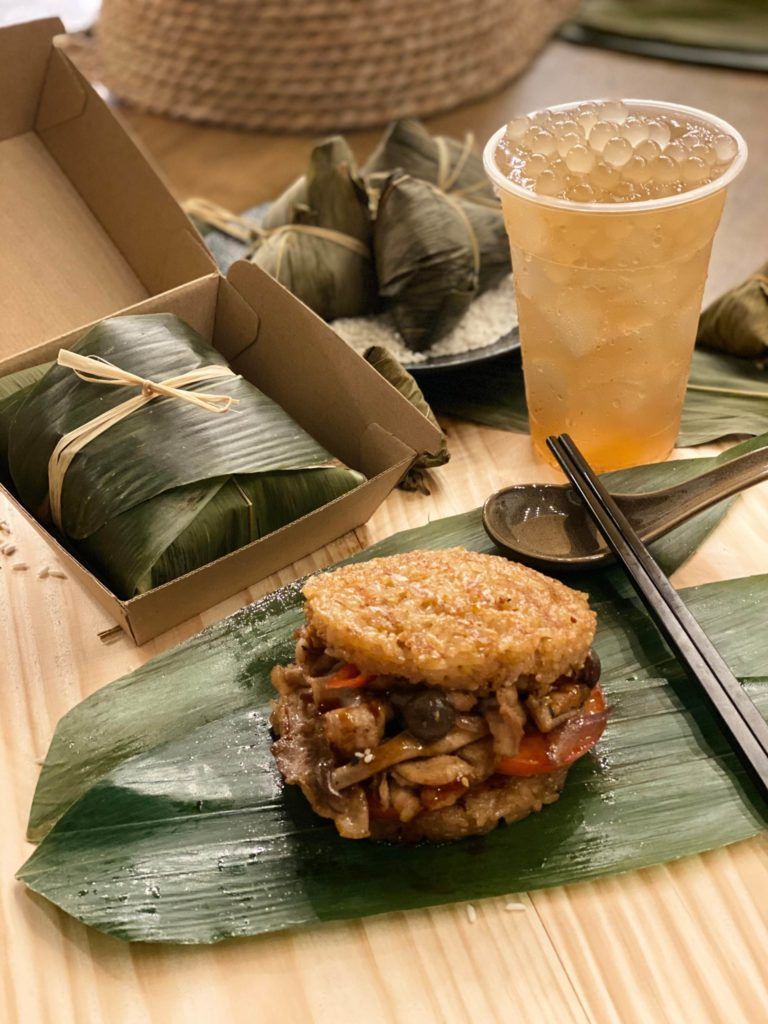 Asian fusion restaurant Route 65 is releasing a limited edition Bak Chang Burger in two special renditions.
The Pork Bak Chang Rice Burger Set is built on aromatic five spices, thinly-sliced pork belly, onions, red chilli, shimeji mushrooms, tomatoes and Route 65's rice burger bun. The Shoyu Beef Bak Chang Rice Burger Set is made with fragrant sweet shoyu sauce, beef ribeye, onions, red chilli, Shimeji mushrooms, tomatoes and Route 65 rice burger bun. Both sets come with a Black Lemon Tea with Lychee Boba.
These one-of-a-kind dumpling burgers are available from now until 30 June, and island-wide delivery is available.
Order it here
This story first appeared on Lifestyle Asia Singapore
(Main and featured photos: Raffles Hotel Singapore)