What to order at Carne Singapore — a burger joint by the chef of the World's Best Restaurant
News of Argentinian burger chain Carne (pronounced as car-nay) coming to Singapore broke out to those in the know at the start of February, and we were excited.
After all, it's the first international outpost of the burger chain, created by the acclaimed Argentinian chef Mauro Colagreco, whose three Michelin starred restaurant Mirazur places top spot on World's 50 Best Restaurants.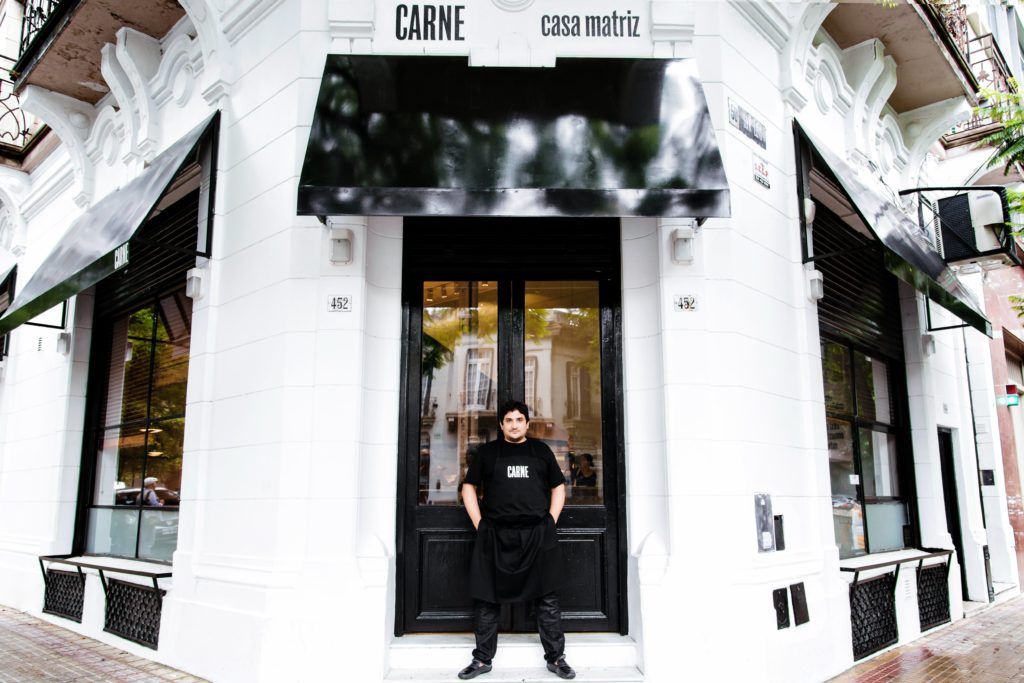 Now, this isn't your regular fast-food burger chain. Carne is the world's first hamburger chain that has achieved Certified B Corporation status, a triple impact certification (social, environmental and economic) for businesses committed to doing better for the world.
Sustainable gastronomy is the name of the game here. Carne is sticking to its signature eco-conscious ethos by collaborating with local artisans, sustainable growers and organic purveyors to craft an innovative menu in Singapore that still retains its Argentinian roots.
Make A Reservation At Carne Here
The space
The 80-seater shop finds itself nestled in a restored shophouse along the food haven that is Amoy Street. The interior is made to replicate a similar look to the other outlets in Argentina, complete with modern industrial accents, and tons of natural wood furnishings.
Let's face it: we're all suckers for some good looking merch. Even better? Merchandise with a purpose. 10 percent of Carne's merchandise sales (which includes stylish monochrome caps, aprons, tote bags and t-shirts) goes to Project Belanja, a programme by local non-profit organisation Food From The Heart that provides the needy with freshly-cooked meals from their local hawker.
Pro-tip: In line with their efforts to encourage diners to live responsibly and sustainably, Carne Singapore will take 50 cents off for those who bring their own cups or containers for takeaway.
The food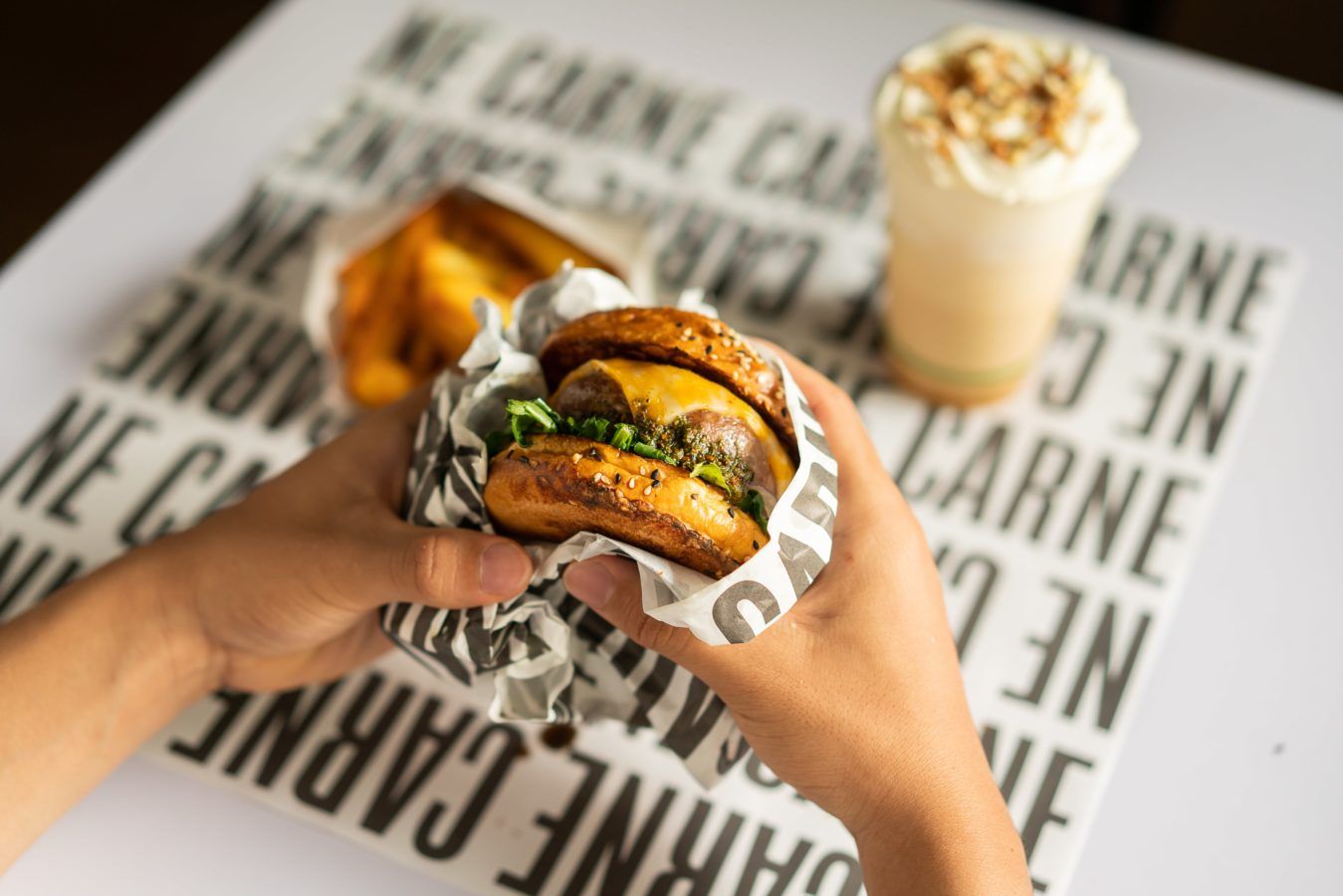 If you're getting crossed eyed with the selection of burgers on the menu, don't fret. The Beef and Chimichurri Burger (S$24) is one that'll steal the spotlight for sure. The Singapore exclusive is a nod to Carne's Argentinian roots, complete with a tangy house-blend chimichurri sauce, pickled jalapeno, artisanal American cheese, local arugula and organic red onion. The highlight of the bun? A juicy 160-gram natural Argentinian grass-fed beef patty with a beautiful pink centre, cooked to perfection.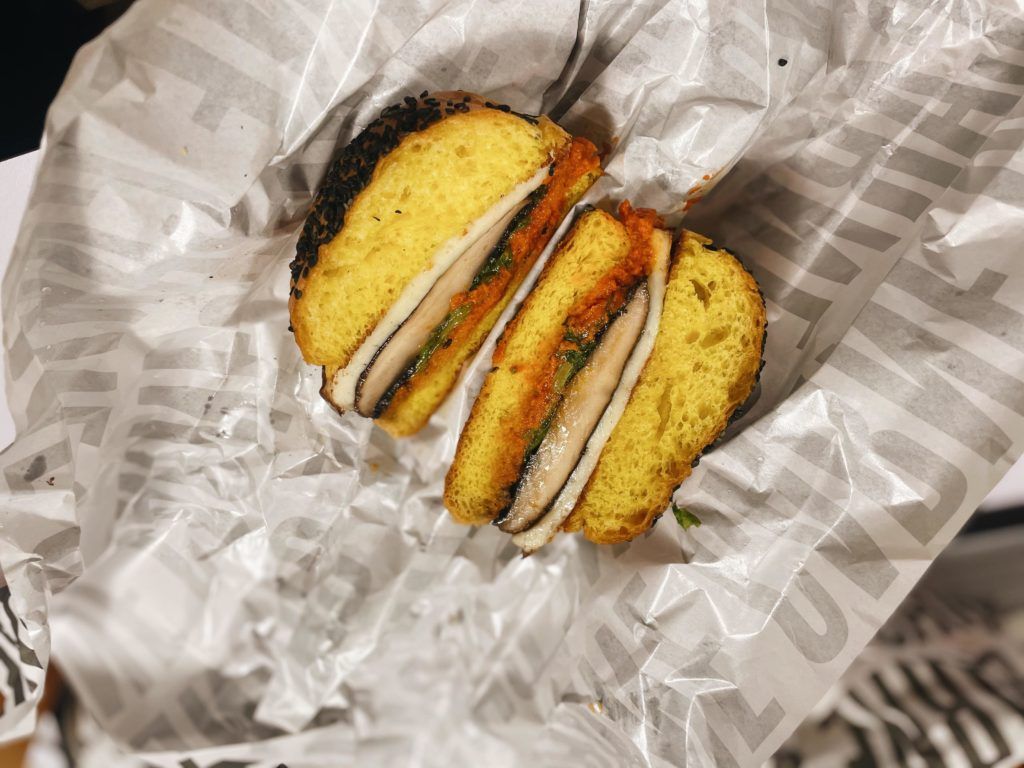 There's no room for restaurants that aren't catering to our veggie-eating brothers and sisters these days. Carne's Veggie burger (S$16) turned out to be a table favourite, with its thick, juicy portobello pieces and charred halloumi cheese that layered well with the tomato tapenade and local oak lettuce. The canary-gold Tumeric bun also made for an exciting visual to the otherwise unembellished burger.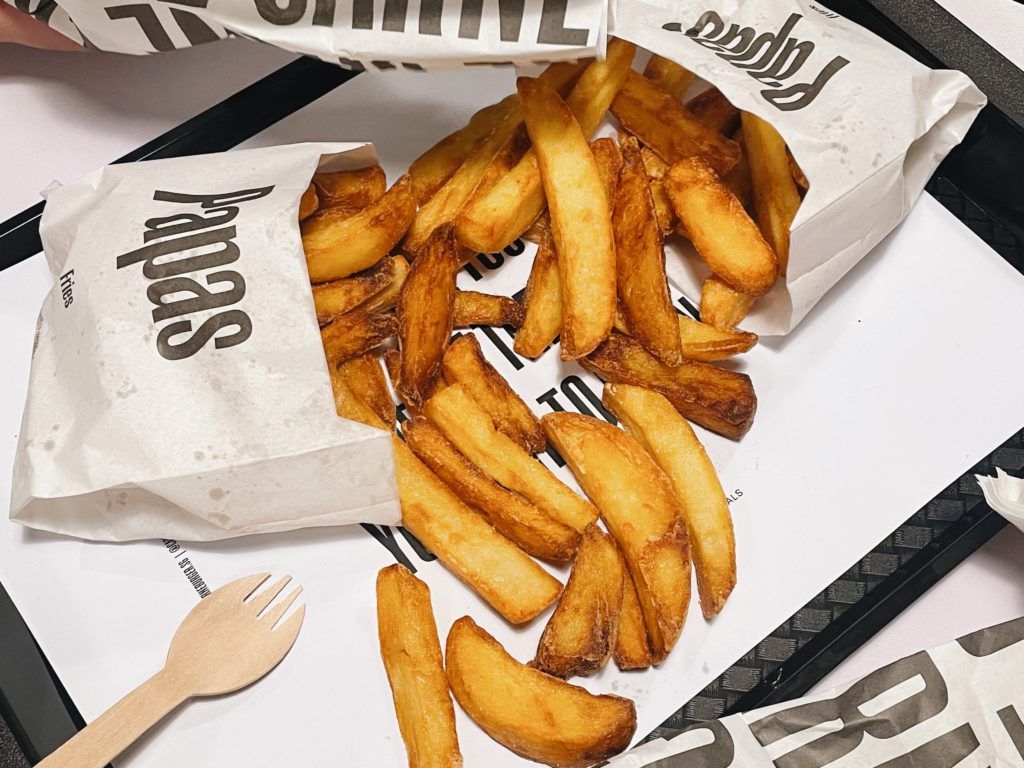 Some like them skinny, but we like them thick — we're talking about our fries of course. These Triple Cook Agria Fries are first steamed, then frozen and deep-fried, creating a crispy golden-brown exterior that complements its soft, fluffy insides. Wash it all down with the freshly made Singapore exclusive Grapefruit Maté Iced Tea.
There's only one dessert item on the menu for now: the Orange and Chocolate Sacher Torte. Here, a classic blend of citrus and chocolate come together in the form of an artisanal orange gelato that rests atop almost brownie-like chunks of single-origin sacher torte, topped with a sprinkle of candied orange peel, toasted almonds, and more orange pieces.
If you're one for something that's a little lighter to end the meal off with, Carne's selection of milkshakes makes for a great fit. While the Salted caramel milkshake with dulce de leche, praline and whipped cream may seem tempting, we reckon the classic Vanilla (a blend of toffee, praline, whipped cream) a much better alternative.
Carne Singapore is located at 88 Amoy Street, Singapore 069907. Carne's breakfast menu is available from 8am to 11am, while its all-day menu will resume from 11am to 11pm daily. Dining at home? Delivery for Carne will commence on 1 March.
Make A Reservation At Carne Here
(All images: CARNE)
This story firs appeared in Lifestyle Asia Singapore.