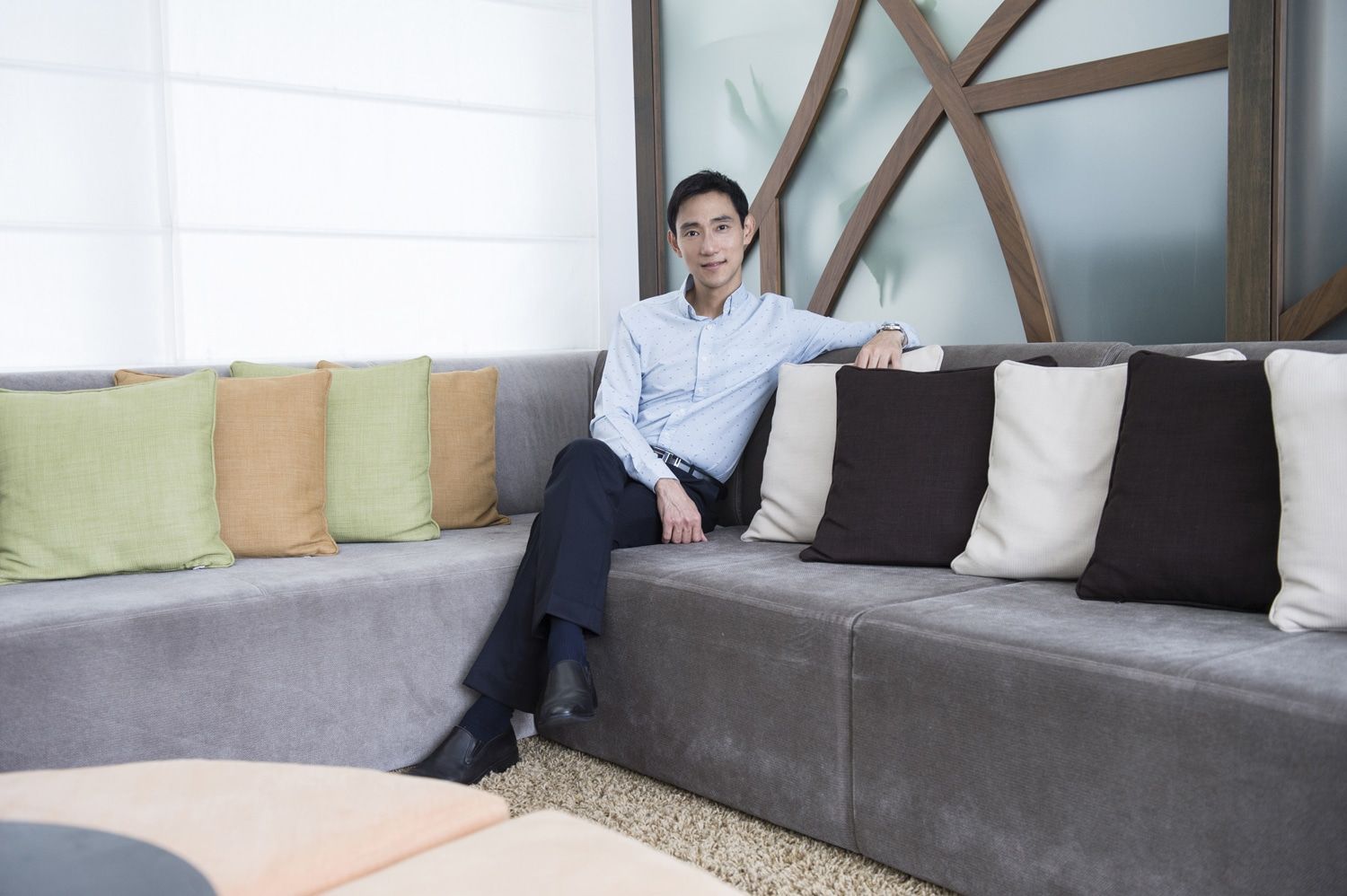 From liberating presbyopia patients of reading glasses to correcting imperfect vision, ophthalmologist JULIAN THENG is the one to see, discovers Sara Yap
With age comes wisdom, so they say. But entering one's golden years also brings about a far less exciting change: The increased risk of presbyopia, where the lens of one's eye loses its ability to focus on objects that are near, resulting in blurred vision when reading up close. More prevalent among those aged 40 and above, the condition is typically remedied by wearing reading glasses — a solution that may not be particularly attractive to those accustomed to perfect vision in their younger days.
According to ophthalmologist and cornea specialist Dr Julian Theng, new treatment options such as corneal inlays are an alternative for those unwilling to be saddled with clunky bifocals. "I know of some people with 10 to 20 pairs of reading glasses — at home, in the office, in the car — because they worry about forgetting their spectacles. What many don't know is that they can be relieved of this through procedures such as corneal inlays," says the 47-year-old, who is the co-founder and medical director of Eagle Eye Centre (EEC) at Mount Alvernia Hospital.
One such example is the Raindrop Near Vision Inlay, where a microscopic hydrogel implant is placed under a flap created by a laser on the cornea surface of the patient's non-dominant eye. (The dominant eye is the one which the patient relies on when looking directly at an object; the non-dominant eye looks at the same object from a slight angle.) Inserting the implant raises the centre of the cornea, making it multifocal, which enables the patient to see both near and distant objects clearly. The dominant eye doesn't undergo the same procedure, but refractive errors such as astigmatism in both eyes are corrected with Lasik in the same sitting. Outside Japan, EEC is the first clinic in Asia to offer the procedure.
Another alternative inlay procedure is Kamra, where a laser is used to create a pocket on the cornea so a circular disc can be inserted inside to reduce the pupil's aperture. This induces light rays to pass through a smaller space, resulting in sharper vision. Both procedures carry "small risks of halos and haze", but according to Theng, only a few patients have experienced such side effects. For those who aren't happy with the results, the treatments are reversible. He is still researching ways to make them risk-free, and recently presented his findings on the Raindrop inlay at a medical symposium in San Diego organised by the American Society of Cataract and Refractive Surgery.
Apart from treating presbyopia (he even wrote a book about it in 2007), Theng is trained in cataract surgery, Lasik and refractive surgery as well as cornea transplants. He graduated with a Medicine degree from the National University of Singapore in 1992, and pursued further studies in his subspecialties at the Singapore National Eye Centre.
Theng shares that he found his calling to become a doctor at an early age: "When I was a teenager, my parents made me give insulin injections to my diabetic grandmother every morning in her room. That experience made me want to be a doctor and spend my life helping others." In 2006, he opened his practice with his best friend and fellow doctor Lim Wee Kiak.
Today, Theng is one of Singapore's leading ophthalmologists, with a star-studded clientele including Taiwanese actress Vivian Lai and local celebrities — actor Zheng Geping underwent Kamra inlay, while Edmund Chen's son had a partial cornea transplant in 2011. His practice has also expanded over the years, and he now oversees five centres. Outside of work, the father-of-three devotes his free time to family, playing tennis and singing in church musicals. The animal lover also owns two home aviaries with over 50 birds such as parakeets, budgies and cockatoos.
Despite his fruitful career, Theng remains humble: "I believe in giving my all and serving with love…All of us have talent. It's just about how we make use of it to help others."
Under One Roof
From specialist clinics to an outpatient laboratory, Mount Alvernia Hospital's Medical Centre D offers a wide variety of services
Dr Julian Theng spends most of his time seeing patients at his practice at Mount Alvernia Hospital's Medical Centre D, which was officially opened last October by Minister for Health Gan Kim Yong. The centre is now home to over 50 specialist clinics and covers 28 specialities such as cardiology, gynaecology, neurology, obstetrics, ophthalmology, orthopaedics and paediatrics.
It also has an outpatient laboratory fitted with patient rest areas, which enables patients to leave the hospital premises directly from the medical centre, and is decorated with more than 50 artworks by students from the Cerebral Palsy Alliance Singapore, Haig Girls' School and ITE College Central.
(Photos: Mount Alvernia Hospital)