You may think of Ashley Graham as an ultra-confident public figure — someone who can post photos of her stretch marks on social media and pose in lingerie without a second thought right after giving birth. But the mom of three is only human, and she just offered a glimpse into how she really felt during and after her pregnancy with her twins in an essay for Glamour.
Ashley Graham: "I used to be a sex symbol"
"I used to be a sex symbol, and now I am a baby-making machine, and I have stretch marks up to my belly button. What the eff is happening?" the 34-year-old thought while she was pregnant with her twins, Malachi and Roman, she wrote in the new essay.
View this post on Instagram
"Then one day I just stopped and thought, 'Screw it,'" wrote Graham. That's when she posted a photo of her pregnant belly, stretch marks and all, on Instagram. "Justin says my stretch marks look like the tree of life," she wrote in her caption at the time.
"I'd like to say that that was it. That after posting that photo, I found peace with myself and my new body. But it wasn't that simple," Graham wrote for Glamour. In reality, the supermodel went through a traumatic birth that left her feeling overwhelmed. She haemorrhaged the night she gave birth to her twins at home, losing "litres of blood," she explained in her essay. Afterwards, she couldn't walk for a week and didn't leave her home for nearly two months, she shared.
"What I went through with childbirth has reshaped my relationship with my body — and I say this knowing that I am the person who has been shouting from the rooftops to you all, 'Love the skin you're in,'" wrote Ashley Graham. "Yet for me, the births of all my three children threw a lot of that out of the window."
"I have always fought against unfair and unrealistic standards"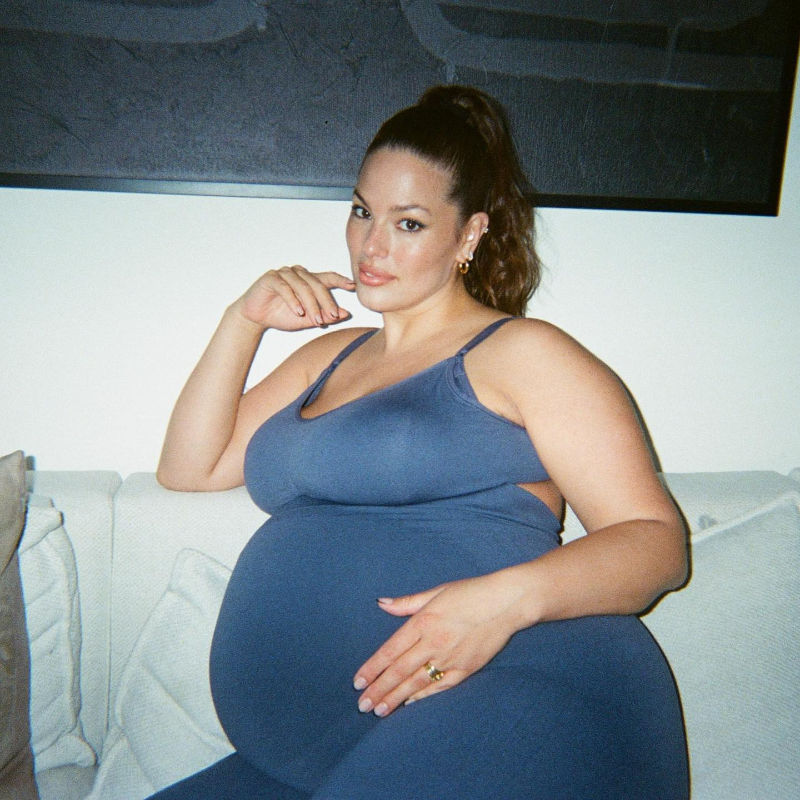 Like so many others, she felt the pressure to immediately return to her pre-pregnancy body. She thought she'd be able to get back to the gym quickly, but that wasn't the case. "I have always fought against unfair and unrealistic standards and yet, if I am being completely honest, here I was, expecting myself to snap back. And fast," she wrote.
For Ashley Graham, comfort in her body — which has birthed three children and suffered a miscarriage (a fact she revealed for the first time in the new essay) — comes "in waves," she explained. There are days when she feels there's nothing she can't handle and others when she thinks negatively about the stretch marks that now reach past her belly button.
"I'm a lingerie model, for God's sake. This is not what lingerie models look like. But then I remind myself, 'Well, I've never been the norm of what a typical lingerie model looks like,'" she shared.
She's gotten through the ups and downs with help from other supportive, understanding women and positive affirmations explained Graham. "I am bold, I am brilliant, I am beautiful," she wrote, noting that she's had to relearn the affirmations she once taught others.
As always, Ashley Graham's honesty is refreshing and inspiring. Here's to hoping it helps other moms along their journeys with pregnancy, giving birth, and creating a new relationship with their body after having children.
(This story first appeared on www.shape.com)
(Main and Feature Image Credit: Getty Images)
© 2021 Meredith Corporation. All rights reserved. Licensed from Shape.com and published with permission of Meredith Corporation. Reproduction in any manner in any language in whole or in part without prior written permission is prohibited.
Shape and the Shape Logo are registered trademarks of Meredith Corporation. Used under License.