Long before the word 'influencer' entered our lexicon came the first wave of Youtubers and fashion bloggers — one that Korean-American Chriselle Lim was part of. A pioneer in digital fashion content, she first gained recognition as a stylist, before she began blogging and subsequently posting videos on Youtube under the name of The Chriselle Factor.
Over a decade has passed and Chriselle has achieved meteoric success as a trusted fashion influencer who now regularly works with some of the biggest fashion and jewellery houses in the world including Dior, Gucci, Fendi and Cartier. Her social media numbers are staggering; Chriselle has over a million followers on Instagram and almost three million on Tiktok.
Outside of social media, Chriselle is also an entrepreneur and mother of two girls. She, along with co-founder Joan Ngyuen, started Bümo: A company that reimagines the future of work and family by offering solutions for working parents. It opened its first Bümowork location in Los Angeles as a co-working space with dedicated licensed childcare.
Chriselle has also recently relaunched Phlur, a beauty brand that she acquired and unveiled four new fragrances – the first of which was inspired by her recent separation. We caught up with Chriselle on how she got started, life as a multi-hyphenate and how her new fragrance brand is guiding her healing.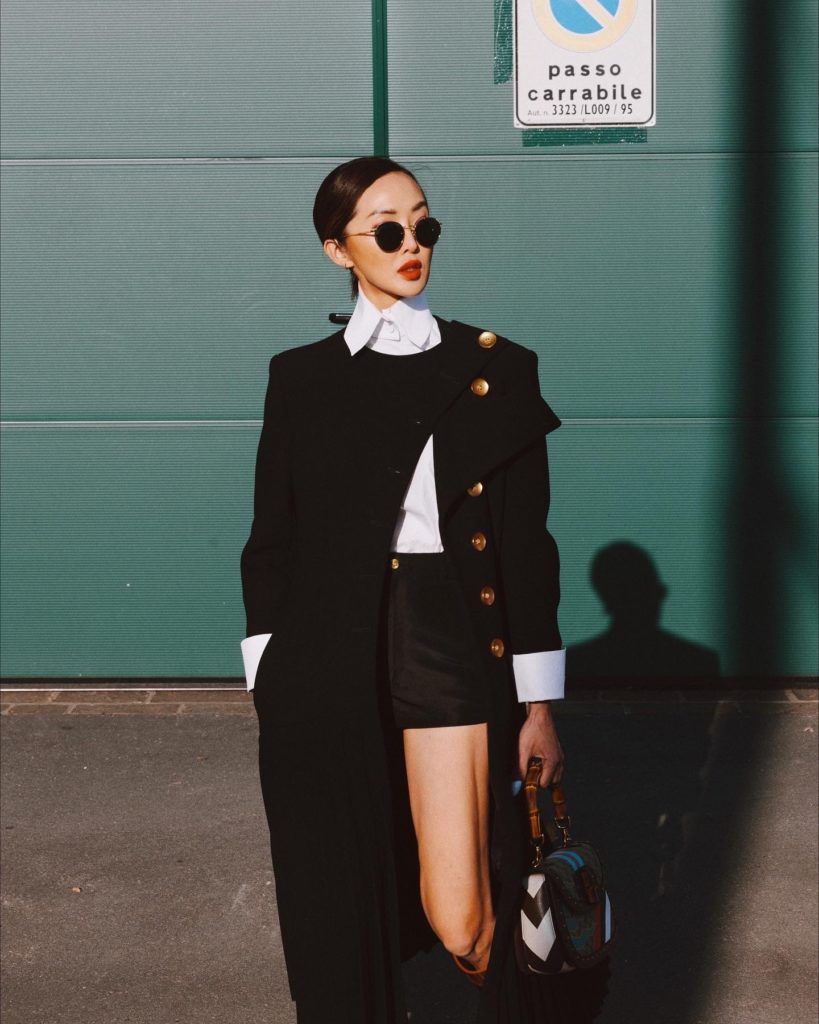 How did you get started in this industry, from the early days of you as a stylist?
I went to school at FIDM (Fashion Institute of Design & Merchandising) and there I studied Fashion Merchandising as I had initially thought I wanted to become a buyer. However upon graduating, I got an internship at fashion PR agency Karla Otto which was just opening up their offices in LA. Through this internship, I got my first experience dealing with stylists that would come to the showroom to pull clothes for their celebrity stylists. Through Karla Otto I met celebrity fashion stylist Tanya Gill and became her assistant. Tanya was great at showing me the ropes and over time started handing off jobs to me as she was so busy so I was able to work on some great campaigns, commercials, and red carpets. This experience as a stylist earlier in my career was so formative in many ways and was the best training to becoming an entrepreneur later in my career.
In 2008 I began blogging and in 2011, I launched my YouTube channel. It's funny as when I look back at the evolution of my career, I can't say that I had a roadmap. In fact, I was just blindly moving through the industry seeking opportunities that excited me. It really is so neat looking back and seeing how everything fell into place to get me to where I am now.
What have been some of the most defining moments of your career?
There have been so many defining moments of my career but I think when I look back at all of them, the ones that I am the most proud of are the ones where I took a risk and pivoted my career. Pivoting from fashion creator/influencer to launching Bümo, a company that is reimagining what the future of family and work looks like for modern parents, has been so rewarding and has challenged me to expand my breadth of knowledge which has been really refreshing. Building Bümo has been a fulfilling and mental sanctuary. I feel much more balanced as a working mother now that I've been working from BümoWork because I'm able to carve out time to spend with my daughters whilst still running my various businesses.
Most recently I took on another project and I relaunched fragrance brand PHLUR as the Owner & Creative Director. Currently the fragrance is available on PHLUR.com and will be launching at Sephora.com starting March 31, 2022 and Sephora stores on April 8, 2022 . The success that we've seen with the launch has been beyond our wildest dreams.
Other highlights include Mattel creating a Barbie modelled after me my two daughters, being on the cover of Parents Magazine and Entrepreneur Magazine.
Of all the looks you've worn over the years, what are some of the most memorable ones?
Over the years, I've been able to build some really great relationships with some amazingly talented designers and have been lucky enough to wear so many beautiful pieces. Some of my favourite moments have come from Dior, Chanel, Oscar de la Renta, and Givenchy.
What's an average day in your life like, as a mum, entrepreneur and Chriselle the influencer?
Every day is different depending on the season, what launches and shoots I have, and what's going on with my daughters' lives. I will say that on an average morning, I wake up early around 5AM or 6AM as that is the one time during the day that I have for myself and time seems to slow down. Before the girls wake up, I read, journal, and meditate or get on my Peloton bike. That is advice that I always give working moms (and non-working moms): carve out time during the day to be selfish and to be with your own thoughts as that time will power you through your crazy days.
Once the girls wake up, it's then off to the races. We get ready, eat breakfast and I drive them to school. The time I have with the girls in the car is also a time that I've come to cherish as it's our time to talk about what they're learning in school, observe and listen to my daughters talking to each other, and of course, listen and sing to their favourite girl brand, Black Pink!
Once I drop the girls off, I typically grab coffee on the go and head to work- work being whatever is on the schedule that day whether it be heading to Bümo for meetings, heading to the Dear Media studio to record my podcast, heading to a shoot on set, etc. I'm so lucky that I have an amazing team surrounding me to help me get through my days as they can be pretty hectic.
So much has changed in the last decade. I've been a fan since you started. I read your blog and watched your Youtube videos, and now I'm watching you on Tiktok and Instagram. How do you keep up with these constantly changing landscapes?
Yes, the social media landscape is changing rapidly and to be honest, it's not always easy keeping up, especially as the primary consumers of social media get younger and younger. I think the most important thing one has to remember if they want to maintain relevance is that they need to be nimble to change as so many creators are stuck in their ways. They also need to listen and pay attention to shifting tides as many creators get consumed in their own worlds. And lastly, they need to ditch their pride as pride will keep you stuck while everyone else progresses and moves forward.
You have evolved so much over the years. Walk us through how you've built your business and various brands.
As previously mentioned, I don't think I've ever worked off of a roadmap. Instead, I've always relied on my intuition, passion, and opportunities that presented themselves.The idea for Bümo came after I had my first daughter Chloe. Frankly speaking, I struggled quite a bit as I had this beautiful new baby girl that I wanted to spend all my time with but I also had to continue running my business and my teams. I was faced with the challenge of how to allocate my time as an entrepreneur and new mom. I then realised that so many other parents were struggling with the exact same thing and this was how Bümo was born. I then found my Co-Founder and CEO Joan Nguyen who has been absolutely critical in bringing my vision to life.As for Phlur, in a lot of ways, I feel that it was the planets aligning at the perfect time for me. I was going through a separation and was struggling to find myself and my voice again. I didn't recognise it at the time but fragrance therapy / aromatherapy was a big part of my healing journey through the act of burning candles/incense and wearing fragrance while reading, meditating, or simply while doing my skincare routine in the morning. Around that time, I was approached by my now business partner Ben Bennett to help relaunch clean fragrance brand PHLUR. It was a transitional project for me and one that I truly poured my heart into.I think the most obvious common thread with all my business ventures that has found success is my team and my business partners. I've learnt from my early days that finding the right team, the right tribe to support you and to champion you is by far the most important thing to building a successful business.
Describe some of the biggest challenges in your life today.
A lot has changed in my personal and professional life in the past year. The most obvious change has been adjusting to my new life and my new routine after my breakup. I wouldn't call it my biggest challenge but the most persistent one is purely finding balance in my life. Between being a mother and entrepreneur, there is a lot of responsibility that I hold. Don't get me wrong, this responsibility is one that I cherish and consider to be a great privilege but it can still feel like a lot of pressure. I will say that as I've gotten older, I've learned that allowing myself to take a break once in a while and taking that hour in the morning just for myself has really allowed me to feel more balanced.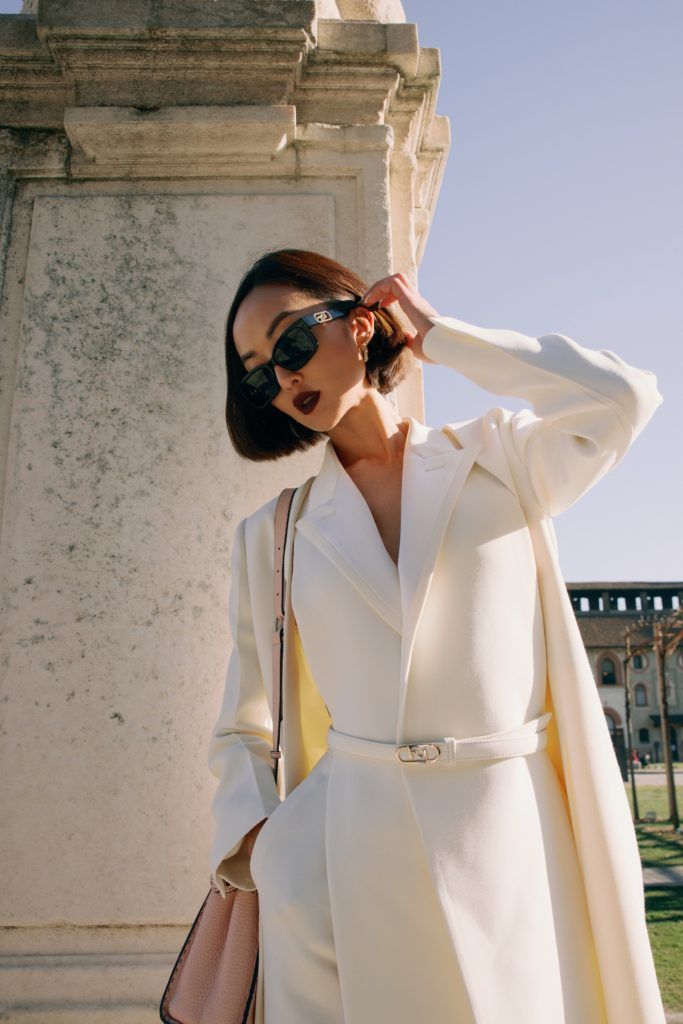 How would you describe your relationship with your followers today?
It's been a journey and one that I am so grateful for. I know that a lot of my followers have been following me for well over 10 years and have seen me through and supported me through some of my most important life moments. For a lot of my life, my life has been on display for the public to see and though there are some great things that come with that, it can also be challenging in many ways but my community has always been so kind and supportive. I am so grateful. As I enter this new chapter of my life, I do feel a sense of comfort and familiarity knowing that I have my community.
Now that you're a veteran in this space, what keeps you driven about your job?
It may sound crazy but I still wake up everyday with the same excitement and enthusiasm that I had earlier in my career. Sure, that feeling takes different shapes and forms depending on the day but that drive and that passion is stronger than ever. I think the key thing that has kept the fire going is that I have not been afraid to evolve. The creator that I was 13 years ago when I first started blogging is certainly not who I am now. In fact, even the person that I was just 1 year ago is not who I am today! I don't want to hold on to things that no longer serve me and that is what has been the driving force behind all of the twists and turns in my career and all of my business ventures.
Tell us all about Phlur and Missing Person. What drew you to relaunch Phlur?
Long story short, I was going through a separation and fragrance was a huge part of my healing journey. I truly believe in fragrance therapy in which scent stimulates the smell receptors in the nose and these receptors then send messages to the emotional part of the brain which rules feelings, memory and creativity. During my separation, I became very intentional with how I wanted to build my life and how I envisioned myself happy and confident again. You lose a part of yourself when you let go of someone in your life and move onto a new chapter. Missing Person was inspired by the idea of missing and longing for somebody. If nude was a scent, it would be Missing Person. The perfumer that we collaborated with calls it warm skin coming out of a bath. It's like second skin; the longer you wear it, you don't even notice that it's there.
What else is in the pipeline for you?
As of right now, I am really focusing on tending for, caring for, and growing Bümo and PHLUR but as previously mentioned, I follow my gut and my intuition so I'm sure there will be more for me.
All images are courtesy of Chriselle Lim