As part of our Resilience Special this month, we speak to the captains of industry about their response to the COVID-19 pandemic and future challenges.
Professor Ivy Ng is the Group Chief Executive Officer of SingHealth
What are the key service/operational enhancements and additions SingHealth has introduced to support patients during this period?
2020 will go down in history as the year when an unknown virus brought the world to an almost complete standstill. It has been close to four months since we started the fight against COVID-19. In fact, even before the first case of COVID-19 was diagnosed in Singapore in late January, SingHealth has been on high vigilance and taking active steps to ensure that we are well equipped to respond.
At SingHealth, our patients are at the heart of all we do. Even as we focus on caring for COVID-19 patients, we are mindful that we need to optimise our resources over a sustained, long period so that our institutions have sufficient capacity in terms of manpower, resources and physical infrastructure to care for all patients.
A series of measures was taken to create capacity. For example, we rescheduled non-urgent elective procedures and outpatient appointments after our clinical teams have carefully reviewed them to ensure they are safe to be temporarily deferred. Keeping a sharp eye on the rapidly evolving situation, we made critical and timely decisions to expand our screening capacities and used analytics to project our hospitals' bed occupancy rates so that we can reconfigure or convert wards to accommodate patients' needs.
Even as we do this, we are always mindful that key and essential services are maintained so that other patients can continue to receive the quality care that they need.
What are the key operational enhancements and additions SingHealth has introduced to support doctors and staff during this period?
We realised early that this pandemic was going to be a marathon, not a sprint. Keeping our patients, their loved ones and our staff safe is of paramount importance. Early in the fight, we put in place a slew of measures that would mitigate any risk of cross-infection, including campus segregation measures to restrict the movement of all our staff. Manpower resourcing was managed carefully and healthcare teams were separated to ensure that clinical operations and services continue despite the segregation. We also leveraged on video-conferencing facilities to ensure that we continue to keep abreast of the latest developments across SingHealth.
For the safety of our patients and their caregivers, we updated our visitor policies and practices in tandem with the rapidly evolving situation. Subsequently, in line with the circuit breaker measures, we had to make the difficult decision of not allowing visitors in the wards, with exceptions made for certain groups of patients such as critically-ill patients, palliative patients and patients with special needs.
We are very mindful of the stress that our healthcare professionals experience on the frontlines. We put in place counselling and peer support services for all staff, including helplines manned by trained staff volunteers daily. We have a network of about 500 peer supporters who are trained to extend emotional support to their fellow colleagues and a library of mental health resources available to all staff.
As the situation intensified, we stepped up and answered the nation's call for medical teams to be deployed to support the needs of our migrant workers. Multi-disciplinary teams from all our hospitals, national specialty centres and polyclinics were deployed for screening, swab operations and primary care at migrant worker dormitories, swab isolation facilities, community care facilities and later, at nursing homes where teams conducted swabs and provided training for the staff. In addition to clinical needs, we also took care of the migrant workers' emotional and mental well-being by developing videos and collaterals in different languages to engage the workers to reassure them of the care provided.
SingHealth Community Hospitals contributed to the need to increase the overall healthcare capacity by transferring patients in one of our community hospitals to neighbouring community hospitals so that it could exclusively receive COVID-19 patients who are clinically stable but still require medical care.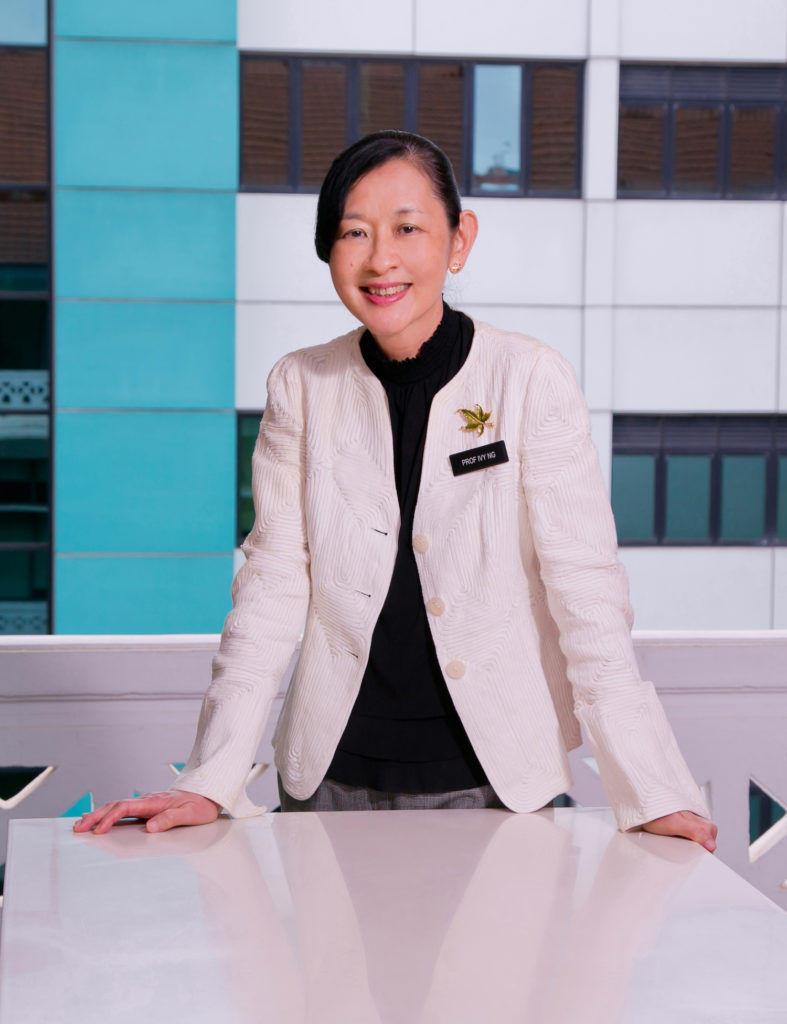 How else are you preparing for changes in the next few months when restrictions ease and Singapore gradually returns to our regular activities?
We foresee that this pandemic will be long-drawn. Even as Singapore and the world ease restrictions over time, as healthcare professionals, we cannot afford to become complacent. We must be vigilant for any unforeseen developments as our scientists and researchers press on to uncover more insights into COVID-19. We have had some early successes, for instance, in partnership with Duke-NUS Medical School, we were able to successfully culture the virus, and were one of the first in the world to so. More in-depth research also enabled us to discover and understand more about the different ways in which the immune system responds to COVID-19 in different patients. There is much more to be done.
Reflecting on lessons for businesses in Singapore, what is the one main take-away having now dealt with this unprecedented crisis?
The global crisis that COVID-19 presented is testament to the widespread and potentially devastating effects of infectious diseases, even with the tremendous advancements in Medicine and technology today. We continue to race against time as we work towards urgently strengthening research capabilities that will enable us to respond fast to the spread of infectious diseases. As we accelerate our understanding of them, we can then take steps towards to discover effective treatments and vaccines for clinical use within the shortest time possible. We have launched a number of innovations that are relevant not just now during the crisis period but also to what is likely to be the new norm of healthcare delivery in the post-crisis period.
COVID-19 is likely to remain endemic and with the vast majority of our staff and population still vulnerable to infection, we have to deliver the same level of excellent care but reduce risks of infection to both patients and staff. The use of tele- and video consults, wireless monitoring, robotic assistants, medication delivery and more will likely be integral to the new model of care. A key takeaway is that adaptability is critical in a rapidly evolving situation and that careful monitoring and proactive measures need to be prioritised.
All images are courtesy of Professor Ivy Ng