As the world's most recognisable male model, David Gandy celebrates 20 years in the industry and tells us how his success isn't just down to his rugged good looks but also an independent spirit and a relentless work ethic.
Hiding those famous piercing blue eyes under an unassuming grey baseball cap, fashion's best-known male model steps through the side door of an empty historic pub in London's East End. Even in the shadows of a chilly spring morning, David Gandy cuts an impressive figure in casual jeans, T-shirt and cable-knit jumper. About 90 minutes later, under a row of freshly washed linen shirts, our cover star peels and eats a satsuma as we talk about Hong Kong, Shanghai and Taiwan, and his visits to all three. All the while, the photographer clicks away.
In person, David Gandy is way more relaxed and inquisitive than he appears on camera. We're mostly used to seeing him smouldering intensely to the lens. With his famous brooding good looks, rugged masculinity and an intuitive sense for good branding, Gandy is arguably the world's only male model to rival the female "supers" in longevity, status and influence. That achievement is partly due to his aforementioned qualities, but also to a fiercely independent spirit, graft and "the mentality that nothing is ever given to you.
"We weren't wealthy by any means, and if you wanted pocket money, you worked for it," he says, of growing up in Billericay, Essex. "I watched my parents build their businesses up – it was hard work and they'd be working until whatever time they had to."
We catch him at a milestone that marks his 20th year in the industry. During that time, Gandy has pivoted fashion fame into a global voice and multiple businesses, partnerships, ambassadorships and investments. Decidedly off piste for a model, no matter how super, he spoke (rather well) at Oxford University Union in 2018, and Cambridge University has invited him to talk this year.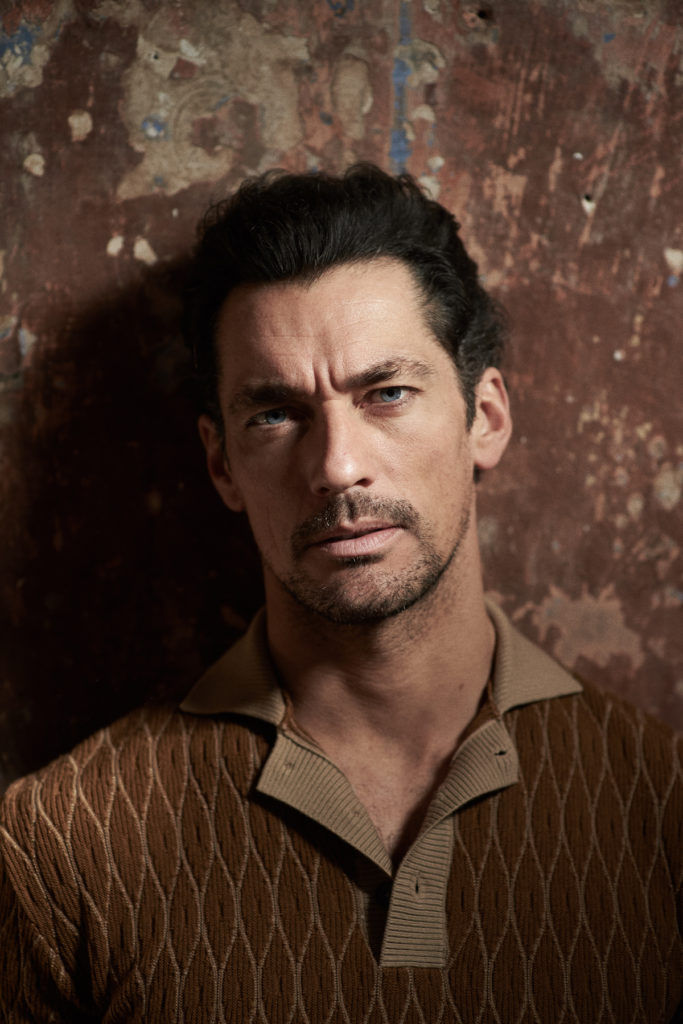 "The thing that people famously say about models is that they don't have much of a shelf life," Gandy says with a laugh. "Well, I've been here for 20 years, I think I'm doing OK, and I think Kate and Naomi are doing OK. It's about business and having that longevity."
It all started at the age of 21 when friends entered him into a modelling competition on a popular British daytime TV show. Gandy won (it landed him a Select Models contract) and spent five years working well but in relative anonymity. That all changed when he became the muse for Dolce & Gabbana, who cast him in that now notorious Light Blue perfume ad. After that, Gandy-fever officially landed, and more than 15 years on it hasn't waned.
I'm working on a big launch, something that I can't say much about — but it's the biggest thing I've probably ever done, and fully independent. – David Gandy
Gandy's look has long played into a romanticised vision of timeless masculinity, but he's not shy of playfulness or sensitivity on camera. At 41, he's aged divinely (seriously, even close up he looks as if carved from Italian marble). On set, he happily perches on tiny wooden stools too small for his frame, lounges around in a silk gown and white socks, and then goes suited and booted. Then there's an uncanny ability (we soon discover) to make cackling while doing the dishes look and sound sexy. Yes, ladies and gentlemen, we got David Gandy to do chores. And no, he won't come over to help with your washing up.
So it's hard to imagine that he wasn't always the popular, good-looking guy growing up. "Completely the opposite, I had a puppy-fat stage during the teenage years and then you shoot up and I became quite gangly – literally overnight I went up to six foot two," he recalls. He played all the sports, but at school "I wasn't the cool guy … I mean, I worked at dog sanctuaries over the weekends." He confesses to having been "a bit of a loner" and, he muses, "I still am."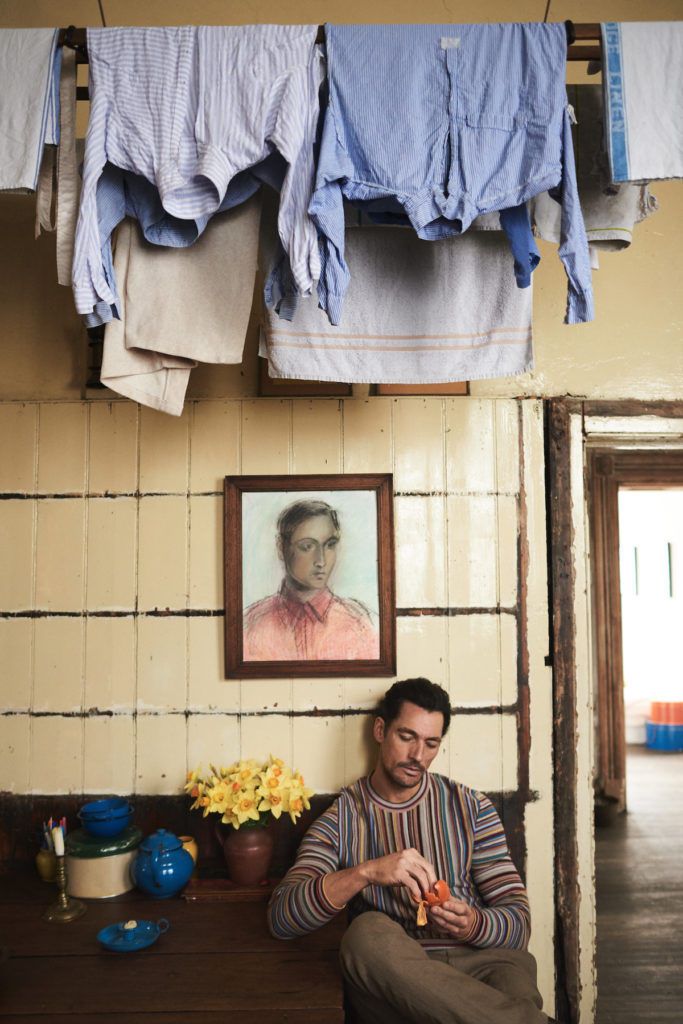 Before superstardom or modelling, there were less than glamorous jobs. He delivered pizza for years, worked with dogs and helped his friend's dad fit out enormous offices, on some weekends staying up 48 hours to complete the spaces in time for Monday morning.
"I always grafted and worked," says the Essex boy. These days, it's much more luxurious grafting, but the multi-hyphenate model still likes to keep very busy. He's spent much of the last 12 months and multiple UK lockdowns working on his businesses and interests: "That didn't stop and it couldn't, because I'm kind of self- employed," he says.
"I'm working on a big launch, something that I can't say much about – but it's the biggest thing I've probably ever done, and fully independent," he explains, carefully picking his words. The launch is in the autumn and he's working with the Hut Group, a Manchester-headquartered tech platform that specialises in direct-to-consumer business with a portfolio of premium beauty, wellness, design and lifestyle brands. That's the only information I manage to work out of him.
"This year gave us plenty of time to focus on that and bring the team together – it was tough in many ways but we diversified and adapted…People were adapting too, from being in big corporations to wanting to go smaller and more independent … I managed to poach a few!"
Gandy now advises brands behind the scenes and comes alive when in expert mode, giving the impression that he's probably more of an analyst than a showman. Twenty years of insider knowledge at the forefront of style have made him an authority on current industry evolutions. "Looking at the fashion world, I saw the change about five years ago with the direct-to-consumer, digitalisation trends, and I'd tell some of the brands I was working with to adapt. If these brands had adapted five years ago, they'd have been OK. But now you can literally see the downfall of the British High Street."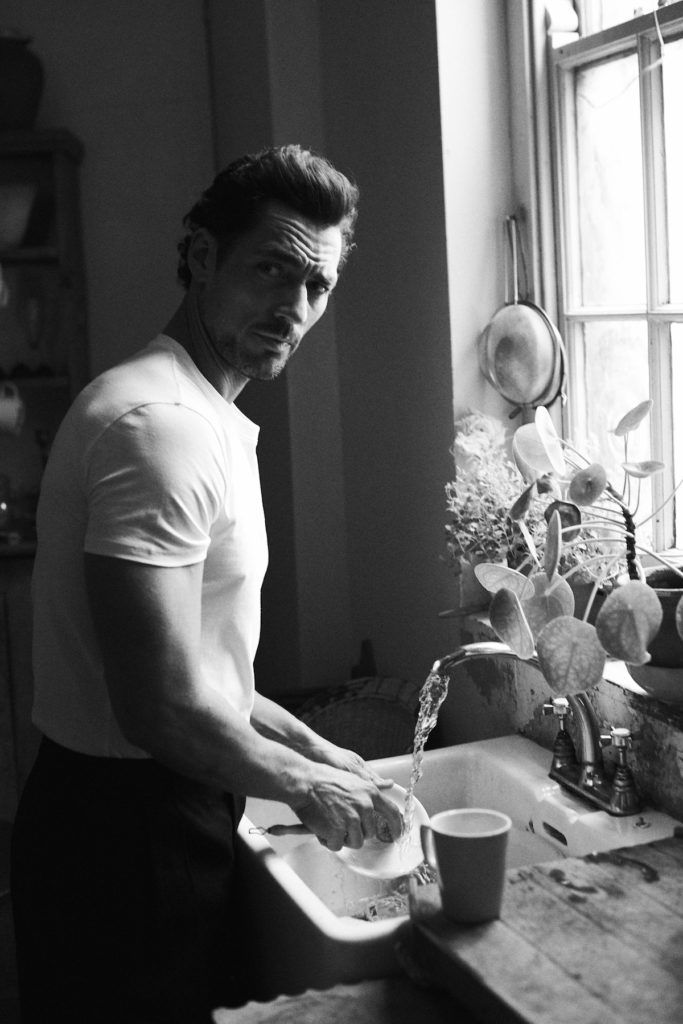 Cue headlines about UK and US retail giants suffering or folding because of poor online agility and too much fate sealed on expensive bricks and mortar. "There's two sides of me looking at something like this," he says of the digital rise. "As a businessman, when it comes to data and getting to the amount of people that I need, yes you can't beat digital and social, everything can be analysed, algorithmic and targeted precisely, unlike on a billboard … But there's the creative in me that still thinks doing something like the cover of a print magazine, like Vogue, GQ or Prestige is, well, a prestigious thing to do. All models want covers and billboards. If I'm totally honest, that's still the pinnacle … But today that's got to be supplemented by digital, to push the sale of the magazine or product."
He urges brands to look deeper than just numbers of followers and at influencer demographics and engagement, and how they translate into sales. "The younger people just think, 'Social, social, social,' but often don't understand the big creative element to it. You still need to have that brilliant vision, that brilliant tagline, that brilliant campaign."
Ironically, if Gandy were starting out in today's dominion of digital influence, there's a chance that his big break might have never happened. Nowadays, brands just take fewer big chances with unknown talent. In 2006, after Mario Testino first shot him for D&G's Light Blue fragrance campaign – sun-soaked, in small white swimmers, off the aquamarine Italian coastline – the relatively unknown model was plastered on a billboard over Times Square (among other prime locations) and in countless global magazines. The video played in Imax theatres and online it racked up 11 million views in the first months. "Digital helped push, it but it was really the other stuff and the creative that built the buzz … I just don't see that very often any more," he says.
"Cindy Crawford always said, 'I want a marriage with the brands, not a one-night stand.' She's a brilliant businesswoman, and when I read that, even before I did Light Blue, I knew it was what I wanted." His work with Dolce & Gabbanna spans 15 years; in fact, he's shooting for the Italian label the week after our cover. In 2011, the brand published a coffee-table book, David Gandy by Dolce & Gabbana, chronicling their collaboration. His work with Massimo Dutti has lasted 17 years, with Jaguar cars it has also been long-term. He's clearly taken Crawford's words to heart.
Working with the likes of Kate Moss, Christy Turlington and Naomi Campbell, Gandy learned "how these supermodel women, their agencies and management operated to get them into those positions". He took it and ran with it, as no other male model had done before.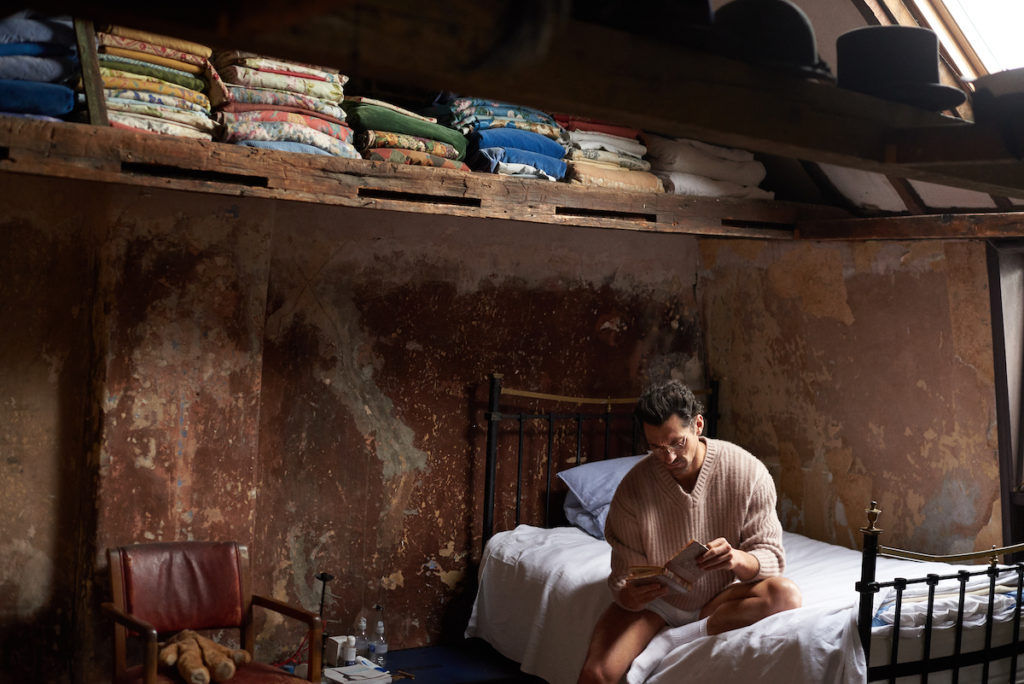 With his rise came a shift in fashionable male archetypes that spoke to a generation of young men who found his masculine form aspirational. Even in the early days, Gandy bucked the trend, resisting the call to conform to a skinny, high-fashion male silhouette popularised by the likes of Dior Homme.
"Honestly, I've never followed the crowd at any time in my life. I've never been one to do what everyone else does. It's pack mentality, it's safety. I've always been independent and happy to be myself, so that's what I did in the modelling game."
Despite firmly sealed celebrity status, Gandy isn't in that fashion bubble: "I've never been part of that … I didn't aspire to be in fashion. I'm into style, which is different." While his contemporaries are running around fashion weeks, he'd much rather be off racing beautiful cars somewhere in the UK or Italy – at Goodwood or in the Mille Miglia. Motoring and cars are a greatly publicised, long-time love and passion – over the years he's painstakingly restored a Mercedes 190 SL (now sold) and a Jaguar XK120, which took 2,700 hours.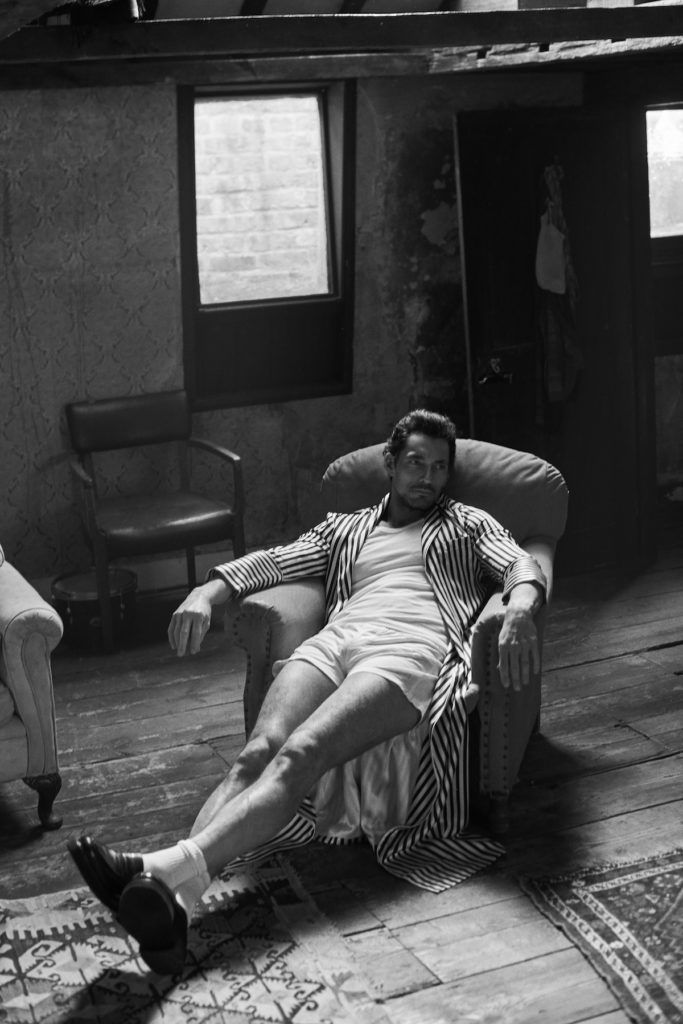 "I love design, and we're renovating this house, renovating cars. I'm in the fashion game, but guys see me doing all this other stuff and I really hope that they can relate to it a little bit more." His partner, Stephanie Mendoros, is a barrister and mother to their adorable two-and-a-half-year-old daughter Matilda. He's lived in Fulham for many years, and regularly says hi to locals at the gym or butchers. The couple are currently remodelling a new house overlooking Richmond Park, and spent much of the first lockdown in the countryside around Lancashire with Stephanie's mother. It all sounds a bit normal for a supermodel. Isn't he meant to be doing TikToks in St Barts with Richard Branson or something?
Perhaps being more relatable is part and parcel of Gandy's star appeal, especially outside fashion's fickle world. The day of our shoot and interview, he's perceptive and ultra-engaged. He has approachability (always has time for a chat or picture with a fan) as well as some self-effacing Brit humour ("I'd have loved to have been a vet, but the brain didn't quite match my ambition at the time").
What isn't so relatable is the sheer range of his projects. Ambassadorships for Jaguar, London Collection Men's, fashion partnerships (Marks & Spencer's being one of the most profitable, "selling nearly £80 million of just loungewear in five years"). He's been the face for Virgin America, Banana Republic and Vitabiotics, as well as D&G. There are multiple covers for Men's Vogue, GQ, Esquire, L'Officiel Hommes, Men's Health, Details, The Rake, Attitude and this magazine. He regularly writes for GQ, The Telegraph and Vogue, and is a keen investor, with stakes in Savile Row Gin, a footwear label and now celebrity hairdresser Larry King (with products and salons). There's also the London Sock Company, "but's it's all British companies … Oh, and a number of funds that are just for investments."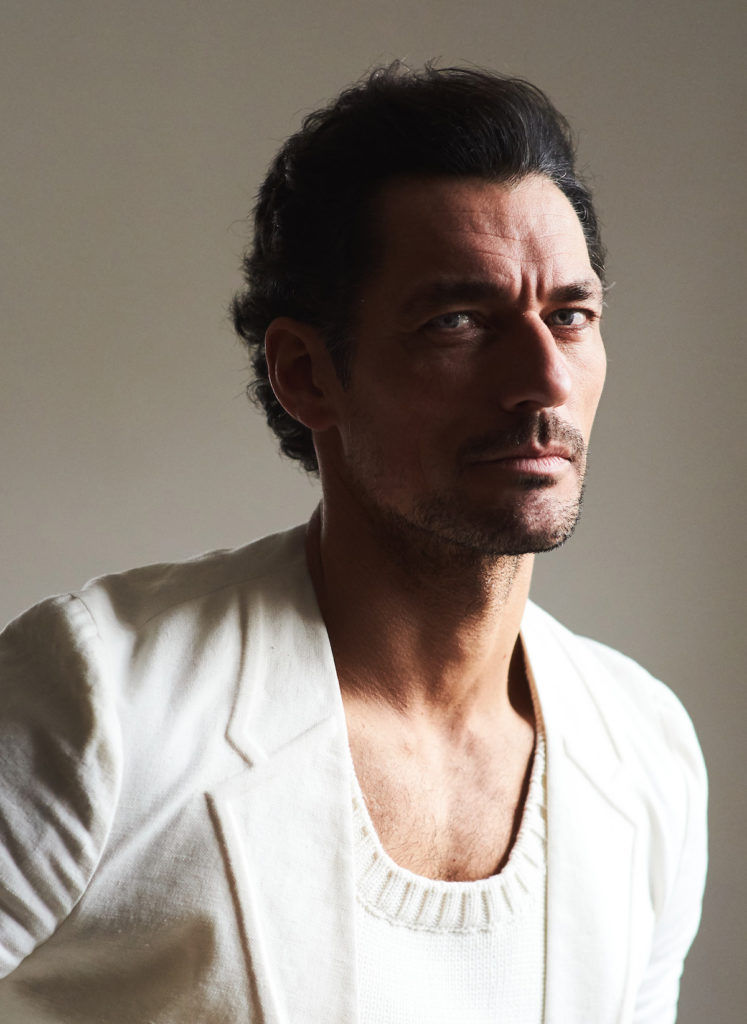 It was exhausting just writing this last paragraph. So why does David Gandy like juggling so many projects, or is he is just a sucker for punishment? "Diversity certainly makes it chaotic!" he admits. "I just never wanted to think, 'I wish I'd done that.' I'm in a position where I can do it and help or invest in people I believe in.
"In many ways, I never look back. I never have regrets because I don't think there's much point, I think you should learn from failures and I've failed at millions of things … People used to laugh at me, because the day that something really successful came out, that evening I'd be really happy and the next day I'd be miserable. I'd always be thinking where to go from here, what's next. My grandfather [who was in the Royal Marines] was the same … I don't look back too much. Maybe I should; but it's always constantly looking forward, forward."
PHOTOGRAPHY OLIVIER YOAN STYLING HANNAH BECK GROOMING LARRY KING PRODUCER HANNAH LEMON STYLING ASSISTANT BRYONY HATRICK PHOTO ASSISTANTS YEVGENIY AND DASHA
(Hero image: TROUSERS HERMÈS SHIRT MARC-ANTOINE BARROIS) This article first appeared on PrestigeOnline Hong Kong