Oatside founder and CEO Benedict Lim on what makes the local oat milk brand distinct
The popularity of plant-based milks has exploded in recent years, in tandem with a more gradual awareness about climate change and animal cruelty.
Oat milk, in particular, saw a meteoric rise and has since taken root as a more permanent favourite for cafes and consumers alike. Next to its counterparts, it's creamier, froths better and requires less land and water to produce, making it the more environmentally friendly option. While supermarkets in Singapore are well-stocked with a variety of oat milk brands, what was lacking was something to call our own.
But now, we have Oatside: Singapore's first oat milk brand. Launched in early February, it's quickly becoming a crowd favourite with its pocket-friendly price (as compared to more well-known brands like Oatly or Minor Figures), trendy design and maltier taste. It now has three variants of the Barista Blend, Chocolate and Chocolate Hazelnut.
The 'full-stack' oat milk brand was created by Singaporean Benedict Lim, who was formerly the Chief Financial Officer at Kraft Heinz Indonesia. The Founder and CEO of Oatside speaks to us below on why he started the brand, and the impact he hopes to make on the world.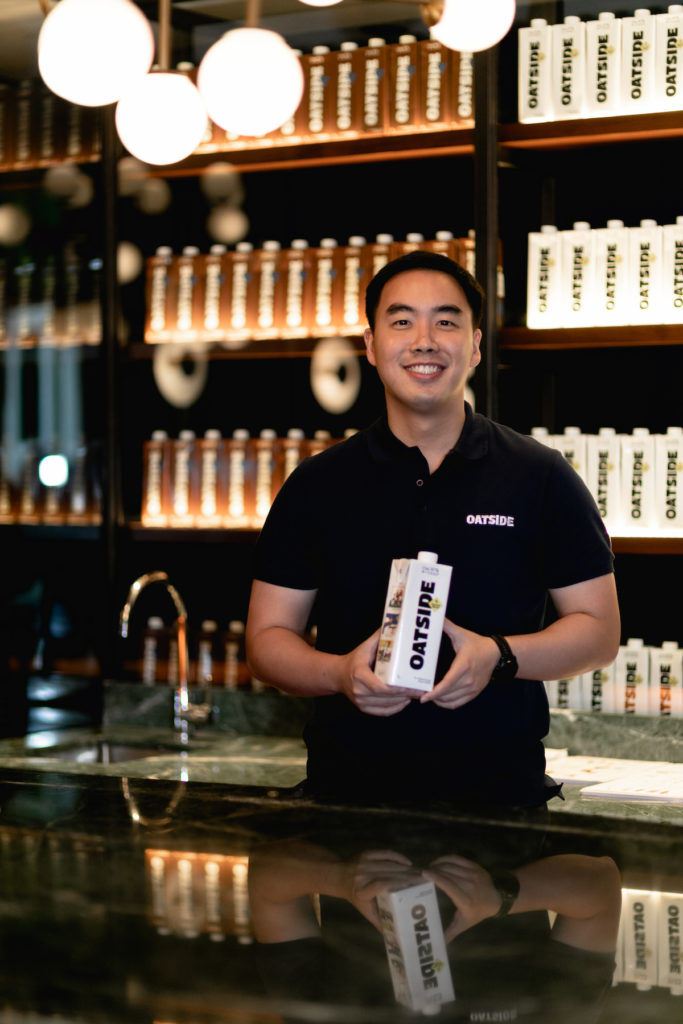 Tell us about your background.
I'm a huge foodie and it's probably why I gravitate towards food, even in my career. Prior to OATSIDE, I worked at Heinz and held several roles over the years – I started with them as Head of Mergers and Acquisitions covering the APAC region before moving onto more operational roles as CFO in Australia and later in Indonesia. It's where I learned the inner workings of a food company, and also how crucial it is to be consumer and product obsessed when it comes to food innovations. Heinz has an incredible culture of taking chances on young people and I remain grateful for all the exposure I was given so early on in my career.
How would you describe your own diet?
I am flexitarian, but increasingly I've become more conscious of what I consume, to try making healthier and more sustainable choices. I've completely cut out dairy milk from my diet, something I used to enjoy when I was younger.
We read that you started with experimenting with making your own oat milks at home. How did you arrive at creating Oatside?
It started with the realisation that unlike soy or almond, oat had a huge variance in taste and texture between different brands because of the complexity of the oat extraction process.
Taste is all about familiarity. I feel the reason why plant milks are still niche in the region is partly because the aftertaste of most plant milks tends to be quite foreign, whether it's beany or earthy notes. The intention with the experimentation was to try and achieve a texture and taste that was creamy, smooth and malty, a profile that is generally more familiar to people in the region.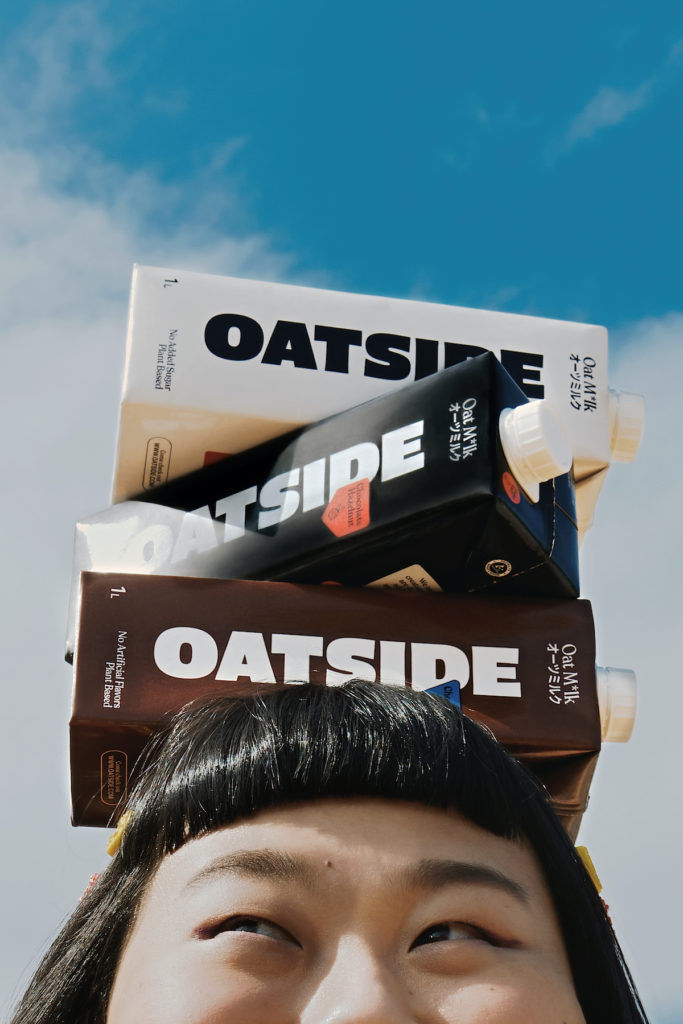 Oatside has an eye-catching design and mascot. What inspired them?
Oatside as a brand is optimistic, adult and as-is. The artwork was a way to convey our brand world – the Oatside of life; the bright side of life told in all its unfiltered, modern glory. The packs' artwork are cartoons and yet has a feel and tone that speaks to adults, which is our intention.
Talk us through the journey of creating the brand, from inception to funding and the official launch.
The journey has been extremely enjoyable, to have the freedom to learn through iteration and trial-and-error. From creating the brand, product R&D, fundraising, building the production facility and selling to the first customer.
The most rewarding part of the journey has been putting together the dream team and having this collective feeling of ownership, that we are all building something special together from scratch, creating a sustainable food company that can have a real impact.
What was lacking in the many other oat milks in the market? How does Oatside compare?
I wouldn't say that something was 'lacking' in the other oat milks. It's like noodles – people in different parts of the world like their noodles in different shapes, texture and taste. We feel that Oatside has a taste and finish that is distinct from the other oat milks in the market and is our expression of what we like the most in a plant milk – creamy, malty notes and a smooth finish.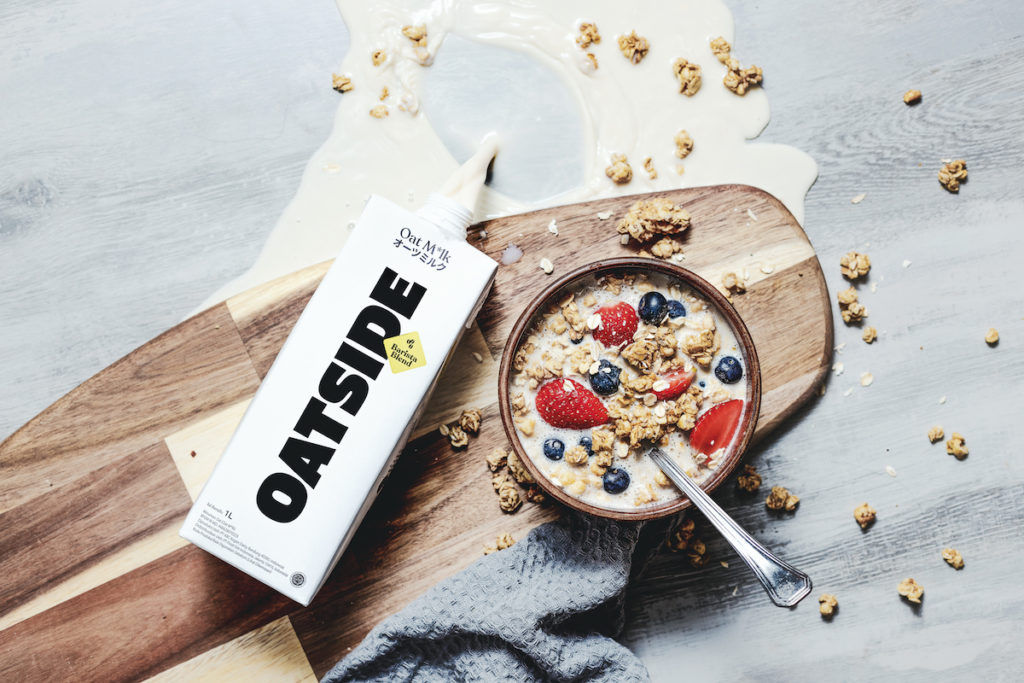 What is a "full stack" oat milk brand?
It means we have full control over our ingredient sourcing and production process, as opposed to using a third party manufacturer with an off-the-shelf product. We felt this was important given how customisable the oat extraction process is.
Are there plans to launch more varieties outside of milk? Like creamer and ice cream.
For now, our immediate focus is to share Oatside oat milk with more people with more touchpoints across food service, retail and e-commerce across Asia.
What do you hope to see in the plant-based milk industry in Singapore?
We hope to lead a wider move towards more sustainable, healthier milks, by being incredibly delicious.
What about your own hopes for Oatside?
For Oatside to be the plant milk for people who don't care for plant milks, to lead the shift to more sustainable foods across Asia by being incredibly delicious.
Oatside is available on Redmart and Shopee, as well as cafes such as Baker & Cook, PPP Coffee, Chye Seng Huat Hardware, The Coffee Bean & Tea Leaf islandwide.
More information here. All images are courtesy of Oatside