The air in Ivan Lam's studio is a heady mix of paint and resin.
Traces of reflective resin have spilled and hardened on the floor covering, forming clear puddles that resemble giant raindrops across the studio space. An '80s Cantonese melody is blaring from a Harman Kardon speaker, perhaps the only familiar object one can identify with amongst the unconventional mediums the artist is synonymous with. Tins of paint occupy another corner next to a metal measuring beaker filled with traces of melted soy wax. On the front porch of the single storey house Ivan calls his studio space, empty plastic jerry cans are lined up in an orderly fashion, prompting curious neighbours to form their own conclusions about the nature of his work.
A risk-taker with a rebellious nature, Ivan has built a notable art career spanning two decades by establishing himself as one of Malaysia's leading contemporary artists. Never settling on the familiar, Ivan is constantly pushing the boundaries of his art practice through his choice of unconventional mediums and techniques, even going as far as laying claim on his trademark use of resin on his pieces. On working with unfamiliar mediums
You learn the advantage and disadvantage of the material itself and with that you push as far as you can. When you find the aesthetic value of these materials commonly used in industry production, you find the message that these materials can convey. It is always surprises that I look forward to, it may not be what I had in mind at the beginning but there are always surprises. Disappointment only happens if I don't try enough or I don't spend enough time with the materials.
On being a rebel
You still go against the things that don't go your way such as social injustice but instead of fighting it, I'm embracing it now. I want to be part of the system and I want to see what's wrong with it. When you're in your youth, you have all this energy you do not know how to channel but as you grow older, the energy has leveled out more and you can redirect it for better use.
On democratising art and inspiring positive action through the Ivan Lam Giveaway
The price of art has steadily gone up over the last two decades until it has become unattainable to own a piece of artwork. I was talking to my gallerist Wei-Ling on how we can explore a system where anyone who has RM100 could stand a chance to own an Ivan Lam original piece (valued at RM15,000). Deeming the giveaway as a social experiment, Ivan says that he also intended for the giveaway as a means to give back to society, whereby the proceeds will be channeled to support UNICEF.
On finding joy in failures
People always like to hear about success stories and accolades but I believe it has an adverse effect at times. I was previously invited to give a lecture at a design council to share my best piece of work. The whole rebellious nature is still in me so I flipped the title around and gave them my title the 3Fs – Finding Failures Forever. It is such a negative title but to me there are failures in every piece. People just downplay it so much but I actually enjoy going through those failures. When I give my lectures now I will always share what did not work or what failed. It really gives you a sense of reality that people can relate to.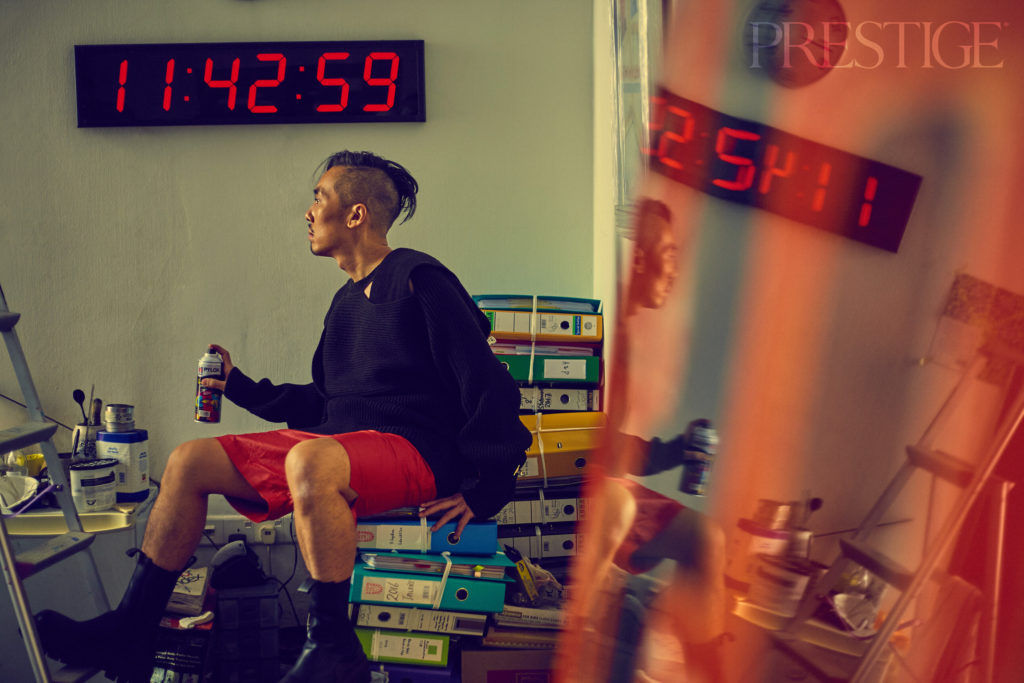 On his Covid-19 lockdown experience
As individuals and artists we are constantly setting up to network and collaborate. When that privilege or connection was taken away, I felt lost for a while. So I thought 'why don't you connect with yourself ? When you have been stripped away from all these privileges can you still make art?
On embracing social media
I was fearful and scared. I felt it was kind of cool to be rebellious and wanted to maintain that old-school vibe whenever someone asked me for my handle or hashtag, but I've reached the point where I want to see what the fuss is all about. Since I will embrace it, I've been thinking of what I can do that can only be done on that platform and so many ideas have come up. Every session that you post should be interacted with and not just be a passive thing.
On turning failure into success
We couldn't get our act together. Everyone wants to be headlined, no one wants to play second fiddle. There was a lot of negative energy so I deemed this as a failure and thought hard about how to turn this ship around. I came up with the title COMA:38/500 as it tells us that as much as there are people present, it speaks even louder of what is absent. Only 38 artworks were exhibited inside the vending machine and the rest were occupied with empty perspex boxes. Everything that could go wrong did go wrong, but the work made it to Art Basel Hong Kong 2013 and was a resounding success. On his favourite piece of artwork
As long as you are alive people should not be using the word masterpiece to describe your work because the next piece hasn't been created yet. How do you live a life where people keep telling you your best work was seven years ago? You should just quit and pursue something else.
On progressing as an artist over the next decade
It's a scary thought. I have always looked at older artists when I was in my 20s and thought that they should just drop dead if they're not progressing and simply living on their namesake. Now how the tables have turned conveniently. I still want to push boundaries for the next 10 years and I will be my own worst critic because if I'm not passionate about it anymore, I will definitely call it quits and not when someone else tells me to because then it will be too late.
PHOTOGRAPHER AARON LEE @ LENSWORK STUDIO
STYLING & CREATIVE DIRECTION IBNU ASWAN
GROOMING JOEY YAP
This story first appeared on Prestige Malaysia