Under the unforgiving, highly competitive and elitist spotlight of classical ballet, Misty Copeland shines.
Copeland, who in 2015 became the first African-American promoted to principal dancer at the prestigious American Ballet Theatre (ABT), moves with youthful exuberance, stunning artistry and sheer veracity.
She's come a long way from her days of attending ballet classes on the basketball court of a local youth community centre. There, at the late age of 13, she learned her pliés and elevés while living in a motel room, struggling for a space to sleep on the floor with her five other siblings. But as most awe-inspiring stories go, this rough journey propelled her to successes she never thought was even remotely possible.
Over her 25-year career, Copeland has taken on a range of both classical and contemporary roles – among her most notable ones was in 2012, when she performed the title role in The Firebird, choreographed by Alexei Ratmansky, and the lead role of Odette/Odile in ABT's Swan Lake in 2014, making history as the first black woman to assume the role. In 2015, she was promoted to principal dancer at ABT, and in the same year named by Time magazine as one of the world's 100 most influential people. Copeland's professional success provided her with a platform from which she continues to rally passionately behind racial and gender equality, and inspires aspiring young ballerinas, especially those of colour and from less privileged circumstances.
I talk to Copeland about her humble beginnings and how in success she's found a higher purpose. We also discuss her latest partnership with watch brand Breitling, and how alongside two other inspiring women, she feels even more empowered to pursue the causes close to her heart.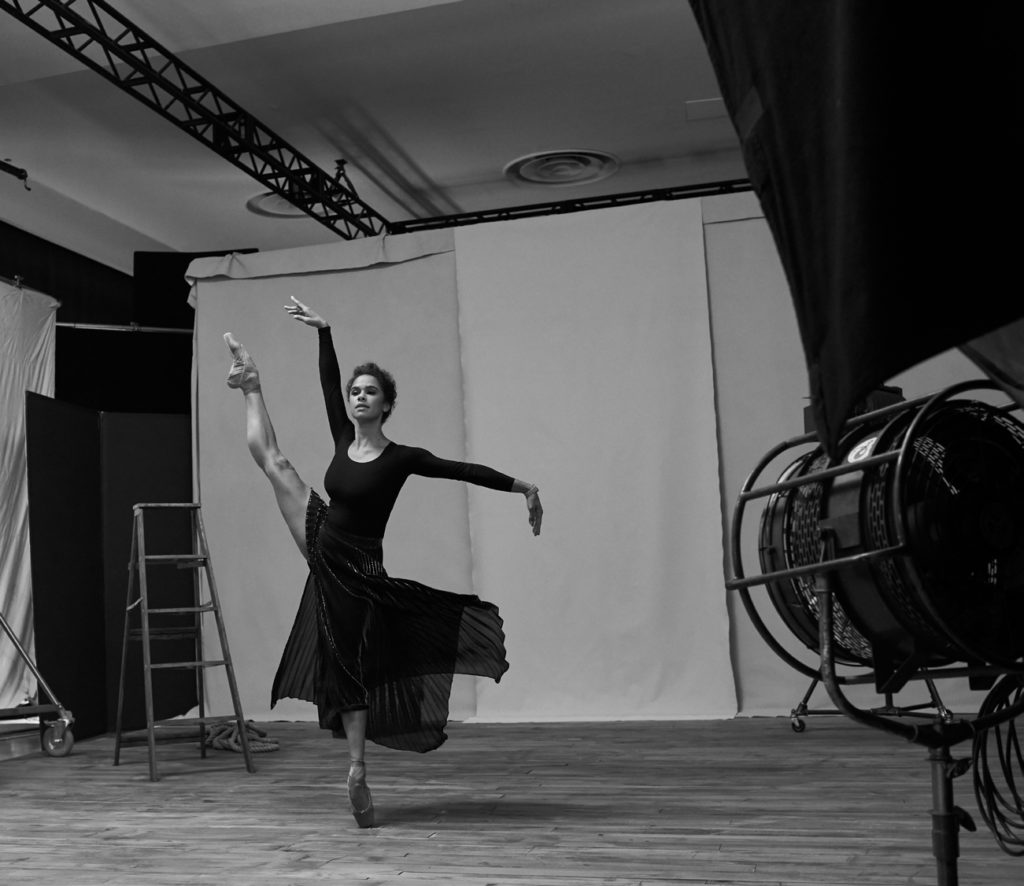 You're often been referred to as the "breakthrough ballerina" of your generation. How does that make you feel?
It's a lot to take on. I think it's easier to accept this distinction when I embrace the fact that I didn't do it on my own. I know I would not be where I am today if not for the incredible people that came before me. So while it's technically true that I've broken ground, somehow, in reality the door has been slowly cracked open by others before me, and with timing and luck I happened to be here and burst it open.
Most people who succeed in high fine arts typically come from a level of society, earn a certain income or were raised in a certain community. I literally did not have any of those things. I studied ballet at a local community basketball court, and my teacher was the first person whom I felt saw anything in me and saw my potential, and that faith gave me a sense of purpose that I'd never experienced in my 13 years up to that point.
What inspired you to persevere against all the odds?
Being a professional dancer, there's a certain point where you decide whether to continue on this road or not, because it takes so much grit and dedication to make it. We're not paid like professional athletes – dancers don't get into this business to become famous, and they don't get into this business to become rich. So it really has to come from something inside, you have to be passionate about it, and I always was.
I did reach a point in my career where I felt beaten down so much because of something I couldn't control, such as the colour of my skin or the shape of my muscles and my bust and all those other superficial things. Then I discovered Raven Wilkinson, a black ballerina in the 1950s who danced with The Ballet Russe de Monte Carlo. There've been so many black dancers, but their stories aren't often told; there's no real documentation of black dancers throughout history in books. So seeing her in this documentary about the Russe was an eye-opening moment. It kind of clicked that my purpose was so much bigger than ballet and how I had to carry on her story.
Her story motivates me; that's what gets me through those hard days, because I know that just by having a presence on the stage, it's going to change the future of ballet and give so many children of colour a reason to believe that they can do anything – whether it's ballet or not.
And one way you do this is through writing children's books...
Being a role model or mentor has never been something that I discussed with people when I was younger. No one prepared me for this role, but it's something that happened naturally; it's something I really wanted to do.
Having come through the Boys and Girls Club of America, where I took my first ballet class, this is where I saw a structure of what it was to have a mentor and have someone who wanted to invest in you, nurture you to be more than them. And that's what we should be doing in our society, in our communities. So I think that's been ingrained in me. All this made me the person I am, and I want to share my experiences to make the next generation better than us. That's been a big part of why I write children's books, because I think it's important to educate the young while their minds are still forming and don't have a lot of judgment. My most recent book is Bunheads, which really showcases the beauty of the ballet world, because there are so many negative tropes in film and television on classical dance. I want to focus on the relationships built, a world that embraces and learns from differences.
How have you been dealing with Covid in New York?
Me and my husband, who's an attorney, we're mostly housebound. There's not much for us to do in terms of work – the theatres are closed, his offices are closed. It's nice that there are some arts institutions that are open; it seems frivolous to a lot of people, but art can be someone else's whole life. During a crisis like this, instinctually people come to music for comfort and healing. People also turn to art and dance, and that's one of the reasons I created Swans For Relief, the initiative to raise funds to ballet companies all over the world, to support their Covid-relief efforts.
I watched the video and it was pretty emotional. How did this come to be?
It started with some dancers in the Philippines who were really struggling during the pandemic, and that's the reason I wanted to start this initiative. A former colleague who danced with me in the American Ballet Theatre, an American guy from the south, has been dancing in Asia for the past 10 years and ended up in Manila. He reached out to me with this idea, because there were so many dancers in the company who were laid off right at the start of the pandemic and he was just devastated about it.
I saw this as a bigger opportunity, a chance for us to really set an example of what it means to use art to bring people together from all over the world. So I reached out to all my ballerina friends and eventually got 32 ballerinas together from 14 countries and from 22 different ballet companies.
And, of course, you had to dance The Dying Swan…
The Dying Swan says everything: you don't need words behind it, you don't need narration. We raised about US$300,000 to support dancers around the world who are struggling to keep a roof over their head and food on their table at this time.
You recently joined Charlize Theron and Yao Chen to form Breitling's Spotlight Squad. How did you feel being selected to be among these incredible women?
It's such an honour to be among these powerful women who, really, stand for their individuality, beliefs and their craft. It's important that a brand like Breitling be a leader in setting that example and positivity for young girls and boys, to be able to see the power that women hold. And that you can be so many things, that women aren't just soft and graceful, but they can have grit, they can be more than what's expected for women to be. I feel like the Spotlight Squad really showcases that.
How do you feel you can make use of this platform?
I never once imagined this would be my life. As a classical dancer, you train to reach the pinnacle: To perform at the Metropolitan Opera House. To go in a different direction shifting somehow from this goal is something I didn't think of at the start. We've always been very clear about where my focus is, which has always been on my career because I wouldn't have these opportunities otherwise, but it's also important that I remain true to who I am, and this holds true when I I select brands I partner with; I'm very picky when it comes to those relationships. With Breitling, I saw that we have similar beliefs and they can push me to be better, and I feel that Breitling provides a platform that allows me to reach a whole new audience.
What's your favourite time of day?
People get so upset me when I'm like, "I love the whole day". I'm a night person I would say, but I'm also a morning person. I'm gonna say morning. I'm someone who doesn't love a lot of chaos. I've just been traumatised by my childhood as one of six children – there was just constant chaos. So I feel like in the morning, when it's really early, I love that stillness and quiet, and the smell of fresh air. It's a chance to restart and reset.
This story first appeared on Prestige Hong Kong