Rarified Pursuits: Brenda Kang of Revival Jewels on jewellery and whisky appreciation
An exquisite blend of Scotland's rarest whiskies, Johnnie Walker Blue Label showcases a depth of flavour that is reflected in the layers and journey of Brenda Kang as she progresses in her business.
Johnnie Walker Blue Label and vintage jewellery boutique Revival Jewels may occupy vastly different spaces, but the two are more similar than one would think.
The whisky is a blend of the rarest and most interesting single malts from Johnnie Walker's massive reserve of ageing Scotch, including those from long-closed ghost distilleries. Only one in every 10,000 casks make it into the bottle to create its distinct flavour profile – think the delicate sweetness of Cardhu and Clynelish, warm, rounded Benrinnes, as well as Islay malts for that signature Johnnie Walker smokiness.
By the same token, Revival is a treasure trove of fascinating antique and vintage jewellery, with many pieces hailing from heritage jewellers of Paris, London and New York. Its impressive collection is meticulously curated by founder Brenda Kang, a former senior jewellery specialist at prestigious auction house Christie's. "Many jewellery pieces we carry are embodiments of history, culture and artistry captured in classic, elegant designs that have stood the test of time," says Kang at our tête-à-tête at Mandala Club. "In the face of modern industrialism and mass consumerism, it is my hope to introduce the essence and importance of unique design, sustainability, quality and craftsmanship through vintage and rare pieces."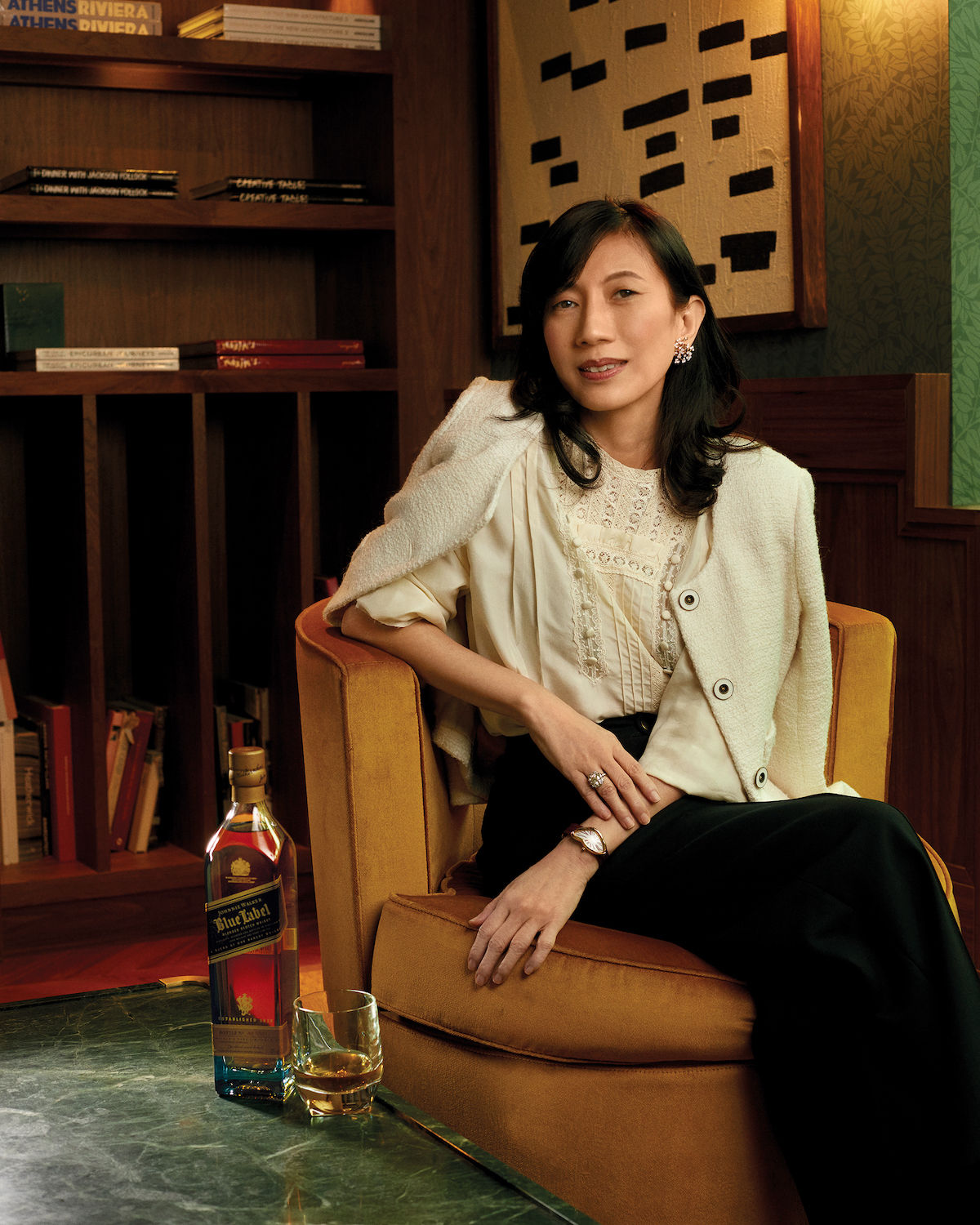 Before launching Revival in 2013, Kang spent some 15 years handling and appraising some of the world's most coveted and precious jewellery at Christie's, and this experience was pivotal in shaping her preferences and perspectives. "Aside from the exclusivity of the pieces, I was drawn to the timeless designs, as well as the meticulousness and the dedicated work of the designers and craftsmen, which often make the hallmarks of fine, distinctive vintage jewellery," she reveals.
Her eye for stunning, desirable bejewelled objects of the past is the reason why Revival is now a well-loved destination for jewellery lovers, connoisseurs and fledgling collectors across Southeast Asia to procure one-of-a-kind, storied gems. It's easy to get lost in the elegant store, immersed in the captivating histories of the period pieces, as well as the splendour of contemporary designs by legendary jewellers like JAR, Hemmerle and Bhagat, who don't have a presence in Singapore.
"JAR is one of the very few contemporary jewellers whose pieces can sell for more than their retail price when they are sold at auction," says Kang. "I also have great respect and admiration for Hemmerle and Bhagat, jewellery houses that not only constantly push design boundaries, but also manage to maintain a strong and distinctive brand DNA, which is not easy to do. They put creative processes and craftsmanship as first and foremost, creating only one-of-a-kind pieces that may take up to thousands of hours to create. Often challenging the status quo in the jewellery world for their use of unconventional materials and mediums, these brands deliver pieces that are a breath of fresh air – distinctive, insightful and collectible pieces that I believe will appreciate in value over time."
More than just a purveyor of auction-worthy vintage and rare jewels, Kang is also passionate about educating enthusiasts on the topic. "I really enjoy meeting my clients in person at the Revival gallery," she says. "When I share the artistic, cultural inspirations and references, it is best to have clients see and handle the jewellery pieces for themselves." Revival has also built a sizable resource of online essays, covering everything from major jewellery movements, brand histories, gem cuts, origins, shopping tips and more.
"Being in the jewellery industry for so many years, I have come to realise that art plays such a crucial role in changing perspectives and attitudes towards the world around us," she adds. "My greatest hope is that through Revival, people see vintage jewellery beyond the price tag as wearable pieces of art – finely made, with great heritage and intrinsic value."
Unsurprisingly, Kang finds excellent company in Johnnie Walker Blue Label. "At the end of a stressful day, it's nice to take a moment and enjoy a glass," she says. "It's about taking time out to just breathe, savouring the notes and textures mindfully, and slowly allowing myself to feel more present and relaxed. Perhaps to some extent, appreciating whisky is the same as appreciating art – both require being fully immersed and experiencing the emotions a piece might evoke."
See part two of the feature with Figment's Fang Low here.
Art direction: Audrey Chan | Photography: Joel Low | Hair & Make-up: Sha Shamsi | Location: Mandala Club
This story first appeared in the April 2022 issue of Prestige Singapore.