Fast cars, galloping horses and treacherous slopes. Three female professionals tell Nafeesa Saini how their adrenaline- fuelled passions keep them striving for more.
Winter holidays may bring to mind romantic visions of cosy cabins and misty windows looking out to snow-capped mountains.
For Dr Patricia Yuen, they offer an unmatched adrenaline rush. The leading local dermatologist with her eponymous private practice at Paragon sports a svelte yet athletic frame that skilfully traverses mountain slopes on skis.
Patricia's first encounter with the sport at 12 years old cemented a lifelong love. A visit to her uncle's family in Zurich led them to a neighbourhood ski resort where she tried it for the first time. She recalls how her Swiss cousins expertly tackled the slopes, making it appear easier than it actually was.
"I remember trying to get up the mountain on the T-bar (or the ski lift that brings skiers up the mountain), got too excited, then lost my balance. I tumbled halfway down the side of the slope. It was quite embarrassing to say the least and I had to be rescued." That moment fuelled her determination to improve her technique and learn to ski effortlessly like the Swiss, while enjoying the sport.
Things took a turn as she grew older. While she treated it as an athletic endeavour in her youth, she learned to relax over the years. "With age, I realised that I don't need to ski first tracks or ski until the sun sets." Her perspective of skiing has also expanded. "Now, I am more into the holistic ski experience, such as the destination, food, après-ski and the camaraderie of my like-minded friends."
Like mother, like son
A self-professed "carer" by nature, she defines her roles outside of the clinic as ones that revolve around her son, parents and pets that include dogs and birds. It is fitting that the son has taken a central role to the sport she so loves.
One of her most memorable skiing moments involves him. When he was three years old, Patricia put him on skis. "I knew I wanted to instil a love of mountains, nature and snow in him. I took him all over the world to explore."
It became a bonding experience for the two. "He was such a gourmand. His incentive to improve was so that he could make it to all the fantastic panoramic restaurants on the slope that only good skiers could get to. He worked hard on his technique which was nice to see."
Her proudest moment in all her years of participating in the sport was watching him learn to ski. "To see my son go from a tiny little shrimp on skis, to now a double-black off-piste skier with great style and control. It's a feat!"
Asked about funny anecdotes, she brings up an incident that she never wants to experience again. "Some of my gung-ho friends love skiing off-piste (away from prepared ski runs) in Hokkaido where the powder could come up to the waist level. I followed some of them once, and after we emerged from meandering through the trees, we came to a ledge and there was only one way down. You have to jump. They did, and I just could not do it." Backtracking through the fluffy snow proved a futile decision. "My skis came off and it took the ski patrol about three hours to find me and get me out of there. By then, it was dusk, cold and scary."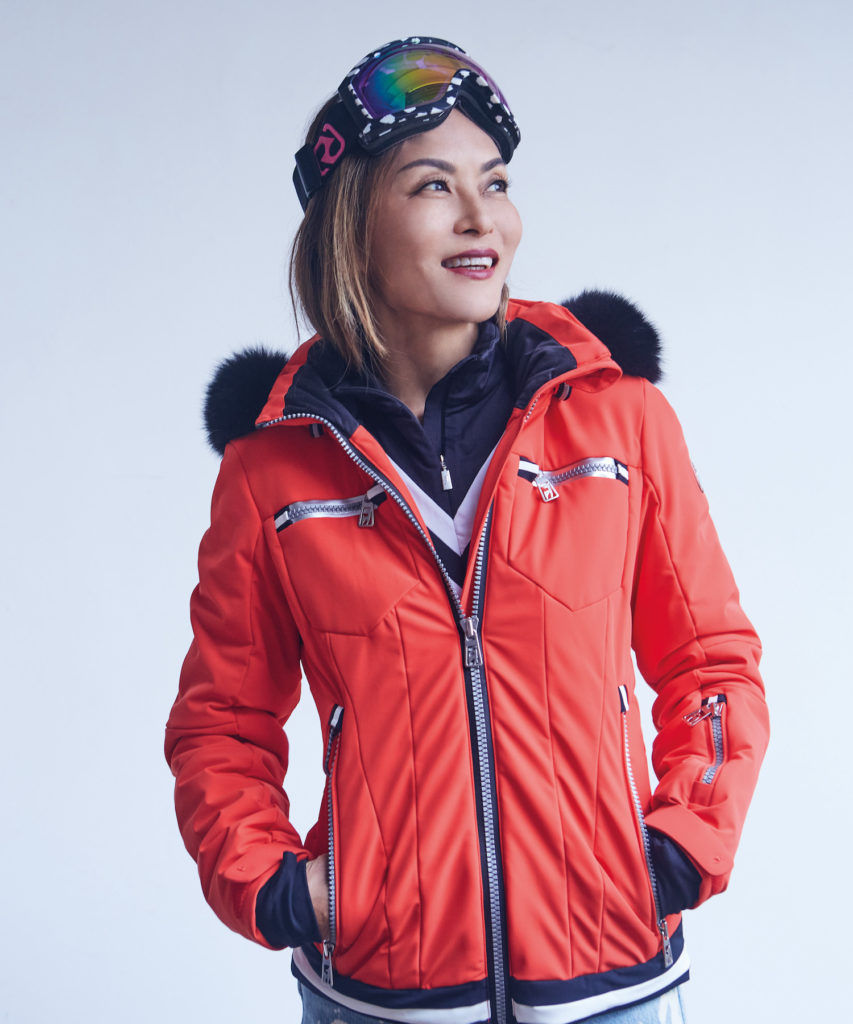 Hit the alps
Pre-pandemic, Patricia would ski at least twice a year, with Japan and countries in Europe as her favourite destinations. "We go with friends and make a whole trip out of it. We would explore the different cities to get our fill of culture, before driving up to the ski resort to chill and soak up the mountain atmosphere."
On her recommended destinations, Patricia tells us about Nozawa Onsen, an onsen village in Japan's Nagano Prefecture which is accessible by train from Tokyo. "After a day of fun in the powder, my son and I always look forward to visiting the myriad onsen houses where u can cook an egg outside while you are 'onsening' away. He always looks forward to eating his 'home-cooked egg' after."
Asked about her ultimate favourite destination, Patricia names Italy. "Hands down," she says. "I love the breathtaking beauty of the Dolomites, the warm hospitality of the Italian people, the excellent cuisine and the quaint towns to explore."
Just before the lockdown in 2020, Patricia had visited the Val Gardena area, a valley in the Dolomites in northern Italy, which is known as a centre for mountain sports. The Sellaronda circuit, one of the most famous ski carousels in the world, is located there.
"The mountain called Sella is a massive chunk of rock located in the heart of the Dolomites, and four valleys stretch out from it. The valleys are joined by road passes, but in winter, over 200 lifts and 500km of slopes form a completely different type of connection. This allows you to ski all around the mountain. If you like the idea of skiing on different slopes and marvelling at different views all day, the Sellaronda might just be the highlight of your skiing holiday."
It's unsurprising that Italy is the first place she plans to head to once the border restrictions ease. "I miss the sensory, cultural and intellectual stimulation after being in a lockdown in a small country. Italy is so multifaceted and I would love to wander around the old towns, the churches and museums, before hitting the slopes."
Patricia's dream skiing destination is somewhere that pairs good food with good mountain huts. "Cool shops for passeggiata (Italian for a leisurely walk or stroll) in the evening would be lovely too."
(Main and featured image of Patricia: Photography: Alecia Neo | Art Direction: Audrey Chan | Hair: Joeanna/Athens Salon | Make-up: Sophia Chia/Makeup Works)
This story first appeared in the July 2021 issue of Prestige Singapore.