2020 has been an extraordinary time for all of us, no doubt providing boundless inspiration for artists in particular, as they (and we) are forced to confront the new realities the world has presented to us. This couldn't be truer for Chinese artist Liu Wei, whose current solo exhibition 散场/OVER at Shanghai's Long Museum (West Bund) represents Liu's personal reflections on 2020, a year we know will go down in history as one of the most pivotal years in humankind.
Open since November 11, 2020, and ongoing until January 17, 2021, the exhibition represents one of China's most anticipated exhibitions this year, even as the country and the world at large suffer the impacts of the pandemic. Liu's large-scale installations that combine elements of sculpture, video, and painting are both serious and playful, a constant collision of polarising ideas that make up our world today. Duality has always featured prominently in Liu's works; his most famous paintings feature China's towering skyscraper structures in an abstract manner, rendered in neon colours that some critics say evoke a sunset, while others interpret it as the blanket pollution that has jarred the colours of the Chinese cities.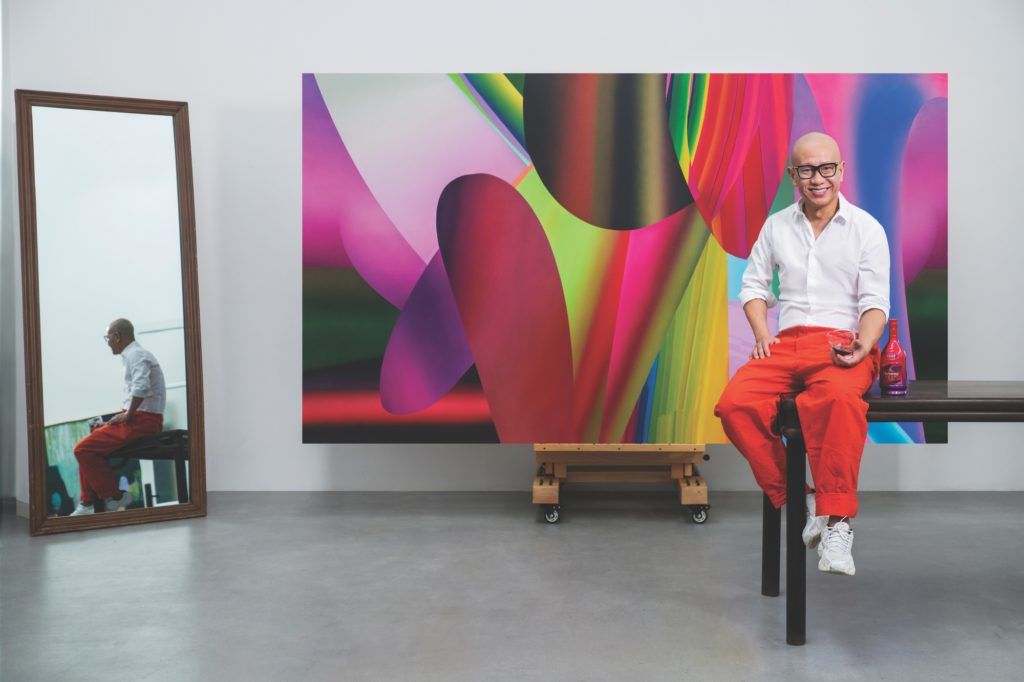 Trained as a painter at the China Academy of Art, Liu Wei is considered one of China's first generation of "new wave" artists and a member of the "Post-sense Sensibility" artists. Liu has always explored the relationship between matter and the body in his early works, and yet for this exhibition, he's bidding farewell to the old world and old systems, heralding in a new era: "Farewell, era of matter and the body. The complex and broken civilisation will send humankind as a whole into the ranks of gods" is written in the exhibition notes.
But this time, as we sit down with Liu via an Internet call, it isn't to ruminate over worldly matters. Rather, in a more light-hearted turn, we're here to talk about his latest collaboration with the whisky brand Hennessy, on a topic most decidedly festive: Chinese New Year.
Liu appears relaxed in his studio, dressed in a crisp white shirt, nonchalantly puffing away at a cigar, as he opens up the packaging to the Hennessy VSOP and Hennessy XO Chinese New Year edition bottles that he designed. The artwork for the two bottles are bright and vivid – the VSOP in warming red and purple hues, and the XO comes in a luxurious red, gold, and black palette. Could you share some insight into what your artwork will entail in terms of theme?
I am currently holding my solo exhibition "Over/Over" at Shanghai's Long Museum (West Bund), which demonstrated my thinking and reflection towards long-term topics such as body, things, ideology and world order at this special time of 2020. However, this collaboration work for Hennessy this time is slightly different from my artistic practice. The structure of this art piece is more about celebration, spring and the richness and complexity of Hennessy cognac. I hope to demonstrate more festive celebration and happy moments from this piece.
How did you choose what materials to work with for your art?
My creations are not limited by material selections. In my solo exhibition "Over/Over" at Shanghai's Long Museum (West Bund), I did not use materials that I have constantly been using in my past creations, as those materials may have altered based on the ever-changing environment and may have lost its meaning already. I believe the selection of materials is my way of expressing, but not the ultimate objective.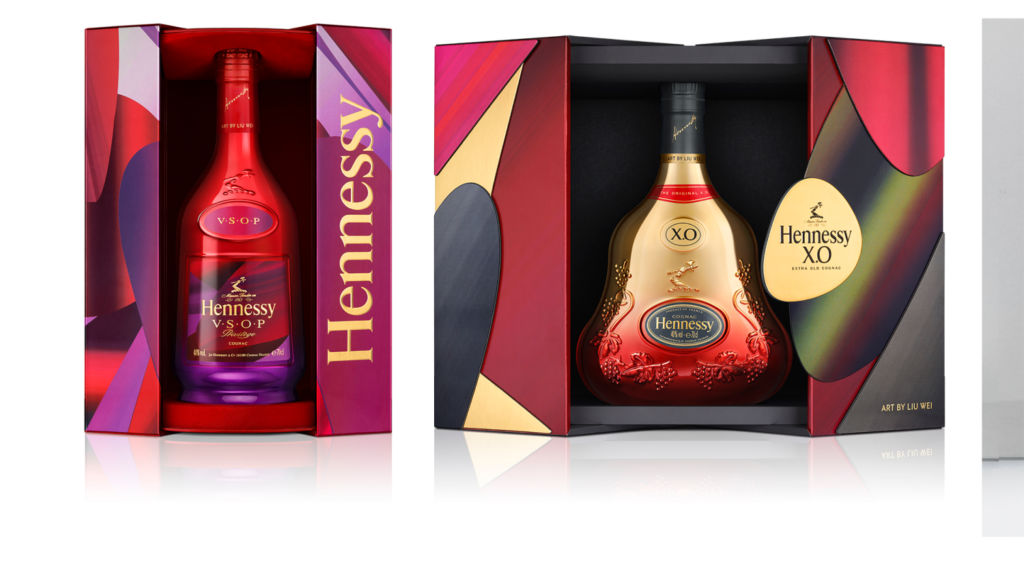 Who do you create your art for?
In this artwork I created for Hennessy, I have specially chosen to use canvas oil painting, integrating inkjet and painting in the creation. In particular, I have selected more energetic and vital colour combinations, which I hope will bring happiness and hope to the audience.
To me, all of my artwork is created for my audience and they are especially important in the process of presenting the art piece. Both my personal artistic creation or this limited-edition packaging collaboration with Hennessy exist in my complete structure of creation. I believe the reflection from Over/Over towards audiences' own existence or the happiness and hope from the collaboration work with Hennessy will be meaningful to audiences.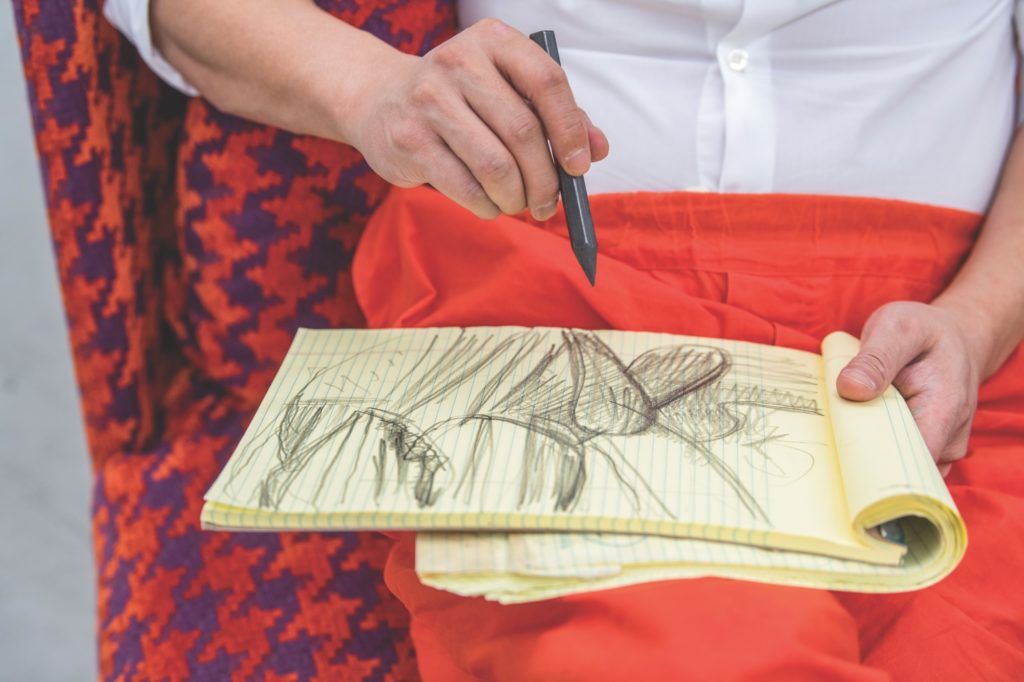 What response would you like your artwork to evoke in people?
I believe that art should not exist only for decoration, but it should have its social functions. The mass audience and functionality art faces have always been an important issue that I rethink throughout my creative process.
What do you see as the role of art in society?
I don't think art has a specific 'role' to play, yet this is where the beauty of art lies. For me, I believe human beings should always have the care and reflection towards humanism, and not limit themselves in the consideration of survival only, even under adverse environments.
This story first appeared on Prestige Hong Kong