Sonia Ong is building a new hub for art, culture and hospitality. The founder of Singapore Wellness Association gives Crystal Lee an intimate tour of Baroque House in Little India.
Every house has a story.
The story of 29 Rowell Road is one that its new owner Sonia Ong is piecing together as she spends more time within its old walls. I ask her about its history before seeing the place to find out more. "I cannot give you one," she replies. "All we can do is speculate."
"If you google 29 Rowell Road, you'll find 'Cheng Fong Signcraft' at the address, so we know it had a life as a sign shop," Ong later reveals when we meet at the Baroque House, which she named after its architectural style. Everything else about the two-storey shophouse, however, is shrouded in mystery.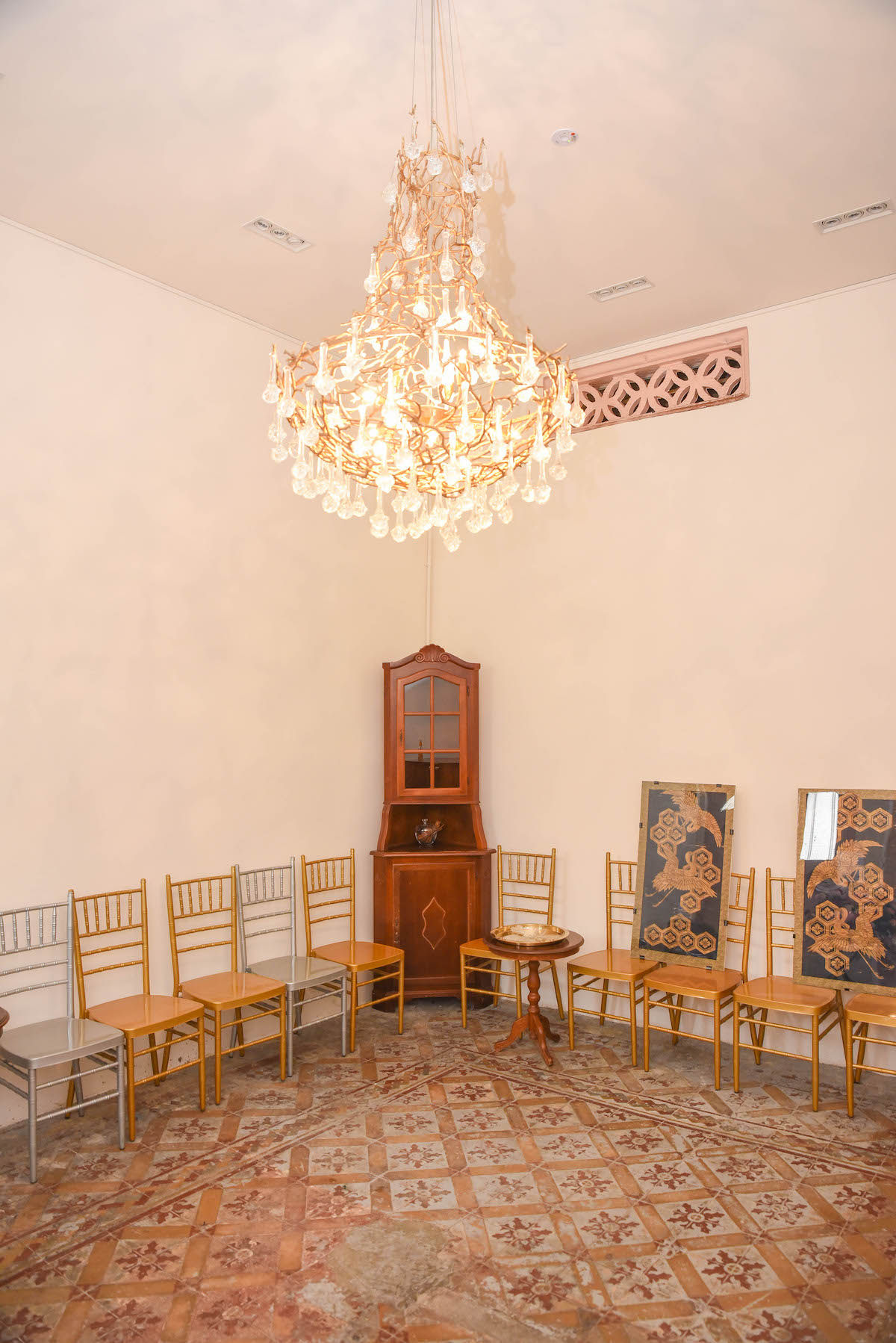 "I stepped into the house, saw these beautiful tiles and thought, 'Whose house was this? Was this a residence before it became a commercial entity?' We've seen tiles like this in Emerald Hill, but these have more body and are gaudier. It appears that the owners who have had this house for 100 years did not do anything to it, and that's understandable because rent was probably low in the early days. The people who took advantage of the low rental probably didn't have the money to refurbish the place," she conjectures.
Faded and distressed but still visibly ornate – thanks to intensive resurfacing work, these old Peranakan tiles that spread across the reception's floor to the refurbished dining room (formerly a kitchen), imbued the house with an air of mystique and romance. Ong also took great pains to restore the shophouse's original wooden double door, which had fallen off as one of the supporting beams was destroyed by termites.
"The house had been through rough trades, was abandoned for five years and was falling apart when I took over," she says. It was months before Ong found somebody who was willing and able to put it back, along with its traditional latches for a drawbar. She even maintained the original pink hue of the doors. "I was really determined to preserve everything in this house," she adds. "Whatever it is, even if I don't understand it, I'm keeping it."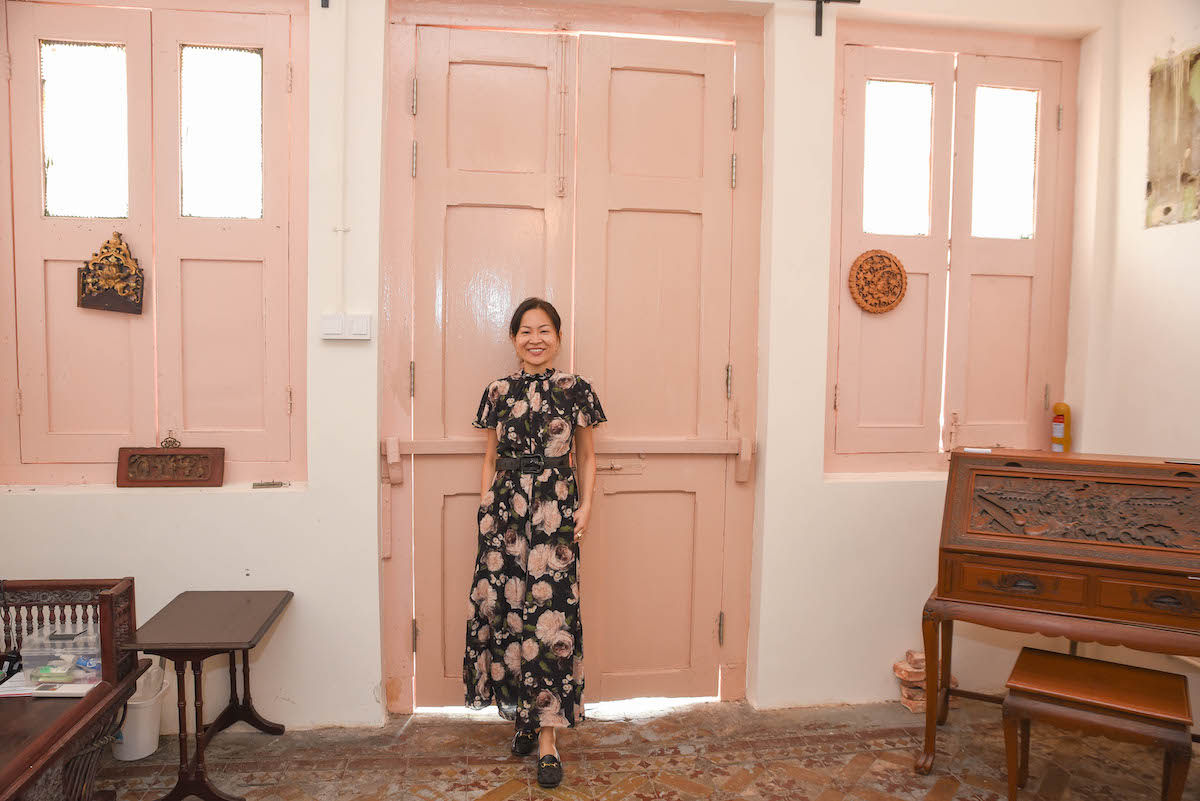 Vision board
As we move on to the dining room, Ong explains her vision for the shophouse: "Baroque suggests the arts, culture and opulence. I imagined a house with faded glory much like a wilting flower and decided to renovate and ornament it with that theme in mind. Most elementarily, it is a multi-purpose event space that aims to bring a multi-sensorial experience for all who step into her threshold."
In the last seven years, she has championed wellness in Singapore, through the Singapore Wellness Association, which she founded in 2014, her rollerski training and travel company Urbanski and the Singapore Rollersports Federation, where she serves as a board member. Acquiring and restoring a shophouse seems like a pivot – a departure from what she has been focusing on – but Ong tells me it's two sides of the same coin. "Baroque House is a different dimension of who I am," she says. "It is
me tuning into my inner aesthete and responding to my love of freedom, the bohemian and the importance I place on authenticity, inclusiveness and humanitarianism."
Baroque House is still in its early days, although it has hosted a few events at various stages of its restoration – partly to allow guests to witness and experience its evolution. There was an intimate tea appreciation session at the reception not long after Ong received the keys to the shophouse. She has also held a couple of bourbon tastings that featured rare and exceptional bottles in the beautifully decorated dining room.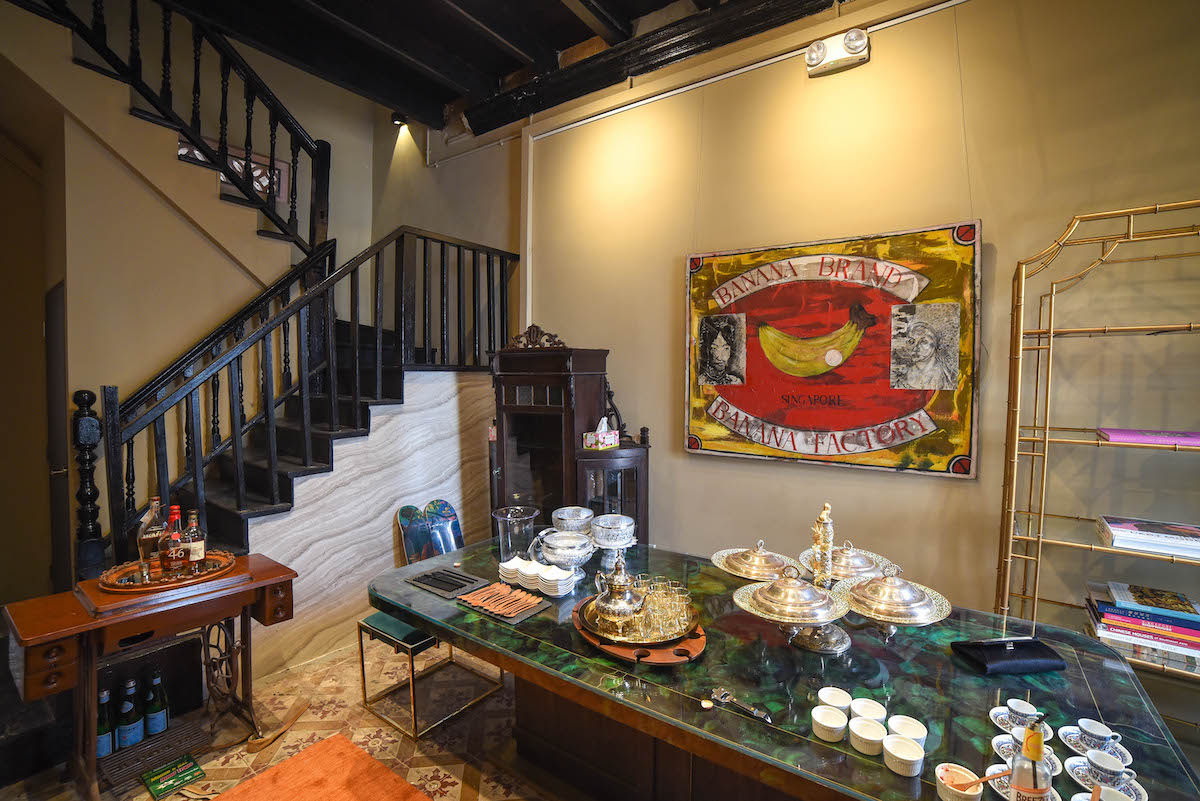 Apart from being an events venue and a bottle and gourmet shop, the Baroque House will also accommodate a school of hospitality. "The school endeavours to provide the best service training to please the 1 per cent," Ong elaborates. "Our marquee programmes come from the best companies and training schools of hospitality in the world. Our consultants have served and practised royal protocol. We train butlers, nannies, private aircrew and personal assistants. We also offer training for individuals and companies seeking an edge, especially employers of foreign domestic workers who want to level up their home entertaining."
Archaeological discoveries
Upstairs, in one of the two rooms, six massive paintings hang from the ceiling and against the windows, while two rest on chairs at the corners. These early works of veteran local artist Jeremy Hiah are part of Baroque House's permanent collection, which can be viewed by reservation (each ticket costs $25 and comes with a glass of champagne). "This series of eight dolls are painted at a different time of his life before he established his signature style," she explains, as I admire the masterpieces. "You will notice, however, that his trademark subversion was evident quite early. I named the exhibition At the Dollhouse to reference the dolls and their context."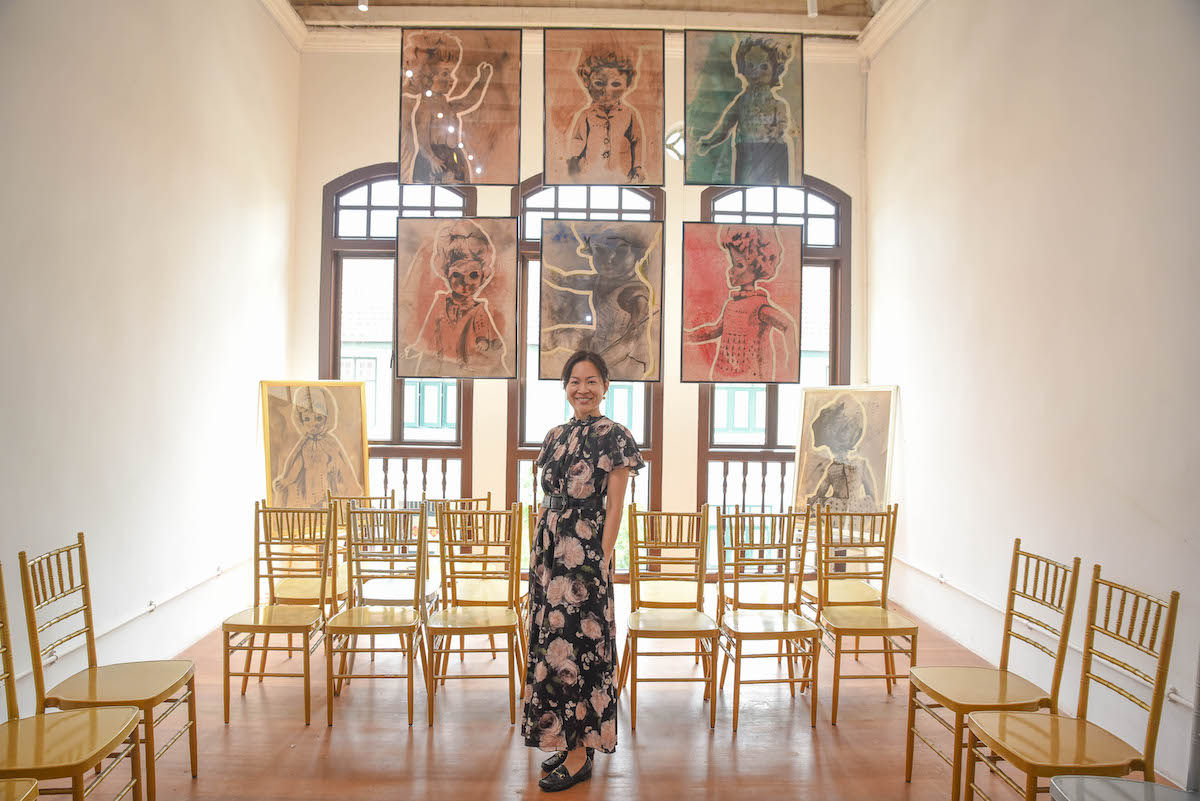 After introducing Hiah's pieces, she prompted me to look further up at the exposed ceiling. There, looking pristine above the beams is a huge floral gable motif. Gable motifs are typically seen at the front and end of a building, which indicates that the Baroque House was part of a larger property and was likely the courtyard. "It was hidden until we hacked into the roof," says Ong. "This house is about 100 years old. It's very possible that the end gable is 150 years old, but we don't know the story. I've been to the archives, and all that is still a mystery."
We proceed to the adjoining Red Room, where she displays a 200-year-old antique conjugal bed. Imposing, curious and incredibly detailed, it was assembled with no nails and features two alcoves – a rarity among specimens of its kind. The paintings on the structure are faded but one can still see scenes of social affairs.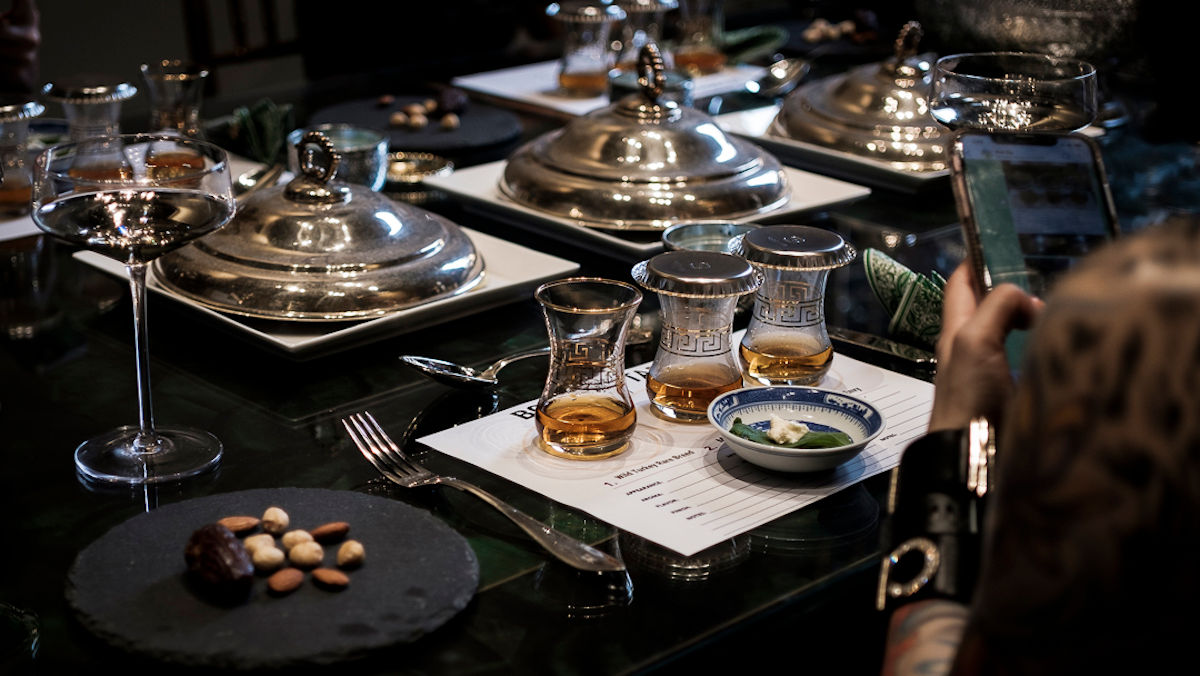 Heading back to the dining room, I wonder aloud to her about the restoration progress of the house. "I know a lot of people think, 'Is it finished?', and I'm like, everything is as is," she says. "It's weird to have the house done up and polished. Imagine if I made everything perfect. It's stressful and tiring." I agree. Preserving design elements that already characterise a space sometimes means leaving them imperfect and unfinished to better tell a story about its glorious past.
---
Nearly a month after my visit to the Baroque House, Ong updates me with more discoveries. "I can now confirm that the shophouse was built in 1919 and designed by the prominent Eurasian architect JB Westerhout," she says excitedly. To wit, Westerhout is responsible a few iconic buildings in Singapore, including the canopy of the entrance of Raffles Hotel (1913), the Guild Hall along New Bridge Road for the Trustees of King Chew Kwan (1929), as well as the Temasek Shophouse along Orchard Road in 1927. "The house is one of a pair commissioned by Fong Sien Leong after procuring the last two vacant plots on Rowell Road. Of the pair, 29 (Baroque House) retains all original design elements of the old residence, while 31 has been modified," she adds.
(All images courtesy of Sonia Ong)
This story first appeared in the December 2021 issue of Prestige Singapore.