Norman Cho: The collector and author of The Bejewelled Lives of the Peranakans gives us a history lesson
Dazzling luxury connoisseurs is a new coffee table book by Peranakan jewellery collector Norman Cho. Yanni Tan receives a valuable lesson from him, and his book, on our unique yet little-known bejewelled heritage.
"More is more," says Norman Cho with a chuckle, when I asked him about the colourful and bold aesthetics of the Straits Chinese. I am at his apartment to view his collection of vintage jewels when he shows me around to introduce, for a deeper understanding of the culture, other aspects of Peranakan art to me – furniture, porcelain, fashion, and even ornamental and worship objects.
Like many Singaporeans, my understanding of this unique ethnic group is mainly limited to their cuisine. Sure, most of us who have ever visited the Peranakan Museum in Armenian Street would have an inkling of the elaborate rites and ornate adornments. The lucky few who have attended traditional Peranakan wedding ceremonies may have even witnessed the full display of extravagant finery in person.
However, beyond museums, pictures and stories from the elders, the heritage of the Straits Chinese has remained quite mysterious to the regular Singaporean. And to turn the tide against the culture's gradual disappearance is Norman, a 49-year-old fourth-generation baba who has been passionately collecting vintage Peranakan jewellery for nearly three decades.
In his first professional writing project, a coffee table book entitled The Bejewelled Lives of the Peranakans, which was launched late last year, he lovingly documents the history of Singapore's Peranakan jewellery industry, his paternal grandmother's love of jewels that sparked his passion, and the provenance of some of the key creations from his private collection of over 300 pieces. His book, available in both hard- and soft-cover versions, is the second ever tome devoted to this subject since the first by Edmond Chin was published in 1991.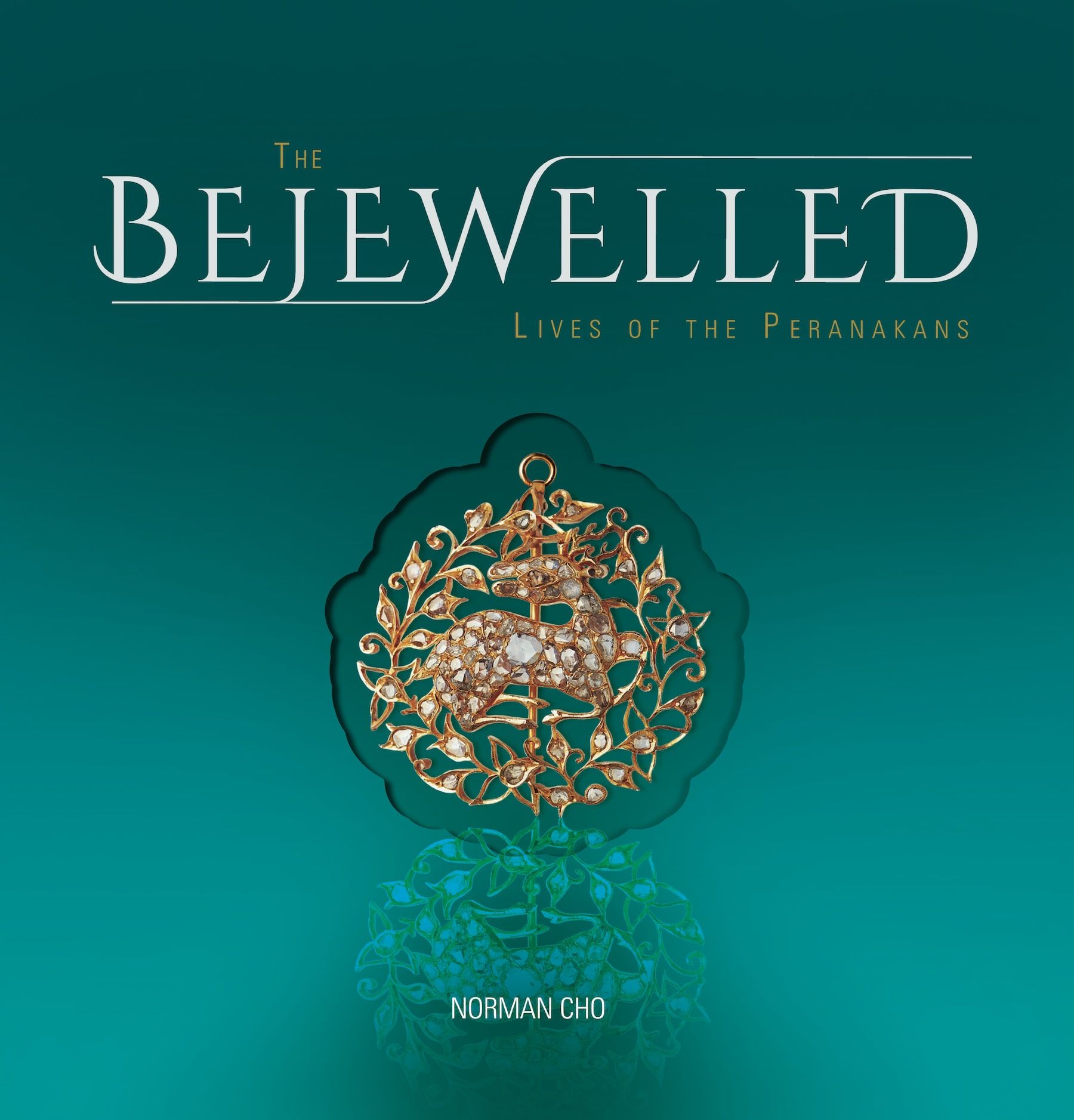 "Friends have always been curious about my collection and encouraged me to publish a book. When I was between jobs in 2017, I started writing the draft and had to think deeply what topics to include in the book such that it is informative but yet not too technical, so that the readers will want to discover more. I covered areas that have never been published before," says Norman, who caught his break to realise the dream in 2019 when he met his book publisher Chris Loh at a chance meeting.
Unfurling the past
Sitting down with him and Chris in his living room (at an old-fashioned marble and teak table, no less), I was given a mini masterclass on Peranakan fine jewels. Over 70 pieces from his collection are currently on show at an eponymous exhibition at Asian Artistry Fine Jewellery at Jewel Changi Airport until April 30, but he has also retrieved some interesting ones from bank storage to present to me.
Marvelling at piece after showpiece that he tenderly fishes out from a box, it was clear to me, also a jewellery lover, that such local creations made as far back as the late 1800s are as beautiful as any from Europe. But they are so different, so singular in their intricacy and design, with the stories behind them equally fascinating. While some of us would imagine Malacca and Penang to be the cultural hubs of Peranakan culture, Norman informs me that it was a prosperous Singapore in the early 1900s that elevated Peranakan jewellery art.
"It is the jewellery culture of a unique community of acculturated Chinese who were early settlers in Singapore, Malaysia, Indonesia and may have hybrid Malay lineage. A majority of them were traders and became very wealthy but their riches waned during World War 2 when many had their fortunes wiped out," explains Norman, whose own family had suffered the same cruel fate. "Not many people know that Peranakan jewellery is a locally conceived adornment that shares a common heritage with jewellery of the Malays, Chitties and Eurasians. In fact, it had roots in European jewellery in terms of design and techniques but eventually evolved its own unique style and identity."
It was heartening that such jewellery also shared ties to other local communities. The local Sinhalese, Teochews, Cantonese and Hakka were instrumental to the art form's growth – reflecting the blending of cultures that can be said to be truly Singaporean. "During the pre-war era, each family would normally have their own collection of diamonds and they would engage Singhalese craftsmen, who were some of the world's best stone-setters, to visit their homes to work on the jewellery. The local Chinese goldsmiths also made their own style of Peranakan jewellery – the Teochews crafted 24k gold-only pieces, while the Cantonese and Hakka produced predominantly intan (rose-cut diamonds) jewels."
Peranakan jewellery, which includes hairpins, buttons, hat finials, belt buckles and even silver mesh purses, had also evolved with the times and fashion sensibilities. What little is known about the early pieces before the turn of the 19th century is that the jewels worn by the Peranakans were local and in the style popular during the time, except that they possessed Chinese motifs such as the phoenix, the qilin (Chinese mythical creature) and Buddha's Fingers (fingered citron). During British rule, the colonial influence introduced European designs and motifs like the crown, star, deer and ribbon.
By the '50s, the Chinese jewellers grew in prominence, and by the '60s, sparkling brilliant-cut diamonds, which became more affordable, were favoured over the intans. It was during this period that the demand for intan jewels dropped so much and the cost of workmanship increased so greatly, that the Chinese makers started using smaller and poorer-quality intan chips – marking the beginning of the decline of the trade and creating the misconception among some that Peranakan jewellery only used low-grade diamond skins.
"The Peranakans were also the only ones in the local community who adopted the practice of wearing mourning jewellery from the British, which was very trendy during the Victorian period. Instead of diamond on gold, they used pearl on silver for a muted colour choice," adds Norman, who describes to me the different outfits the Peranakans wear in each of their three years of mourning, which cements the idea of just how important adornments and accessories were to their culture.
The book itself is so rich in details, sometimes bringing up familiar and very nostalgic snippets of our past. I learn that the venerable Poh Kong Chye, which unfortunately wound up 2005, used to be a silversmith until it, buoyed by Singapore's wealth, became a goldsmith in the '20s and was a key jeweller to the local nonyas. Most of the jewellers congregated in and around Arab Street and North Bridge Road. Norman also shows me a rare ring featuring vermillion staining, a special technique of the Teochews that has since been lost.
For future's sake
With memories and places fading away, nonya kebayas no longer worn daily, jewellery resold and commonly melted to be recast as modern pieces, Norman sees the urgency in preserving this art form. Thankfully, Peranakan jewels experienced a revival of sorts in the '90s and interest suddenly spiked when Queen Elizabeth II was spotted on several occasions wearing a diamond kerosang brooch (kerosang is the collective term to describe three brooches attached by a chain used to fasten the lapels of a kebaya) gifted to her by the Singapore government for her diamond jubilee in 2012.
While there are two shops here (Foundation Jewellers, which made the Queen Elizabeth brooch, and Asian Artistry Fine Jewellery) still offering new pieces, vintage jewels are extremely hard to come by. "Most of my pieces were chance finds, as I scoured garage sales, antique shops, pawnshops and second-hand dealers. Sometimes, people would approach me directly to sell their jewellery. A typical purchase could cost under $500 to thousands of dollars. I would pay according to how much I value them in terms of aesthetic, rarity, history and provenance. The value of the bullion and the gems also determine the price," elaborates Norman, who built his collection from the 10 pieces he inherited from his paternal grandmother.
He notes that there are probably only 30 serious private collectors locally who hold the majority of available old pieces, which makes acquiring them now really difficult. On their value, he recounts how Christie's used to feature Peranakan jewellery in auctions in the 1990s, but prices easily went beyond $100,000 for a set of intan kerosang. "Most of the high-end pieces were bespoke and one-of-a-kind. Once you hesitate, they are gone."
Ever since the exhibition was launched in August 2020, there have been several enquiries from the public on purchasing Norman's collection. Refusing to part with them, he began working with Asian Artistry to replicate his star pieces, namely the Deer and Flying Horse kerosang brooches. The response has been encouraging, but Norman and Chris still lament that the younger generation do not know how to dress up the traditional way anymore. But as both of them demonstrate during our meeting, it is not difficult to spice up a modern outfit with the heritage jewels – simply detach a single kerosang brooch and wear it individually, or sling a traditional belt and buckle meant for a sarong over the waist of a dress or slack pants.
For those who are considering collecting, Norman suggests this: "For starters, I recommend getting something wearable and inexpensive, just to get a feel of how comfortable you are when wearing such pieces. Rings and earrings are the most practical, versatile and affordable. For the gentlemen, I will suggest brooches which can be pinned on the collar, lapel or the breast of the attire. I love brooches as they are very wearable. It would add some excitement to an otherwise plain jacket or shirt. Moreover, a Peranakan brooch would instantly identify my heritage."
Uniquely Singaporean
"While Malacca is an older settlement than Singapore, the design and craftsmanship for our heritage jewellery were very similar. The two cities' jewels featured lively depictions of animal and floral motifs, such that they pop out and look almost alive. The style of jewellery of the Penang Peranakans varied slightly from ours due to its proximity and influence from Thailand and Myanmar. Their designs tended to be on a flatter plane and favoured less use of animal motifs," says Norman.
Both he and Chris agree that the quality of vintage Peranakan jewels is higher in Singapore than Malaysia, for the simple fact that our city was a boomtown during the pre-war years and had families who collected diamonds and could afford to commission a plethora of top-shelf pieces. Norman's own family originated in Malacca but moved to Singapore to seek their fortune.
The intans on some of Norman's pieces are scintillating and masterfully set despite their age. A diamond-encrusted parrot-motif kerosang from the '30s is flawless and boasted exceptional craftsmanship. Browsing the photos in the book, I also spot incredibly carved gold buckles, old mine-cut and old European-cut diamonds and gemstones, as well as coloured diamonds from Kalimantan, which are high quality but incredibly rare as mining in Indonesia has always been sporadic and small-scale.
He also shared interesting tidbits about the wider Peranakan community across the entire Southeast Asia. According to him, there are Peranakan communities across every region of Indonesia, and the Thai Peranakans (very glamorous, apparently) originated in Phuket through trade and intermarriage with the Penang stock.
The diversity of the regional Peranakans resulted in differing jewellery styles, so the unique pieces produced in Singapore deserves our appreciation, preservation and promotion. Says Norman, "Unlike most modern jewellery which are mass produced, heritage Peranakan jewellery were individually handcrafted by skillful craftsmen and the fine workmanship of top pieces could rival that of any western house. I believe that traditional Peranakan jewellery will always have a niche and may even flourish as more people discover its beauty. As long as the intricate details and workmanship can be appreciated, there will always be a market for them."
For more information on the book and exhibition, visit thebejewelled.com or check out Instagram account @the_bejewelled.
(Main and featured image: Prestige Singapore)
This story is published in the March 2021 issue of Prestige Singapore.