When Benny Ng is not busy with his engineering business, he bakes to relax.
His love of baking may have been sparked by his wife, Angela, 20 years ago, but his engineering mind was what led to him to perfect his baking process. The immaculateness of his baked goods is the result of a formula that he has refined over many years of trial, error, and feedback from families and friends.
Benny's wonderful creations are parcels of delight, and while he revels in giving smiles, the biggest satisfaction he derives from his hobby is the therapeutic, meditative effect of baking he finds himself in whenever he's whipping something up in the kitchen. "Baking is no different from business," says Benny. "The sweetness of success only follows after the bitterness of many failures and that many more attempts."
Why a meringue roulade? "I selected this recipe to share because it is not commonly found in the mainstream cake shops. This recipe, and all my others, was originally sourced from YouTube," Benny shares.
His method for the French dessert takes about an hour to prepare and you can pair it with passion fruit, strawberries and mangoes with your choice of tea, served either hot or cold. Need to impress someone? This does the trick.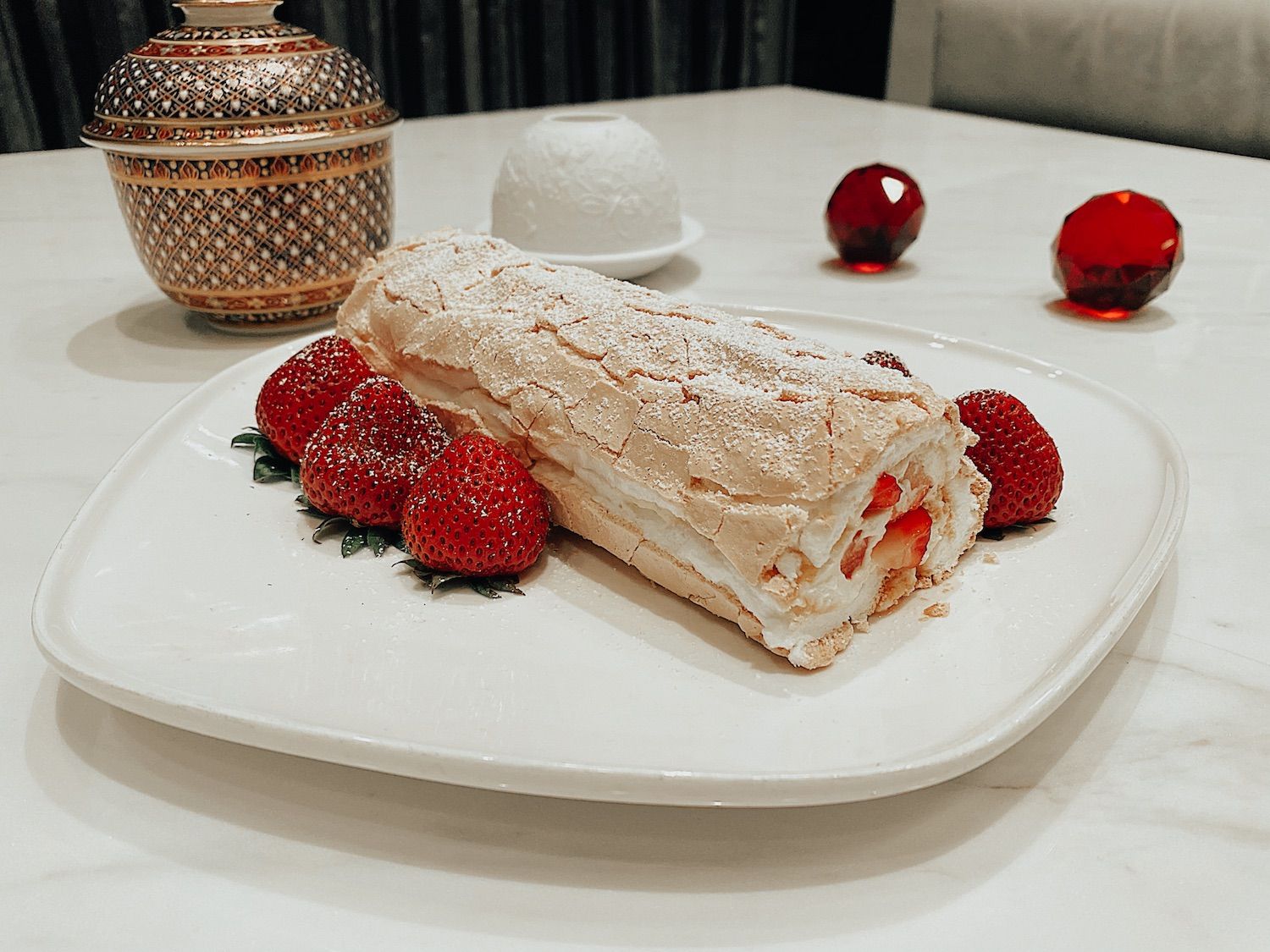 Ingredients (serves 8; sweet tooth fiends serves 2)
Meringue
5 egg whites, at room temperature
200g fine sugar
50g icing sugar
Pinch of salt
Mascarpone Cream (cake filling)
300g Mascarpone cheese, at room temperature
1 teaspoon vanilla extract
1 tablespoon icing sugar
150g strawberries
Directions
1. Preheat oven to 160°C. Line a 13″ x 9″ baking tray with parchment paper
2. Whisk the egg whites until soft peaks form and add a pinch of salt
3. Gradually add the fine sugar and icing sugar and beat until meringue is stiff and shiny
4. Spread the meringue evenly onto the baking tray. Bake until the meringue turns into a 5. pale golden glow (for about 20-25 minutes). Set aside to cool.
5. Place cling wrap over the cooled meringue and flip the baking tray over
6. Gently peel off the parchment paper
7. Combine all the ingredients for the mascarpone cream in a large bowl. Incorporate and mix well to combine
8. Spread the mascarpone cream filling to cover the entire surface of the meringue
9. Spread the strawberries over the mascarpone cream
10. Gently roll the meringue into a log
11. Still using the cling wrap, lift the log onto a serving platter
12. Decorate using the remaining strawberries by placing them on top of the log
13. Dust the log with icing sugar and enjoy!