The fourth edition of S.E.A. Focus returns from 15 January to 23 January 2022, shining a spotlight once more on Southeast Asian contemporary art.
The theme this year is chance…constellations. The groups of stars allow people to locate and navigate their place in the world, and, likewise, the annual art fair sees itself as a way of drawing together artistic talents across the region.
The exhibition occupies a space at Tanjong Pagar Distripark (slated to house the new Singapore Art Museum). Over 150 artworks are on display from 50 artists and 24 galleries, with various mediums including this year's highlight: the first showcase of Non-Fungible Tokens (NFTs).
Here's what to expect: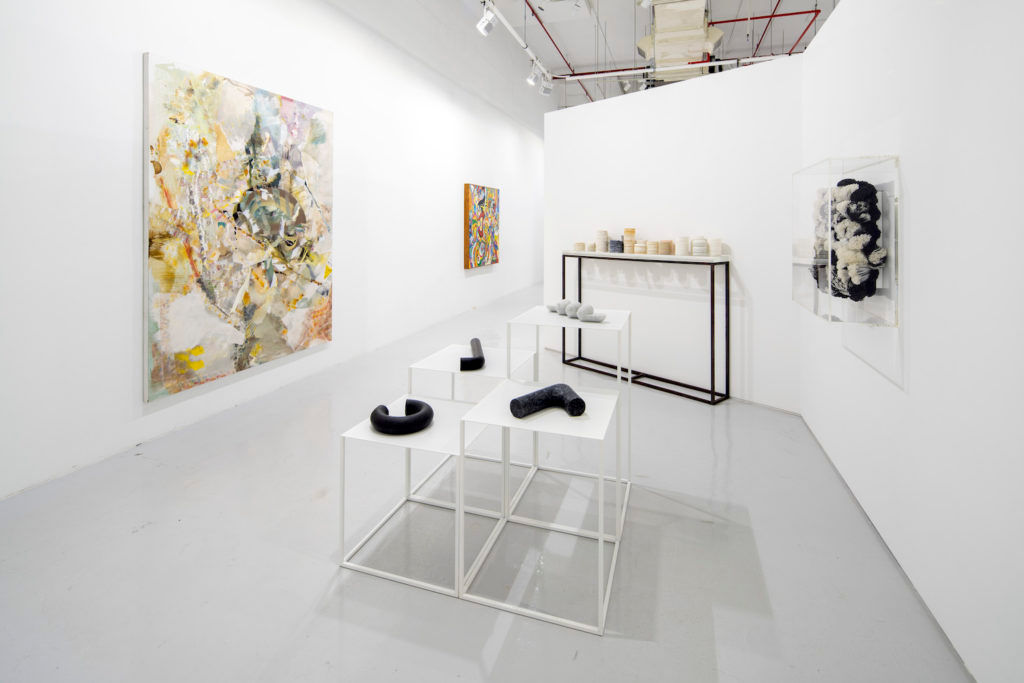 Let's talk physical
With over 20 galleries involved in the exhibition, there are plenty artworks to look out for. See subversive interpretations of narratives about women in False Door, Glass Sky by Melissa Tan (Ricard Koh Fine Art) and Citra Sasmita's (Yeo Workshop) Land of our Ancestors. The former plays on female mythological characters, while the latter reimagines elements of Balinese culture and folklore to showcase women as powerful pioneers of the universe.
Pessimism is Optimistic by Nadiah Bamadhaj (Pessimism is Optimistic) is a charcoal on paper collage that showcases states of decay to chronicle Indonesia's tug-of-war between religion and mystical practices. Multimedia artist Tammy Nguyen's (Tropical Futures Institute) graphic pop style portraiture of four leaders who attended the Afro-Asian Conference at Bandung, Indonesia, in 1955, gives pause for its unusually bright, beautiful and tropical colours and elements.
An NFT showcase
This year's fair marks the first time an NFT exhibition is held, and is led by TZ APAC, the leading adoption entity for the Tezos blockchain in Asia and Crypto Art Week Asia (CAWA). The showcase, titled "Tezos NFTs: The New North Star", features 15 digital artists from around the region – including local-based abstract artist warrragwag, Indonesian Tezos comic artist, Arya Mularama; Brunei-based generative artist, Yazid – who have minted their work on the blockchain.
There will also be a live minting showcase, similar to TZ APAC's showcase at Art Basel Miami Beach last December. Visitors will be able to experience the process of minting an artwork.
"We aim to shine a spotlight on just a fraction of the incredible artistic talent we are seeing emerge across Asia and in the blockchain space," says founder of CAWA, George Galanakis, founder, CAWA.
Fringe films
Partnering with S.E.A. Focus this year is Projector X, a pop-up screening room by The Projector, at Riverside Point. A medley of 25 short films, videos and animations by Southeast Asian artists will be screened at the space from 19 to 21 January.
For a more in-depth perspective and commentary on the region's history and political landscape, look to works by artists such as Indonesian Tromarama (ROH Projects) and Singapore's Robert Zhao Renhui (Mizuma Gallery).
Hear from the experts
Back once more is the SEAspotlight Talks: a series of panel discussions helmed by industry insiders. The six talks, held from now until 20 January, centres on the contemporary art world post-pandemic and spans topics such as millennial collectors, and purchasing art in a virtual world.
All images are courtesy of S.E.A Focus 2022. More information here.