Viewing an artwork can be a very powerful experience and the memory stays with you for a long time. The impact is even greater for the artist who created it. One of the most powerful works for Vietnamese artist Dinh Q Lê is a series he first produced in 1997, shortly after returning to Vietnam — the homeland he had fled when he was 10 years old.
Titled Cambodia: Splendor and Darkness, it comprised photographic portraits of victims of the Khmer Rouge regime woven with shots of the exquisite wall carvings at Angkor Wat.
SEE ALSO: A first dance with Siem Reap
"There are certain bodies of work you've done, you feel it's completed and you let it go, and some others that stay with you. I think this body was kind of, maybe haunting is not the word, but I always felt it was not complete for a variety of reasons. At the time, I was only using photography, which has limitations. I really hate the glossy surface of photographs — it's a plastic feel — and I always felt this body of work needs to be completely matte, because matte surfaces have a more tactile feel," the artist explains.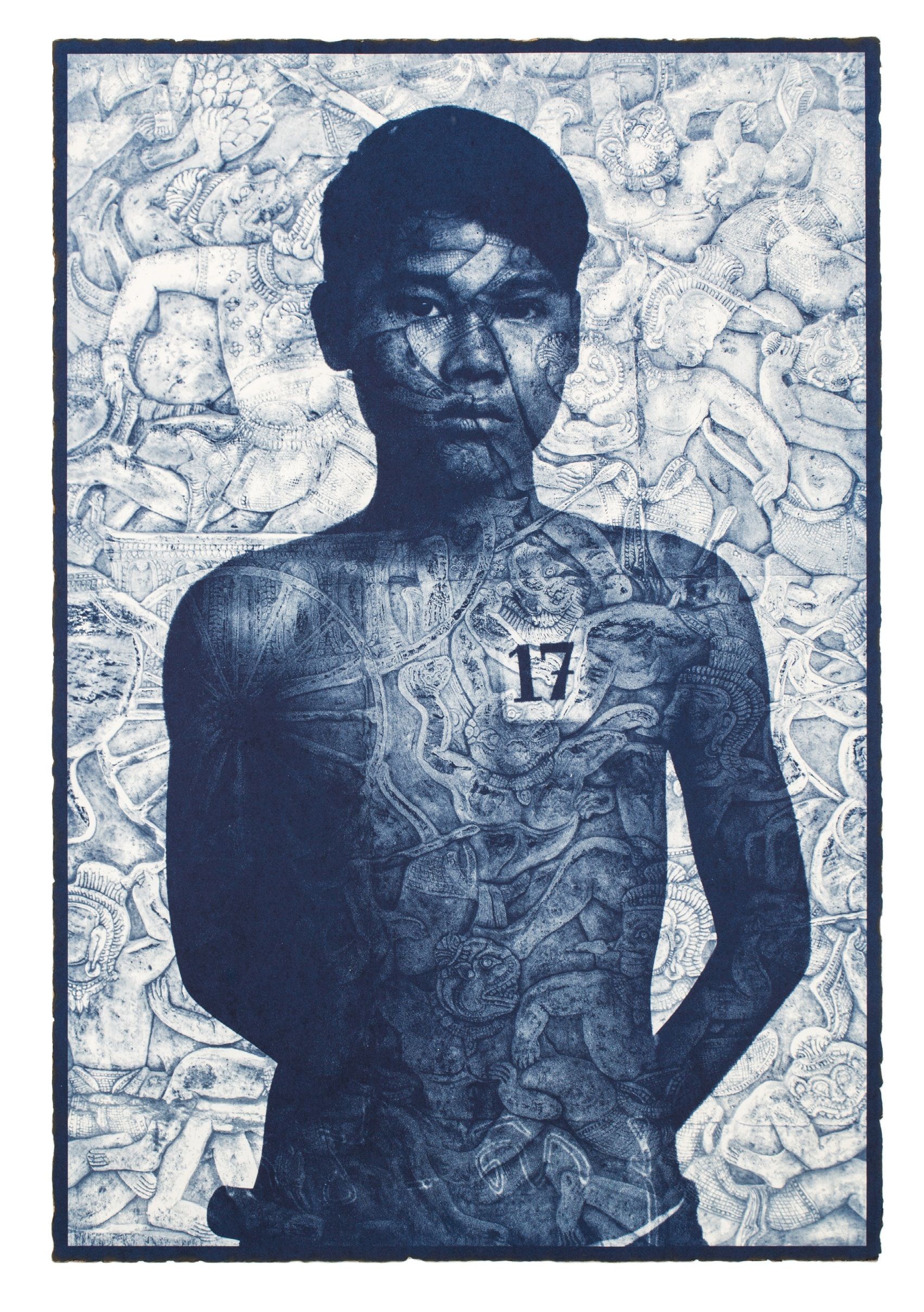 With Monuments and Memorials, an exhibition now at STPI — Creative Workshop & Gallery in Singapore, Lê revisits this series, bringing it to a new level with the use of matte and silver paper, while breaking ground with mural-sized prints and his first paper sculptures.
"I wanted to use silver paper because in Cambodia there is this very interesting practice of offering [pieces of] gold and silver leaf in temples. There is also a Silver Pagoda in Phnom Penh inside the Royal Palace, which is inlaid with silver tiles and many objects in silver," he explains. At STPI he has been able to print his photographs on a silver surface, which gives the work an interesting holographic aspect he had not expected.
While the pieces have a beautiful aesthetic, the subject matter is highly complex and only slowly emerges as the viewer studies the details. "With Lê's work, it's not about the first impression. One has to really look closely to be able to read and understand his work. It's a lot more than the surface and his beautiful use of silver foil and Cyanotype," says Emi Eu, director of STPI.
SEE ALSO: Thailand's contemporary art scene
Issues of identity, memory and history are central themes in Lê's practice, which digs into his own cross-cultural and past experiences for inspiration, weaving these into his photomontage tapestries, as well as more recent videos.
With their hometown Ha-Tien (situated on the border between Vietnam and Cambodia) under attack from the Khmer Rouge, Lê's family fled South Vietnam and spent a year in a Thai refugee camp before finally migrating to the US, first to Oregon, then California. His father died before Lê made his escape and his three older siblings were arrested while trying to flee, so Lê spent much of his adolescence trying to suppress many tragic memories: "We kicked into survival mode. It was very much about forgetting as much as we could, so we could move on and adapt," he recalls.
Years later, in his third year at the University of California in Santa Barbara, he switched to art (having found computer sciences boring) and it was while still an undergraduate he started to use weaving in his work. As a young child Lê had observed his aunt weaving grass table mats that would be exported to Eastern Europe. While reflecting on his own identity in relation to the US and the notion of interweaving cultures, he created his first series by weaving self-portraits with images of Renaissance paintings that he studied: "What I like about weaving is that it's not something that meshes perfectly. You force the strands together so they exist together, but separately at the same time; as opposed to the technique of superimposing, which is often used in photography and blends different images perfectly." Over the years, his technique of cutting photographs into strips and weaving these strips together to compose a new picture has evolved to become freer and more spontaneous. "The pattern dictates how to work with the image but you basically have to control two images. It's important to keep some of the key features of the portraits, such as eyes, nose, mouth and outline of the face, then for the rest it's how the two interact," he lets on.
Lê created Cambodia: Splendor and Darkness after visiting the Tuol Sleng Genocide Museum in Phnom Penh — once a gruesome prison where 17,000 people were incarcerated, tortured and killed under the Khmer Rouge regime — and Angkok Wat. He was struck by the sharp contrast between the enlightenment of the Khmer Empire when Angkor Wat was built and the darkest age of Cambodia's history eight centuries later. "I found it hard to reconcile the two eras. There was such a contradiction that it became something I was obsessed with. At the same time I was reading a book that talked about how we have a tendency to build monuments but rarely build memorials. So, for me, weaving the Khmer Rouge's victims into the monuments is a way of undermining these monuments, while remembering this most recent past," he says.
And the beautiful aesthetic of the work is deliberate. "We tend not to look at things we don't want to see or don't want to think about, such as war images, death and destruction — it's not something you want to hang on your walls and live with. So how do you make people remember and make them live with it? I think it's important that the work has a certain kind of beauty. Also, I'm somebody who came from so much ugliness; I did not want this to take over what I do and let it control me."
"We tend not to look at things we don't want to see… such as war images, death and destruction. So how do you make people remember and make them live with it? It's important that the work has a certain kind of beauty." — Dinh Q Lê
One of his other successful weaving series From Vietnam to Hollywood fuse photographs from Vietnam (some by photojournalists), and stills from Hollywood films — Apocalypse Now; Born on the Fourth of July, and The Deer Hunter — allowing Lê to reflect on the differences between reality and fiction, as he tries to reconcile his memories of his native country with those inherited from popular culture he experienced while living in the US. Since the mid-2000s, Lê has moved away from photography to focus on videos and installations, such as his 2006 The Farmers and the Helicopters installation that showed at the Singapore Biennale and then New York's Museum of Modern Art. It comprises a three-channel video that interlaces Vietnamese recollections of the war with clips from Western films, along with a model helicopter hand-built from scrap parts by a Vietnamese farmer and a mechanic.
His latest creations for STPI have reignited his interest in weaving photographs and inspired the adoption of new techniques such as his first 3D weaving, which features images of protests from the world over. For this, Lê says he was inspired by the plight of migrants trying to enter Southern Europe by boat, a tragedy that continues to bring back painful childhood memories for him. Suspended from the ceiling, these pieces resemble asteroids floating in space: "I think we are all sitting on a rock and floating in this dark universe."
Lê adds: "I'm going to continue with this. I love this direction. For this project the rocks are hanging, but for the next, I'd like to have rocks on the floor. I'm visually imagining a room full of these rocks; I think it would be very beautiful."