Step inside any great luxury suite, and chances are you'll be wowed by the bathroom.
Don't underestimate the importance of a well-designed one, as it this that often conveys your eye for beauty and detail. From spaces that explore texture to the ultimate terrazzo temple, take a leaf out of the playbook of some the world's most breathtaking hotel bathrooms, with seven of our favourite interior decorating tips below.
Bring nature in
Embrace a sub-tropical atmosphere by situating your bathroom closer to nature — à la the Four Seasons resort at Jimbaran Bay. Each suite's heirloom faucets and large tubs (with caddy fittings) imbue the traditional Balinese household with a European touch.
Terrazzo accents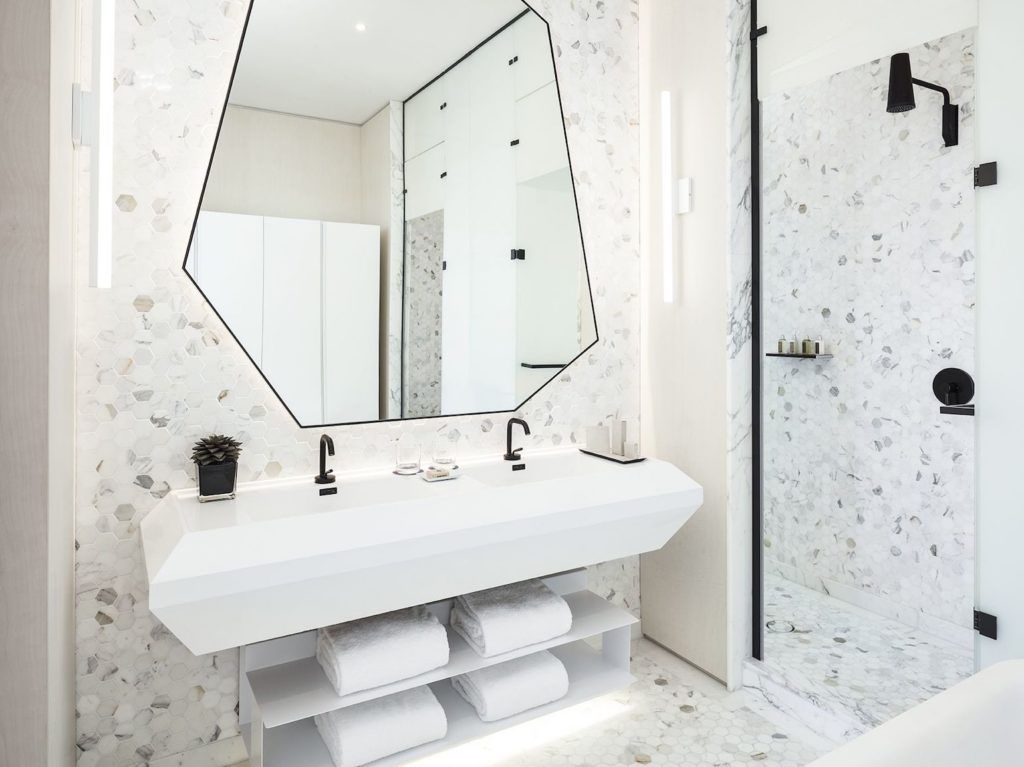 In Brooklyn, The William Vale sports all-white guest bathrooms: each a spectacular barrage of geometric mirrors and all-over terrazzo surfaces. If this composite material isn't to your liking, try substituting with granite or veined marble for a similar (though somewhat softened) visual effect.
High contrasts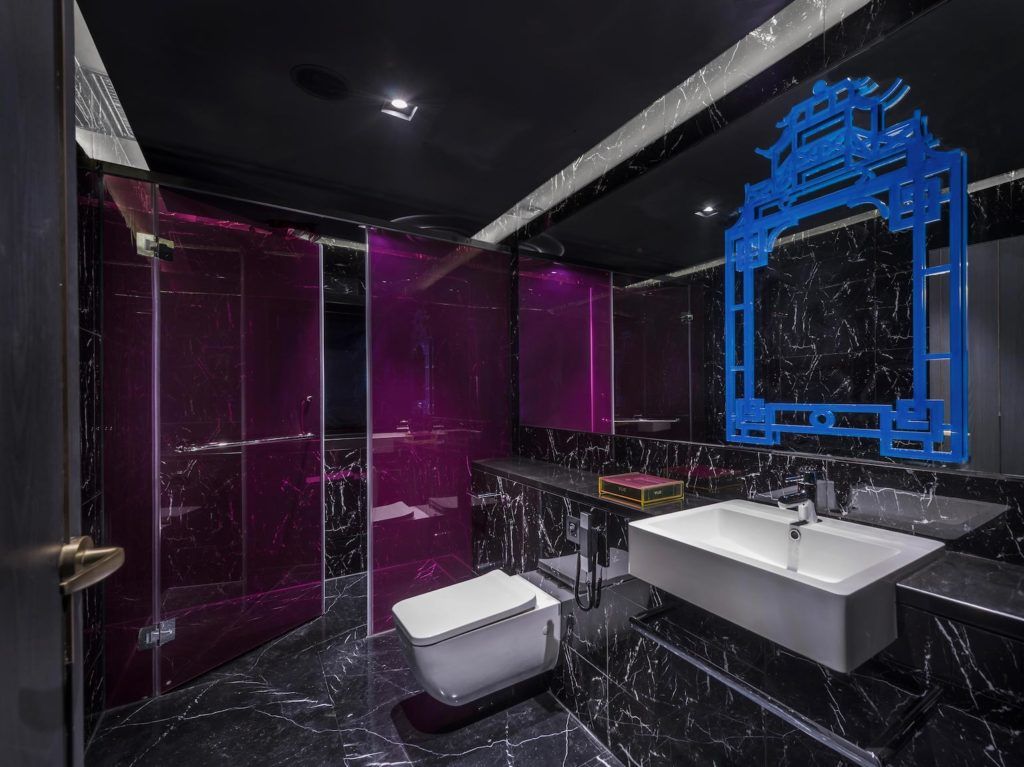 Inside the Vue Beijing, a whimsical play of colour-tinted screens creates a nice contrast against dark marble surfaces. Contrary to popular belief, this approach is great for smaller bathrooms — darker schemes bring forth a more glamourous outlook.
Creative tiling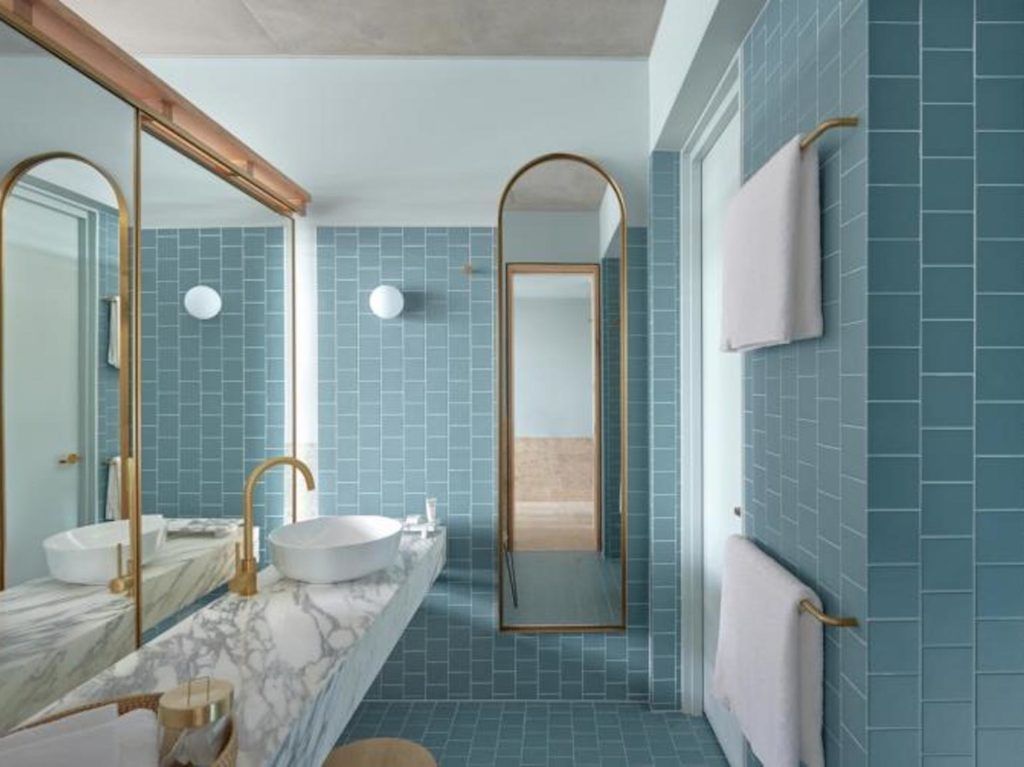 If you're bored of conventional, horizontal, slatted monochrome tiles then there's never been a better time to eschew those for a pop of colour. In 2020, embrace new finishes and shades in the manner of the extraordinary Calile resort in Australia: which alternates the tiling in each guest bathroom between a serene palette of blue, green, and reddish pastels.
White marble
White marble is both the most financially exorbitant yet visually striking resource for turning your wash space into a hotel-style bathroom. We'll simply say this: if you're going to use marble to spruce up the fit-out, its well worth using a lot of white marble. Guest bathrooms at the Hotel Café Royal in London handily illustrate the value of this advice: even extending the Tuscan masonry motif to the bathtub. For best results, make yours a centrepiece by tweaking the tub's size and location relative to the rest of your space.
Wooden floors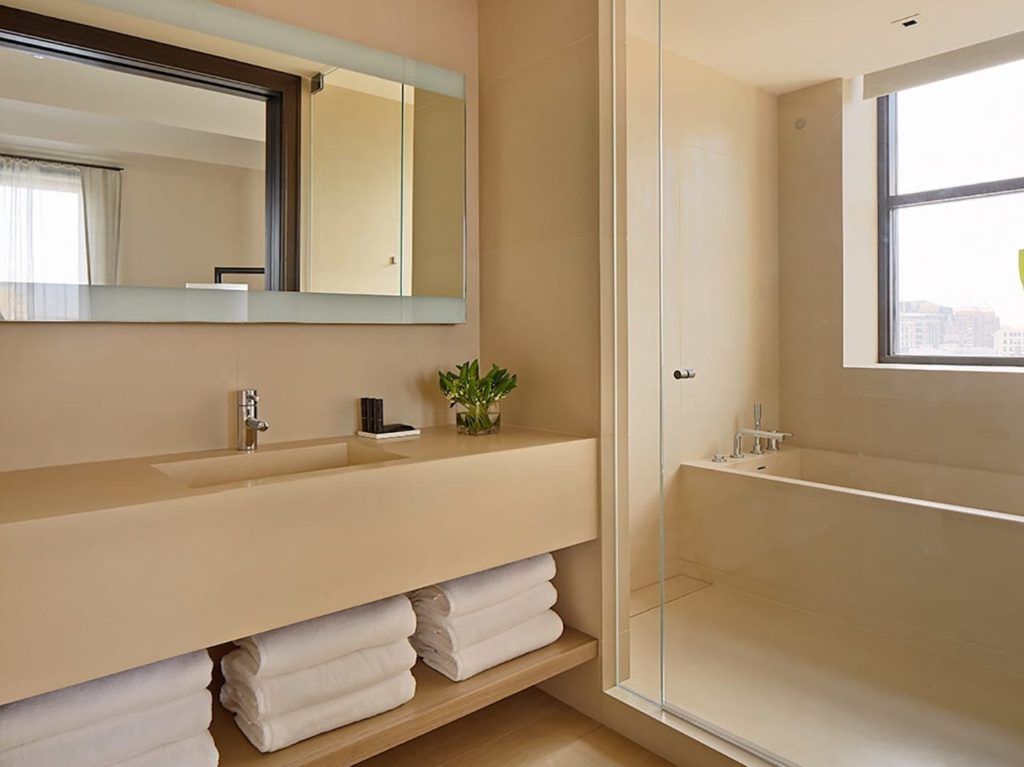 For once, it pays to the take the old adage 'stay grounded' a little too literally. Standing surfaces are often a missed opportunity to impart a dose of warmth upon otherwise sterile, perfunctory spaces. In a simple twist, private bathing spaces at Ian Schrager's Manhattan Edition swap out unpleasant linoleum tiles for blond wooden flooring — a fine match for ultra-sleek countertop and soaking tub surfaces.
A retreat-like atmosphere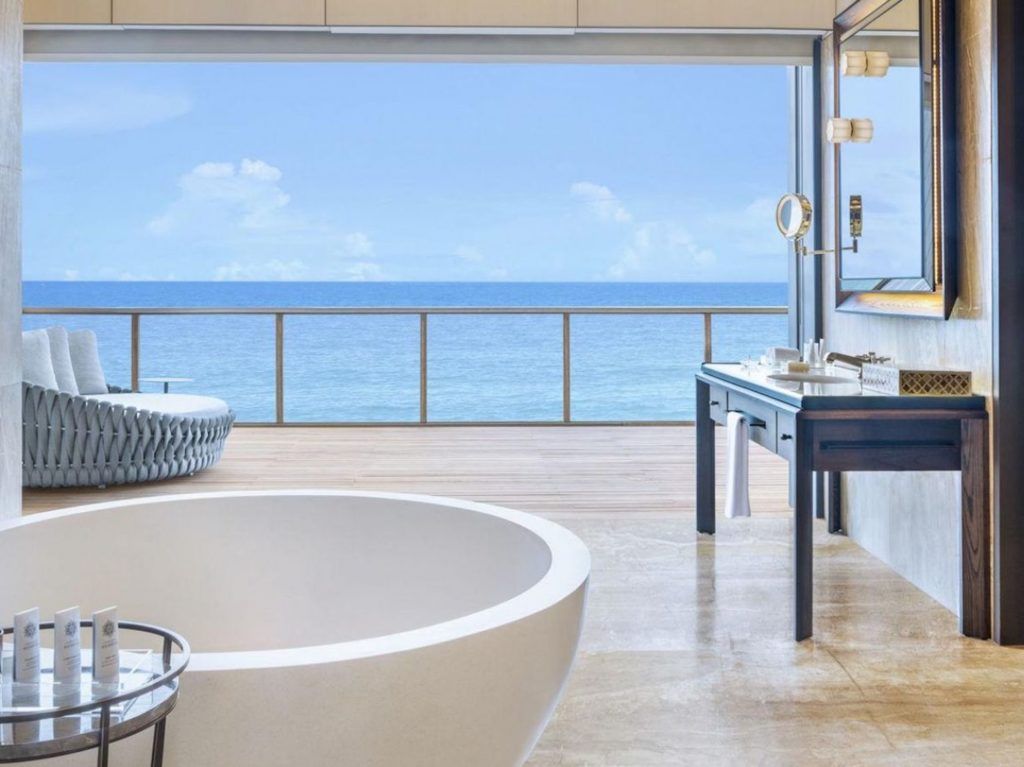 Another decorating tip from the always reliable 'bigger is better' playbook is to simply build out a huge bathroom space. For this, turn to sprawling resorts like The St. Regis Maldives for inspiration: taking note of decadent surface area-intensive features like a balcony, walk-in closet and multiple vanities. In a nutshell — everything you'd expect from your favourite five-star spa.
This article was first published on Luxe Living Asia and LifestyleAsia KL.