All eyes were on Las Vegas in January for the 2022 Consumer Electronics Show, which never fails to amaze. Bruce Scott takes a look at some of the high-tech highlights our brave new world has in store.
The origins of the annual Consumer Electronics Show – now known simply as CES – date back to the summer of 1967, when it was first held in New York City. By 1998 the show was taking place each year in early January, and had settled on Las Vegas as its permanent location, with the hot topic back then being the burgeoning DVD format. A lot has changed since that time, but one thing remains constant: the public's unquenchable thirst for technological innovations.
CES 2022, which officially ran from Jan 5-7, was highlighted by thousands of product debuts, unveiling a myriad of cutting-edge technological feats. More than 2,300 companies from around the world took part, including over 800 start-ups pitching everything from waterless teeth cleaners, robot gourmet chefs, to mosquito zappers that use software and solar power instead of chemicals. Unfortunately, ongoing Covid-19 concerns prompted some major brands to make "virtual-only" appearances – including Microsoft, Nvidia, Intel, TikTok, Amazon, Google and Meta – but still, there was plenty to see for the estimated 40,000 attendees.
One of the exhibition's dominant trends was automotive technology, especially advances in Electric Vehicle (EV) performance and production. With close to 200 car-related companies exhibiting – including newcomers to the game like Sony, and VinFast (Vietnam's first EV manufacturer) – this year's CES seemed, at times, more like an auto show than a tech show.
Virtual Reality (VR) – including Augmented Reality (AR) and Extended Reality (XR) – was also a hot topic, as were HealthTech, WearableTech, and SmartHome appliances designed to make daily life easier and more efficient. And because artificial intelligence (AI) plays a key role in many of these innovations, it underscored the fact that AI technology is, without a doubt, the engine that will drive innovation forward.
Our round-up of high-tech highlights from CES 2022 includes a few innovations that are still in the prototype stage and some of which are retail-ready.
The Chameleon Car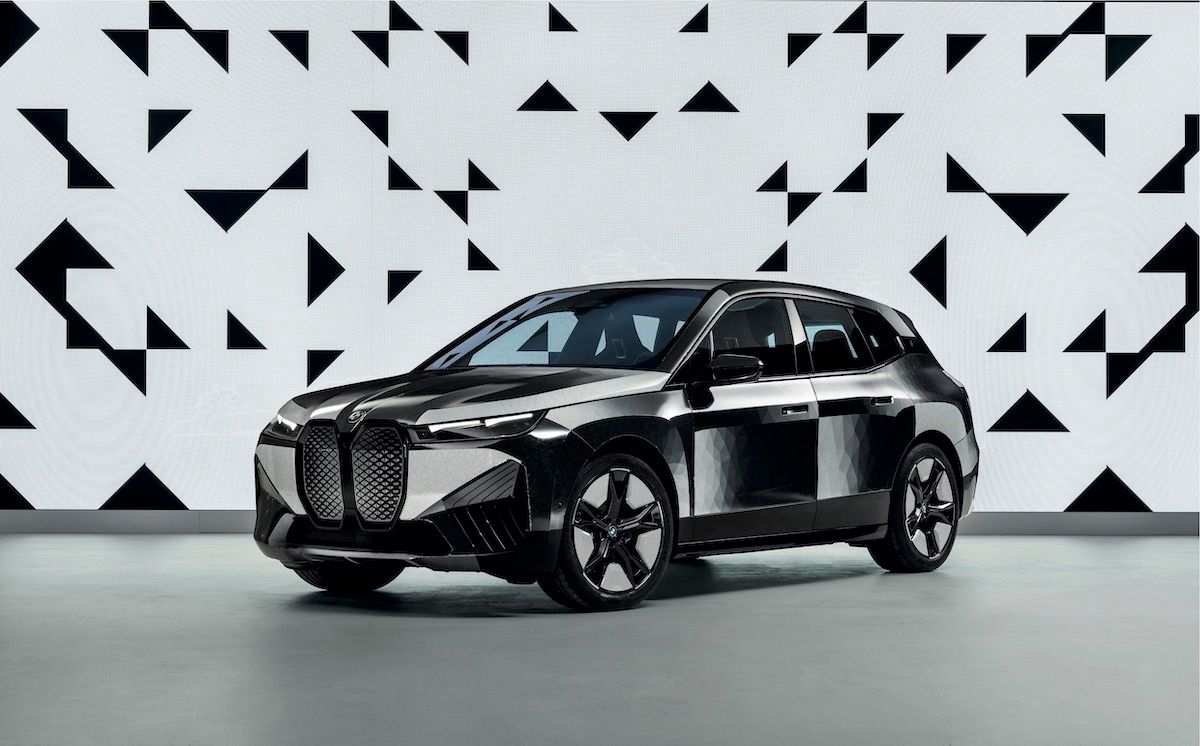 While CES 2022 saw luxury automaker Mercedes-Benz unveiling their sleek new Vision EQXX EV concept car (boasting an almost 1,000km range) and GM's Cadillac brand showing off their very cool InnerSpace concept car (the self-driving, luxury two-seat EV of the future), it's still safe to say that the auto reveal grabbing the most headlines was the colour-changing BMW iX Flow. Essentially, this car's exterior makes use of e-ink, the same idea and material used in e-readers like Kindle, with millions of tiny microcapsules covering the surface coating. When an electrical impulse changes the positioning of the pigments inside these capsules, the chameleon on wheels automatically transforms to the desired shade. At the moment things are limited to just switching from white to grey to black – which is no small feat in itself – but the prediction is that a wider palette of colours will eventually be possible, allowing drivers to match the colour of their ride to their ever-changing moods.
The Flying Car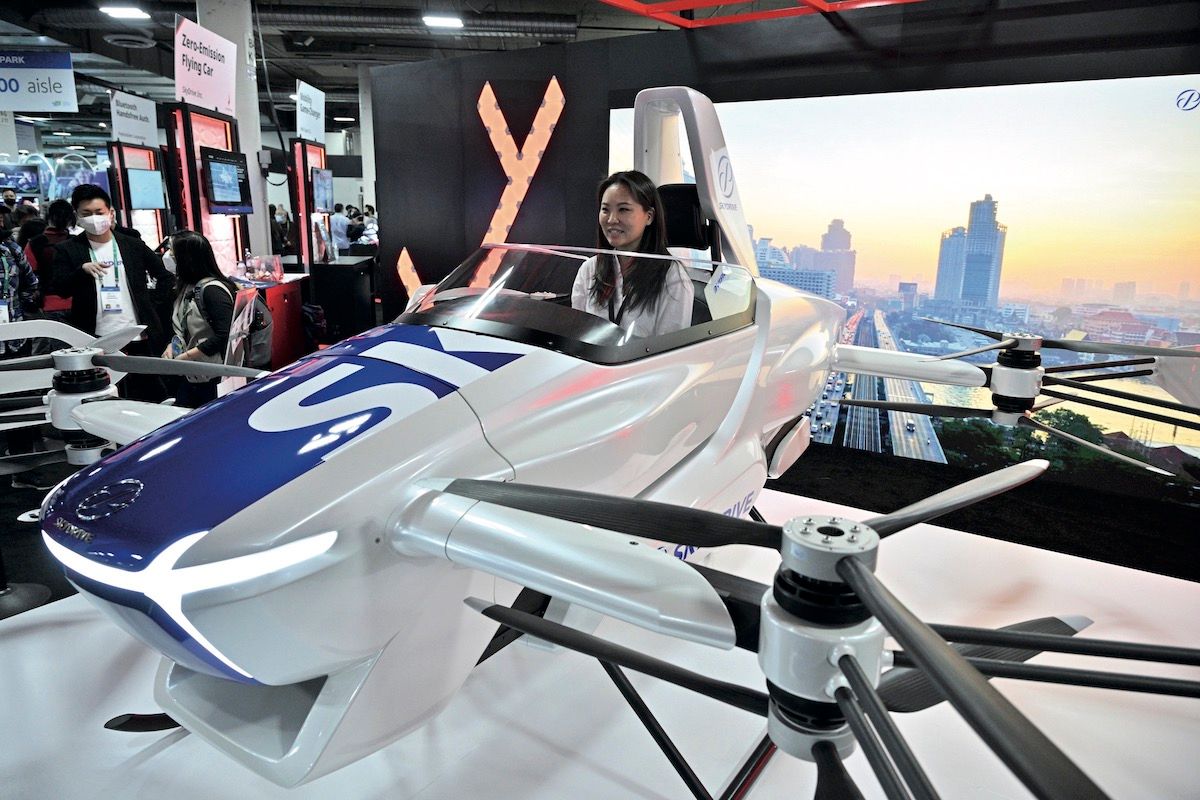 Looking more like a giant drone than anything capable of carrying an adult human being, SkyDrive's Model SD-03 ultra-light, compact flying vehicle nonetheless gives a tantalising glimpse as to the shape of things to come. Measuring just 4m by 4m by 2m tall, with eight horizontal rotors, this fully functional prototype has room for just one occupant but the Japanese manufacturer says a two-seater model is in the works. After making a vertical takeoff, this zero-emission contraption can fly at a maximum cruise speed of around 30mph (approximately 50km/h), which may one day make door-to-door air travel a normal part of daily urban transportation. Of course, visitors to CES were invited to "sit" in the SkyDrive SD-03, but no actual lift-offs were allowed.
High-Tech Households
While most SmartHome tech focused on security systems, door locks and CCTV, Kohler led with something a little more luxurious, making a big splash with their long-awaited PerfectFill bath technology. With a simple voice command to Alexa or Google, the tub magically begins filling, drawn precisely to your personal preferred temperature and depth. The bath also drains via voice or app command; however, all this convenience does mean you'll need the proper Kohler spout and compatible Kohler bathtub, all of which will have to be professionally installed.
The Body Electric
HealthTech was in no short supply at this year's CES, and with Covid concerns on everyone's mind the new Razer Zephyr Pro wearable air purifier (left) made a big impact. This rather ominous-looking face mask is equipped with an N95-grade filter system, LED lighting, and voice amplification via a microphone placed inside the mask – so no more muffled, incomprehensible conversation. Consumers can expect a retail release later this year.
Meanwhile, the Garmin Venu 2 Plus fitness-focused watch (right) had more than a few hearts racing, combining all the amazing features and functions of previous models with a newly added speaker and microphone, enabling wearers to take calls and use their phone's voice assistant. In addition, the battery life now lasts up to nine days, which is significantly longer than health watches from other major-name brands.
Finally, the new Body Scan smart scale from French consumer electronics company Withings features four weight sensors and 14 electrodes in the base, plus an additional four electrodes in the retractable handle, allowing the device to perform six-lead ECGs (electrocardiograms) and a segmental body composition analysis – which basically tells you exactly where your body stores fat, and offers an idea of what areas to focus on during training.
The Big Picture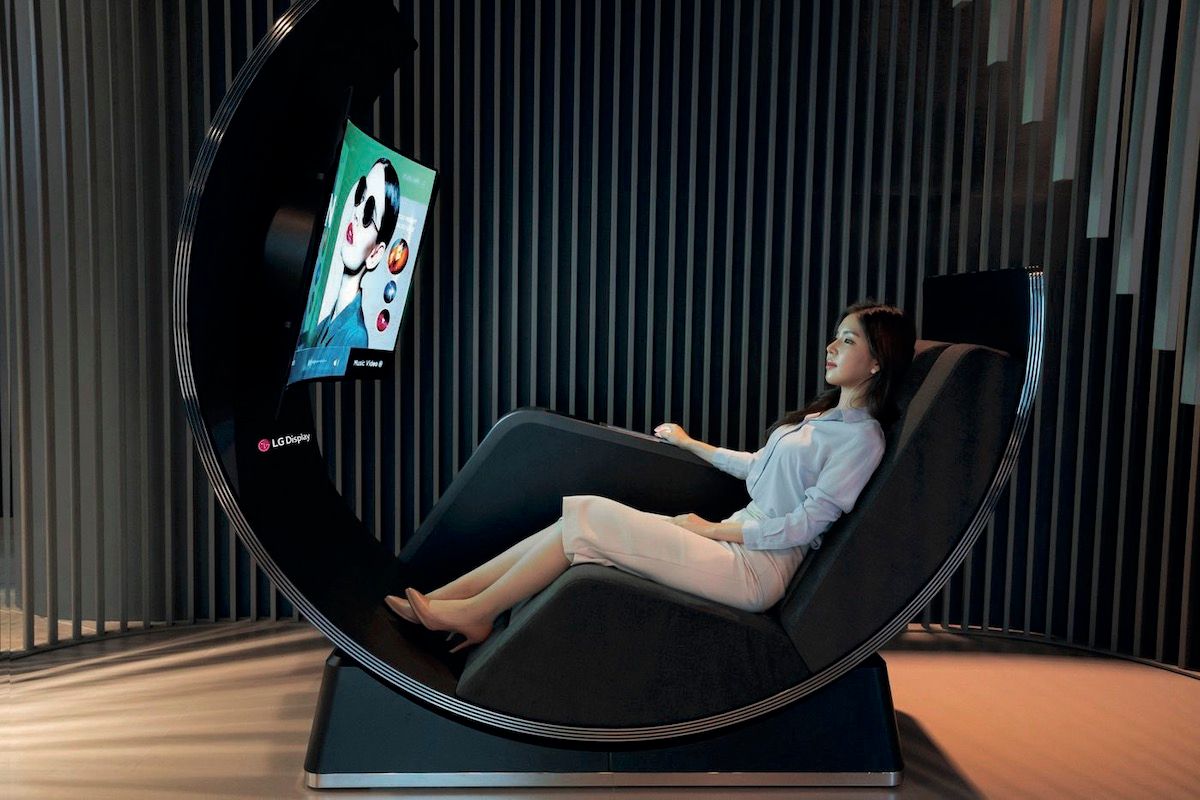 Home entertainment has always been a major part of CES, and this year, when it came to flatscreen TVs, it was a clear case of "the bigger the better". Most buzz centred around the organic light-emitting diode (OLED) displays, as they deliver deeper levels of black and can be made thinner and lighter than liquid crystal display (LCD) models. So, when LG fired up their massive new 97-inch OLED TV – the largest of its kind – all eyes were glued to the screen.
But when it comes to sheer audacious design, you'd be hard pressed to beat LG's "Media Chair"; a concept creation that merges a space age recliner with a high-tech, curved, 55-inch OLED screen capable of rotating between portrait and landscape modes with the touch of an armrest button. The screen is positioned so as to be the perfect focal distance away from the sitter, for an optimal viewing experience, and since the TV and chair move in tandem this sight line remains "picture perfect" as the entire chair swivels.
Self-driving vehicles
The planet's roads are not yet populated with driverless vehicles, but that has more to do with legal matters than technological limitations. At CES 2022, there was no shortage of prototype, self-driving automobile cockpits on display, making it clear that automated personal travel is what the future holds.
However, when it came to the here and now, it was the debut of the first fully autonomous tractor, from stalwart American farm machinery company John Deere, that was all the buzz. This heavy-duty rig is equipped with a GPS guidance system and six pairs of stereo cameras, allowing for 360-degree obstacle detection and the calculation of distance. By continuously checking its position relative to a geofence, it remains operating where it's supposed to (accurate to within less than 2.5cm). The tractor is scheduled to be available to farmers later this year.
On a side note, this year's CES also hosted an exciting self-driving race car competition called the "Indy Autonomous Challenge". The vehicle that took home the US$150,000 first prize was the PoliMove – a collaboration between the Politecnico di Milano (Italy) and the University of Alabama (US) – which not only managed to edge past the TUM car in the final lap, but also set a new land speed record for autonomous race cars, reaching an incredible 175.96mph (283.18km/h).
(Main and featured image: The Vision EQXX EV from Mercedes-Benz)
This story first appeared in the March 2022 issue of Prestige Singapore.