Gift abundance and success with Johnnie Walker Blue Label Year of the Rabbit Limited Edition Bottle
Lunar New Year is rife with symbolism, and the gifts of the season are no exception.
Specially released for 2023, the Johnnie Walker Blue Label Year of the Rabbit Limited Edition Bottle embodies all the hopes and shiny promises of the new year in its legendary blend and limited-edition design.
A whisky drawn from extremely rare casks, some of which are from long-closed "ghost" distilleries, the Blue Label is a masterpiece that combines precious Scotch with the extraordinary savoir faire of Johnnie Walker Master Blender Emma Walker and her team. What results is complex yet perfectly balanced blend that is velvety smooth and vibrant as it unravels layers of rich fruit, spice and long, lingering smokiness with every sip. If celebration has a flavour, the Johnnie Walker Blue Label could very well be it. To mark a new year, Johnnie Walker has enlisted acclaimed Chinese fashion designer Angel Chen to conceptualise its latest Chinese New Year edition of the Blue Label. The star of the bottle is, of course, 2023's zodiac sign, the rabbit, which holds traditional meanings of longevity, beauty, mercy and elegance. Manifested in Chen's dynamic brushstrokes, the animal is depicted leaping through a lush landscape of mountains to represent abundance and success in scaling great heights.
Relating Chen's design to Blue Label's exquisite blend, Johnnie Walker's global brand director Julie Bramham says: "The energy and layers of colour that Chen brings are a visual interpretation of the incredible blending expertise that Emma Walker and her team use to create those perfectly balanced layers of flavour in Johnnie Walker Blue Label."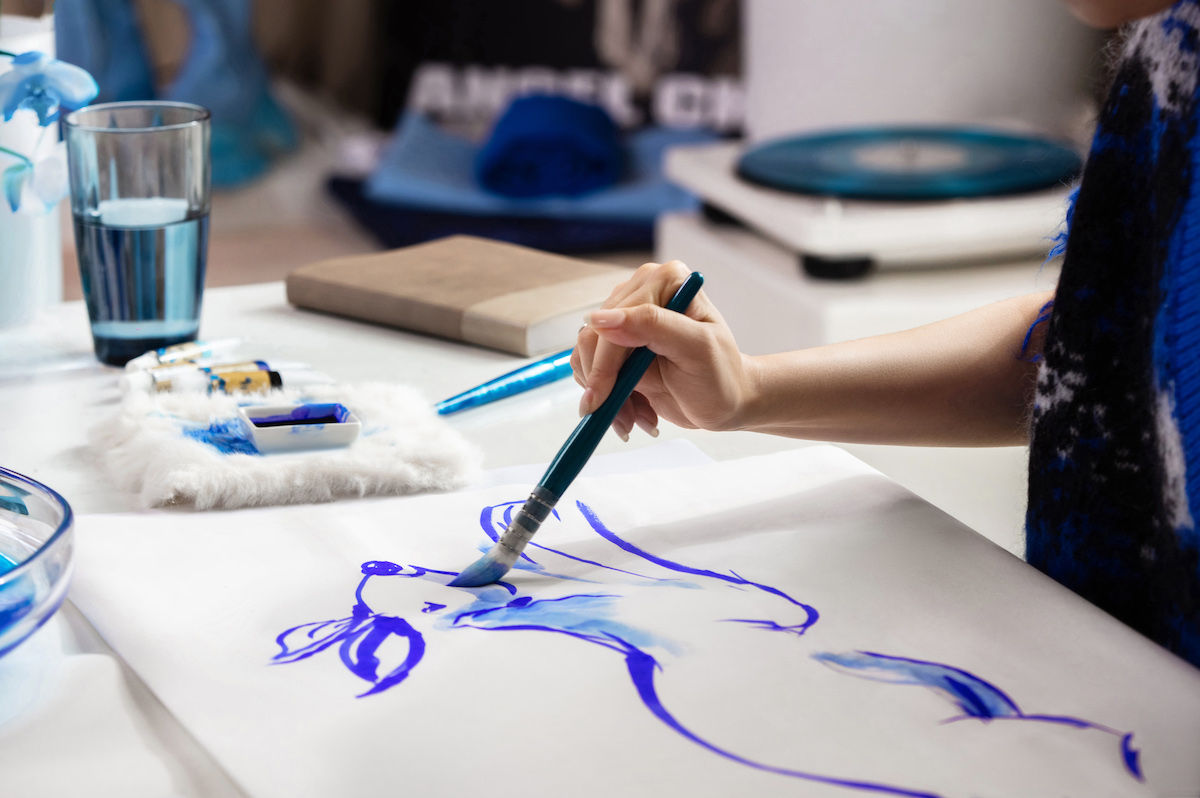 Indeed, the whisky was the canvas on which Chen's creativity flourished. "It was important to me that my illustrations brought to life the depth that I always seek to create in my work," says the rising fashion star. "I wanted those layers of incredible flavour that make Johnnie Walker Blue Label what it is to burst out of my designs, with layer upon layer of vivid colour inspired by this exceptional Scotch with real depth of character."
"My work is often inspired by different generations, different genders and cultures coming together to create something fresh and new. These ideals echo the craft of Johnnie Walker Master Blender Emma Walker – taking different types of whisky from different distilleries, with differing ages of maturation and blending them together perfectly to create a masterpiece – that is something I can relate to."
Full of optimism and buoyancy, this is a gift to inspire its recipient to greet the new year with the same positivity and confidence embodied in Chen's designs. Take a sip of iced water to prepare your palate before enjoying the Johnnie Walker Blue Label.
Johnnie Walker Blue Label Year of the Rabbit Limited Edition Bottle is available at 1855 and other major specialist retail and online partners.
Drink Responsibly. DrinkIQ.com