Setting its eyes on the wealth management business in Asia, HSBC Singapore created a new banking segment in December 2016 — HSBC Jade. This is a wealth management service for the ultra-high-net worth individuals and one of the benefits of becoming part of HSBC Jade is that it allows esteemed clients privileged access to the world's most coveted experiences. Two years on and HSBC Jade clients are enjoying even more comprehensive wealth solutions coupled with exclusive luxury lifestyle privileges. To further cater to its clients' financial requirements, HSBC Singapore unveiled the new HSBC Jade Centre inside the iconic Jewel Changi Airport on 9 May 2019. This is the second HSBC Jade Centre in Singapore. Since its launch, HSBC Singapore's Jade client base has more than doubled by the end of last year, with Singapore-based customers — many of whom have global business or connections overseas — usage of its global concierge service leading other markets by up to 15 percent.
"While they may be based here, many of our customers have studied or worked overseas, and have regional business interests," said Mr Anurag Mathur, Head of Retail Banking and Wealth Management, HSBC Bank (Singapore). "They tend to look beyond Singapore for investment opportunities and lifestyle experiences. Helping our customers meet new aspirations as their lives and businesses become more international is key to our growth in Singapore and plays to our strengths as a leading international bank."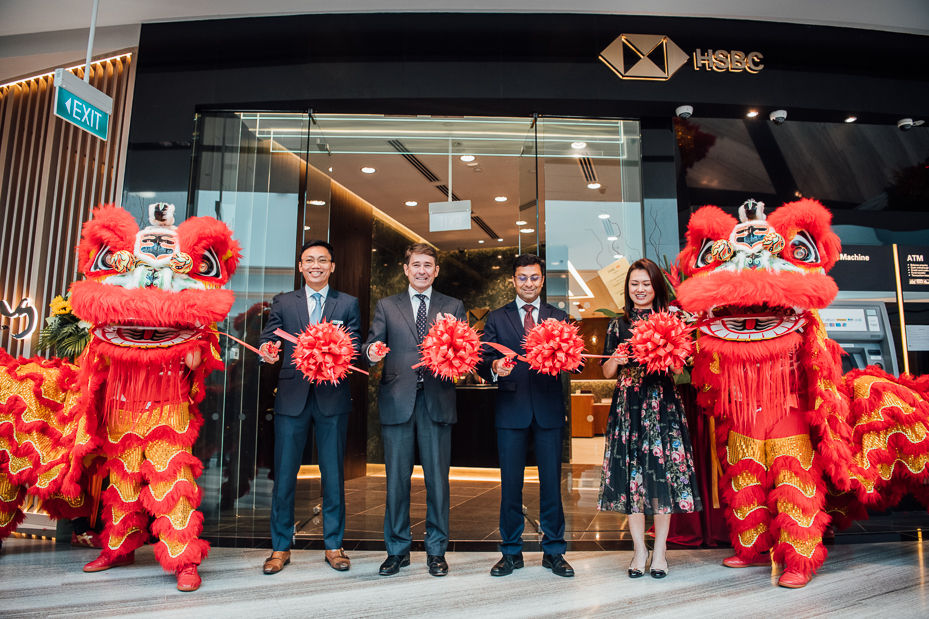 "We are excited to welcome customers at the new Jade Centre at Jewel, which gives them easy access to our wealth experts as they consider their financial and lifestyle needs," Mr Anurag Mathur continued. "We expect the new Jade Centre will be well-received given its strategic location within Jewel at the Changi Airport, which is fast emerging as the lifestyle hub for Singaporeans living in the East and international travellers."
To mark this joyous occasion, close to 100 guests and clients, including Ms Hung Jean, CEO, Jewel Changi Airport Devt.; Mr Tony Cripps, CEO, HSBC Singapore; Ms Leanne Cutts, HSBC Group Chief Marketing Officer, and Mr Anurag Mathur, Head of Retail Banking and Wealth Management, HSBC Bank (Singapore), Mr Ian Yim, HSBC Bank (Singapore) Head of Wealth & International; Ms Fion Khoh, HSBC Bank (Singapore) Head of Network as well as Ms Bonnie Qiu, HSBC Group Head of Premier and Jade were present to witness this significant moment. With the HSBC Rain Vortex (HSBC is the naming rights partner of the 40-metre high waterfall) as the backdrop, the Jewel of Wealth event — part of HSBC's ongoing award-winning Origins of Luxury series — was an extraordinary experience that actively engaged the VIPs' senses of taste, sight and sound to enhance their perspectives of luxury during the launch.
Besides witnessing the rousing lion dance performance to usher in prosperity and good luck at the new centre, guests and clients also had a chance to partake in unique activities.
Autumn Ying is a multi-disciplinary artist specialising in hand-drawn illustrations and graphic designs. One look at her work and it's not hard to see why she is in demand. Providing a visual feast at the event, Ying drew remarkable illustrations of the dazzling HSBC Rain Vortex. This activity also allowed guests to imagine their own colours and textures for the light show through the artistic hands of Ying.
Another highlight that evening was the Human Library, where wealth and lifestyle partners were readily available to share their knowledge with guests. That also served as a reminder that there is a gamut of exclusive privileges available only for HSBC Jade's clients. Besides imparting knowledge to its esteemed clients, HSBC Jade wanted to stir the senses of everyone present. At the Scent Bar by Thann, a Thailand-based aromatherapy establishment, guests and clients customised aromatic blends that ranged from soft to bold, sublime to seductive.
Because The Origins of Luxury is all about exclusivity and specially curated experiences, Monogram by the Gryphon Tea Company also prepared a one-of-a-kind tea layering session. Made using only the most premium leaves and infusions, the bespoke teas were meticulously crafted specifically to guests' refined palate and presented in stunning customised glass jars. And what's a celebration without a spectacular performance? The light-and-sound show at the HSBC Rain Vortex was undoubtedly one of the biggest pulls that evening. A contemporary dance performance was specially choreographed using video-mapping technology and effects at the Rain Vortex. Also inspired by the HSBC's new sound identity, the performance left the audience spellbound. More than just an evening to mark the momentous occasion, the opening night was further testament to HSBC Jade's commitment to ensuring that exclusive access to unique experiences are available for every high net worth client.
Click here or call +65 62167321 to discover the benefits of Jade.