Guangzhou continues to be one of China's dining mecca today, just as it has for centuries. The city is the epicentre of Cantonese cuisine — one of the eight great cuisines of China. This branch of Chinese cooking is well-known for a few standout dishes: roast meats, elegant bites of dim sum and nourishing soups.
The city was also recently graced by the Michelin Guide and it has been garlanded with its own star-studded restaurants. Naturally, most of these are Cantonese, but restaurants offer insights into how the cuisine has evolved over the ages. Here's where to get a taste of Cantonese cuisine in Guangzhou, from the traditional to the innovative.
Bingsheng Mansion
This elegant offshoot from Guangzhou's Bingsheng chain of restaurants was one of the first to be awarded a Michelin star for its refined approach to traditional Cantonese cuisine. Dishes may seem familiar, but Bingshen Mansion makes an effort to weave in modern techniques. Their signature pork belly char siew, for instance, is grilled rather than barbecued for a crispier texture. The restaurant's success also lies in the kitchen's passion for premium ingredients, many of which are sourced from farms around the region.
Address: 5F Fuda Building, 2 Xian Cun Road, Tianhe District, Guangzhou, China
Opening hours: Monday to Friday, 10am – 3pm (lunch), 5pm – 10pm (dinner). Saturday to Sunday, 9am – 3pm (lunch), 5pm – 10pm (dinner).
Dian Dou De – Ju Fu Branch
Yumcha or afternoon tea is one of the most popular meals in Guangzhou, and typically features baskets of dim sum and hot Chinese tea. One of the best places to enjoy good yumcha at is Dian Dou De which serves up traditional and contemporary dim sum creations. The casual eatery makes a bold claim: all dishes on its extensive menu are worthy picks. It'll be challenging to find something unsatisfactory here; dim sums are made to order with fresh ingredients. Be sure to order har gow (shrimp dumplings) and their signature Liwan Boat Congee, a comforting rice soup of pig's stomach and century eggs. Address: 470 Huifu Dong Road, Yuexiu District, Guangzhou, China
Opening hours: Monday to Sunday, 8am – 4pm (lunch), 5pm – 10pm (dinner).
Donghai Seafood Restaurant – Xiya Road Branch
The nearby city of Foshan is famous for its Shunde cuisine, often considered to be a major influence in traditional Cantonese cuisine. If you're keen to explore this, consider taking a two-hour drive out of Guangzhou to check out Foshan's famous Donghai Seafood Restaurant. This establishment is well-known for its water snake soup, a time-honoured Shunde dish that sees slivers of snake meat and skin in a creamy broth of chicken and pork bones. There are also other traditional dishes to consider, such as fried carp slices and roasted goose. The portions are generous, so come with several dining companions.
Address: 8 Xiya Road, Shunde District, Guangzhou, China
Lai Heen
This one-Michelin-starred restaurant offers a refreshing approach to Cantonese cuisine beyond quintessential dishes like crispy pork belly and double-boiled soups. Lai Heen's executive chef Gordon Guo works with premium ingredients and some European touches in his innovative creations — think scallion pancakes with cubes of red wine-infused foie gras or fresh grouper slices cooked tableside in a tureen of lobster bisque. The wine list is also worth checking out, as Lai Heen stocks up on exquisite labels from Chinese wineries.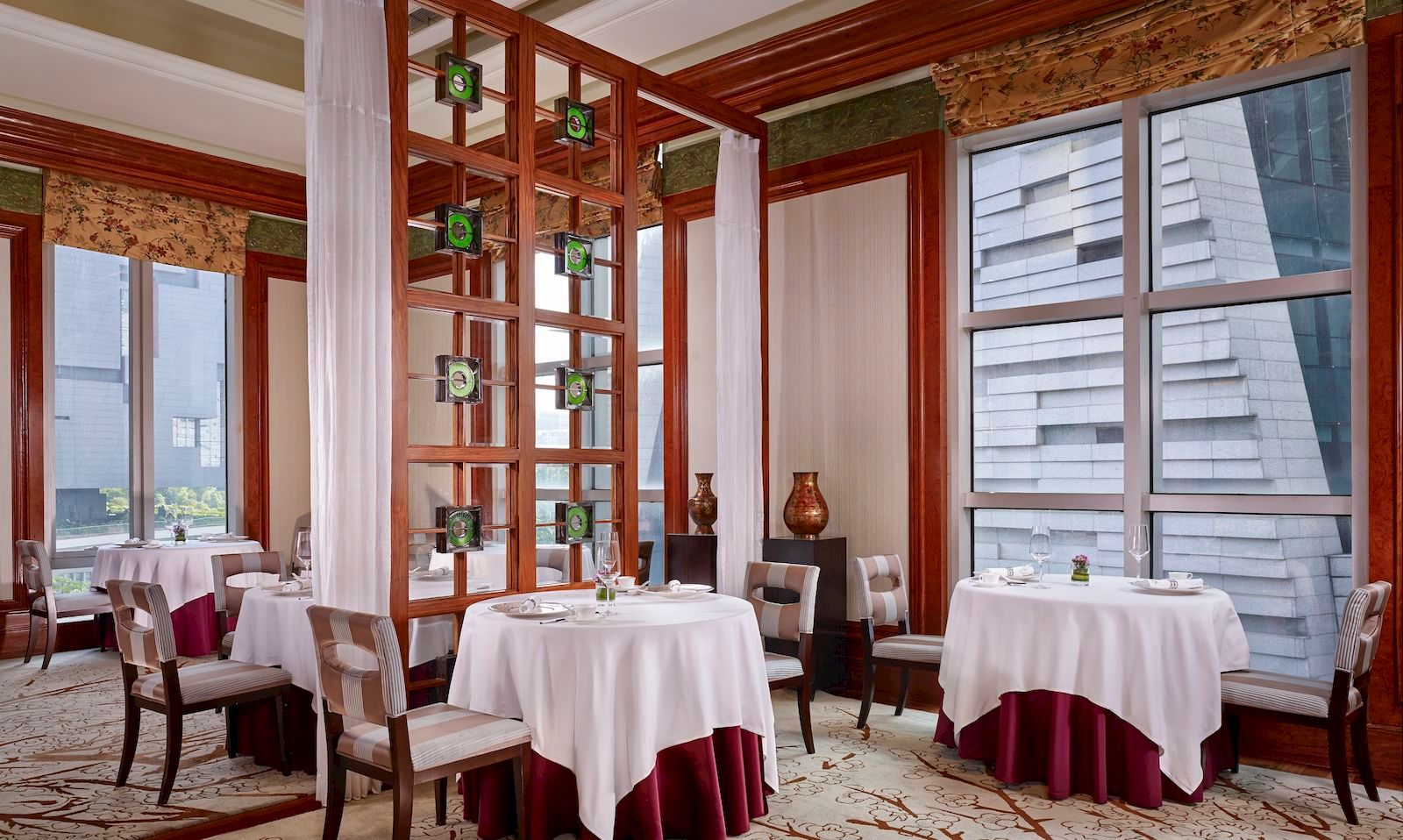 Address: The Ritz-Carlton Guangzhou, 3 Xing'an Rd, Pearl River New City, Tianhe District, Guangzhou, ChinaOpening hours: Monday to Friday: 11.30pm – 2pm (lunch), 5.30pm – 10pm (dinner). Saturday to Sunday: 10.30pm –2pm (lunch), 5.30pm – 10pm (dinner).
Guangzhou Restaurant – Wenchang Branch
Guangzhou Restaurant was first established in 1935, making it one of the oldest surviving restaurants in the city. Despite being on the pricey side, the restaurant is popular amongst locals for their all-day dim sum menu. If you're feeling indulgent, go for the regular menu of heartier dishes, made for sharing. The restaurant can get a little noisy at times with impatient waiters and loud customers so if you're looking for some peace and quiet, consider getting a private dining room or a table next to the koi pond in the middle of the restaurant. Address: 2 Wenchang Nan Road, Liwan District, Guangzhou, China
Opening hours: Monday to Sunday: 7am – 10pm
A Po Beef Offal
A Po Beef Offal was originally a hawker stall more than thirty years ago, drawing people from all over Guangzhou for its popular hot beef offal stew. Since then, founder Chen Jia Zhen has opened up multiple chains across the country and continues to stick to her traditional recipes. Diners can choose from a range of beef offal — stomach, tripe or lung — cooked in a vat of Chen's secret herbal broth till tender. But waiters would recommend you to have the signature dish, which offers a bit of everything and braised radish slices in a bowl. The stew is best enjoyed with a spoonful of A Po's special chilli sauce.
Address: 1-9 Hualei Road, Liwan District, Guangzhou, China
Opening hours: Monday to Sunday: 10am – 9.30pm
Yuanji Steamed Vermicelli Roll
This old-school eatery is popular for its steamed vermicelli roll or chang fen, which is stuffed with all manners of toppings. The kitchen makes its rolls fresh per order, expertly steaming and flipping thin layers of rice sheets from aluminium trays. Here, diners will find the familiar char siew and prawn toppings in their vermicelli rolls. There are also more interesting options like mandarin duck or pork offal wrapped under these silky rolls, perfect with a douse of sweet soy sauce. Also worth trying here is the congee which is cooked over long hours till it is smooth and fragrant. Address: 93 Huagui Road, Liwan District, Guangzhou, China
Opening hours: Monday to Sunday: 10am – 1.30am
Shun Kee Ice Room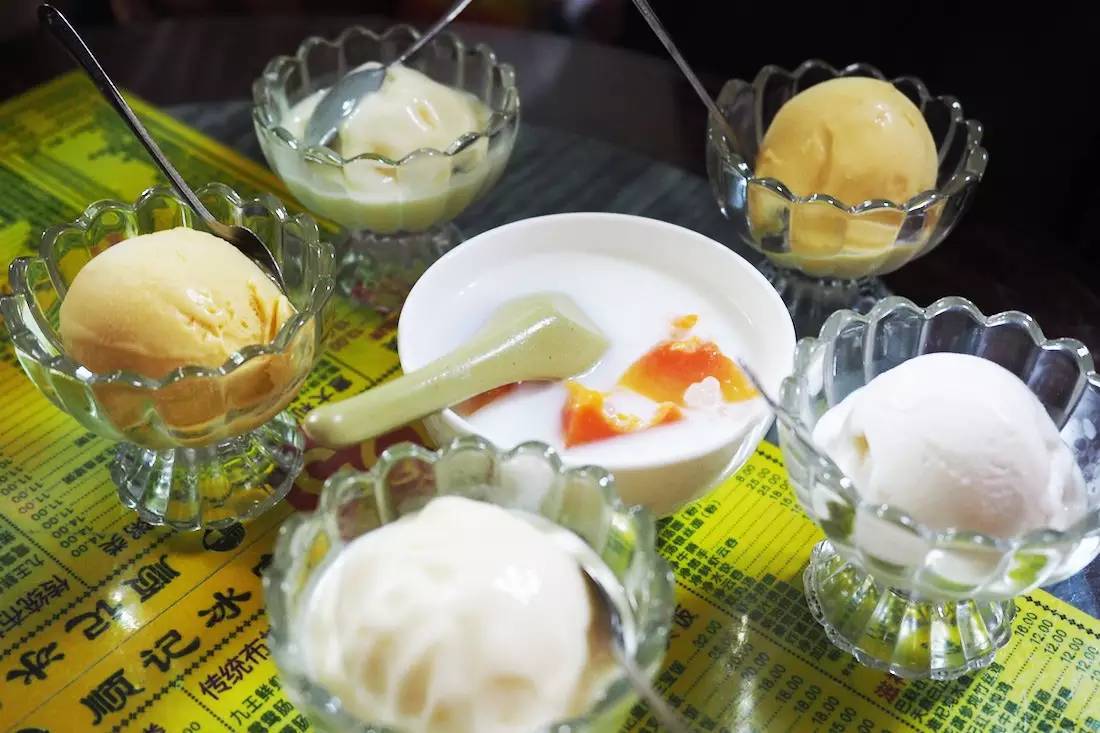 The Cantonese are well known for their desserts as well. Locals often flock over to Shun Kee Ice Room for their fill of traditional Cantonese sweets. One of the best-sellers here is the 'double-skin milk pudding' which is a wobbly custard made simply with egg white and milk. While typically enjoyed as it is, Shun Kee offers other toppings like red bean or mango bits over the warm pudding. There's also a wide range of ice cream flavours to find here too: think coconut, durian or banana.
Address: 83 Baohua Road, Liwan District, Guangzhou, China
Opening hours: Monday to Sunday: 9am – 1am
Singapore Airlines flies daily to Guangzhou.
This story first appeared on Lifestyle Asia Singapore.