Tiny but mighty, the cherry is a skincare superhero that is the heart of luxury beauty brand Diamond Cherry's potent skincare and supplements.
Healthy skin starts from within. The largest organ in our body relies on a supportive ecosystem that includes a nutritious diet and an effective skincare routine. As we are skincare-savvy, we are always on the lookout for impactful ingredients, and on our radar lately is Swiss brand Diamond Cherry.
The cherry is the key ingredient behind the brand's efficacious brightening and youth-renewal supplements. We explore the skin lightening and age-defying benefits of the underrated superfruit and its various components.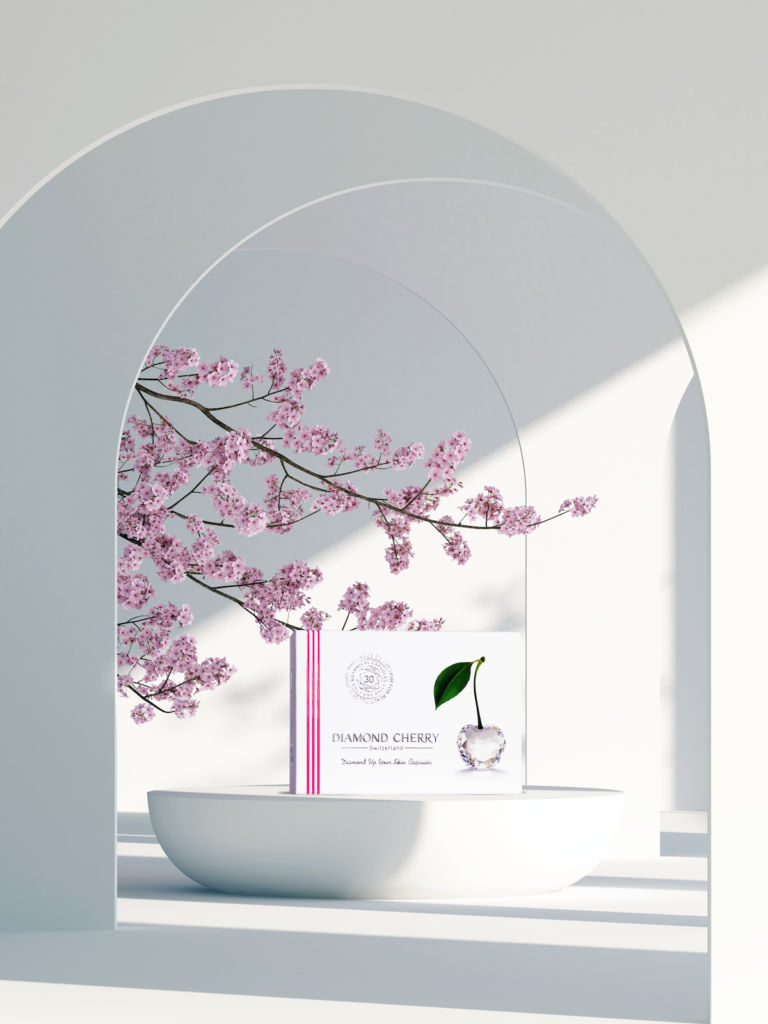 The flower
Diamond Cherry began by a lake in Zurich, where creator Dr Anastasov was intrigued by the beauty of the blossoming cherry trees. The flowers of the Prunus Serrulata tree are a cherished sight the world over and signify the beckoning of spring and new beginnings. It is also a little-known fact that cherry blossoms are edible and their extract is used as an ingredient in food and supplements. An ingredient in Diamond Cherry's White Brilliance Diamond Up Your Skin Capsules, cherry flowers act as an anti-glycation agent that promotes collagen formation.
The Maillard reaction, also known as non-enzymatic browning, starts with the glycation of proteins in the skin, leading to the accumulation of Advanced Glycation End Products (AGEs). Proteins such as skin-plumping collagen and elastin are prone to glycation. High levels of AGEs can diminish skin's regenerative processes, injuring the dermis collagen and causing skin to become wrinkled and dull.
Cherry flower extract, used in the Diamond Up Your Skin capsules, inhibits the production of AGEs through its bioactive components of caffeoyl glucose and quercetin glucoside. These have been shown to not only prevent the glycation of collagen and death of fibroblasts (the cells that produce collagen and elastin) but also increase the growth of collagen formation within them. The extract also prevents melanin formation in skin cells, resulting in a brightening effect and an even skin tone.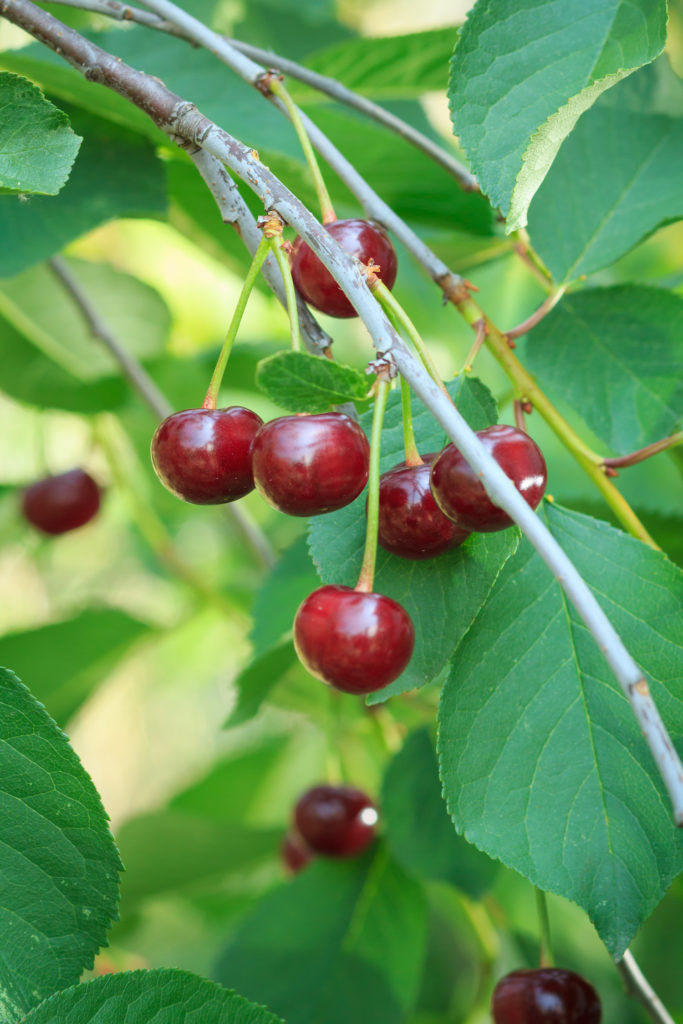 The Fruit
The cherry fruit itself is a potent carrier of antioxidants and source of fibre, vitamins and minerals including potassium, calcium and vitamins A, C and E. It contains polyphenols that repair and rejuvenate skin while preventing signs of ageing.
When consumed in the brand's Diamond Up Your Skin Capsules, the fruit's polyphenolic and multivitamin content brighten skin and hinder wrinkle formation. Chlorogenic acid, for instance, decreases melanin production while antioxidant gallic acid regulates it. Consuming the supplement before bedtime is also a good way to ensure sufficient beauty sleep, as the fruit contains melatonin that regulates one's natural sleep cycle.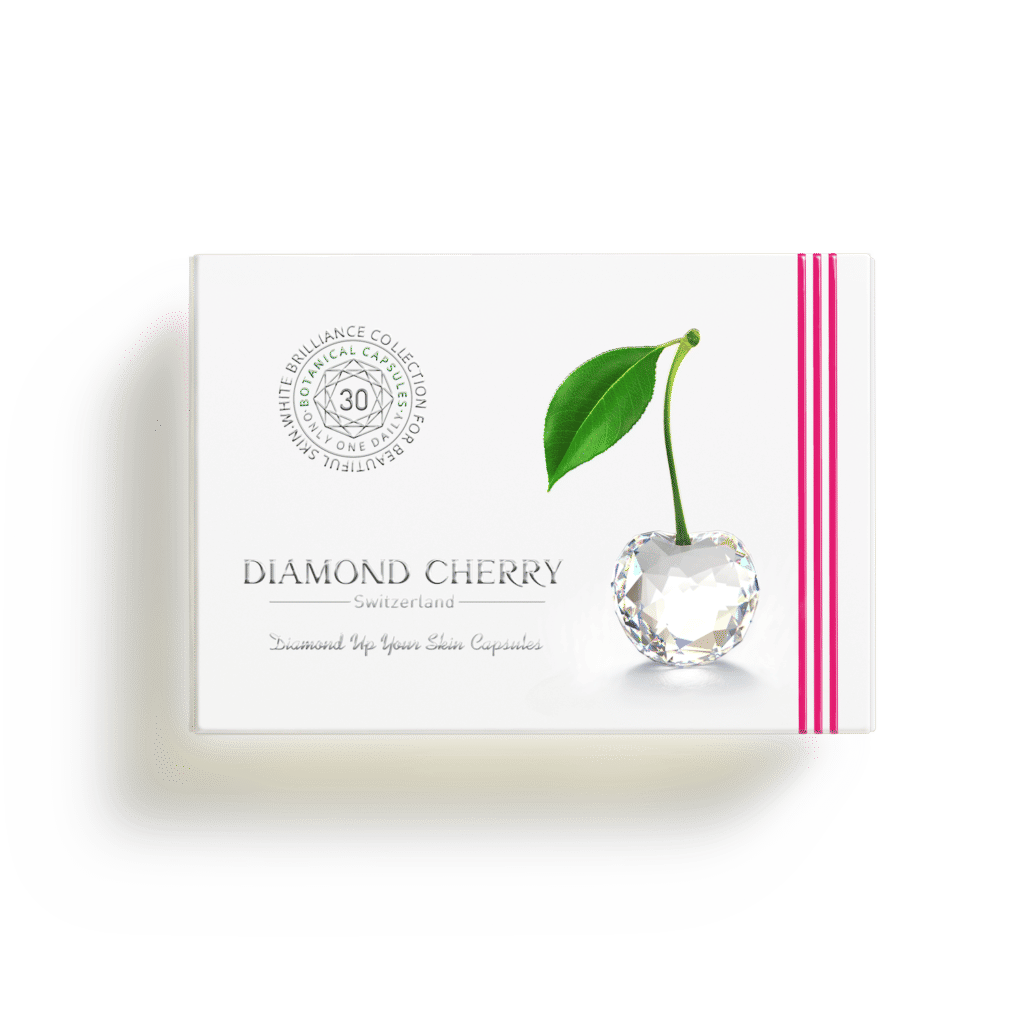 All-Round Goodness
The leaves and stem of the cherry are equally cherished sources of beauty ingredients. Certain compounds found in these plant parts, such as organic acids, are high in skin-loving antioxidant activity, and therefore used in the capsules.
The cherry stem extract also works from deep within to reduce dark spot formation and protect skin's natural collagen, elastin and hyaluronic acid in the connective tissue to maintain elasticity and hydration. Various substances within the extract also offer photo-protection against UVB rays and reduce any related damage from exposure. In addition, the extract is rich in linalool, α-pinene and 4-terpineol, which endow an impressive range of protective benefits to skin health.
Diamond Cherry products are available at PlusHealth Medical Clinic and Surgery, LS Aesthetic Clinic, and Jean Ho Skin and Laser Clinic. Head here to find out more.
This story first appeared in the February 2022 issue of Prestige Singapore.