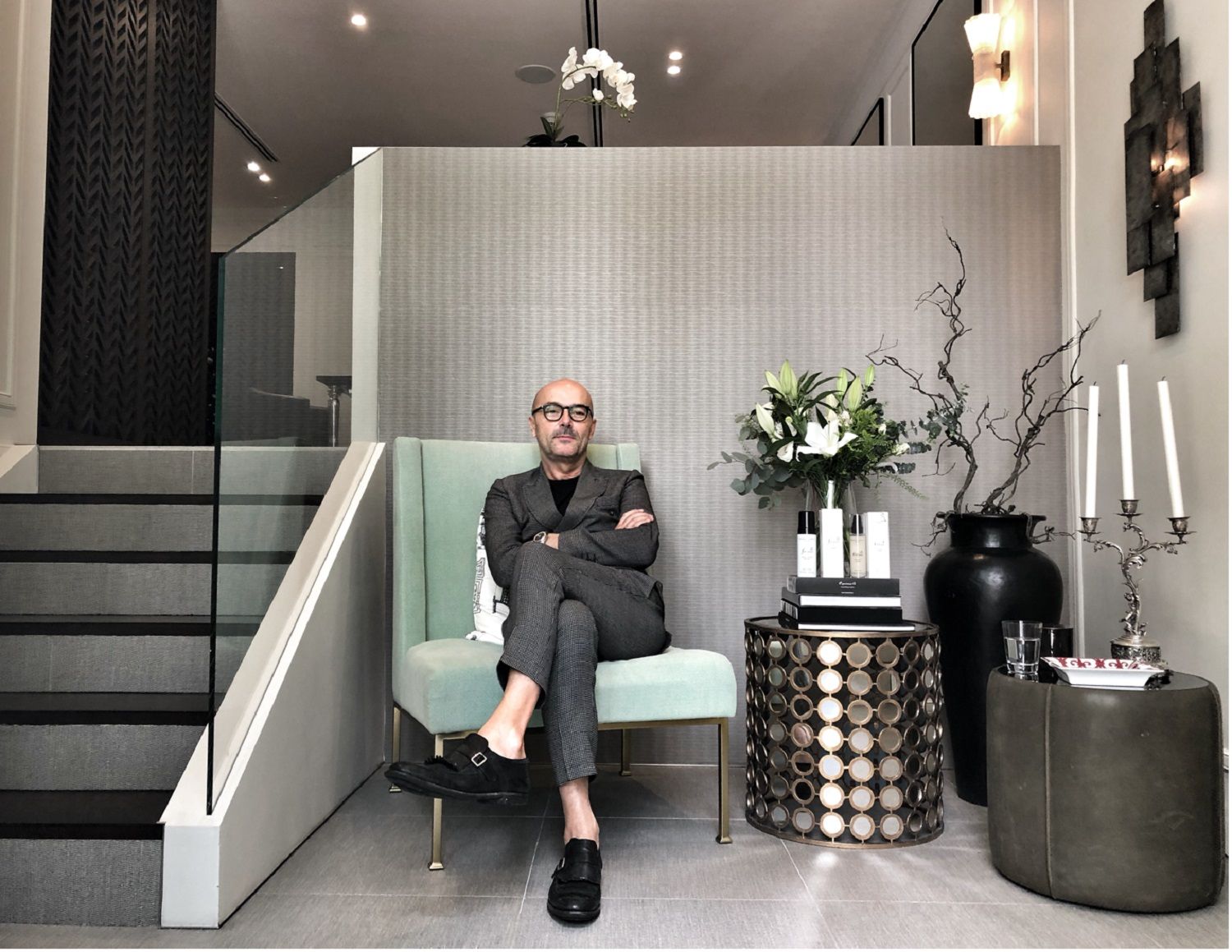 At the tender age of 14, when most of his friends were playing in the fields, Rossano Ferretti enrolled into a hairdressing school with the blessing of his family. In mid-1970s, at 15 and at the Sassoon Academy in London, he discovered the world of hair design; Mary Quant; and Twiggy. When Rossano Ferretti returned to Italy, he worked for his mother before the sense of wanderlust got the better of him. He decided to travel the world and earned his keep through cutting hair. His talent led him to service the mane of celebrities, influencers, and socialites from all over the world.
He would take note of each styling session he conducts, eventually leading to "Il Metodo" (The Method), which he credits his sister, Lorenza, as co-creator. He uses special scissors that was exclusively made by an Italian craftsman for himself and for his stylists.
View the video below to find out what 'Il Metodo' entails.
His first eponymous salon opened in Parma more than 26 years ago, and has since expanded to Verona, Roma, London, New York, Shanghai, Paragi, New Delhi, Mumbai, Monaco, Milano, Miami, Maldives, Madrid Pozuelo, Madrid, Gurgaon, Dubai, Chiavari, Beverly Hills, Belgrado, Beijing, Bangalore and Abu Dhabi. Singapore's recently opened at the end of last year at The Fullerton Hotel, Singapore.
Rossano Ferretti opened his businesses in these cities to help him expand on his knowledge of women's hair in each market. As every woman has a unique head of hair, Rossano Ferretti takes this opportunity to learn more about the types of hair in each key market. Additionally, he hopes to spread knowledge about his technique to local hairstylists.
It has also been reported that Kate Middleton, Jennifer Lawrence and Reese Witherspoon were spotted in his salons.
Rossano Ferretti is known to charge $2,000 for a haircut. "Currently, I don't take in new clients. But I still cut the hair of close friends and family and longtime clients. I also do the occasional charity-based cuts now," he explains.
His jet-setting lifestyle; time spent as an international spokesperson for L'Oreal Professionnel Luxury Brands since 2008 collaborating with them for his haircare range; travelling the world opening new salons; developing a new concept for franchising and collaborations with some of the top hotel chains in the world to selectively expand his vision for the luxury hair salon experience; and most recently, as of 2018, he was named the brand ambassador for Coty (Wella) doesn't leave him much time to himself, let alone cut someone's hair.
Can you explain "Il Metodo" (The Method) in layman's terms?
"Il Metodo" creates an invisible cut, and helps the hair fall naturally according to the organic movement of the hair. Focusing on the natural fall of the hair, this signature damage-free technique features a sophisticated vertical cut, using scissors with horizontal teeth. This allows the stylist to enhance the organic individual beauty of every client, tailoring the haircut as determined by details such as hair type, facial structure and personality, without deteriorating the hair cuticle, cortex or pigments. The goal was to create a haircut without geometry, and without seeing the cut of the scissors he had created to achieve this cut. This patented scissors, cuts only 18 percent of the hair as compared to regular texturising scissors which cuts 50-60 percent of the hair.
How long is a typical stay whenever you are in Singapore?
I usually stay for a minimum of a week as I also shuttle to and from various branches across the world.
Who will lead the team here?
Christian Serafini, the artistic director of the Beverly Hills salon, and Diego Fiorucci, the artistic director of the Rome outlet. Both, who have over 20 years of experience will be leading the Singapore salon.
What about the training aspects of the staff here?
In time to come, I will definitely train the local staffers on "Il Metodo". I am extremely keen on imparting my technique to locals in anywhere in the world, which is one of my philosophies for opening salons all across the world. I want to educate stylists on "Il Metodo", to help them create 'invisible cuts' for women all around the world.
When was the haircare range launched?
In 2010, the first full range of hair products became available after years of trial and error. My clients are my best testers, as I would then modify the products accordingly and create new ones based on the ever-expanding clientele and through the exposure to different types of hair. I am also aware that hair is unique and there is no ''one sizes fit all'' approach. I am also keen on creating phenomenal products with beautiful packaging that are made in Italy with amazing ingredients and are of excellent quality and beautifully scented.
How many items within the range?
100 percent natural, there are 18 products in the range, categorised into four main lines: Splendido for Colour, Grandioso for Volume, Intenso for Nutrition and Vita for Rejuvenation of ageing hair.
Any key products?
This largely depends on the type of hair but for Asian hair and the Singapore climate I would recommend these few products:
To nourish the hair and add shine, I would recommend Brillante 11, especially in a sunny climate like Singapore. Brillante 11 was created with a UV filter and has a rich concentration of natural oils to deeply hydrate and protect hair from sun exposure, while making it soft, shiny and strong without leaving an oily residue. To help hair remain smooth and supple despite humidity, I would recommend Velluto 14, a luxurious, anti-frizz serum that makes the hair exceptionally smooth and silky, while controlling static and protecting from external aggressors. For more intensive conditioning, softening and smoothing. I would recommend the Intenso 03 Softening and Smoothing Hair Mask. A luxurious, hair mask, this professional formula has a rich concentration of nourishing, strengthening and moisturising natural ingredients. In a few minutes, it perfectly detangles and conditions hair, while making it shiny and silky. As this is a bespoke process and as part of fulfilling the full experience for the customer, we believe in giving personalised consultations on after-care using the range of hair products.