Andrew Gn: Paris-based Singaporean fashion designer on his childhood, reinvention, and his favourite local food
As the exceptional Singaporean fixture at Paris Fashion Week, on international red carpets and editorials, Andrew Gn has done the Little Red Dot proud in more ways than one. Ahead of his 25th anniversary next year, he chats with Jacquie Ang about boyhood, breaking barriers and bak kwa.
"When I was seven years old, in Primary 3, I was given an assignment to imagine what a Singaporean national costume would be like. I remember clearly that I drew a very tall, slender woman with Japanese manga features (it was highly trendy among kids at the time), wearing a colourful blouse with multicoloured stripes tucked into a flowy long skirt with lots of floral motifs. I must have used every single colour in the huge box of crayons I'd received as a birthday present from my mother!"
Now 54, that imaginative Singaporean boy is living his dream as a fashion designer in Paris. Looks like Andrew Gn's love of maximalism started at an early age. "It's still such a vivid memory because that was the first time I illustrated my deepest design yearnings," he muses in our email interview.
"As a child," he continues, "I was fascinated by the descriptions of the clothes the main characters wore in Cao Yueqin's simplified illustrated version of The Dream of the Red Chamber. Watching Elizabeth Taylor in The Taming of the Shrew, I was subconsciously mesmerised by the beauty of the costumes. I was daydreaming a lot then. I felt that doing homework and passing exams were duties to please my parents, but I've always known that something else was calling. I realised later, after my national service, that it was fashion."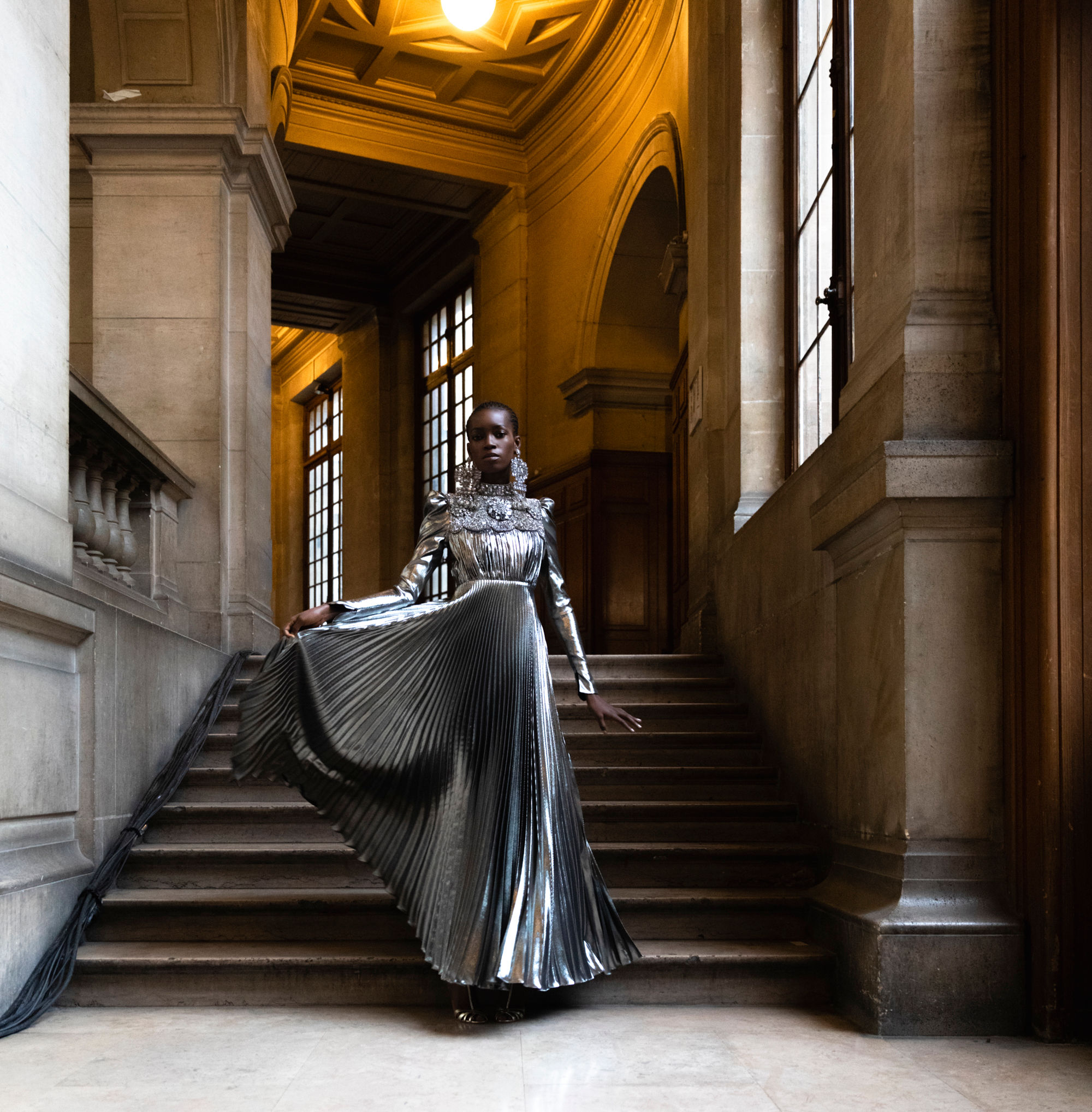 World Vision
Born in 1966, the youngest of three brothers and two sisters packed his bags and headed to London at 20. He enrolled in Saint Martin's School of Art (before it became known as the world-famous Central Saint Martins of today), majoring in fashion design. There, he clinched the French Connection Award, sponsored by the English/French Chamber of Commerce, and crossed the Atlantic Ocean to participate in the Design Exchange programme at New York's Parsons School of Design for a term.
After attaining his Bachelor of Art degree from Saint Martins, he moved to Milan in 1990 to study at the prestigious Domus Academy, where his roster of professors read like the who's who of Italian fashion: design legends Romeo Gigli, Luciano Soprani and Gianfranco Ferré, as well as journalist and style icon Anna Piaggi. Gn juggled classes with freelance work for textile company Ratti and fashion house Basile, "Living in three of the world's major fashion capitals was, for me, more about feeling the lifestyles and fashion vibes of each city. It was the most enriching and eye-opening experience. London taught me to dream, Milan taught me about the industry and New York taught me how to turn fashion into a business." These insights would set the foundation for his eponymous brand's cosmopolitan vision.
Upon receiving his Master of Art degree in 1992, Gn settled down in Paris as Emanuel Ungaro's assistant. The French designer, who passed away last December at the age at 86, was a fashion superstar back in the '70s and '80s. He had built an empire spanning haute couture, ready-to-wear, and included fragrance, eyewear and shoes.
Gn observed how, when the designer worked behind closed doors with just an assistant, away from the hubbub of the atelier and his personal life, would produce the most breathtaking works. It would be an early lesson on the importance of listening to his own voice.
Over the years, he's learnt to follow his instinct. He's glad that as the owner of his business, he is free to stay true to his maximalist self, without having to pander to the demands of shareholders or a boss. It is a liberation he very much treasures.
While he values the opinions of young people and enjoys watching the world evolve through Instagram – he has a personal account (@andrewgn_designer) that he manages entirely on his own and his namesake label's official account (@andrewgn), for which he gives daily
input to his in-house team – he has the discernment not to lose sight of who he is.
That is also his advice for aspiring designers. He points out that often, they start out copying. "At some point, you will start to hear a little voice. Listen, and it's a matter of time before you come into your own."
Strong Suit
In 1997, Gn found himself at the creative helm of Balmain's ready-to-wear and accessories collections, working alongside Oscar de la Renta who took charge of haute couture. The artistic directorship, which made him the first Asian designer to head a French house, was however short-lived – he left after an ill-received debut show for the house. "I was young and inexperienced then," he looks back. "It was a flop, but then I learnt a very important lesson in my life: Everything is about timing. Never do anything unless you're ready for it."
Serendipitously, the termination turned out to be a blessing in disguise. "I really needed the money to expand my own business and that contract definitely helped me as a young struggling designer to build the house that I started in 1996."
Next year marks Gn's 25th anniversary in business. He's currently the only Singaporean designer in the official Paris Fashion Week line-up. Apart from his main line of luxury ready-to-wear, he also offers exclusive couture-quality pieces. In 2013, his offerings branched out to bags. He received the President's Design Award Singapore for Designer of the Year in 2007, although it was the time when he had a full double window at cult Parisian store Colette in 1998 that he considers a turning point in his career.
"Establishing myself in Paris was a perilous adventure into the great unknown. There were strong language and cultural barriers. It was tough and I was entirely on my own. Without sounding smug, I'm very proud to have made it this far as an independent designer without any big group's backing," he elaborates. "While my brand has grown and strengthened in a gradual way, building a very loyal following over the years, I'm still the same person, always obsessively attentive to the smallest details in the garments I design."
He adds: "It's been a challenge to constantly reinvent myself and adapt to fashion and market changes, the last one being the switch from traditional retail stores to major e-retail players such as Net-A-Porter, MatchesFashion or Moda Operandi. Recently, I was told by a buyer that a woman has about six seconds to look at your products on the screen and decide whether she will go into your page and shop. The screen appeal of a garment is something essential these days."
Gn's motto to produce less but only the best, is not only his answer to greater sustainability, it has served him well in preserving exclusivity. "A brand like ours is the absolute opposite to fast fashion," he asserts. "In time to come, I believe that more and more women will look for something which cannot be found at all in many places." Which brings us to his winning concept of the global woman.
"From the beginning, I've not designed with a specific geographical market in mind, but for any woman around the world who loves beauty and refinement. This is how my house has grown such an international clientele, attracting celebrities and their stylists from the West as well as the East," he explains. "I believe in 'absolute beauty' – I work to create beautiful things; things people don't wear once and throw away. They pass my works down the generations. I call them 'heritage pieces'. I do not design with specific nationalities in mind. The real challenge is to create coherent collections that will appeal simultaneously to the tastes and cultures of women living in London or San Francisco, Riyadh or Shanghai, etc."
His glamorous clientele is populated with well-heeled socialites and royalty the likes of Her Royal Highness Queen Rania of Jordan and the Crown Princess of Norway Mette-Marit. Hollywood's leading ladies such as Reese Witherspoon and Jessica Chastain, to name a few, have been photographed in his clothes. Stars from the East – Yang Mi, Wu Jinyan, Laure Shang and Zhang Bichen – add to his international clout.
But if Gn's success lies in shattering stereotypes, then unexpected personalities such as Jordan Roth, the openly gay Tony award-winning Broadway producer who calls himself a "couture devotee" and was profiled in Out Magazine wearing Gn's hot pink pussy-bow blouse with dramatic sleeves, play a major role in demonstrating his designs' diversity and inclusivity. This is best exemplified with a particular caftan. Beth Ditto (the American singer-songwriter who describes herself as a "fat feminist lesbian") walked the red carpet of Cartier's Magnitude high jewellery launch in London dressed in Gn's fringed caftan punctuated with exuberant chrysanthemum prints. Queer Eye star Jonathan Van Ness wore the same caftan in his Cosmopolitan UK cover story. "Opposite sexes, and such different vibes! I find this modern diversity really exciting," Gn enthuses.
The Reawakening
"When the lockdown was declared, there was a brief period that felt to me like an unexpected, but most welcome, break. No obligations, no meetings, no travels, no mad schedules. Then I realised that, for the first time in my professional life, I had some time ahead of me. I could organise my days in a more leisurely way and work serenely on future collections while pursuing what I've always endeavoured to do: Design beautiful clothes that will last and stand the test of time," reflects Gn on the changes brought about by the pandemic. "The closure of physical stores has definitely accelerated the transition to e-commerce. It will not change the way I design, but I will rethink my work pace."
Despite the devastating effects, he feels this crisis has one merit – to make people pause and ponder. "Before the pandemic, many in the fashion industry
had started to question a system that is spinning out of control. [It was going] too fast, [there were] too many collections colliding into one another, seasons were getting out of sync with the calendar in reality, press and buyers were running around the world, without time to return home before the next collection comes up, clients saw Autumn/Winter items in stores in Summer… [it was] a kind of mad race that everybody was lamenting but endured because there seemed to be no other way. It looks like all these issues might now be addressed, and hopefully corrected over time," he opines. "We're definitely in favour of rethinking the fashion calendar and the way new collections are presented."
When Prestige made the request for a bespoke face mask, production of Gn's Pre-Fall collection was on high priority for his atelier after eight weeks of lockdown. Still, he graciously took on our request to create the mask for a silent auction, Prestige Mask For Good, to be held online. Gn kicks off the charity project as the first of three invited designers.
"I wanted to evoke the idea of purification after the plague, angelically white and intricate at the same time, just like the interior of a Baroque church. The white mask is made with silk organza and tulle in the middle, trimmed with passementarie and covered with three-dimensional guipure flowers in dégradé white. Can't drink red wine! It is entirely cut and embroidered by the atelier's petites mains."
It is nothing less than what you would expect from Gn, who pampers his clients with his signature no-holds-barred extravagant East-meets- West aesthetic conveyed through splendid fabrics, vivacious colours or exquisite couture-worthy detailing. His Autumn/Winter 2020 collection, shown earlier in February, stayed true to his maximalist heart. He had drawn inspiration from the fairy tales and mythologies he read as a child.
"The stories were captivating, but the illustrations were even more so. I've always been a very visual person. I watched George Cukor's 1976 cult movie The Blue Bird years ago and was fascinated by Elizabeth Taylor playing The Queen of Light, along with Jane Fonda as Night and Gn's bespoke piece for Ava Gardner as Luxury. The story is based on L'Oiseau Bleu by Maurice Maeterlinck, a symbolist writer of the late 19th century. This is why The Blue Bird is a perfect fit for the repertoire of my fairy-tale theme. The costumes worn by the three leading actresses were absolutely gorgeous and sumptuously whimsical."
From left: White crêpe mini dress with slashed draped sleeves; "Astro" embroidered gown; "Icon" print silk satin blouse with slashed draped sleeves and plissé "Bukhara" print skirt; "Bukhara" print silk dress with "Byzantine" jewel belt; "Medieval" quilted jacquard coat with velvet details and jewel buttons, and
Touch Base
The last time Gn was back in Singapore was in December last year, a few days before the health crisis broke. "I always look forward to seeing my family and long-time friends. My favourite place to visit is the Singapore Botanic Gardens. So beautifully landscaped, with the most amazing collection of tropical species in the world. Every time I'm back, I must have laksa lemak. Its rich and complex flavours sum up Singaporean cuisine. And I'll always bring back some bak kwa, which I cannot find here in Europe." An essential item for Gn, it is his key remedy for a creative block. "I make myself a bak kwa sando! I toast thick, square Japanese brioche bread so it's crusty on the outside and spongy on the inside, then heat the bak kwa till it's sizzling."
You can take the man out of Singapore, but you can't take the Singaporean out of him.
Gn plans to come home next year to commemorate his 25th anniversary, potentially working with a museum. It would be such an apt collaboration, as he sees himself working as a curator or for an auction house, if he's not the designer he is. "I've an extensive Asian and Western ceramic collection ranging from the 16th to the 21st century. What excites me most now is collecting works from living artists, such as Eva Hild from Sweden, whom I think has exceptional talent."
He has also reportedly amassed textiles, mid-century furniture and abstract art. Perhaps his passion for acquisition can be attributed to his mother, said to be an elegant woman who, upon her passing two years ago, left around 350 Chanel suits that she had collected since the early '70s.
Something else we don't know about Gn? He gamely indulges our kaypoh probe. "I talk aloud to myself often. That's how I sort all the puzzle pieces in my head…"
This story first appeared in the August 2020 issue of Prestige Singapore.
To bid for Andrew Gn's couture quality mask, go to our silent auction page.