The biggest fashion event of the year wasn't the Met Gala or Fashion Week — it was the release of "Black is King" by Beyoncé.
That's the name of the visual album that accompanies the singer's soundtrack for the 2019 remake of The Lion King. Inspired by the Disney classic, Black is King plays like a film, running for over an hour with rich storytelling that explores the African diaspora, traditions and history.
Meant as a celebration of the Black experience, the film naturally stars Black celebrities. You'll spot Beyoncé's family (Jay-Z and Blue Ivy both made cameos) as well as her friends (Pharrell, Lupita Nyong'o and Kelly Rowland among them). But Black is King goes beyond that to champion independent Black fashion designers from around the world.
That's thanks to Beyoncé's stylist, Zerina Akers, who collaborated with her Grammy Award-winning client to create a directory of Black-owned businesses in June. You can see Black is King as an extension of those efforts, showcasing the works of smaller labels alongside luxury brands like Burberry and Valentino for one glorious, visual fashion feast that has excited people more than any fashion show this past month. Below, we break down some of the best looks we spotted in Black is King. Lace by Tanaya
This crystal fringe dress is one of the many, many sparkling looks in Black is King. It's the handiwork of designer Tanaya Henry, who specialises in all things crystal through her label, Lace by Tanaya. The label, which offers bikinis, masks, jewellery and more, is based in Los Angeles, but it ships worldwide from its online store.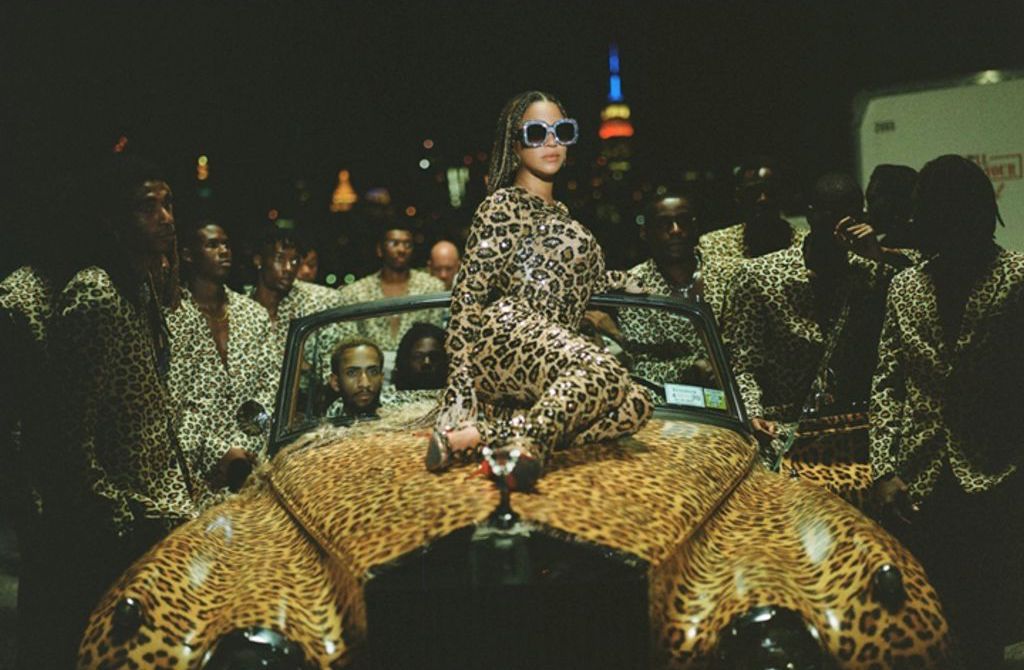 Valentino
Besides all things shiny, Black is King also heavily showcased animal prints. (It is, after all, inspired by The Lion King.) Hence the birth of this custom Valentino jacquard leopard jumpsuit, topped with sequins and rhinestones. The jumpsuit might be a little excessive for anyone without Beyoncé's star status; thankfully, those crystal-studded sunglasses from A-morir are not.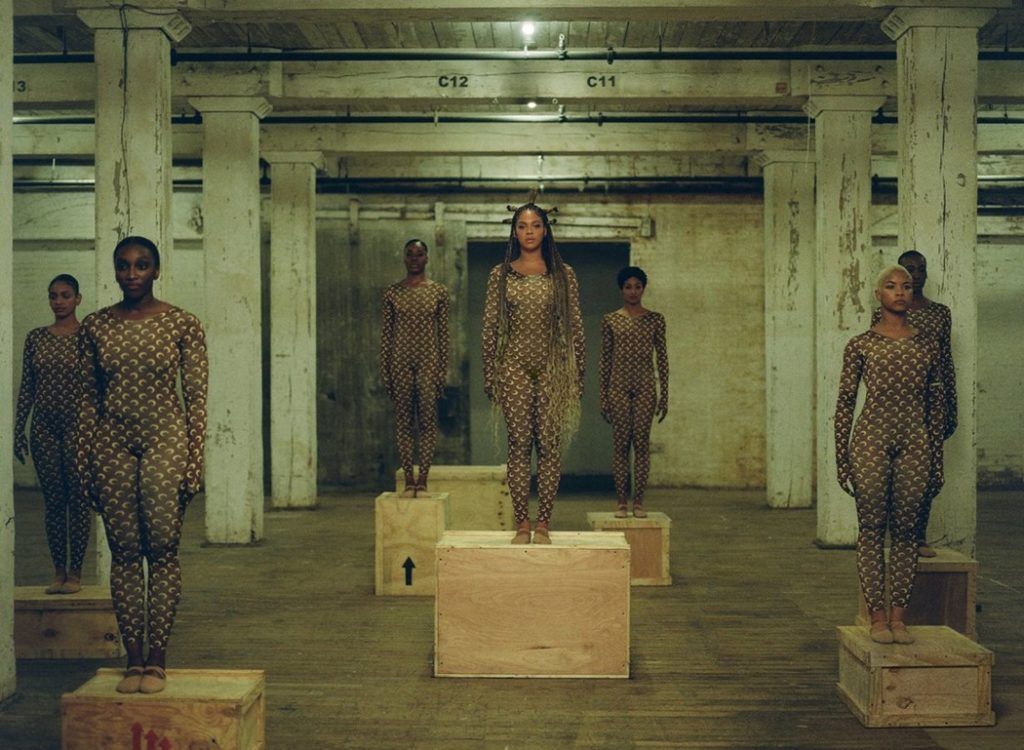 Marine Serre
Another jumpsuit worth noting is this Marine Serre piece, adorned with the label's signature crescent moon print. Beyoncé has been a fan of the upcycling-driven French brand for a while; she wore one of its jumpsuits to an NBA game last year. Like Beyhive member Adele, you can get a Marine Serre piece to match with Queen B.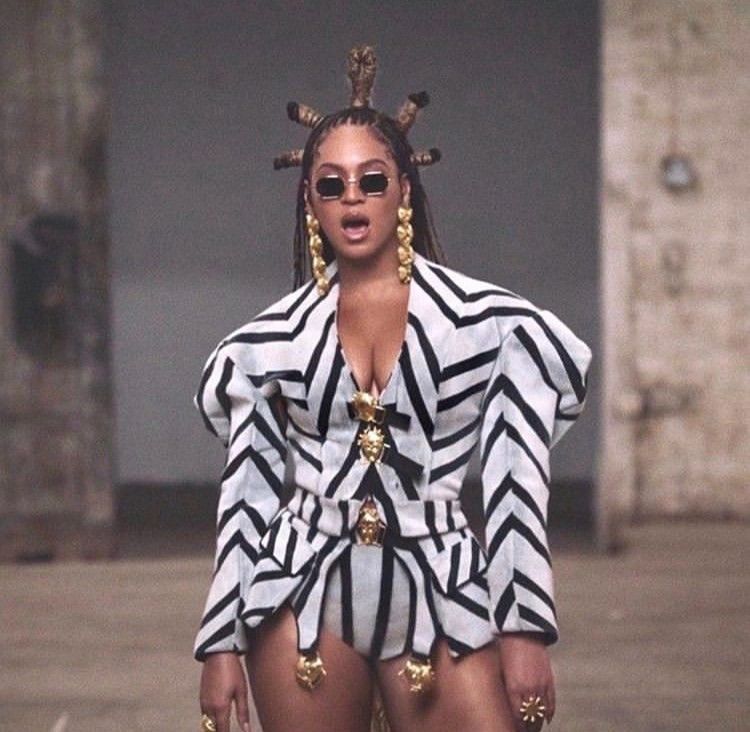 Loza Maléombho
Hailing from the Ivory Coast, Loza Maléombho designs with a vision of African royalty. The West African designer sees Beyoncé as the perfect embodiment of that concept, appropriately dressing her in a structured, striped blazer and matching bottoms adorned with gold hardware.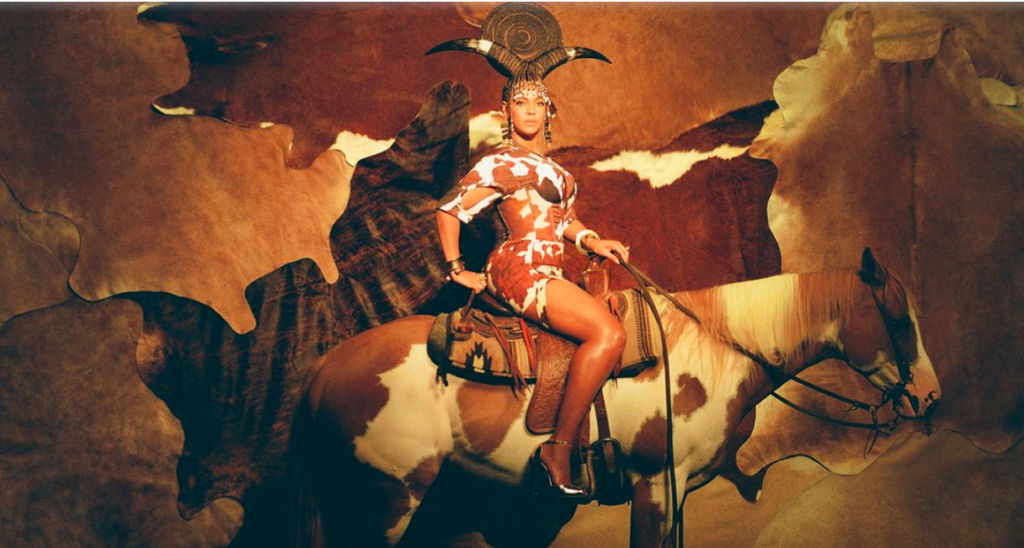 Burberry
Remember those questionable cow prints Riccardo Tisci introduced to Burberry for Spring 2019? Beyoncé brought them back through a corset top and a miniskirt ensemble, sitting atop a horse to match. Those Burberry pieces are custom, but you can still get yourself a pair of Christian Louboutin sandals similar to the ones she wore.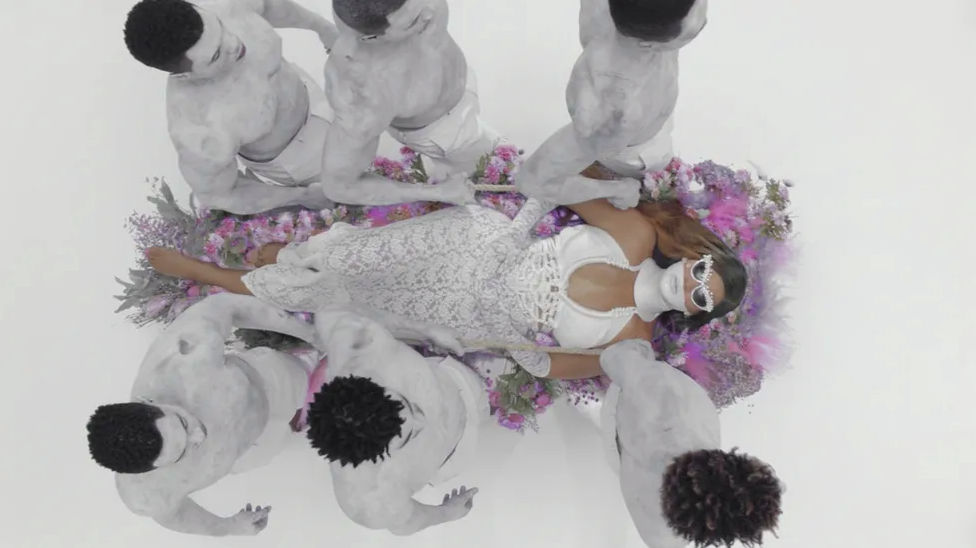 Déviant La Vie
Déviant La Vie is the Los Angeles label behind the intricate white crochet gown worn by Beyoncé. The rope detail on the bustier nods to bondage, a source of inspiration for the "rope couture" brand's offerings. The singer makes it an elegant affair with white lace gloves and yet another pair of crystal-embellished sunglasses.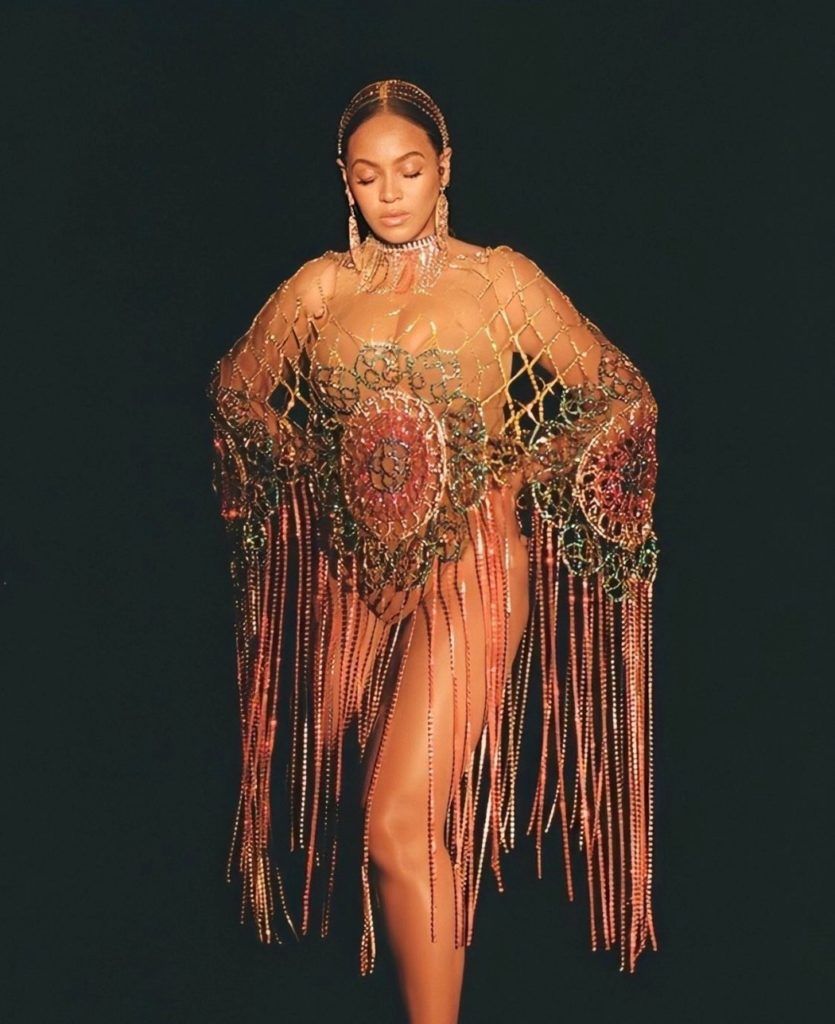 Area
Area has been on our radar for a while. Now it seems that the New York label has been on Beyoncé's, too, seeing as she chose to wear this crystal crochet poncho, reminiscent of the top she wore on the cover of her debut album, Dangerously in Love. Her hairpiece and earrings are from Area's Fall/Winter 2019 collection, too. They may be past season, but you can recreate the look with this crystal choker and chainmail top from Area.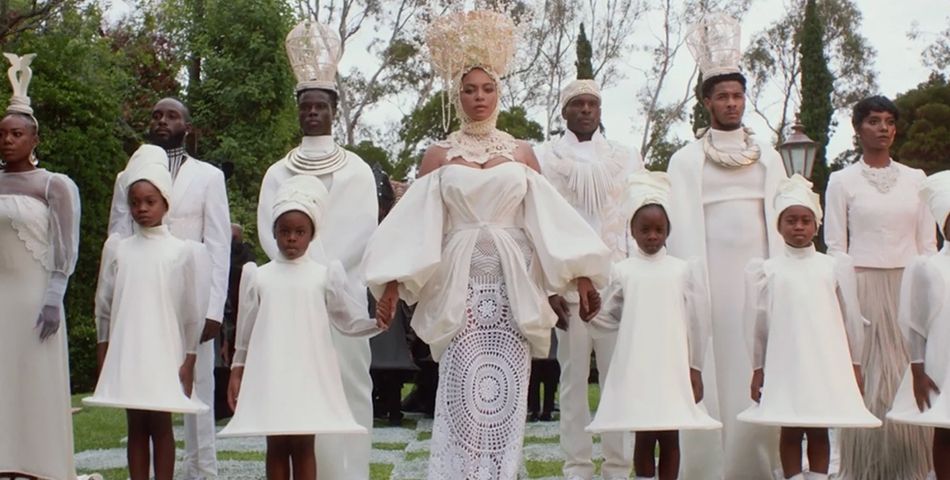 Alon Livné
Alon Livné, who cut his teeth at Alexander McQueen, was one of the many independent designers who got time in the spotlight in Black is King. The Tel Aviv-based designer offered up a puff-sleeved gown with a crochet skirt that made Beyoncé look majestic. The only thing left was a crown, which Queen B got from Laurel DeWitt.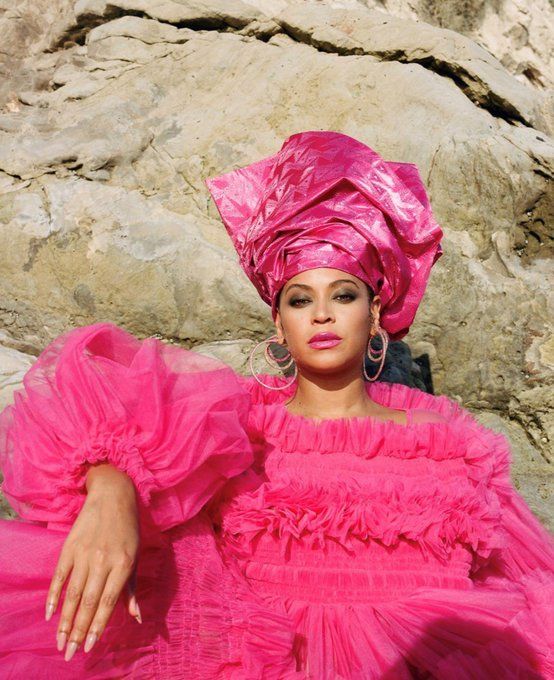 Molly Goddard
It was only shown for a brief moment, but Molly Goddard's tulle dress made maximum impact. That's the magic of the the British label's signature piece, which has been worn by Rihanna, featured in Killing Eve and even recreated in lockdown. You can find a frilly tulle dress similar to the one worn by Beyoncé here.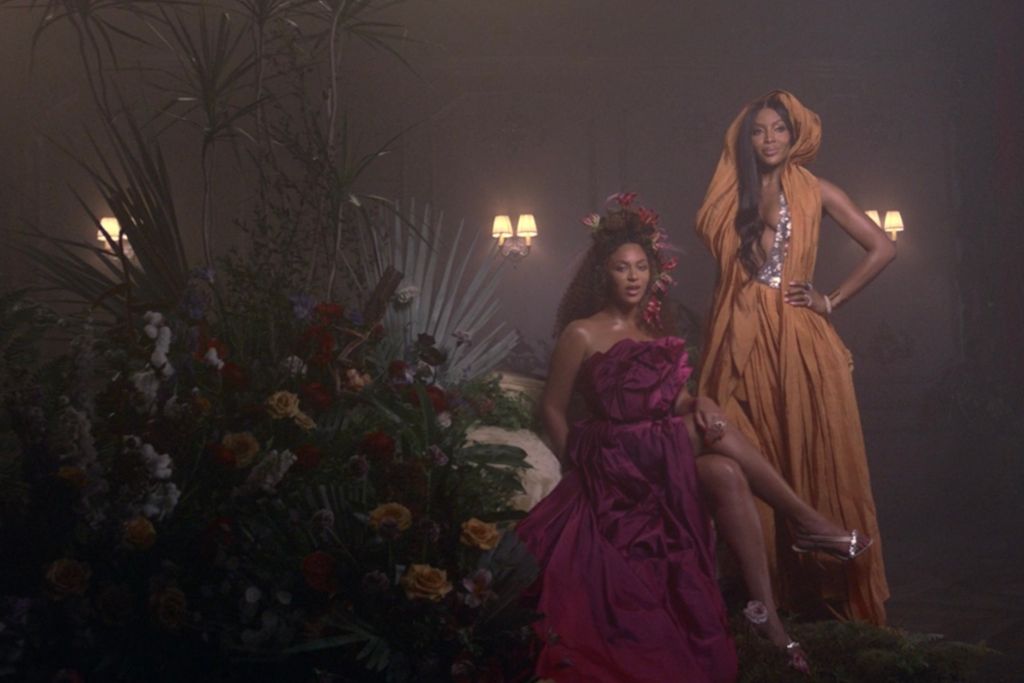 Schiaparelli
If it wasn't clear that Beyoncé's Black is King was as much a fashion flex as it was a musical experience, perhaps Naomi Campbell's cameo can clear things up. The supermodel makes an appearance alongside the superstar, the both of them dressed in voluminous Schiaparelli gowns by Daniel Roseberry, who had just revealed his latest collection by way of sketches at Paris Haute Couture Fashion Week.
Main image: Disney+
This story first appeared on Lifestyle Asia Singapore