Your guide to nailing the 'Regencycore' look of Bridgerton: Corsets, crystal earrings and more
Haven't you heard? Bridgerton is the new hit series in town.
Think of the Netflix show as Gossip Girl for Jane Austen fans: Set against the opulent backdrop of the Regency era, Bridgerton follows the scandalous lives of London's elite, which are fuelled by the fire of an anonymous gossipmonger and countless fancy balls.
The show is produced by Grey's Anatomy's Shonda Rhimes, so it has its fair share of drama, but what has some of its 63 million viewers talking — and Googling — is its generous servings of fashion. Fabulous, flamboyant fashion — think puff sleeves and even puffier skirts, crystal earrings and diamond tiaras, and every kind of frill and feather in between.
"Regencycore" is what Lyst is calling the look. In the month after Bridgerton aired, the global search platform has seen a jump in searches for corsets (up by 123 per cent), long gloves (23 per cent), and empire line dresses (93 per cent). There was a similar pattern on eBay, which saw more people shopping for puff sleeve dresses and crystal earrings.
Yet, believe it or not, fashion brands already saw the trend coming a few months earlier. Several Spring/Summer 2021 collections took on a fanciful, romantic mood, almost at odds with the times. Yes, there were sweatpants and hoodies to satisfy our newfound lust for loungewear, but fashion brands like Simone Rocha, Erdem, Loewe and Rodarte also offered their own takes on period dressing, including balloon sleeved gowns, floral print frocks, and glorious pearls and headpieces to adorn yourself with — never mind that you have nowhere to go.
That only makes shopping for the Regencycore look that much easier. Below, we've put together a guide to all the dresses, jewellery and accessories you would need to complete your own Bridgerton fantasy.
Header image: Liam Daniel / Netflix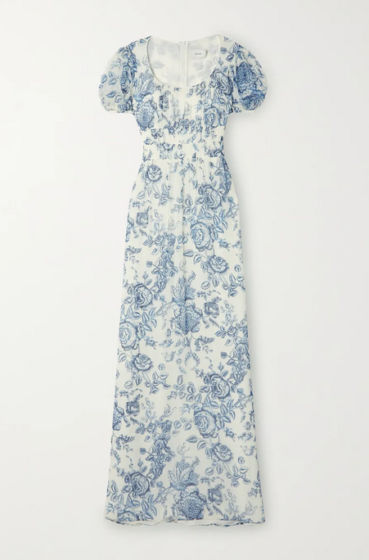 Erdem silk-voile gown
Empire-line dresses were a staple of the Regency era. That's why you saw them everywhere on Bridgerton, whether in the ivory and blue hues favoured by the Bridgertons themselves, or the fancier neon colours worn by the Featheringtons. The style is, after all, pretty flattering, with a waistline that sits right below the bust and that gives way to a flowing skirt. Erdem perfected the silhouette for this gorgeous gown, which is enhanced by Juliet sleeves and a romantic Toile de Jouy print that would have easily been sported by your favourite characters.
(Image: Net-a-Porter)
Shop here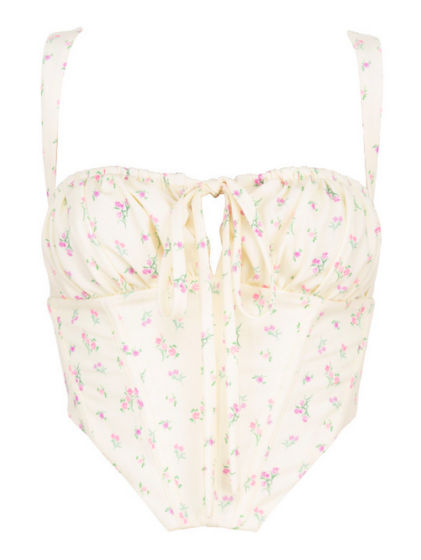 House of CB "Gene" lemon floral corset

As any fashion history buff will tell you, the corset wasn't a tool of women's oppression. Believe it or not, in the Regency era, they functioned a lot like women's undergarments today: They were worn for support and made to gently hug the curves of its wearer's body.
Bridgerton
exaggerates. The corset can be comfortable. (And trendy, as it happens; it appeared on the S/S 2021 collections of Alexander McQueen, Givenchy, Moschino and more.) Just try on this one, cut from lightweight crepe, to become a believer.
(Image: House of CB)
Shop here
Brock Collection puff-sleeve floral cotton-blend top
Another hallmark of Regency dressing is the short, puffed sleeves. Or Bishop sleeves, as they used to be called. Today, of course, you can easily find sleeves that balloon to fantastical proportions, but if you want some semblance of historical accuracy, this Brock Collection top is your best bet. First of all, the sleeves are just the right size to wear out on a sunny day. (It helps that the top is made with an airy cotton and silk blend.) Its floral print would fit right in with all the other patterns that adorned many a
Bridgerton
frock. Finally, there's that square neckline, which will nicely frame your bejewelled decolletage. Speaking of which…
(Image: MatchesFashion)
Shop here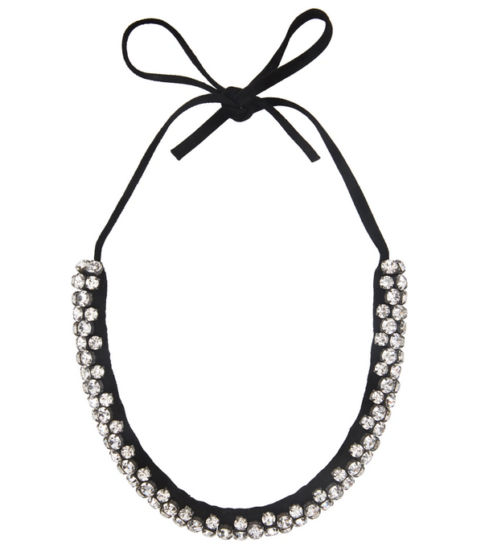 Isabel Marant black "Lush Stuff" choker
The choker, as Daphne Bridgerton shows us, can be a weapon of seduction. It may sit high up on the neck, right above that aforementioned square neckline, but the high society ladies of yore also loved how it could be lengthened and grace the lower part of one's cleavage instead. Very thrilling stuff. You can achieve the same effect with this soft, suede choker, courtesy of Isabel Marant. Made all the more alluring with Swarovski crystals, the necklace is one of many items that should be sparkling on your person if you really want to nail the Regencycore look.
(Image: SSENSE)
Shop here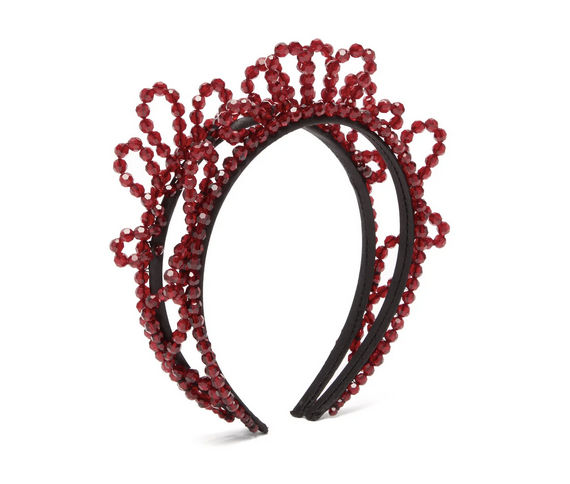 Simone Rocha "Double Wiggle" crystal-embellished headband

We've seen all kinds of elaborate hairpins conquer many a coiffure in the last few seasons, but now it seems that more people are warming up to the headband. Searches for the hair accessory, whether adorned with pearls or feathers, shot up by 49 per cent on Lyst thanks to
Bridgerton
. The trend's reigning headpieces come from Simone Rocha, naturally; the London label has been making them for a while now with a blend of femininity and opulence that you'd be hard-pressed to find elsewhere. This one, shaped like a tiara, is lined with dramatic crimson crystals that will make you the belle of the ball.
(Image: MatchesFashion)
Shop here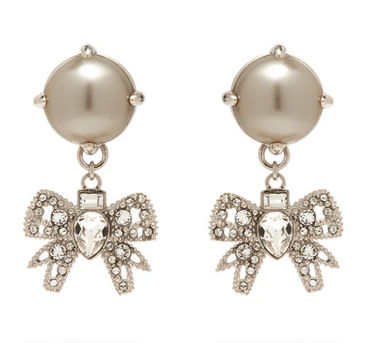 Miu Miu pearl and crystal bow drop earrings
Pearls and crystals were a winning combination on Bridgerton, but you can tell that already just be looking at these Miu Miu earrings. This dainty pair, which features a couple of crystal-studded bows, is just what the elegant Daphne Bridgerton would wear, compared to the more elaborate designs worn by the other characters.
(Photo credit: MatchesFashion)
Shop here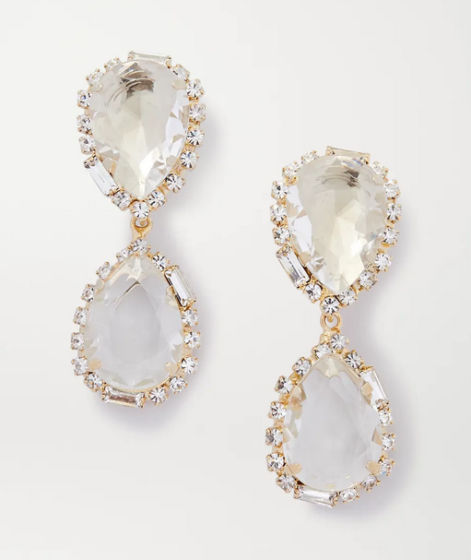 Rosantica "Cuori" gold-tone and crystal clip earrings
Still, if drama is what you're looking for, find it in these Rosantica earrings. Inspired by vintage designs, the pair features two sizeable, pear-shaped crystal drops, enough to steal the spotlight at your next Zoom call. That's certainly what they did when worn by the dolled-up cast of Bridgerton.
(Image: Net-a-Porter)
Shop here
This story first appeared on Lifestyle Asia Singapore