FendiFrenesia: Silvia Venturini Fendi and Francis Kurkdjian on their scented Baguette collaboration
Beyond a three-dimensional feat, the FendiFrenesia elevates the Baguette to a game-changing multi-sensory experience. Jacquie Ang sees the pop culture-immortalised bag in a new light in an exclusive interview with Silvia Venturini Fendi and Francis Kurkdjian.
Last December, two giants – one in fashion and the other in perfumery – joined forces to take an icon to the next level. The Roman house of Fendi tapped on the expertise of the Parisian maison Francis Kurkdjian to create FendiFrenesia: a Baguette with a first-of-a-kind scent. Drawing inspiration from the nobility and fluidity of the natural Selleria Cuoio Romano leather that the bag is crafted from, acclaimed perfumer Francis Kurkdjian's interpretation has leathery and musky notes in the gender-neutral eau de parfum.
"I always knew Francis had this patent, and that it would suit us because Fendi is always experimenting, especially on accessories and the Baguette!" reveals Silvia Venturini Fendi, Artistic Director of Accessories. "Scented leather has been a part of my creative world since 2004," explains Francis. "It all started when I recreated a pair of scented riding gloves in a style from the 18th century for an exhibit on Queen Marie Antoinette, held at the Château de Versailles. It enabled me to learn this ancient and lost technique invented by 12th-century master glovemaker- perfumers to mask the odours associated with the leather tanning."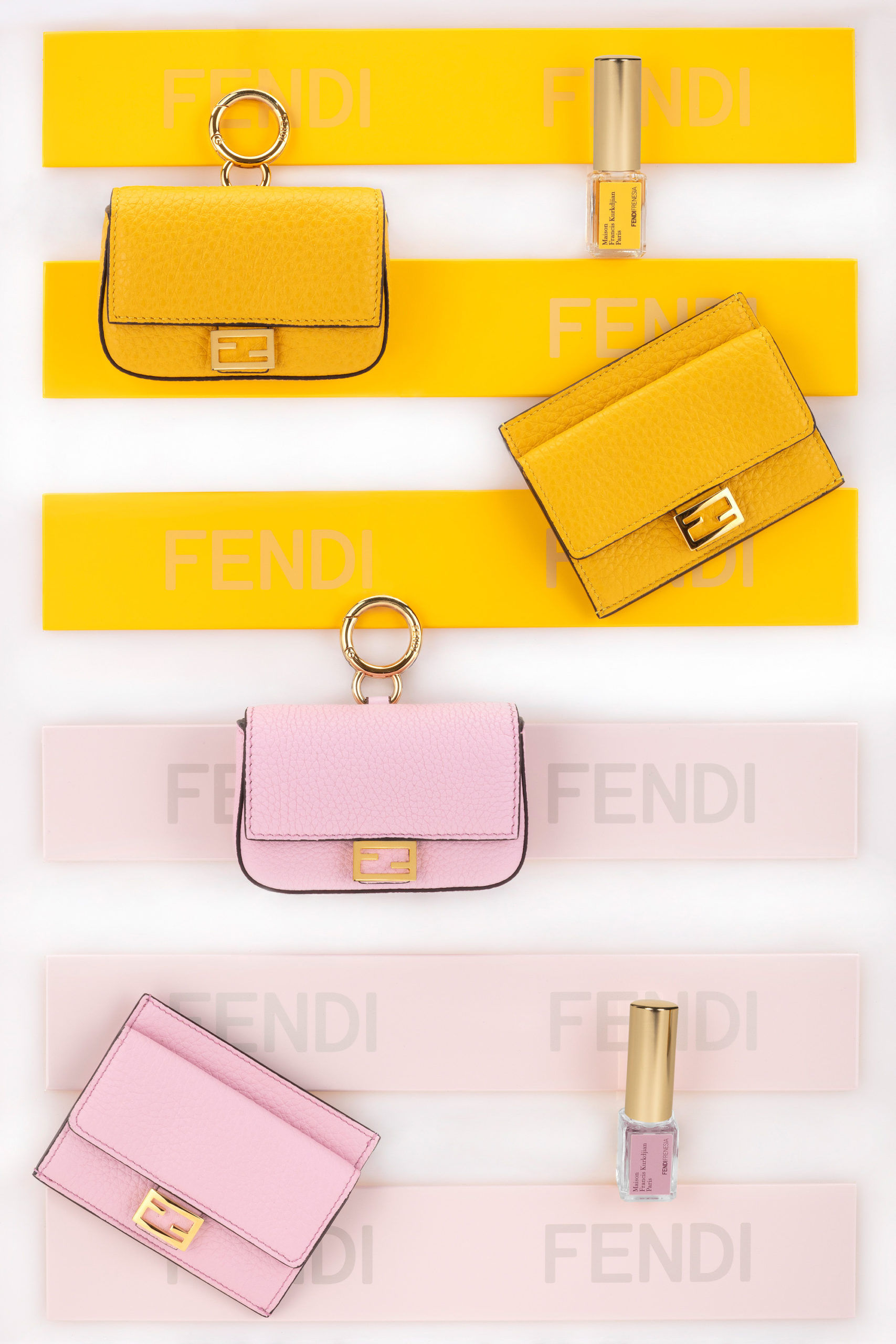 By the time he founded his eponymous bespoke fragrance atelier with partner Marc Chaya in 2009, Francis had mastered the historic method of perfuming leather to create contemporary accessories such as the Tour Atour bracelets with magnetic clasps, and later, a line of small leather merchandise. In 2014, he filed the patent for his modernised technique that works with different kinds of leather and colours.
Francis didn't hesitate when Fendi proposed the collaboration. "To create the fragrance, I first immersed myself in the archives of Fendi in Rome, where I had my first meeting with Silvia, and visited the atelier in Florence," he shares. "I noticed the values of our houses are the same. Silvia and I both cherish craftsmanship, sense of details and share our respective passions for our know-how. I explained the technique and my take on the fragrance direction to her, and we discussed her love for some scents and notes."
His creative process always starts from the name of the fragrance. "It sums up what I want to say; the emotion I feel. My fragrances tell stories. It's like the title of a book or the name of a painting. I start writing the formula using raw material as a word. And this is a special olfactory creation – this eau de parfum can be worn on leather and also on skin. FendiFrenesia was an obvious name for the scent – it perfectly describes the spirit of Fendi and its soul," he lets on.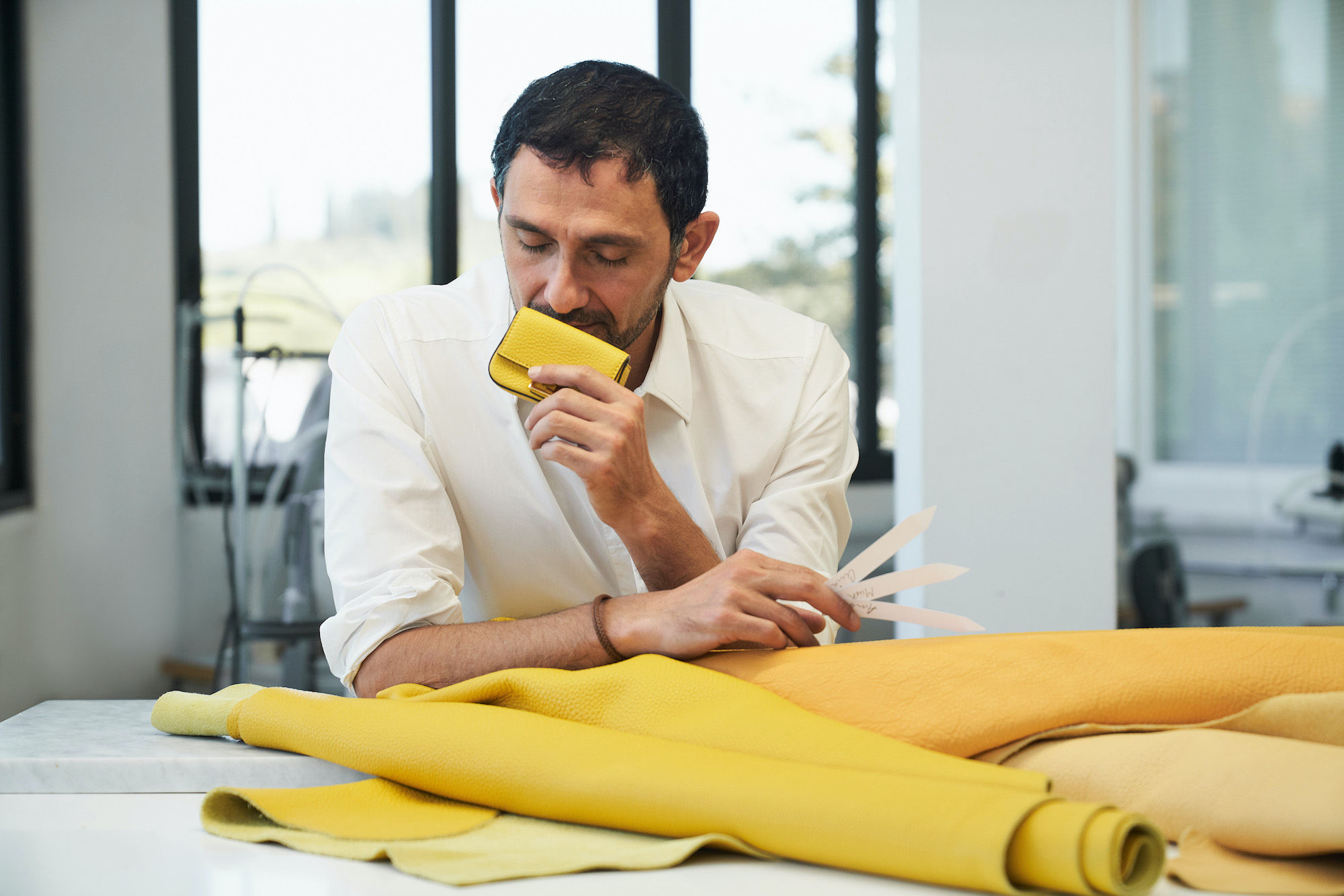 "The know-how of scenting leather remains secret, of course, but I can share a few details. First, the fragrance has to be designed specifically for scenting leather. The construction of these perfumes differs from habitual fragrances. It's a specific formula that does not have any top notes, just a few heart notes and mainly base notes, so it's long-lasting. It takes about six months to scent the leather before it is cut and the pieces are assembled to form the bag," Francis points out.
Though his patented technique ensures the fragrance holds up for three years, the intensity of the scent can be easily restored. Each FendiFrenesia Baguette has a case that holds a 5ml bottle of the fragrance to let you vaporise on a card subtly hidden inside the bag.
Change is a constant
Among Fendi's coveted family of luxury bags, the Baguette was a natural choice to be the first to star in FendiFrenesia because it was conceived as a manifesto of individuality. It holds the honour as the first accessory to have its own name.
"A bag is something so feminine, like a woman's best friend. She holds all her life and secrets in it. And a fragrance is something that is really one of the most personal things for a woman," Silvia opines. "Having a scent dedicated to the Baguette would make it even more special."
To her, the Baguette serves as a reminder of the speed of fashion. "When you work fast, you put your instinct in it. If you think too much, sometimes things start to be tortured and I don't like that. If you have a good idea, just go for it. For me, this has been the Baguette. And the great thing is, the bag is still relevant today." Which Baguette is Silvia carrying, you might ask? "A perfumed one with a handkerchief cover from the Spring/Summer 2021 collection."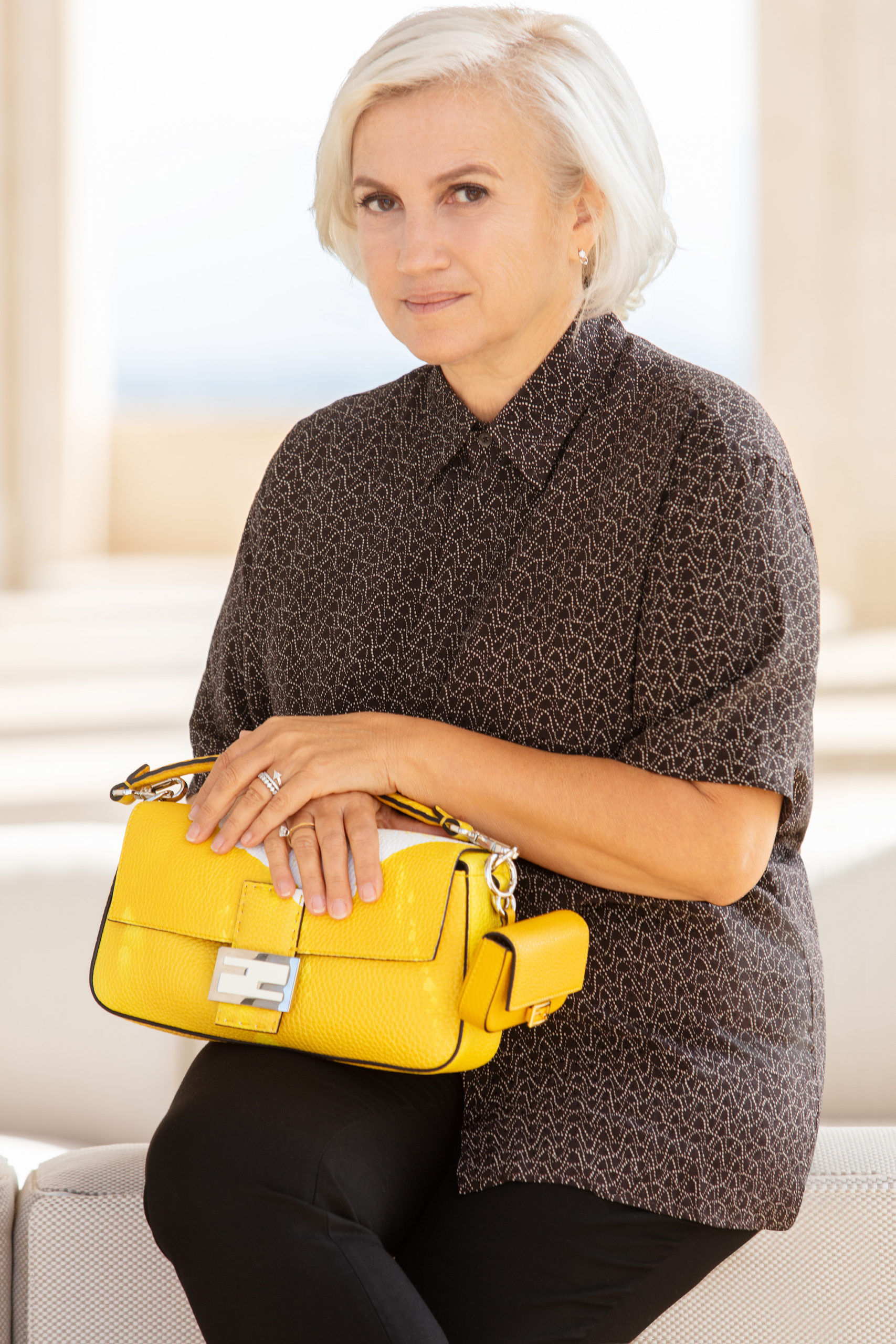 When the limited-edition FendiFrenesia Baguette made its debut in Fendi's signature yellow, it was launched exclusively in the Fendi Miami Design District boutique, along with a mini FendiFrenesia Yellow Nano Baguette.
It recently arrived at the Marina Bay Sands boutique with a new colour, scent and an additional model. The FendiFrenesia Pink Scented Collection now includes a card case in musky-fruity fragrance that Francis based on the feminine colour, which reflects Fendi's strong matriarchal DNA.
"Perfume and scents are the link to our humanity. It reflects some facets of your personality," Francis adds. It takes him at least three months to compose a scent. "The musky-leather fragrance of FendiFrenesia Yellow is enveloping and reassuring, with a daring twist of iris oil that makes it very comfortable to wear. FendiFrenesia Pink is a musky-fruity fragrance, more floral, cheerful and feminine. There are some litchi facets coming from the rose, paired with jasmine notes that give a light impression of strawberry."
Sense and scent-sibility
Francis is not the only collaborator in FendiFrenesia. With each launch, there are other partners to push the envelope in the Baguette's evolution. For FendiFrenesia Yellow, Silvia asked Christelle Boulé to capture the soul of the fragrance. The Canadian-Swiss artist and photographer derived its olfactory imprint by first depositing a few drops of the perfume on coloured film paper. After it's dried, it is exposed to light then immersed in development baths. The eventual motif was later printed on the Baguette.
"I always say that creative people see things in a different way from others. When they look at something, they want to see another dimension," observes Silvia. "That's what Christelle Boulé did and achieved – to see the fourth dimension of the things. This is very emotional to me. It gives me a strong emotion because you can give a shape and an image, take a photo of things that are normally immaterial."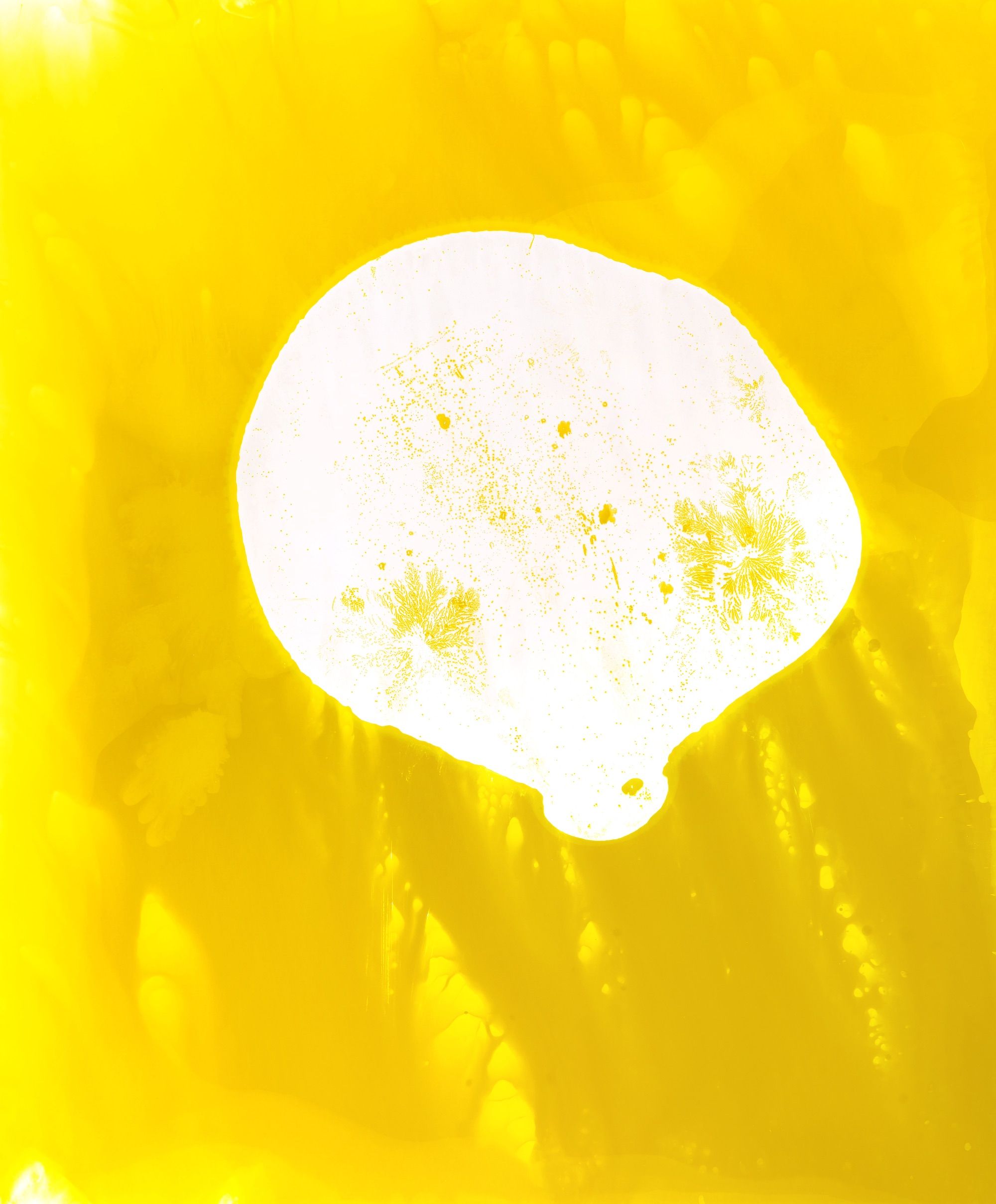 When it came to FendiFrenesia Pink, she tasked StudioAIRA! to express its sound. The Roman creative agency took up the challenge, adding a new sensorial dimension to the Fendi synaesthesia through Sine, a synthetic interpretation of the fragrance.
"We went through an interesting attentive process that the colour and scent of FendiFrenesia Pink were analysed and converted in the form of frequencies, waves and sinusoids. The musky-fruity notes of the scent were firstly codified into instruments to turn the fragrance into a sound. Then, the pink hue of the leather was transformed into a scale – following the Scriabin theory – which assigns a colour to every note. The shape of the wave generated by the melody draws three-dimensional animated curves that change following time and rhythm. The result is a visual and sonorous representation of the FendiFrenesia Pink fragrance that moves and dances in a liquid form to its own rhythm," she elaborates.
Touch. Smell. Sight. And now, the Sound of FendiFrenesia is attained. Will taste be next?
"The idea was to work on the senses. The Cuoio Romano leather is very supple and textured. It really says "Fendi". I was intrigued by the way of putting senses together, the tactility of the leather, the view of this bright yellow in all these shades and the olfactive idea of a Baguette fragrance. That's why we call it Frenesia. It's kind of a frenetic way of thinking and working on new things and giving a new vision to an object that is so personal to a woman. In the future… who knows?"
(All images: Fendi/Francis Kurkdjian)