Frame of Reference: Fashion meets art at SIRI HOUSE Dempsey exhibition featuring DEBONEIRE and Nicolas Laville Couture
Embark on an immersive experience akin to walking through a stylish painting at the Frame of Reference exhibition featuring two local fashion ateliers – menswear label DEBONEIRE and gown designer Nicolas Laville (NL) Couture, which partnered with Prestige in last year's Mask for Good charity campaign.
Running until February 8, the exhibition at SIRI HOUSE Dempsey showcases mannequins dressed in modern fashion-forward garments, set against a backdrop of iconic paintings of the past. Juxtaposing past and future, the installation encourages the viewer to fashion the future through referencing the past. It aims to trigger a sense of nostalgia and the hope of the restitution of happier times – which really is what the world needs now.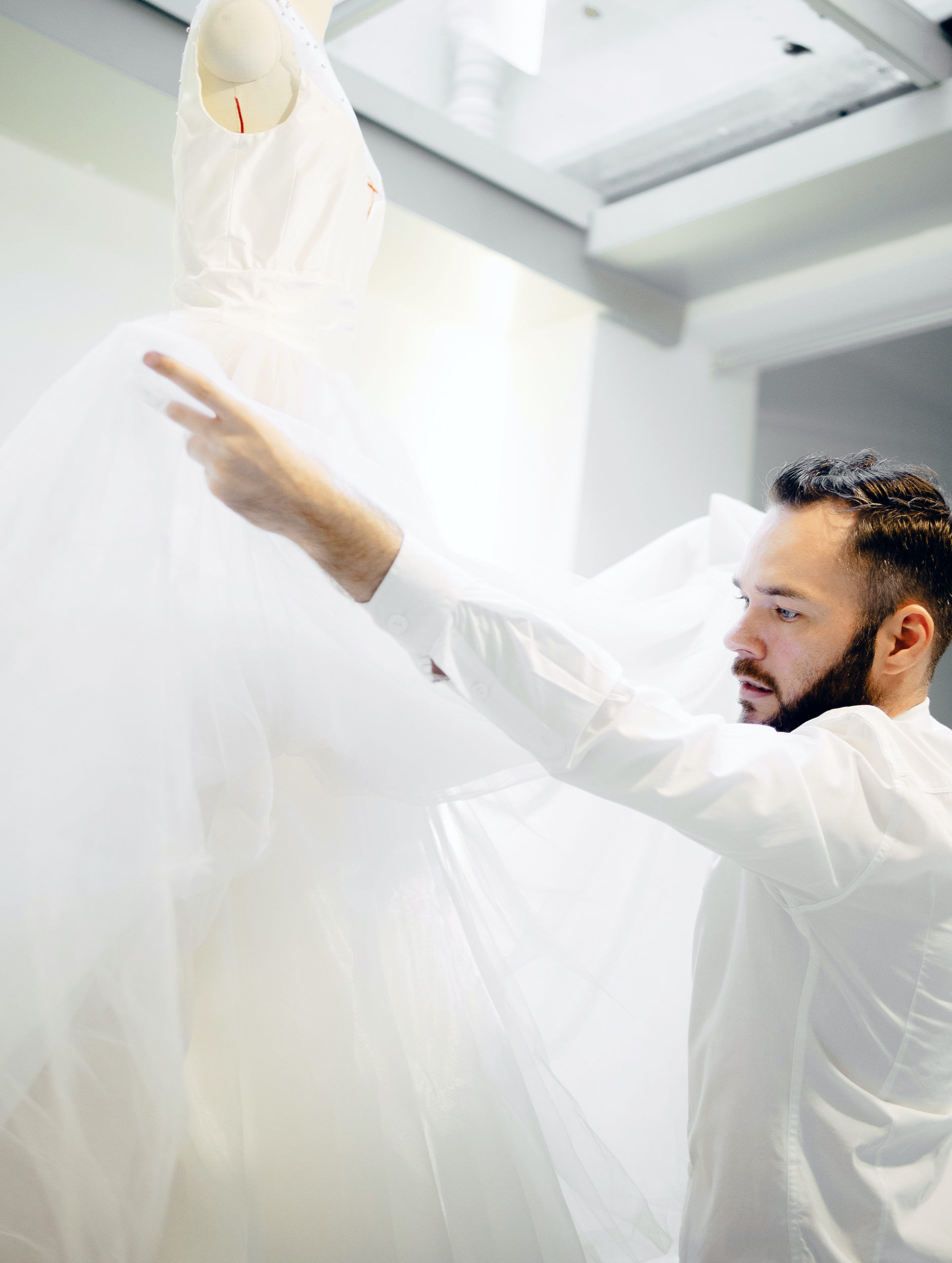 Sponsored by the KulörGroup, Frame of Reference has already undergone monthly thematic "costume changes". It was first launched end of last October with the Evening Wear: The Roaring 20(20s) theme, followed by Cruise: The Garden Party in December. This January, as Singapore returns to a hive of activity, the exhibition highlights Workwear: Business as Usual. Each themed edition showcases five stunning couture pieces for women from NL Couture alongside three elegant menswear garments from DEBONEIRE.
Visitors interested to take a piece of the exhibition home can purchase custom-fit creations of select display pieces. The womenswear cruise collection starts from $350 per garment, while evening wear is limited to only one custom-made piece each, priced from $3,500. Menswear shirts start at $249, and a two-piece suit from $2,000. In addition, select pieces will be paired with corresponding bespoke masks. An exclusive capsule collection of made-to order silver-knit-fibre anti-bacterial masks will be available from $30 to $60. Each mask can be customised with embroidered initials.
View a snapshot of the three editions here:
Evening Wear: The Roaring 20(20s)
The backdrop is a Jack Vettriano 1992 print, The Singing Butler, so chosen to reflect the nostalgia of Nicolas Laville's own childhood memories of dancing in low tide in Normandy. Stunning NL Couture highlight pieces include Deauville: A red tulle gown with a 160m long skirt of Korean tulle, and Cherbourg, a corseted gown with double-sided silk satin square shoulders. DEBONEIRE's lace applique robe is paired with elegant floral jacquard trousers.
Cruise: The Garden Party
Set against an iconic Claude Monet collage, the showcase is reminiscent of dressy garden picnics and lush weddings. For both men and women, high-waisted bottoms and signature sleeves make a comeback. NL Couture features Yerville: A bell-sleeve shirt with high integrated cuffs is paired with a navy crepe high-waisted skirt in sailor's cutting, while DEBONEIRE impresses with a safari jacket in crème crepe, a louche take on something utilitarian and hardy.
Workwear: Business as Usual
The setting is Edward Hopper's oil on canvas painting Nighthawks (1942), whose mood celebrates after-work drinks symbolic of joyful times and a future to look forward to. Here, discover elements of men's and women's wear blended seamlessly together. NL Couture's Alençon shirt features a seamless open collar inspired by DEBONEIRE's signature collar, while a Rouen Prince of Wales check fabric typically used in menswear is fashioned to create a feminine-cut suit. DEBONEIRE also reveals a statement piece – a houndstooth silk suit made with a luxurious, intricately woven silk sourced from Japan.
View Frame of Reference at the Art Space at SIRI HOUSE Dempsey at Block 8D, #01-02 Dempsey Hill, Dempsey Road, Singapore 249672. Admission is free. Opening hours are Tues-Sat: 11.30am – 9.30pm, Sun: 11.30am – 4pm, Mon: closed. For more details, visit Siri House's website.