There's certainly a sense of irony in putting together a guide to French girl style.
The Parisian brand of effortless chic is intrinsic, not studied or copied. French girls form a personal relationship with their clothes, one outside of the world of trends and must-haves as dictated by fashion brands. And they live in their clothes, not simply wear them; it's easy to do so when your wardrobe is full of timeless pieces.
Through years of thoughtfully dressing up, French girls just know what makes them look good. Their style rules (and they do have them, despite the shrug of insouciance they may offer) are deceptively simple: go for a look that's laid-back but never lazy, clothes that are special but never showy. It's all in the fit, fabric and fine details, after all. As a new exhibition reveals, the spirit of French couturier Coco Chanel very much lives on in the cobblestoned streets of Paris.
Except for those in Emily in Paris, the most recent Netflix show to be hate-watched and hate-discussed. Much ink has been spilled about the titular protagonist (or antagonist, depending on your tolerance for thoughtlessness) and her style choices. An anklet worn around Tabi boots? A blouse with a print of the Eiffel Tower? A plastic raincoat, indoors?
Those looks couldn't be further from French girl style. So, in an attempt to set the record straight and show you that, au contraire, Parisian chic isn't all berets and bucket hats, we list the essential pieces that you'll find in wardrobes of French It-girls past (think Jane Birkin, Françoise Hardy) and present (Jeanne Damas, Caroline de Maigret). We encourage you to mix and match these staples with all the confidence of Emily. Trust us, you'll look anything but ringarde.
Header photo credit: Getty Images A stylish blazer
French girls will throw on a sharply tailored jacket over anything — a shirt, a dress, a pair of jeans. That's because they've figured out that it's the easiest way to elevate any look. Go for one that's slightly oversized and lets you move around with ease. For colours, navy, grey and black (of course) are are generally approved. As for patterns, a good check, like the one on this Rebecca Vallance piece, never goes out of style.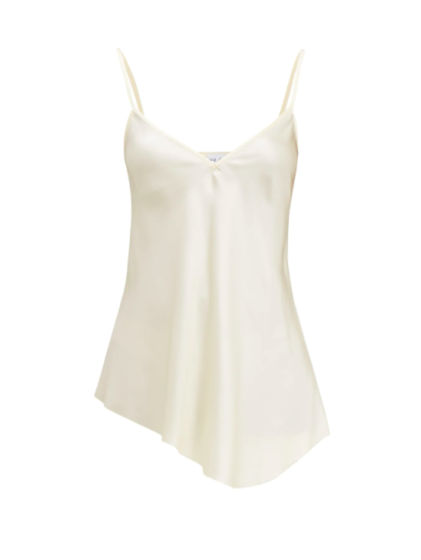 A silk camisole
The silk camisole is the epitome of the French girl philosophy: take something basic and put a refined spin on it. It far outshines a ribbed cotton tank or a jersey top — those are more American Apparel — while retaining the simplicity that lets you wear it with pretty much anything. Tuck one into your jeans, layer a jacket over it, and you're good to go. This silk-satin camisole from Raey also lets you show off an asymmetric hem — a nice, unexpected detail.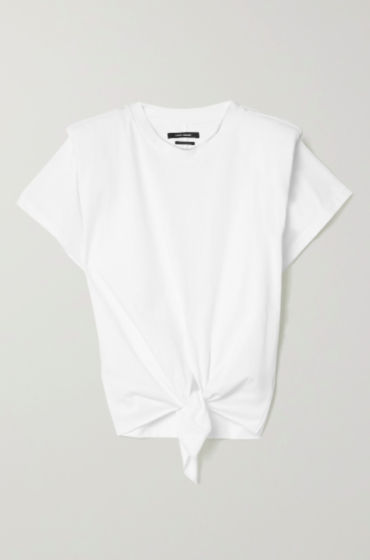 A plain t-shirt
When it comes to choosing tees, cotton is fine, neutrals are preferred, and logos are a no go. Again, the rule is to keep it simple. Isabel Marant — a French woman herself — worked around this by giving the staple piece a knotted waist tie (that's how cool girls would wear them, anyway) and some padded shoulders. A T-shirt doesn't look so boring anymore, does it?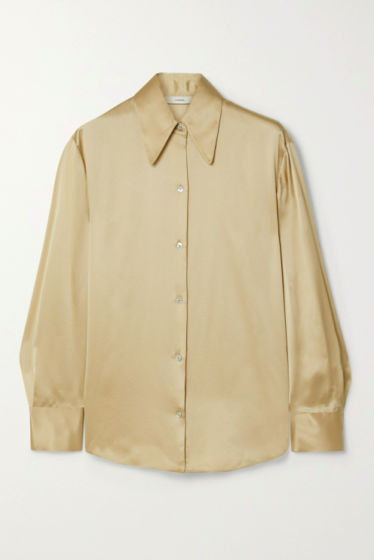 A silk button-down
A sumptuous silk or satin shirt, elegant on its own, is hard to say no to. The best part is that it can be casual or formal, depending on how you style it. French fashion editor Carine Roitfeld wears hers with pencil skirts, while Instagram It-girl Jeanne Damas tucks them into her jeans. We recommend wearing this slightly looser one from Vince with a couple of buttons undone to capture that sense of Parisian breeziness.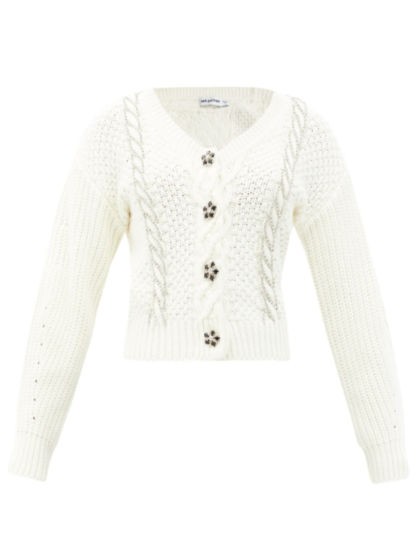 A knit cardigan
In the past year, we've seen Alexa Chung, Bella Hadid and Katie Holmes all wear cardigan as tops, but make no mistake: that's a style tip they got from their Parisian peers. After all, it was Coco Chanel who transformed the piece, which otherwise screams "grandma", into a symbol of feminine elegance. Self-Portrait plays up the prettiness of the typical cable-knit cardigan with a stylish V-neckline and crystal, flower-shaped buttons.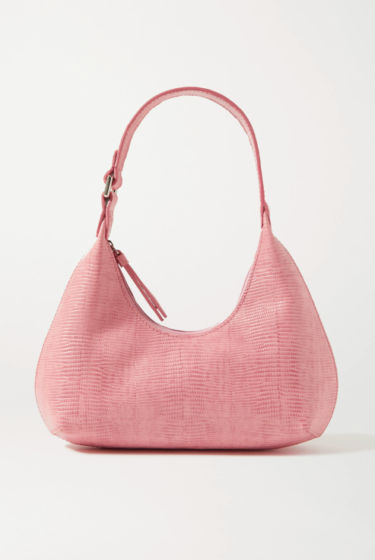 A petite bag
French girls are not big fans of big bags. It goes against their idea of not trying too hard. Why would you even need to carry that much stuff around? What the mini bag lacks in space, though, it makes up for in fun. Jane Birkin, for example, was never seen without her basket bags throughout the '60s. Film icon Anna Karina even owned a purse shaped like a dog. Luckily, you have countless of options to choose from, with fashion labels like Staud and By Far offering new designs every month. Here, the latter makes the case for a petite, powder pink tote that's crafted out of lizard-effect leather.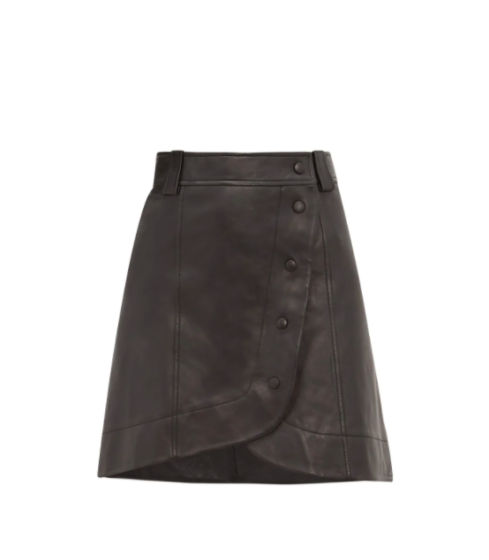 A leather miniskirt
If you haven't picked up yet, French girls are very into leather. Not in the way you're thinking — their wardrobes are filled with leather bags, leather jackets and leather miniskirts. The material is luxe, after all, and it does add a cool factor to any look. Especially the miniskirt, which is versatile enough to be worn in both cool and warm climate (like ours). The staple piece, tough but flirty, goes best with boots. Be sure to opt for a timeless shape like this Ganni skirt.
This story first appeared on Lifestyle Asia Singapore