Nicolas Laville: The Singapore-based French fashion designer on his inspiration behind his designs for Mask For Good
September 2020 was Prestige's 20 years in the luxury publishing business.
In the midst of a pandemic, how do we make our celebrations meaningful? As we pondered that question, the stars began to align and we found three big-hearted Singaporean or Singapore-based designers to join us in doing our bit to benefit the community. Here's what went down behind the Mask For Good campaign, and how French designer Nicolas Laville came to design 20 fabulous masks for the auction.
During the early days of the Circuit Breaker, Nicolas Laville, French fashion designer who is loved for his bespoke gowns, made a casual FaceBook post about crafting a small batch of face masks to aid migrant workers. Like the rest of Nicolas' FaceBook friends who wanted a more sustainable and environmentally friendly alternative to disposable masks, I snapped up several. What's more, he used some really pretty fabric, including Indonesian batiks and Kain Tenun. That was in April. Just as Nicolas was about to deliver the masks to me, I asked him if he'd like to partner us on a small charity drive to create designer masks for our 20th anniversary celebrations, half expecting a rejection. To my surprise, despite his busy schedule (he has a 4th quarter gown exhibition), he agreed. So the Mask For Good campaign was born, thanks to Nicolas' graciousness. But that was not the end – our society editor Lionnel Lim managed to get Paris-based Andrew Gn and another Singapore designer Chelsea Scott-Blackhall of Dzojchen on board too.
As the effects of the pandemic, lockdown and subsequent job losses reverberated throughout Singapore, the number of reports on people who are suffering from mental health illnesses also seemed to increase. That's why we decided that Mask For Good shall contribute to that cause, and found that Caregivers Alliance Limited is a truly worthy organisation. The medium-sized charity supports caregivers of people with mental health issues, won last year's Charity Governance Award, and has a presence in seven major public hospitals and medical institutions in addition to its head office. Besides, caregivers are the silent heroes whose needs and challenges are often overlooked.
In August, Prestige X Andrew Gn raised $3,000 for a single beautifully crafted, couture-quality mask designed and hand-sewn in the designer's Parisian atelier. The winner was the ever-so-generous Pauline Chan, to whom we are very grateful. For September, Nicolas has created 20 stunning, one-of-a-kind masks that are painstakingly hand-embroidered, beaded and even hand-painted. Working out of his studio at Spottiswoode Park, the designer conceptualised a collection that also honoured his six years of experience living in Singapore. He went as far as to dream up a unique design for each mask, personally source for exquisite fabrics and embellishments, hand-sew the masks, AND write a lovely note to accompany each creation.
While Nicolas had shared the ideas with me during the planning and crafting stages, I did not get to see the masks until they were all done. And by golly, did they blow me and my team away. The level of love, thought, detailing and effort put into them was exceptional. Each mask is also highly functional in that it features a nose wire support, a filter pocket that is secured by a stud button, and adjustable ear loops.
Read on for our exclusive interview with the man on the inspiration behind Mask For Good: Prestige X Nicolas Laville, his background as an haute couture-trained designer, how he came to settle in Singapore, his hobby as a private chef (he can make French and even local dishes that will knock your socks off), and what else is keeping him busy these days.
How did you come to live in Singapore?
I moved to Singapore in May 2014. The main reason was that my partner and I were based in different cities (Bangkok and Shanghai), and decided to settle in Singapore. Once landed, we decided to create NL Couture, and I worked on my first showcase that was shown in February 2015 at the Intercontinental Presidential Suite, like how the couturiers back in the '50s were presenting their collections. It was a way for me to introduce myself and explain the work that I do and meet with the socialites and prospective clients.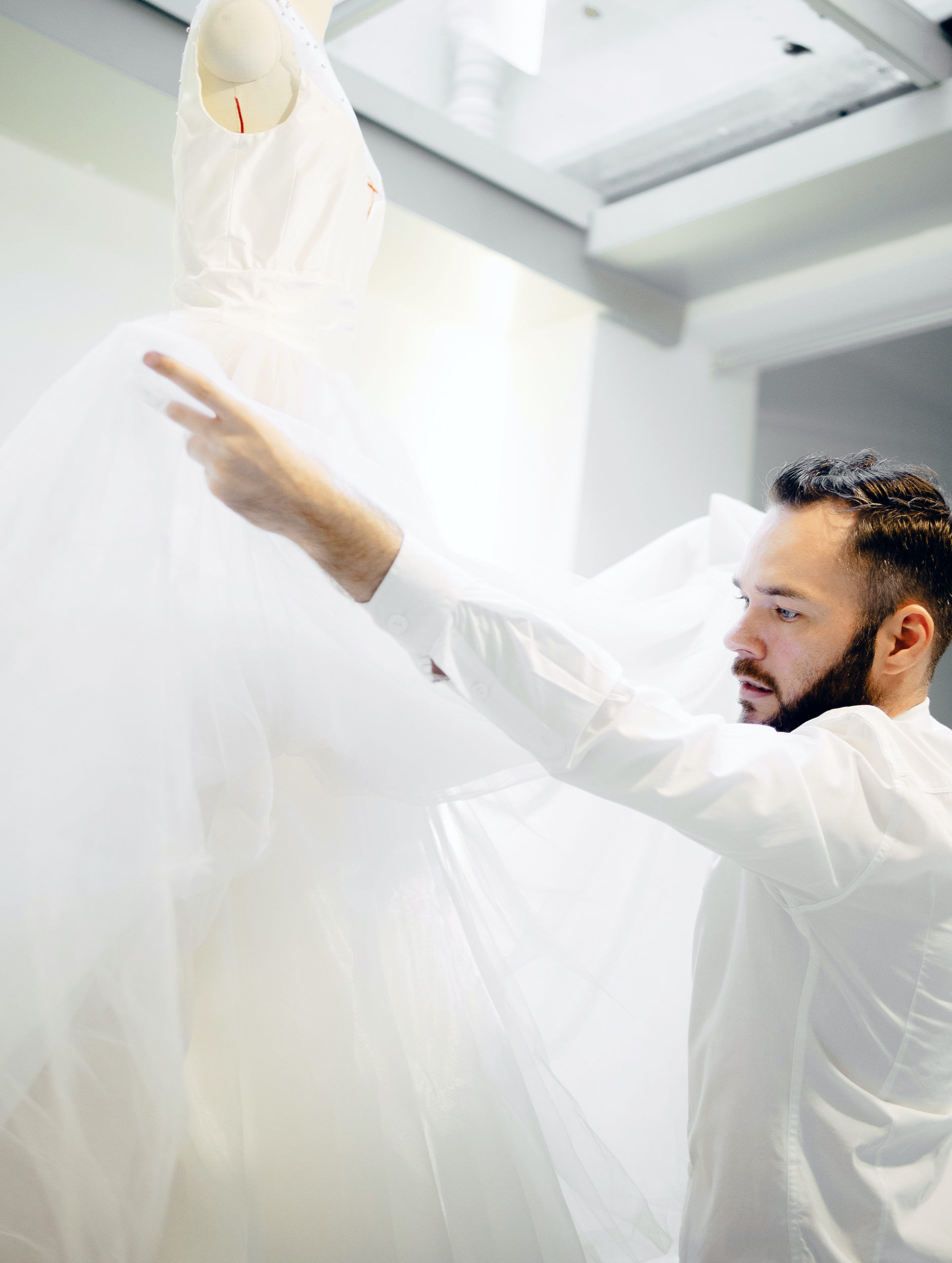 Tell us about your fashion industry training and experience?
I have been working in the industry for the past 16 years after studying for seven years. My first job was not the most fashionable one as I was working as in product development for the military and civil defence equipment manufacturing. Not being passionate about it, I went to work for Kenzo and Christian Lacroix, where I was in charge of making the first sample for the production line.
After that I got recruited by Anne Fontaine and worked with her for two years. I worked as a lead pattern maker and was designing with her closely. You might even be wearing some of her famous white blouses to this day. After that, I decided to create my label in my hometown, Rouen, where I was making mostly wedding dresses and event gowns. French taxes for entrepreneurs are so high that after three years of working almost non-stop, I decided to get back to a more "normal" life.
Unfortunately, all the resumes that I sent out barely had any response. The very few answers I got were that I was too qualified for my age. When I was teaching part-time in a fashion school in Paris, I decided to check on lecturing opportunities overseas. And that was how where I got my job in Shanghai. The time between the first interview and the day I left was no more than six weeks. Back then, I did not even have a passport, never been on a long flight, and my English was at an elementary level.
I taught for three years in Shanghai before joining a textile agent company that represented several French fast-fashion brands such as Stradivarius, Cache Cache, Bonobo and Morgan. It made me realise that the couture part was missing for me. Therefore I decided to continue developing my label, move to Singapore, and hence I've been on this journey ever since.
What is the key inspiration behind this charity mask collection?
Knowing that most readers are based in Singapore, I took the inspiration from Singapore itself. Being in the Little Red Dot for six years now, there are a lot of places, celebrations, events and pictures that I repeatedly look at and get inspired by. There are masks inspired by Gardens by the Bay at night, HDB flats, the Botanic Gardens, as well as local butterflies and dragonflies. I am also inspired by local festivals such as Chinese New Year and Hari Raya. As for some less literal designs, I tried to interpret a cruise on a yacht around Singapore or our watchful CCTV eyes (some humour for that particular design is needed). What is your signature Nicolas Laville style, and how is it infused into the creations?
I am pretty known for my pattern-making skills, and the combination of tailoring and draping. I also have been haute-couture trained, so the masks needed to represent all of this at once. Some of them are hand-painted intermixed with hand embroidery and beading so that they flaunt a three-dimensional effect. The inner part of each mask has a pocket for inserting filters, a nose bone inserted and secured with hand-sewn grosgrain ribbon, elastics at the side with soft stoppers for comfort and adjustable ear loops.
Could you name a few designs that are your favourite, and why are they so special?
I like the Gardens By The Bay By Night because of the different tones it has. I replicated the structure of the supertree in glitter and appliquéd midnight blue sequinned flowers over it. The other one that I love is the red Chinese New Year mask, being married to a Singaporean-Chinese, and with the celebration being an integral part of the family. It features the detailed motif of embroidered flowers over a red silk satin.
How long does it take you to sketch and hand-make each mask?
I started with some rough sketches to at least get the ideas down. After what, while sourcing my materials, the designs evolved and changed a bit. The making of one mask varies between four to eight hours, depending on the techniques applied to it. And yes, every piece is hand-made by myself in my studio here in Singapore. What is the range of materials and techniques used?
The inner layer is made of a smooth, tight weave, cotton canvas in a grey tone. The outside layer depends on the embellishment. Most of them are silk satin, some are double-sided silk satin, and some are raw silk (mostly for the men, to lose the shininess of the satin). I did some hand painting, embroidery, beading, appliques, and hand sewing for most the mask itself.
As a personal project, you had sewn some masks earlier in the year to raise money for charity.
After the Circuit Breaker started, I did not have any orders nor see any clients. I sat idle at home and wanted to do something to help the community, so I decided to produce some masks and give all the proceeds to several local organisations to help those in need. If I am not wrong, I made a total of 200 pieces and managed to collect about $1,600. To me, no one must go hungry during these times. People that go hungry get weak and have a higher chance of falling sick, so I also donated to Food From the Heart.
This time, our beneficiary is the Caregivers Alliance Limited, which supports caregivers of persons with mental illness. To you, how is this a good cause to support?
To me, it is an excellent cause to support. Mental illness is somehow a still taboo topic to discuss in society. I have the feeling that people feel ashamed to have mental disorders or having a relative that has been affected by it. Awareness must be raised, and support must be given. I, too, in my younger years faced a year-long depression. I am very open about it, because there was a succession of adverse events that were too much for me to handle at my age. We are still human beings; our brain is a complex piece of who we are. Apart from embarking on such meaningful charity projects during this quieter COVID period, what else have you been up to? What projects can we look forward to from Nicolas Laville?
Well, I cannot claim to have a lot of work at the moment due to the situation, with society events and weddings being cancelled or postponed. It is a real drought season for me. I do not expect to see clients before next year. The fashion industry and consumption patterns are changing. So, I need to adapt, evolve and change.
As I am truly bespoke in what I do, from the meeting to the making, having to do a client's measurements or fittings via video calls is almost impossible. At this point, I am working on a couture exhibition with a good friend of mine, Matthew Gideon, who runs Deboneire. We should see the launch somewhere in mid-October. Fingers crossed, we hope to be able to have a proper launch party and event then.
Besides the fashion part, I am dedicating every Friday to hosting private dining (@vikings_table) at my place where I trade the needles with knives. It has been going very well. I have been booked since the beginning of phase two to mid-October for now.
To bid for Nicolas Laville's designer masks, go to our silent auction page.