Last month, Agua by Agua Bendita was one of the best-selling brands for dresses on the Moda Operandi fashion e-commerce site, known for its carefully curated brands and for stocking the likes of Bottega Veneta, Loewe and Miu Miu.
The barely two-year-old Colombian luxury label has evidently stuck a serious chord with Moda Operandi's sophisticated global clientele base. Dressed in lush colours, beautiful silhouettes and uniquely joyous, tropical prints – there's a sustainable, handcrafted element to each piece and an aesthetic that takes you back to nature. The sheer optimism of this fun, passionate approach to fashion is a welcome breath of fresh air in current times.
This beautiful label had humble beginnings with the two co-founders meeting as students of fashion design at university in Medellin, the country's second-largest city. "We became friends and started to make bathing suits by ourselves for summer vacations," explains the talkative Catalina Alvarez on a three-way Skype call with us in London, and Alvarez and her co-founder Mariana Hinestroza each at their respective houses in the lush Colombian countryside.
We made these one-of-a kind bikini pieces for ourselves first. One day we went to my father's clothing factory and got some offcut fabrics, so I called Mariana and said, 'Let's do bathing suits from these for our friends. We started in my room at my parents' house using my grandmother's sewing machine. We did everything … patterns, cutting, beading, sewing – everything."
They soon realised that most Colombian garment factories had offcut fabrics, and the pair started buying them to create unique patchwork bikinis. "It was super successful," Alvarez added. "We started with friends – it was all handmade and no one was doing anything similar.
Thus Agua Bendita, their main line, was born in 2003. The past two decades have been a time of friendship, ideas and the challenges of growing a local swimwear brand into a global one. Then in 2018 came the start of a luxury label that veered into resort and ready-to- wear that's put Hinestroza and Alvarez at the helm of one of Latin America's most exciting fashion offerings. Agua by Agua Bendita – the pair's luxury line – is a stunning collection of dreamy dresses for balmy summer days and nights, and beautifully cut and shaped swimwear for beachside chic.
"With the luxury label, we can show even more of the traditional handicrafts and knowhow of Colombian women," says Alvarez. "Here we're surrounded by greenery, beautiful flowers, palm trees – it's a constant source of inspiration for the brand."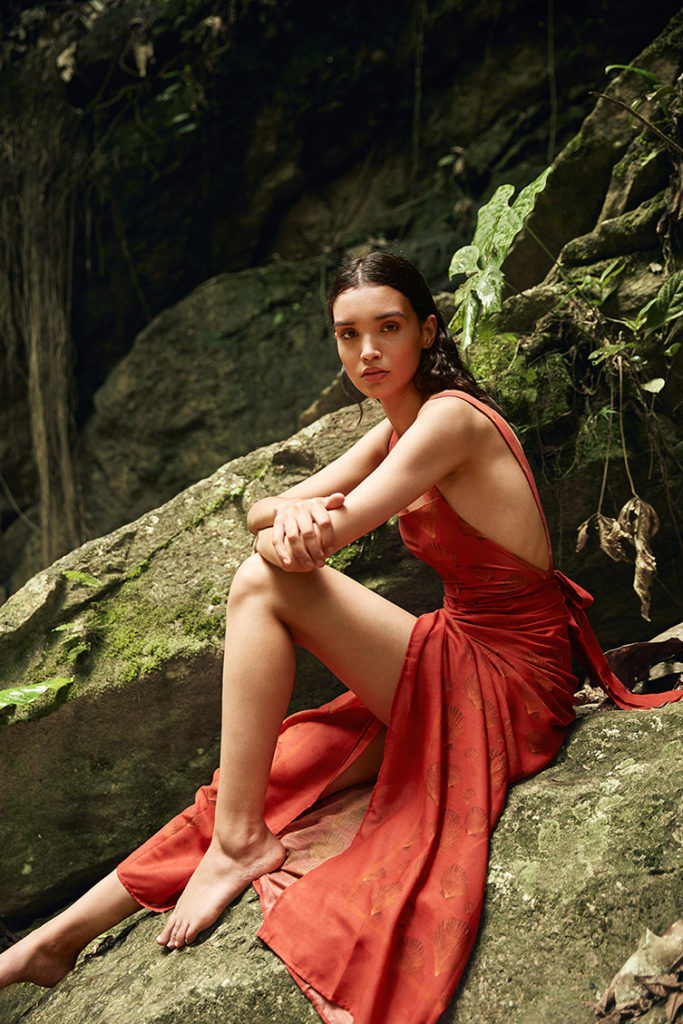 The gorgeous Agua by Agua Bendita spring/summer line is a feast for the eyes, with little frills, exotic florals, square Bardot necklines, mini dresses with puff sleeves and long flowing lightweight maxis. Outstanding prints include the blue-and-white Alicia ceramic-esque print and the Verbena Frutas illustrated vintage-style prints.
The Mostaza Coralina coral swimsuit has a beautiful red embroidery motif contrasting on a dark blue fabric, and with wired cups, slim straps and a high-waisted bikini brief, the fit is ultra-elegant. Mariana adores the fruit print, and the butterfly print – "picking a favourite is not easy!" she admits.
"In our luxury label, the dresses have become even more important than the swimwear, which we never really expected," says Alvarez. The popularity online this season has just been one indicator. Taking their vision to another level in luxury has been completely different – what the pair called the gorgeous and wonderful challenge of evolving a mature brand to a new level and a new luxury market.
With unabashed femininity, beautiful shapes and a particular silhouette, Agua by Agua Bendita styles have been developed clearly by women for women. From the onset, when the pair started employing others to help produce their main line, it was because they needed more hands. "We then realised that Colombian women have this rich knowledge and skills passed down from their mothers and grandmothers, but they can't work because they're often looking after the children inside their houses," Alvarez explains.
By allowing women and artisans to work from their homes, Agua has created and empowered a network of women in the countryside and cities of Colombia, who can run their own businesses from home while looking after children at the same time.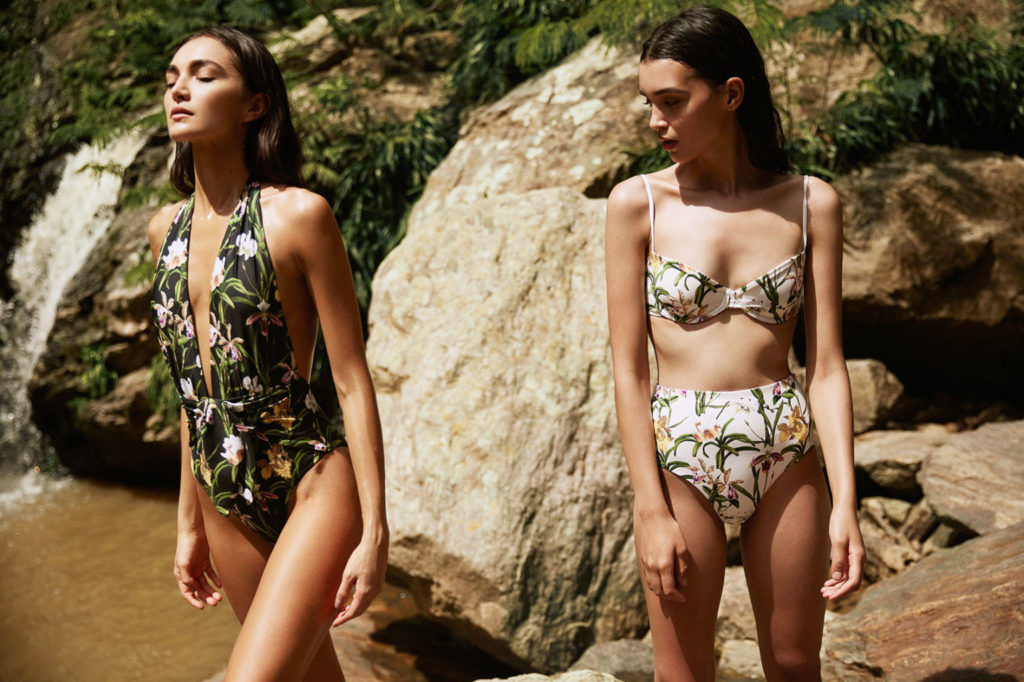 "These women have acquired a wealth of knowledge of traditional handmade embroidery and beading techniques," says Alvarez. "Our process makes our collection different from the other brands. We have artists developing all our original prints in-house. We make them a reality by printing them on our recycled fabrics or fabrics made with recycled threads or natural fibres. We cut the patterns, while the women who sew the the pieces usually do so at home in the countryside, then the pieces are passed on to other women to add embellishments. We're super conscious – socially, environmentally and ethically sustainable. Our main goal is to provide a lot of employment to the women of Colombia."
Everything, including the production processes, came naturally, says the forward-thinking duo. Natural growth, green credentials and social responsibility are issues that fashion is getting more in tune with overall. Social responsibility, localised craftsmanship and women's empowerment have emerged as hot topics in luxury today.
Agua Bendita recently collaborated with Maisonette to help the children's e-commerce platform launch its first children's clothing collection, Maison Mini. It was a perfect fit, since Alvarez and Hinestroza are both mothers themselves, with two kids each.
Their home country remains the core influence for their designs, say the pioneering Colombian women. And though travel elsewhere brings new ideas, they also, as Hinestroza says, "love to travel a lot around our country for inspiration, too. In the countryside, we're discovering and finding so many kinds of traditional crafts and artisans, including some from indigenous communities. It's beautiful."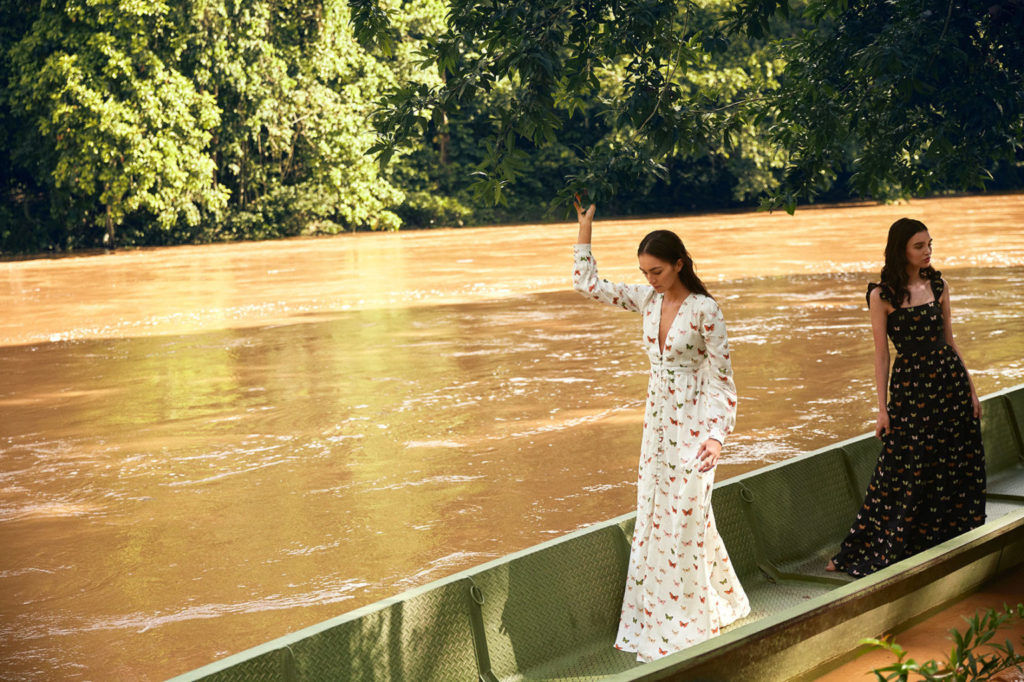 This season's deep shades of blue, vibrant reds and exotic floral prints all befit a tropical location. Since our own travels will be limited this season, we like the idea of travelling via fashion and style. Soak up the sunshine with Agua by Agua Bendita's buttercup yellow Anis linen A-line maxi skirt and matching print Cacao crop top with dragonfly print.
"The Latin touch has to be there every time," says Alvarez of their designs. "A bit of Latin spirit, a bit of sexiness – we're Colombian after all… And Colombia is a perfect place, maybe – the weather is beautiful the whole year, the people are amazing, kind and super- happy and will say hello, they'll become your friend in a minute. Here, we have a tradition of keeping our families very close. It's a big advantage to be raised here where the tropics, the colours and the sounds of the animals are all around us."
"If I stop talking now, you'll just hear birds singing all around you," Alvarez adds trailing off. And true to form, the birdsong floods in.
This story first appeared on Prestige Hong Kong
(Main and featured photos: Agua by Agua Bendita)